Keir Starmer's trans dystopia
His speech at the Pink News awards gives us a chilling insight into Labour's priorities.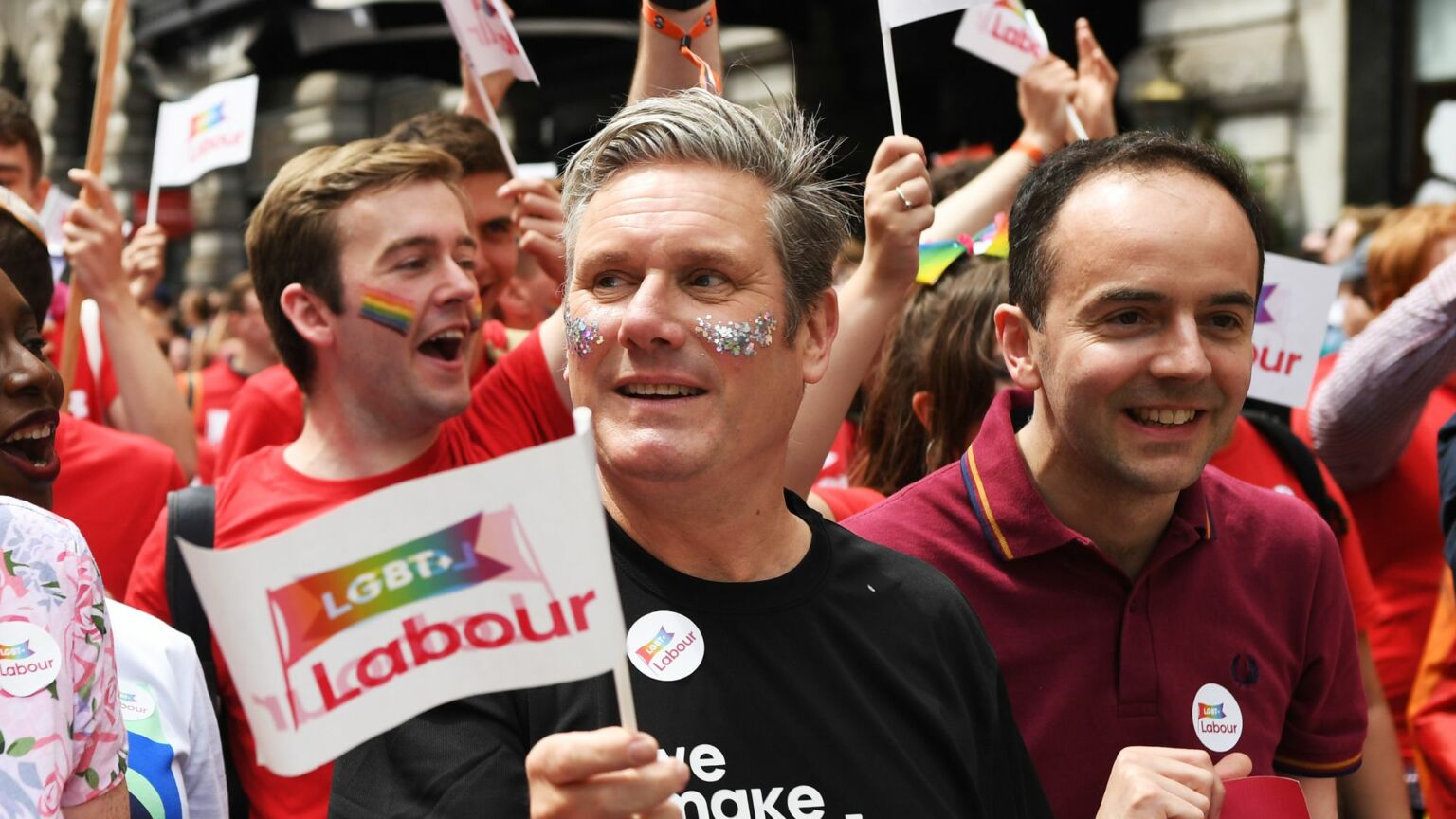 Last night, Sir Keir Starmer gave a speech to the Pink News awards 2022, in which he set out his LGBT policy platform. The speech offered a chilling glimpse into the priorities of a future Labour government. Given today's resignation of prime minister Liz Truss, and the implosion of the Tory Party, there is every chance that Starmer's vision could soon become a reality.
First there was the Labour leader's pledge to 'ban conversion therapy in all its forms'. This sounds reasonable on the surface. But it is hard to overstate the cynicism of such doublespeak. When most people hear the term 'conversion therapy', they imagine minors being subjected to chemical castration, physical and psychological aversion techniques, or perhaps a vicar 'praying away the gay'. Thankfully, such practices are largely confined to the dustbin of history.
When Starmer says he will ban conversion therapy 'in all its forms', he is referring to what trans activists disingenuosly describe as 'trans conversion therapy'. The wording here is deeply misleading. A 'trans inclusive' ban on conversion therapy would put huge pressure on anyone counselling vulnerable, gender-dysphoric young people to 'affirm' their chosen gender. It equates talking through a child's struggles with their gender with the abhorrent practice of gay conversion therapy.
In other words, a Keir Starmer government would effectively make it illegal not to provide 'affirmative care' to so-called trans youth – a path which usually involves experimental puberty blockers and then irreversible surgery.
The grim irony here is that a large proportion of young people who present with gender dysphoria are in fact struggling with their sexuality. Banning 'trans conversion therapy' would prevent counsellors from having open discussions with trans-identifying children about these underlying issues. It would inevitably lead to gay and lesbian children being placed on a medical pathway. This would itself amount to a form of gay-conversion therapy.
In another example of doublespeak, Starmer appeared to make a concession to women's rights groups who object to the erosion of single-sex spaces. Starmer promised to stand up for the 'provision for single-sex spaces' that is set out in the Equality Act, introduced by Labour in 2010. But this was instantly undercut by his subsequent pledge to 'modernise the Gender Recognition Act'. This would mean allowing people to change their legal sex on the basis of 'self-identification'. That has been the central aim of GRA 'reformers' for some years now. Single-sex provisions would be instantly undermined, as anyone would be allowed to choose the sex they identify with.
In his speech, Starmer even had the temerity to call for a 'new consensus on LGBT+ equality – not a political brawl'. For Starmer, that 'consensus' presumably means accepting the demands of the trans lobby. This, after all, is a man who has gone to enormous lengths to avoid saying that women cannot have penises, just in case it offends trans activists.
Meanwhile, many in Labour have already learned to their cost what it can mean to deviate from the party's 'consensus' on trans issues. Labour banned several gender-critical groups from its September party conference, including Labour Women's Declaration. Shadow ministers have condemned gay-rights groups that don't toe the line on gender self-identification. Last year, Taiwo Owatemi, then shadow minister for women and equalities, slammed the LGB Alliance, which is concerned about the dangers gender ideology poses to gay people. She also welcomed an investigation into its charitable status. Labour MPs who are critical of the trans movement, like Rosie Duffield, have been systematically sidelined. It is easy to forge a 'consensus' if you stop listening to the critics.
Worse still, in Britain today, this phoney consensus on trans issues is enforced by a meddlesome police force that treats gender-critical views as 'hateful'. In just the past year, the police have targeted social-media users calling a male paedophile a man, posters saying 'No men in women's prisons' and signs reading 'Lesbians don't like penises'. This police overreach is likely to get worse under a Starmer-led government. Instead of challenging this authoritarian turn in the police, Starmer said he wants to strengthen hate-crime law so that 'every LGBT crime is treated as an aggravated offence'.
Starmer's speech arrives at a time when trans ideology is facing significant pushback. Trans lobby groups like Mermaids are finally coming under much-needed scrutiny. And after years of harrowing reports from whistleblowers, the Tavistock gender-identity clinic in London is set to close. It may have seemed, for a brief moment at least, that gender ideology had been exposed and sanity might soon return. Even at the recent Labour conference, Starmer and Co kept the woke pronouncements to a minimum – perhaps realising how absurd this all sounds to the majority of the voters.
But don't be fooled. As Starmer's speech last night confirmed, Labour is entirely in thrall to the trans lobby. This should worry us all.
Laurie Wastell is an intern at spiked.
To enquire about republishing spiked's content, a right to reply or to request a correction, please contact the managing editor, Viv Regan.