Why Labour is losing women
A party that cannot define the word 'woman' does not deserve women's votes.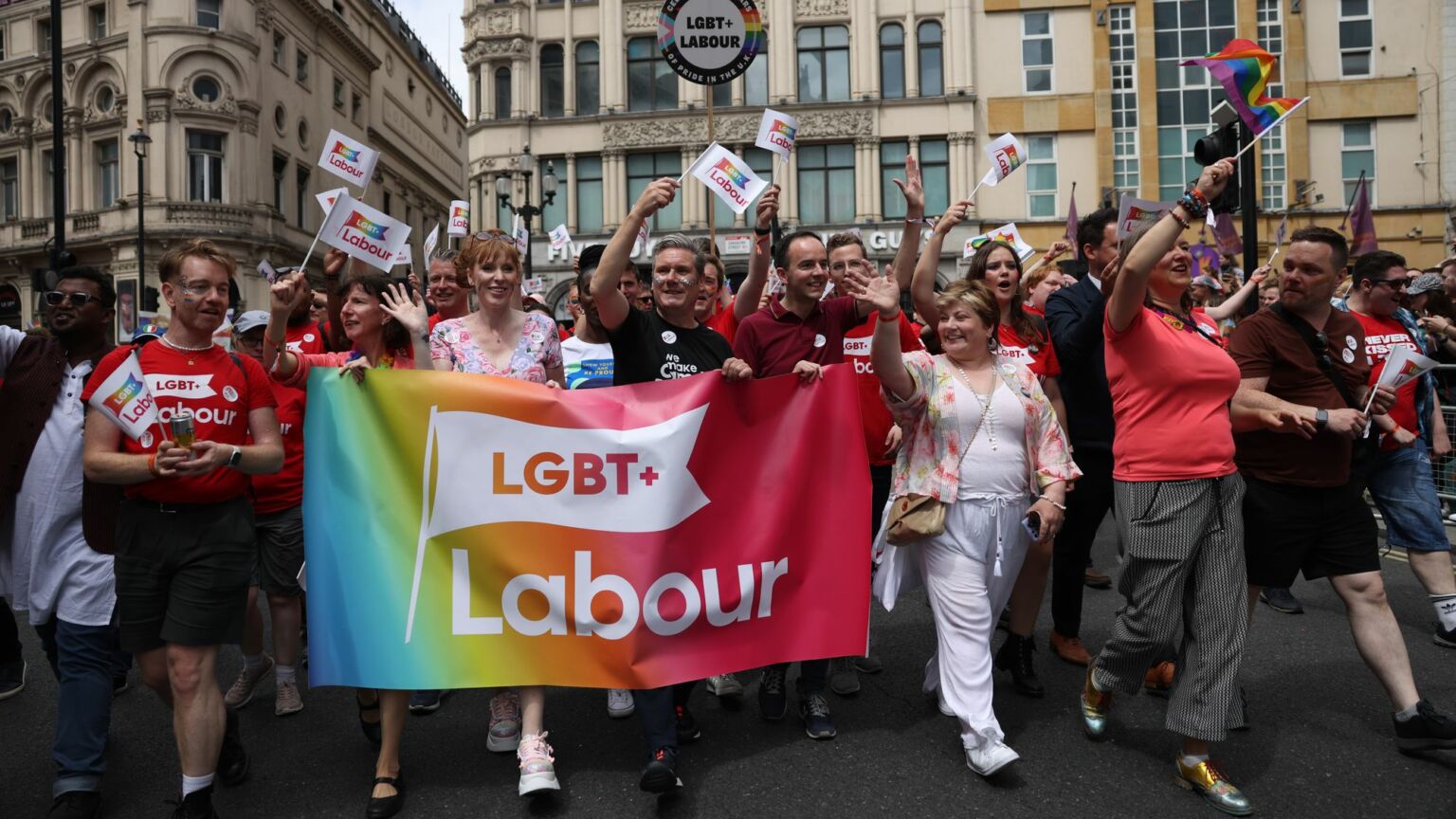 After the Lionesses' Euro 2022 victory just over a week ago, the cheering had hardly subsided before the game of political piggybacking was on. And for once, Labour leader Sir Keir Starmer was on the ball, swiftly tweeting in support of England's women footballers: 'The Lionesses, you have inspired a generation of women and girls. My daughter and her friends have strong, successful role models in sport because of you.'
But coming from a man who has struggled to even define what a woman is, this talk of inspirational females feels flaccid. Starmer leads a party that is committed to gender self-identification, which would abolish women's single-sex spaces. He has said nothing defending the right of girls to achieve success in single-sex sports teams. Nor has he stood up to the bullying trans activists in his party, who are pushing it to adopt an extreme gender ideology and are silencing the women who are speaking out against this. It is little wonder, then, that thousands of women have jumped on the #LabourLosingWomen hashtag to express their anger and disappointment over the past few weeks.
Sadly, for those progressive voters who are turned off by the pretence that sex doesn't matter, the other left-wing parties are no better. A few weeks ago, Liberal Democrat CEO Mike Dixon was so disgusted by the prospect of giving the LGB Alliance – a gay-rights charity that opposes extreme gender ideology – a stall at the party conference, that he publicly claimed there had been an 'administrative error' before cancelling its booking. Similarly, those tempted to turn Green will have quickly been put off by the actions of Scottish Green MSP Patrick Harvie, who has demanded the expulsion of deputy-leader candidate Shahrar Ali for his gender-critical views.
Yet outside the claustrophobic world of lefty politics, it is slowly becoming acceptable again to acknowledge biological reality. Indeed, the Tory leadership candidates have grabbed the trans issue by its hairy glitter balls, squeezing political capital out of them in the process. Frontrunner Liz Truss was known to have put the boot into LGBT giant Stonewall in her role as equalities minister. And although ex-chancellor Rishi Sunak was late to the gender-critical party, he kicked off his campaign with a pledge to publish a manifesto in support of women's sex-based rights.
And while she might be out of the running this time, former equalities minister Kemi Badenoch penned a powerful piece in The Times last month, following the closure of the Tavistock clinic and its Gender Identity Development Service (GIDS). She wrote of her horror at learning that thousands of young patients were prescribed experimental drugs, and that trans lobby groups were alleged to have influenced the clinic's practices. Badenoch's article reminded ministers of their duty to 'face down vested interests who are profiting from scandals such as the Tavistock'.
Savvy Tory MPs have recognised that there are votes in being honest about biology, whether this is framed as a question of women's rights, children's welfare or freedom of speech. And that now ubiquitous question of 'What is a woman?' can tell you a lot about whether a politician deserves your vote, as any politician who claims not to understand the difference between the sexes is either worryingly credulous or a coward.
On this front, Labour MPs are lagging behind. For instance, shadow attorney general Emily Thornberry publicly attempted to reprimand actor Frances Barber recently for asking whether a man can have a cervix. Thornberry said: 'My cousin is a trans man. I presume he has a cervix. I haven't asked – it's none of my business.' Interestingly, neither Thornberry nor her woke colleagues found time to pass comment on the scandal at GIDS. Similarly, the recent court victory by Allison Bailey, which shed light on the workings of Stonewall and represented a win for workers' rights, was ignored by Labour Party heavyweights.
But the pressure is building. Since 2018, gender-critical groups with links to the Labour Party, including Lesbian Labour, Labour Women's Declaration (LWD) and Woman's Place, have pushed for a space within the party. In late July it was reported that LWD had been refused a stall at the annual party conference in September. In response, MPs Tonia Antoniazzi, Feryal Clark, Marsha de Cordova, Rosie Duffield, Julie Elliott, Mary Glindon, Diana Johnson and Steve McCabe signed a letter arguing for their inclusion. Two years ago, even eight MPs signing a letter of this type would have been unthinkable.
Understandably, LWD is frustrated at the rate of progress, complaining that 'although the messaging has slightly improved in recent months, [Labour] still finds itself well behind the curve on the details of the issues. Without robust, evidence-based discussion, it's hard to see how Labour will arrive at a defensible position on women's rights. There seems to be no prospect of such discussion happening any time soon. There needs to be clear direction from the leadership that the silencing of women must end.'
Sometimes it's difficult to understand why so many feminists continue to feel any loyalty to the mainstream left. A left that, broadly speaking, regards them at best as obsolete old hags and at worst as dangerous fascists. It is remarkable that so many women are being physically harassed by those they would otherwise regard as comrades. And the fact that the Labour leadership hasn't extended them a sniff of solidarity is telling. It speaks not only of its disregard for the insight and commitment of gender-critical women, most of whom are experienced political activists, but also of the left's insular and myopic worldview.
In a few years' time, the Labour Party's sex-denying rhetoric will be as anachronistic and embarrassing as its members who still cling to a political model that was torn down with the Berlin Wall. The debate on gender is happening, and the conversation is moving on. Now it's time the Labour Party and the left caught up.
Jo Bartosch is a journalist campaigning for the rights of women and girls.
To enquire about republishing spiked's content, a right to reply or to request a correction, please contact the managing editor, Viv Regan.