The liberal media's silence on Hunter Biden
The MSM's continued downplaying of the Biden scandals is now the biggest scandal of all.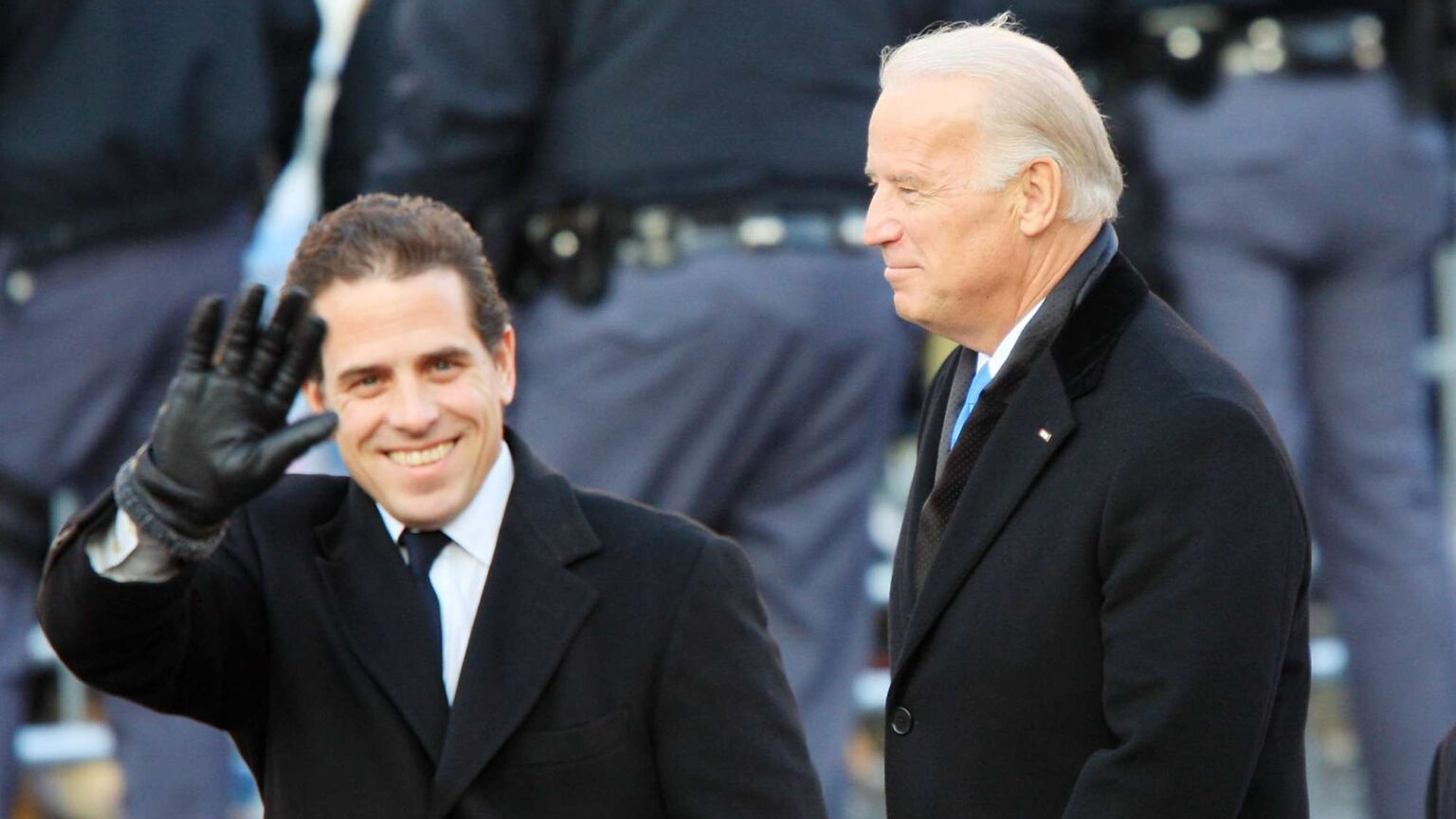 Everything you need to know about the modern liberal media is contained in the following fact. They told us there was a video of Donald Trump consorting with prostitutes, but there wasn't. And they told us there probably weren't any videos of Hunter Biden consorting with prostitutes, but there were. The supposedly respectable, 'reality-based' media expended far more energy gabbing about a completely mythical video of Trump watching Russian hookers take a leak in a Moscow hotel room in 2013 than they did investigating rumours of real videos showing the current president's son taking drugs with prostitutes in hotels in Vegas and elsewhere. Fake news about Trump carries more weight than real news about the Bidens in today's messed-up media.
We need to talk about Hunter Biden. Yes, we've all seen far too much of the president's son in recent days, courtesy of the latest leaked videos from his various computer devices. And yet we have to discuss this because the Hunter story – or rather, the fact that the Hunter story took so long to come out – tells us a great deal about the media elites of the 21st century. This isn't really about Hunter anymore, or his tragic crack habit, or his genuinely sad inability to do anything without filming it on his phone or his laptop. No, it's about the media's abandonment of objectivity in response to the populist moment, and their craven willingness to bury stories that have the potential to harm the political elites.
The latest Hunter Biden computer revelations are the most miserable yet. A 4chan user claims to have hacked into Hunter's iCloud account and found all manner of obscenities. A video of Hunter smoking what seems to be a crack pipe during a water-immersion therapy session in Massachusetts. Footage of Hunter in a shower, again smoking what appears to be a crack pipe, with two call girls. The women refer to him as their 'future baby daddy' and to themselves as 'naughty whores'. This was filmed in 2018, just nine days after Joe Biden had wired Hunter $75,000. It's a sorrowful, pathetic video. And yet we are compelled to imagine the global media storm there would have been if it had been revealed that Trump had sent tens of thousands of dollars to one of his sons who then seemed to blow it all on prostitutes and drugs. That would unquestionably have been turned into a frontpage indictment of the moral rot of Trumpism.
The response to the Hunter iCloud leak could not be more different. Amazingly, some in the woke set even wondered if the videos are real. Snopes, once a fact-checking site and now a blatantly partisan media outlet, advised its readers to 'take individual rumours and memes [about Hunter]… with a grain of salt'. Rolling Stone's response was to lambast 4chan. 4chan is a cesspit of 'baseless, hate-fuelled misinformation', it raged, seeming to hint that the Hunter videos might be misinformation, too.
Hunter clearly has a troubled private life. And in my view it is wrong to delve into people's privately stored information. Hunter needs help, not hacks. And yet some of the recent revelations from Hunter's gadgets are more serious, more political, and they reach to the president himself. And, strikingly, even that is not being widely discussed. For example, Joe Biden's claim that he never discussed foreign business with his son appears to have been shattered by some of the recent leaks. A few weeks ago a voicemail leaked from Hunter's backed-up computer data confirmed that Joe called Hunter in December 2018 to discuss a New York Times report linking Hunter to the huge Chinese oil corporation, CEFC. Ye Jianming, chairman of CEFC, met with Hunter in a hotel in Miami in 2017 to discuss 'a partnership to invest in American infrastructure and energy deals'. Ye was later arrested on suspicion of trying to bribe the president of Chad. 'Hey pal, it's dad… if you get a chance give me a call, I love you', said Joe in his voicemail message about the NYT report on Hunter's links to the Chinese oil giant. Which rather suggests Joe and Hunter did discuss significant matters of global business.
What's more, Joe denied attending a dinner in Washington, DC in 2015 with Hunter's business associates from Russia, Ukraine and Kazakhstan. Yet emails and photographs confirm he did attend. It's now also known that Joe met with some of Hunter's other Chinese business partners and with his Mexican billionaire associates, too. As the Daily Mail says, it seems 'the president lied about not talking foreign business with his son'. Shouldn't this be bigger news – the fact that the current leader of the free world seems to have frequently rubbed shoulders with powerful foreign businessmen who were the friends of his troubled son? Again, one is forced to contemplate what the response would have been if it had been revealed that Trump had wined and dined Russian and Chinese oligarchs at the behest of one of his offspring. It would never have left the front pages of the global liberal media.
Indeed, there is a staggering irony to the liberal media's muted response to the Hunter / Joe revelations. For years the woke establishment went on and on about Trump's alleged links with Russia. He was a Putin puppet, they said, planted in the White House by powerful Ruskie oligarchs. Yet these same people have said almost nothing about the revelation that Hunter was entertained by 'billionaire oligarchs in Moscow' (one of whom is now wanted for murder), and that he swiftly met with his dad when he returned to the US from that Russian trip. If Trump so much as said a nice word about Russia there would be ceaseless media hysteria. Yet the Bidens can associate with iffy Russian oligarchs and the woke media shrug their shoulders. This really is the pinnacle of double standards.
Big Tech has played a role in trying to dampen down public interest in the latest Hunter leaks. Initially, anyone who searched on Google for terms such as 'Hunter Biden crack' would be greeted with a message saying: 'It looks like these results are changing quickly.' They were then invited to search for further information in 'a few hours or days'. 'Come back later', Google's automated response instructed. Apparently this was because the info about Hunter could not be verified, yet I don't recall receiving similar messages when I Googled 'Trump Russian prostitutes' a few years back. This isn't the first time Big Tech has helped to throw water on the flames of a Biden controversy. When the New York Post first reported on Hunter's 'laptop from hell' in late 2020, shortly before the presidential election, there was 'aggressive moderation' on social media. It wasn't 'moderation', of course – it was classic political censorship, with the oligarchs of Silicon Valley preventing Facebook and Twitter users from sharing the New York Post's story on the basis that it was possibly false information. These unaccountable billionaires even prevented the Post, the oldest continuously published newspaper in the US, from accessing its own Twitter account. It was a grotesque assault on press freedom designed to protect the Democratic elites from scrutiny. A true low point in woke corporatists' disdain for free public discussion and for democracy itself.
As for the media, most of them turned a blind eye to the original laptop story. 'We don't waste our time on stories that are not really stories', said NPR. Even now, following further revelations of questionable behaviour in the Biden camp, the media are mild at best, silent at worst, in their response. Rumours about Trump were enough to send the liberal media into a frenzy; truths about the Bidens cause them to feel nothing at all. This is how politicised mainstream journalism has become. It now clearly conceives of itself, not as the pursuer of truth, wherever that might lead, but as the defender of the professional managerial elites against the questions and concerns of the populist throng. This is why the Hunter Biden story matters. Not because one sad, unsettled man took some drugs and hired some prostitutes – we can forgive that – but because the media establishment has made it clear to the world that it is more interested in protecting power from truth than speaking truth to power.
To enquire about republishing spiked's content, a right to reply or to request a correction, please contact the managing editor, Viv Regan.