Anti-racist activists don't speak for ethnic-minority Britons
On matters of crime and policing the activist class is painfully out-of-touch.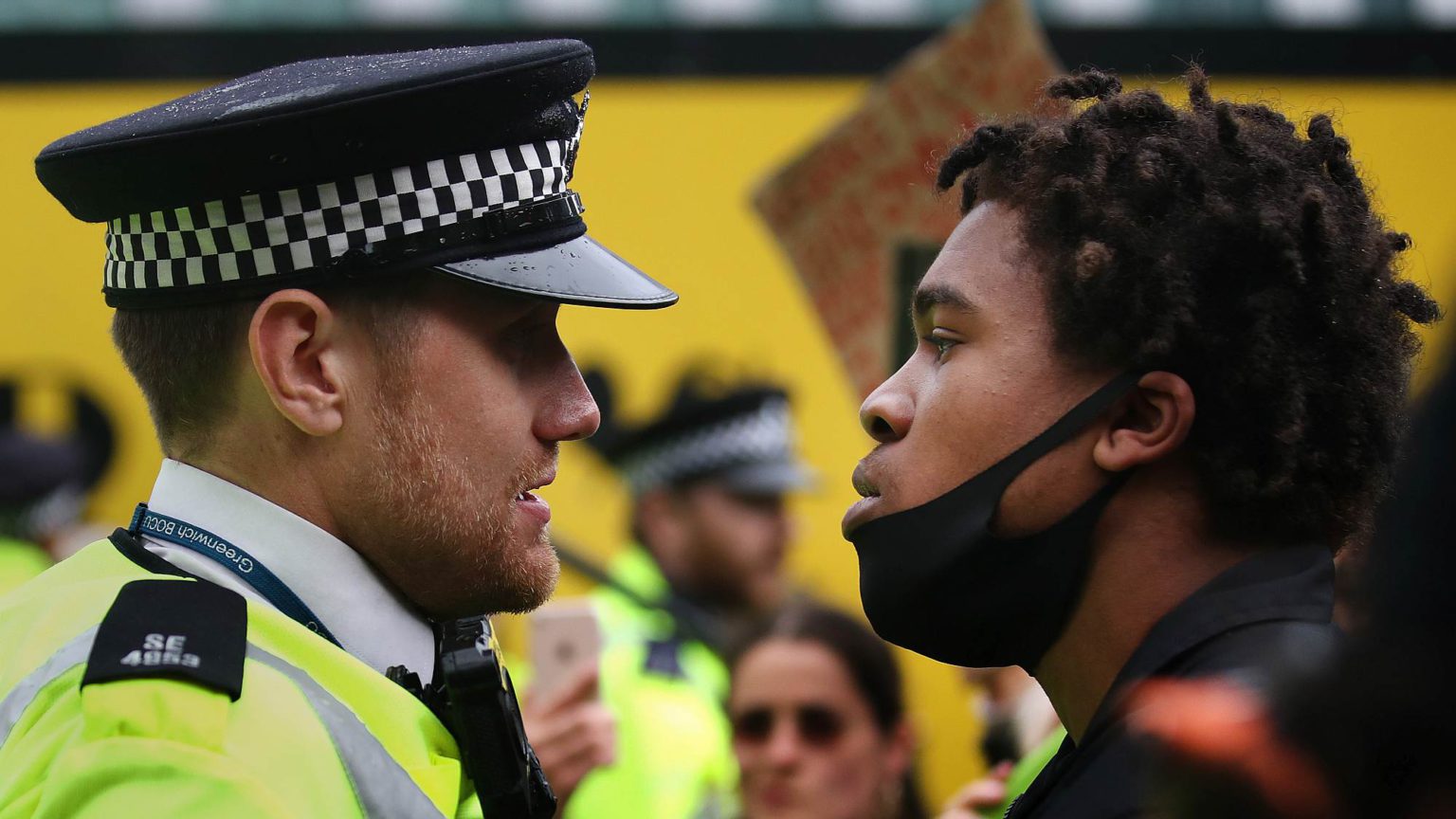 The police have long had a fraught relationship with Britain's ethnic-minority communities. Racism, over-policing and social deprivation have historically coalesced to breed a culture of mistrust and suspicion towards the police. Despite the police's many ongoing problems, when it comes to questions of race matters have improved over the years. As social attitudes have become more liberal, black Britons have moved up the social ladder and the police have become more accountable, structural racism is no longer one of the most significant problems facing the police.
However, since the tragic murder of George Floyd at the hands of a US police officer in May 2020, new life has been breathed into the largely false narrative that the British police are riddled with racism and seek to terrorise ethnic-minority communities.
One policing tactic that has become a focal point of activist anger is stop-and-search. According to the data, the stop-and-search rate for every 1,000 people is 52.6 for black people compared with just 7.5 for white people. This means that black people are seven times more likely to be stopped and searched than their white counterparts.
This statistic, for many of today's anti-racist activists, is evidence of structural, systemic or institutional racism. The disparity, it is argued, demonstrates why black Britons cannot and should not trust the police, and why the police must 'do more' to tackle racism. But this narrative is simplistic at best and misleading at worst.
The use of stop-and-search is undoubtedly controversial from a civil-liberties point of view. In Britain, the police can stop and question you at any time. Generally, they should have 'reasonable grounds' to suspect you are carrying something you shouldn't be. But this is often a subjective judgement. What's more, senior officers can approve searches 'without reasonable grounds'. There are good arguments to be had over these police powers and whether they might be too open to abuse.
But contrary to popular belief, ethnic-minority Brits do not tend to view stop-and-search as a tool of racism, as the activist class does. In fact, the use of stop-and-search enjoys a high amount of support among ethnic-minority Brits – even higher than among the white British majority. A study of more than 1,000 parents by Deltapoll for the Civitas think-tank found that 80 per cent of black and ethnic-minority families believe police should use stop-and-search to help prevent cannabis from being sold or used on the streets, compared with 70 per cent of white parents. It is telling that stop-and-search is widely supported even for non-violent crimes, such as drug possession. Furthermore, 67 per cent of black and ethnic-minority parents back police taking a tougher approach to cannabis use compared with 22 per cent of white families.
Support for the police in general is high among ethnic-minority Britons, too. The Crime Survey for England and Wales has found that a comfortable majority of ethnic-minority Brits have confidence in the police. There may be many explanations for this – including the fact that many ethnic-minority Britons have more traditional cultural attitudes towards discipline and behaviour.
If you only paid attention to the mainstream public debate and to the activists who are invited to speak to the media, you would think all black people despise the police. And you would likely be left with the impression that violent clashes between racist police and ethnic-minority Brits minding their own business are a daily occurrence.
A few months ago, I debated community activist Ken Hinds on GB News, who went as far as to claim that he was unsure whether the police genuinely wanted crime to be reduced within the black community. I put it to him that many ethnic-minority families in socially deprived communities are more concerned with spiralling violent-crime rates than they are with stop-and-search, and they would likely support any measure that might reduce the likelihood of bloodshed. In response, he made a thinly veiled attempt to question my 'authenticity' as a black person.
In reality, blanket accusations of 'institutional racism' fail to grapple with the nuance and complexities of racial disparities. In many ways, they make things worse. Many of the so-called solutions that are offered, such as the recent Police Race Action Plan, would do absolutely nothing to help. They would only bring identity politics into policing.
The reason so many ethnic-minority people support stop-and-search isn't that they're 'coons', 'racial gatekeepers' or 'Uncle Toms' (just some of the egregious and condescending racialised slurs that are thrown around these days), it is because they want to live in safe communities and prosper – just like everyone else. And when confronted with horrifying statistics – such as the fact that young black men in Britain are 24 times more likely to die of homicide than their white counterparts – they want action.
Yes, we should be sceptical of the use and expansion of indiscriminate police powers such as stop-and-search, but we should also be sceptical of those who want to reduce complex problems of crime and policing to questions of 'institutional racism'.
Inaya Folarin Iman is a spiked columnist, GB News presenter and founder of the Equiano Project.
To enquire about republishing spiked's content, a right to reply or to request a correction, please contact the managing editor, Viv Regan.