Labour's insult to voters
It will take more than Angela Rayner's 'street language' to reconnect with the Red Wall.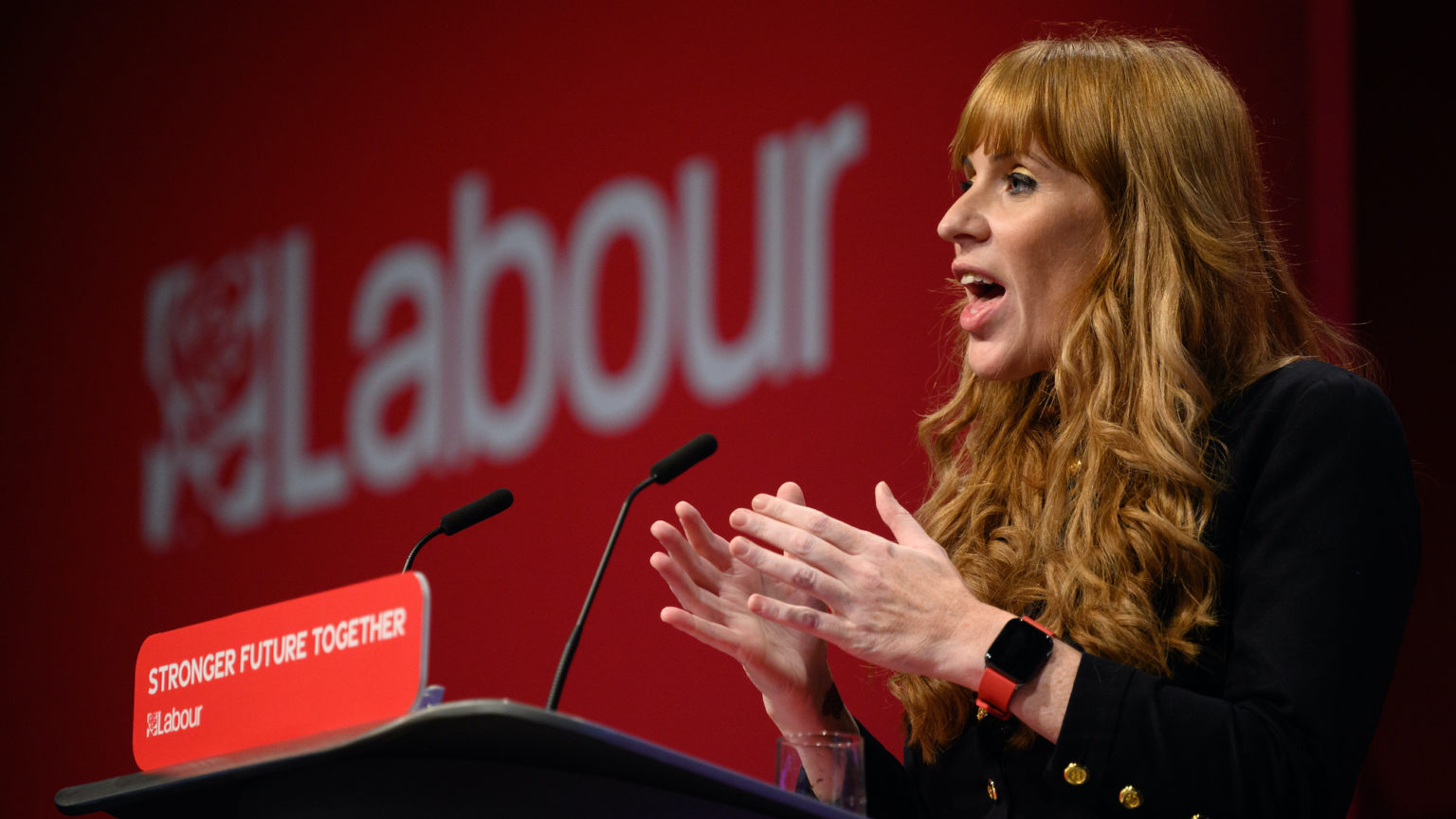 Party-conference season is boring at the best of times. Thankfully, there are always some thrills, spills and gaffes to liven things up between the dull policy announcements.
This has clearly been the case with this year's Labour Party conference. While Labour busied itself with a row over internal voting rules, deputy leader Angela Rayner stole the limelight with one rather excitable Tory-bashing speech, delivered to a meeting of Labour activists. 'We cannot get any worse than a bunch of scum', she said of the Tories, before adding that they were 'homophobic, racist, misogynistic, absolute pile of banana republic, vile, nasty, Etonian, posh… piece of scum'.
Some Tories predictably got their knickers in a twist. They said that Rayner's use of the word 'scum' was unacceptable and that she should apologise. They weren't alone in their disapproval. Even Rayner's own leader, Keir Starmer, showed his discomfort at her comments when quizzed about them by BBC journalist Andrew Marr. Starmer promised to 'talk to her'.
Nobody really cares if Labour MPs insult Boris Johnson and the Tories in front of their own activists. What is questionable, however, is the idea that this kind of talk chimes with working-class people. Some seem to think that if Labour MPs pepper their speeches with a bit of 'street language', as Rayner described it, the Red Wall votes will come piling back in.
So, in an interview yesterday with Trevor Phillips on Sky News, Rayner claimed that 'scummy' was a phrase working-class northerners would use with each other. And she would continue to use it, she said, until Boris Johnson apologised for using the word 'letterboxes' to describe women in niqabs.
But Labour's lost voters can see through this hollow posturing. While speaking to Phillips, Rayner said it was 'scummy' that the Tories had left children to starve during the pandemic while doing backroom deals with their pals on WhatsApp. Such a tirade would sound a little more convincing if Labour hadn't spent the pandemic refusing to criticise the government's lockdowns and restrictions – policies which have directly impoverished and isolated working-class communities. And Rayner's condemnation of Johnson as a misogynist would seem less ridiculous if her own leader hadn't spent the weekend telling the public that saying 'women have cervixes' was 'the wrong thing to do'.
Rayner is often touted by Labourites as a potential vote-winner. They talk up her accent, her 'straight talking' and her working-class background. This celebration of Rayner suggests that some in Labour think their main problem is presentation. They seem to believe that if Labour just presents a more authentic working-class face to working-class voters, they will come flooding back. Good luck with that.
Rayner should know better. For those of us who have grown up with people wincing at our council houses and judging our accents, this kind of stereotyping is tiresome. Working-class people don't want politicians who drop their T's and drink pints. They want people who will listen to them and represent their wishes. Rayner's Four Yorkshiremen routine is insulting, especially given the Labour Party has just spent more than four years trying to undermine the votes of millions of working-class northerners.
Rayner says she'll apologise for calling Johnson scum when he apologises for comments he made in old op-eds. This is all the Labour Party is good for – playground spats over insults and apologies. Britain faces an energy crisis, benefits cuts, the threat of more lockdowns, job losses and a social-care crisis. Yet the best the official opposition can come up with in response to a failing government is a four-letter word. That's pretty scummy.
To enquire about republishing spiked's content, a right to reply or to request a correction, please contact the managing editor, Viv Regan.