Where is the outrage over vaccine passports?
Our freedoms are being eroded with hardly any resistance.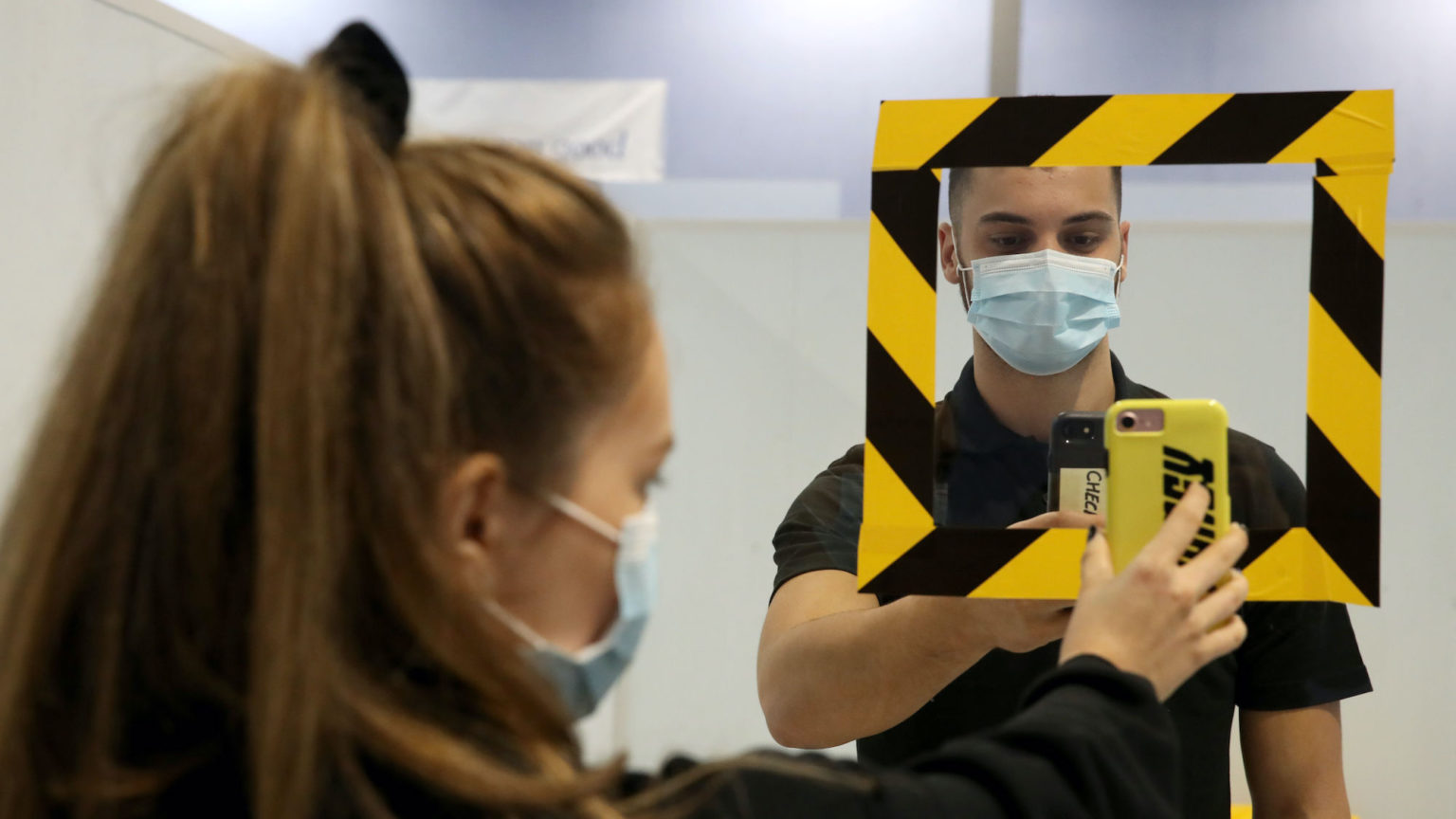 As everyone by now knows, the government is considering increasing national-insurance contributions in order to fund the UK's growing demand for adult social care. The leaked proposals have been impossible to miss. They have been making frontpage news for almost a week.
The proposed tax hike has caused outrage among backbench Conservative MPs, who complain that key election promises are being broken. It has united former Tory chancellor Philip Hammond and Labour leader Keir Starmer in opposition. Both argue that increasing national insurance – as opposed to raising other taxes – will hit the youngest and poorest hardest. Commentators have been out in force, arguing that the government's plans breach an intergenerational contract and risk turning the UK into a gerontocracy.
All these criticisms have their merits. But what's surprising in the current round of outrage over social-care funding is the sheer scale of pushback in comparison to other issues the UK is facing right now. While Tory MPs are busy fulminating in their WhatsApp groups and the Labour leader issues statements, yet more details have emerged about plans to introduce vaccine passports, which have met very little resistance.
In Scotland, Nicola Sturgeon is planning to introduce a vaccine-passport scheme for entry to nightclubs and other venues where large crowds gather – including football stadia – by the end of this month. Meanwhile, UK vaccines minister Nadhim Zahawi has claimed that vaccine passports are essential in order to avoid another lockdown. He has suggested they could be mandated in England within the next few weeks. Even theatres may have to demand audience members show their papers prior to entry.
Vaccine passports represent an alarming incursion on our civil liberties. Their introduction would fundamentally alter the nature of British society, preventing all citizens from participating freely and equally in public life. Access will be granted on a 'papers, please' basis. Nightclub owners and theatre managers would be turned into state functionaries, mandated to check our vaccination status.
Domestic vaccine passports would divide the population between those who are fully jabbed and those who are – for whatever reason – non-compliant. The vaccinated would enjoy privileged access to jobs and events. Indeed, this discrimination based on medical status is the entire point of vaccine passports. The aim is to incentivise vaccination by denying the unjabbed equal status. In other words, vaccination becomes effectively mandatory for anyone who wants to maintain a normal life.
So where is the outrage? There are of course many campaigning groups, business owners and individuals valiantly and noisily pushing back against vaccine passports. But where are the headlines and the comment pieces? Where are the MPs queuing up to speak out against the government? It seems that far more people are getting hot under the collar over the prospect of national-insurance increases than the prospect of vaccine passports.
When the debate about vaccine passports does make it into the pages of our national newspapers, it is marked by a tone of resignation. Whereas MPs clearly think that, if they kick up sufficient fuss, they can get the government to drop plans to raise national insurance, the introduction of vaccine passports seems to be a foregone conclusion. It's either bound to happen and so is not worth opposing, or it's a justifiable means of encouraging vaccine uptake. In either case, individual liberty is not viewed as any great loss.
This disparity in outrage is revealing. It shows how little regard we have for the value of freedom. A nation that is more angry about spending a few extra quid each year than losing fundamental liberties has got its priorities wrong. We need to ask why.
Living in a free society involves taking risks. Every time we leave our homes and enter the public realm we risk all manner of physical dangers and psychological harms. But we accept this because these risks are tempered by our trust in other people. We expect people to behave in particular ways. No one would get in a car and hurtle down a motorway if they did not trust most other drivers to obey the laws of the road. Our current disregard of freedom – and our concurrent privileging of safety – shows we have lost this trust in other people.
Though some like to claim the coronavirus crisis brought the nation together, lockdown has clearly driven us apart. After 18 months of restrictions, we are more atomised than ever before. This is one reason why so many people are relaxed about having to produce medical evidence before entering a public space. It is also why there is so much fuss about collectively contributing towards the cost of social care. Social solidarity would mean both trusting people enough to value freedom and caring about people enough to pay towards their care. Sadly, today we care little for freedom or solidarity.
To enquire about republishing spiked's content, a right to reply or to request a correction, please contact the managing editor, Viv Regan.