It's time to lay off those 'Whitty thugs'
The media hounding of these two young men is now more objectionable than what they did to Whitty.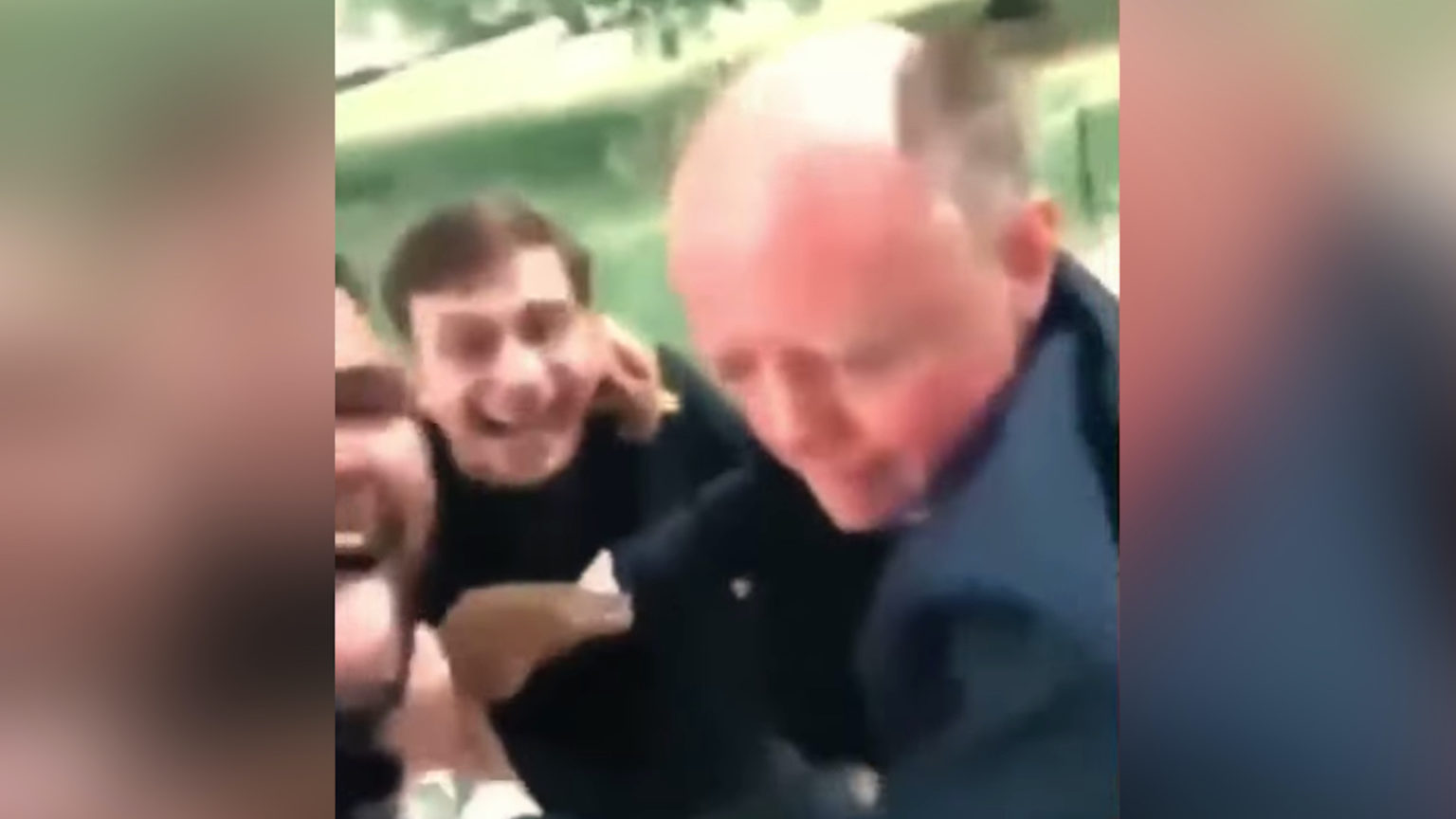 It's finally happened. The response to those two muppets who accosted Chris Whitty is now officially more disturbing than the accosting itself. Yes, we all agree that Jonathan Chew and Lewis Hughes, the two seemingly boozed-up loudmouths who manhandled Whitty in an effort to get a selfie with him, behaved like boors. Even they agree – they've apologised for their antics. But the demonisation of these two young men, the destruction of their livelihoods, the transformation of them into the perfect vulgar symbols of Brexit Britain or Boris's Britain (whichever one you hate more), is spinning dangerously out of control. The Whitty incident proved young blokes can be a bit dumb sometimes. Who knew? The mad obsession with the Whitty incident proves something which, in my view, is far more worrying: that we live in singularly unforgiving times.
Of course Chew and Hughes deserve condemnation. What they did was wrong. You should not grab people in the street. You should not film people without their consent. You should respect your elders. Their mobile-phone footage showing them shouting 'Oi, oi' and 'Just one photo, mate' at a bewildered-looking Whitty makes for unpleasant viewing. Whitty looks startled and embarrassed and Chew and Hughes look like arseholes. They appear to have cottoned on to this fact. Hughes, a 24-year-old estate agent, says: 'If I made [Professor Whitty] feel uncomfortable, which it does look like I did, then I am sorry to him for that.' Chew, also 24, says he suffers from ADHD, which means 'sometimes things seem a good idea and really they're not'. We can be pretty confident that these two men are now ashamed of what they did and will learn a lesson from the backlash.
But about that backlash – it is, to be frank, insane. It feels entirely disproportionate to the incident itself. Everywhere you look the men are being branded as 'thugs' and 'yobs'. Politicians of every stripe, from the PM down, have publicly condemned them. Media outlets have had a field day whipping up hatred against Chew and Hughes, treating them as a sinister combination of laddishness, loutishness and supposedly 'anti-vaxxer' sentiment (the men had been on an anti-lockdown demo prior to bumping into Whitty). The social-media set are fuming about the pair, claiming that they sum up everything that is rotten about Brexit and the Tories and this horrible little country we sadly inhabit. The men's livelihoods are now on the line. Hughes says he was sacked from his estate-agent job because of the Whitty incident. With their names and faces splashed across the entire media, these blokes will be lucky to find gainful employment anytime soon.
Isn't this a bit much? Especially considering the fact that Whitty reportedly doesn't want to press charges against Chew and Hughes. If he is over it, shouldn't you be over it too? That is what is most striking about the overwrought reaction to the Whitty incident – it isn't really about the Whitty incident. Not anymore. Rather, it has been elevated to the status of a symbol, a signifier, a story about who and what we have become as a nation. Chew and Hughes are not just two young men who did a stupid thing – they are now emblems of a corrupted kingdom, the dramatis personae in the story of Britain's post-Brexit decline that the chattering classes tell themselves for moral kicks. And the problem with turning human beings into narrative objects, into representative devices in a broader tale of decay, is that you can treat them as meanly and obscenely as you want. You can even destroy them. They're only symbols, after all.
Consider the words of Marina Hyde in the Guardian. 'There is something rather Johnson-era about this sort of clip', she says, 'where a yobbish disdain for boundaries feels increasingly part of daily life'. (Hold on. Hasn't Boris Johnson just spent 18 months enforcing the most rigid, illiberal boundaries in living memory via the lockdown? Where exactly is his government's yobbish disdain for boundaries? I wish.) Hyde continues: 'Written on the laughing, leering faces of Whitty's tormentors is a set of assumptions… that their behaviour doesn't actually matter, that it's all a laugh, and that being popular online is miles more important than being decent.' That's a lot to read in the boozy visages of two men shouting 'Oi, oi'. Of course what's really happening here is that Hyde and the rest of the noisy condemners of Chew and Hughes are seeing in their behaviour what they want to see – proof that this once nice nation has been despoiled by Boris and Brexit and the dimwits who voted for these things. People like Chew and Hughes, no doubt.
I don't want to sound like a sap, but whatever happened to forgiveness? To accepting apologies? To accepting that people can make mistakes and genuinely regret it? It seems there is no room for erring in these morally straitened times. Those two men did a daft thing and thus they must be ceaselessly and ritualistically humiliated. That's the dark irony in all of this, and in today's broader culture of denunciation that dolls itself up as virtue. The chattering classes seem to be deriving a far greater thrill from their humiliation of Chew and Hughes than Chew and Hughes did from their fleeting humiliation of Professor Whitty. Their manhandling of Whitty looked like a rash, thoughtless act. The hounders of the 'Whitty yobs' have no such defence: their ongoing demonisation of these men is conscious, calculated and self-serving. I am now more frightened of the glee with which these supposedly virtuous warriors are chasing two young men out of normal society than I was by that clip of two idiots being ghastly to Whitty.
Brendan O'Neill is editor of spiked and host of the spiked podcast, The Brendan O'Neill Show. Subscribe to the podcast here. And find Brendan on Instagram: @burntoakboy
To enquire about republishing spiked's content, a right to reply or to request a correction, please contact the managing editor, Viv Regan.