What if George Floyd's killer is acquitted?
Anything less than a murder conviction will have explosive consequences.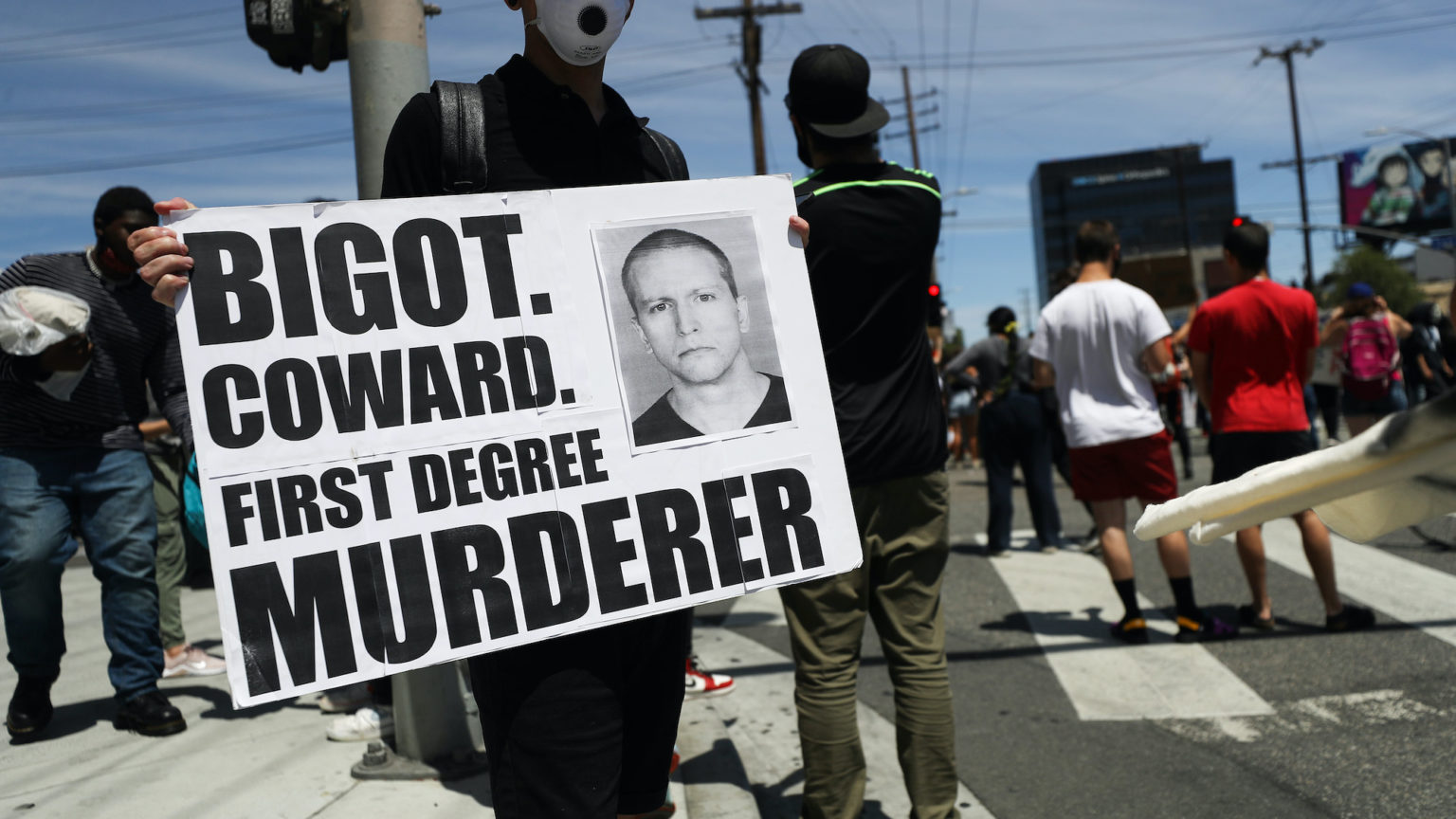 Minneapolis is on edge as the trial of Derek Chauvin kicks off. Chauvin is the police officer who was caught on video last May with his knee on the neck of George Floyd, whose subsequent death ignited protests around the country and the world. Chauvin is now being tried for the murder and manslaughter of Floyd.
The threat of renewed rioting, arson and violence hangs over the legal proceedings. The courthouse is a fortress protected by cement barricades, razor-wire fencing and military vehicles. Hundreds of protesters, dressed in black, stare down National Guard troops. 'Justice by any means necessary', they shout.
In 'George Floyd Square', the area surrounding where Floyd died, the gangs in control have declared it an 'autonomous zone', like the 'CHAZ' in Seattle's Capitol Hill area. They vow to keep the area closed until the Chauvin verdict is declared.
The largely black-owned businesses in the square have been boarded up since last summer's destruction. Police and visitors are not welcome. 'You come out here, it's like Mexico', said Just Turkey owner Sam Willis Jr. 'A person can commit a crime on 37th Street [just outside the square], and if they run over here, the police are not going to come.' Gunshots can be heard every day, and people have been killed. A city council member tells of her constituents who live in fear, like 'the black elderly woman who has to sleep in her bathtub so she can avoid being shot at night', and the residents 'who text me when there's bullets zinging by their faces in the middle of the day as they're gardening'. City officials – the same ones who allowed a police precinct to be burned down last summer, and who cut police funding in the aftermath – are also too timid to reopen the square.
These ominous scenes in the city are already affecting the proceedings. As jurors are currently being selected, many have expressed fears that they could face attacks or other repercussions after the verdict. 'I just wouldn't want any issues or harm to come to my wife or my family', said one potential juror.
The Chauvin trial is one of the most high-profile in the history of US race relations. The case is 'one of the most important civil-rights cases in the last 100 years', says Benjamin Crump, the lawyer for Floyd's family. 'It is the Emmet Till of today', adds Crump, referring to the black teenager who was murdered in Mississippi in 1955.
Indeed, the case of George Floyd is much more than one black person who died after an interaction with the police. Floyd's death is the foundation for a broader narrative about race in America. That narrative goes something like this: Chauvin murdered Floyd because he was black; his murder was typical of the violence the police mete out to black people routinely; this institutionalised police racism is itself a reflection of the pervasive racism that exists throughout American society; and all white people are responsible for the 'white supremacist' society they benefit from.
Since Floyd's death, various institutions, from government to corporations to cultural centres, embraced this narrative and have sought to transform society accordingly. Following academic concepts like 'equity', companies have introduced hiring quotas based on race and have forced workers to attend white-shaming training sessions. Schools have adopted 'anti-racist' lessons that aim to turn youngsters into activists. Books have been banned, streets renamed, statues toppled. All in the name of rectifying the racism exposed by the murder of one black man, George Floyd.
But what if Chauvin didn't actually murder Floyd? That's a question few Democrats, activists and media types are seriously considering. They don't dare, because doing so could call into question the narrative and the 'anti-racist' project that is built on Floyd's death.
Many leading political figures assume the Chauvin case is an open and shut one. Vice president Kamala Harris said Chauvin 'clearly committed murder'. On Monday, Minneapolis city officials seemed to endorse Chauvin's guilt when they agreed to a $27million settlement with Floyd's family (it is unusual to reach a settlement before a criminal trial, and it certainly risks influencing jurors).
I'd venture that most Americans who watched the video of Chauvin with his knee on Floyd, for an excruciating eight minutes and forty-six seconds, will believe Chauvin is guilty of some crime. Listening to the media, that crime would have to be murder. But the defence has a much stronger case than we're being led to believe.
Consider the officer body-cam video, released by the Daily Mail (as no US media would release it), showing that Floyd was in a stressed and drugged-up state from the time police approached him, some 20 minutes before Chauvin restrained him. That body-cam video also revealed Floyd resisting following police instructions, albeit not aggressively. And the defence will show that restraining an uncooperative suspect by using an officer's knee was part of the Minneapolis police training programme.
Plus, the official autopsy found that Floyd died due to 'cardiopulmonary arrest', not asphyxiation from Chauvin pressing down on him. The chief medical examiner also pointed to the amount of the drug fentanyl there was in Floyd's system: 'If he were found dead at home alone and [there were] no other apparent causes, this could be acceptable to call [it] an [overdose].' The toxicology report found Floyd had almost four times the level of fentanyl considered potentially lethal. Fentanyl would also cause breathing difficulties, and Floyd was saying 'I can't breathe' well before Chauvin arrived on the scene.
Of course, such facts don't prove the case one way or another, and no doubt more evidence will be introduced in the trial. But they should lead people to have a more open mind about Chauvin's guilt, and whether that guilt rises to the level of murder. Watching that awful, horrible video, it's clear to me that Chauvin is reckless – he's negligent in ignoring Floyd's pleas and spurning suggestions from a firefighter to help with Floyd's breathing, and the force he is applying is excessive. But all of that arguably fits better with a manslaughter charge than murder. It's noteworthy that the charge of third-degree murder was reintroduced to the case recently, which is easier to prove than the original second-degree murder charge.
Given this, you have to wonder: has the prosecution overreached in trying to convict Chauvin of murder? And did it do so for political reasons, to show its commitment to the broader anti-racism struggle? By reaching for a murder charge, the prosecution has raised the public's expectations, while increasing the chances that Chauvin might be acquitted. Now, even if the jury finds Chauvin guilty of the crime of manslaughter, it will be viewed by some as a letdown and an injustice.
The media are doing the public a disservice by assuming Chauvin's guilt, and not taking counter-arguments seriously. It needs to be said: it is possible that Chauvin may be acquitted of murder – and that might be a just outcome. Instead, we are in a situation where an acquittal of Chauvin is already considered – before he has even gone on trial, and before we or the jury have heard the evidence – as a totally unacceptable and unjust result.
What's typically unsaid, but implied, is that anything less than a murder conviction and long prison sentence for Chauvin will be worthy of mass outrage, protest and rioting. By framing the Chauvin trial as an open-and-shut case of racist murder, political and media figures are effectively saying that rioting will be an understandable and justifiable response if the verdict is acquittal. Like Minneapolis officials who have constructed a militarised fortress around the courthouse, they are expecting a riot – and not just in Minneapolis. Last summer, liberal pundits rationalised and excused the riots and arson that took off across the country in the wake of Floyd's death. Today they are green-lighting the riots before they happen.
Opening arguments in the Chauvin trial are scheduled to start on 29 March, and the trial is likely to last for months. The proceedings will be televised, and the public will be watching closely. It's going to be a challenging time, and we can expect that people hearing the same evidence will reach different conclusions. Simplistic arguments from political actors pursuing an agenda will only exacerbate tensions and divide us further.
To enquire about republishing spiked's content, a right to reply or to request a correction, please contact the managing editor, Viv Regan.