CHAZ: farce followed by tragedy
A murder has rocked Seattle's 'cop-free zone'. Sadly that won't be the end of this incoherent experiment.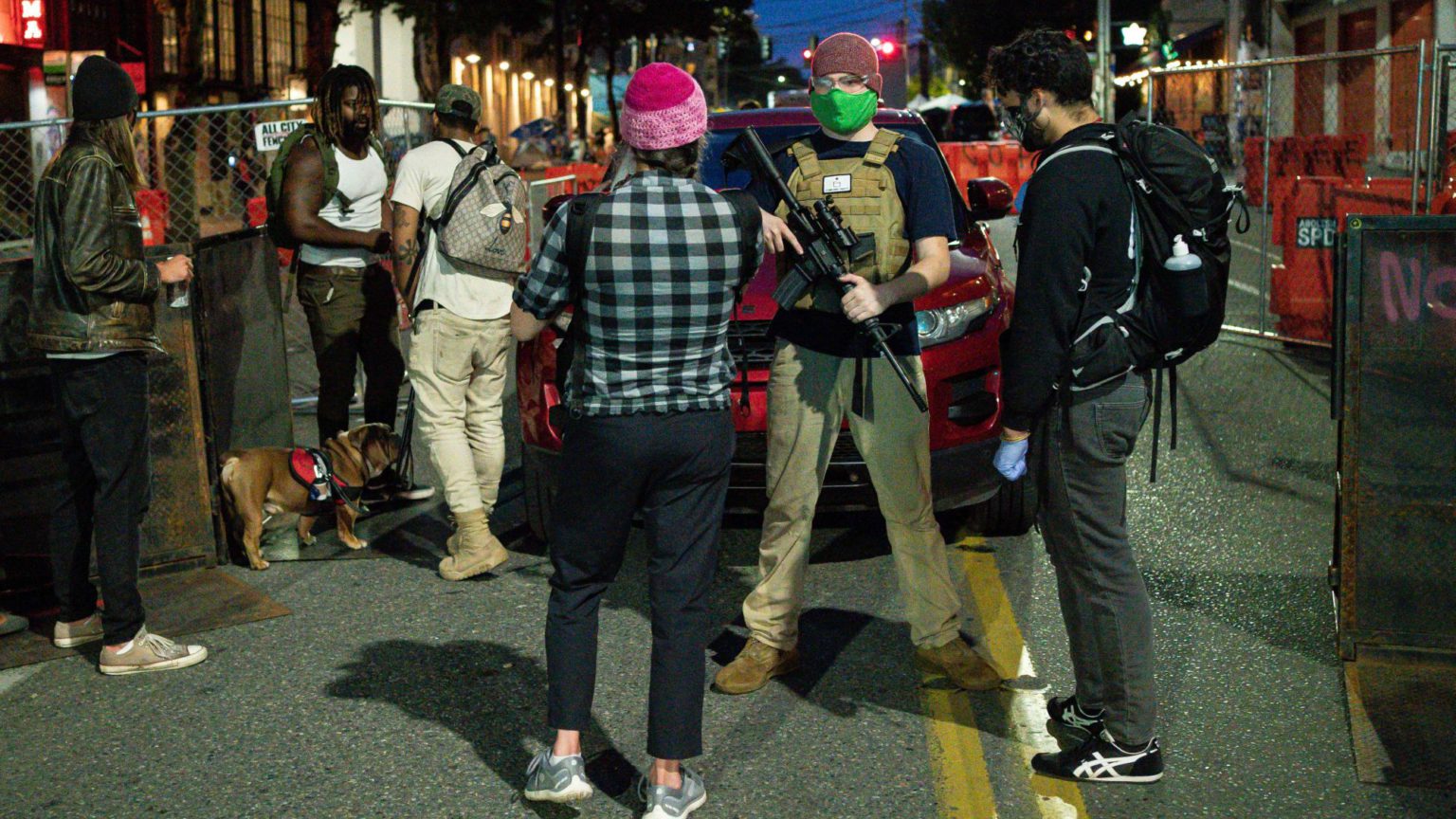 CHAZ – the Capitol Hill Autonomous Zone – is an anarchist-type commune in the heart of Seattle, Washington. It was founded on 8 June during the Black Lives Matter protests. It is similar in style to the 2012 Occupy pop-ups, but it has much bigger ambitions of creating a permanent independent zone of radicalism with its own gardens, medical centres, food distribution and even some semi-official borders. More significantly, its 'residents' have declared it a 'cop-free zone'.
At first, CHAZ received ire and praise in equal measure, predictably along left / right political lines within the media and political class. President Trump claimed that CHAZ had been taken over by terrorists and threatened potential military action if the state governor failed to 'take it back'. Seattle's mayor, Jenny Durkan, has downplayed its significance, comparing it more to an overextended block party.
CHAZ appears to be a cacophony of various political outlooks. The Black Collective at Capitol Hill published a list of demands on Medium on 9 June, but this is only one group of many within the zone which has stated interests and demands. Strange ideas and practices – from racially segregated gardening to demands for reparations – have littered social media. Over 50 flag designs have proliferated on the zone's Reddit page, demonstrating the lack of centralised power.
The initial CHAZ Reddit was plagued by claims and counter-claims about what was really going on there, especially in terms of the zone's policies and whether its borders were being enforced. A wave of misinformation and misconceptions infested social and mainstream media. But even CHAZ 'residents', despite being there in person, were uncertain about the zone's approach to law and order.
Shortly after CHAZ was formed, some residents volunteered to patrol the zone to ensure safety, led by professional rapper Raz Simone. Surreal footage of Simone patrolling the border with an assault rifle has led to allegations that he was acting as some kind of 'warlord' in the area. But this appears to be as muddled in fact and fiction as CHAZ's own political purpose and direction.
Contrary to the anarchists' claims that the CHAZ is a 'cop-free zone', the Seattle Police Department initially said that its officers were still responding to calls within the area. But on 20 June, a 19-year-old man was shot dead and one was critically injured within the zone. Seattle police then claimed that a 'violent crowd' prevented officers entering the area. When homicide detectives eventually got to the scene, they were abused while collecting evidence. The suspect is still at large. CHAZ's own voluntary security force has so far been unable (or perhaps unwilling) to apprehend the assailant.
The murder is hardly a ringing endorsement of life in a 'cop-free zone'. Many Black Lives Matter demonstrators are calling for the police to be abolished or defunded. This incident offers a stark illustration of the consequences – it would mean a regression into strongmen governance and an explosion of serious opportunistic crime.
The Capitol Hill Police East precinct is located within the zone but it was vacated by the police during the demonstrations which led to CHAZ's formation. Since they were 'voluntarily' evicted from their own precinct by the protesters, the police have not yet taken their offices back. In Ashville, North Carolina and Portland, Oregon, protesters attempted to create sister Autonomous Zones, but the police in both areas acted quickly and quashed any possibility of these zones emerging. Where power refuses to exercise itself, something else fills the vacuum and CHAZ – even in all its incoherence – is the result.
In fact, the collapse of traditional state authority in Seattle long precedes the formation of CHAZ. Local news network KOMO News has documented the city's exploding problems of homelessness and heroin addiction as well as the lack of law enforcement in downtown Seattle in a series of documentaries. The most recent documentary, Seattle is Dying , was broadcast in 2019. It contained memorable segments which go a long way to explain the current loss of power and purpose in local state institutions.
Over the past five years, Seattle has experienced a huge surge in property crime – eclipsing the growth rates of places like Los Angeles and New York City. Even during the coronavirus lockdown, property crime has increased in the city, including in the east precinct which includes Capitol Hill. Many feel that Seattle has fostered permissiveness towards serious social problems and that has led to the state of the city today. It is therefore no surprise that radicals within the city saw an opportunity to push the state institutions further by forming CHAZ.
Looking at the direction of travel of the city, its radicals and the police, CHAZ may be around for much longer than we might otherwise expect – not because of the determination of CHAZ's radicals, but because the state authorities have lost control. CHAZ residents will be tested by having either to endure life in an increasingly lawless territory with an incoherent way of doing things or they will have to reconcile themselves with at least some of the existing power structures they are trying to reject. CHAZ offers a lesson to state institutions as well – a refusal to exercise power brings forth a vacuum, and crime and anarchy will eventually fill it.
Rob Harries is a writer.
Picture by: Getty.
To enquire about republishing spiked's content, a right to reply or to request a correction, please contact the managing editor, Viv Regan.