So can we finally agree that rioting is bad?
The Capitol siege and BLM riots were both senseless and violent, but the response has been wildly different.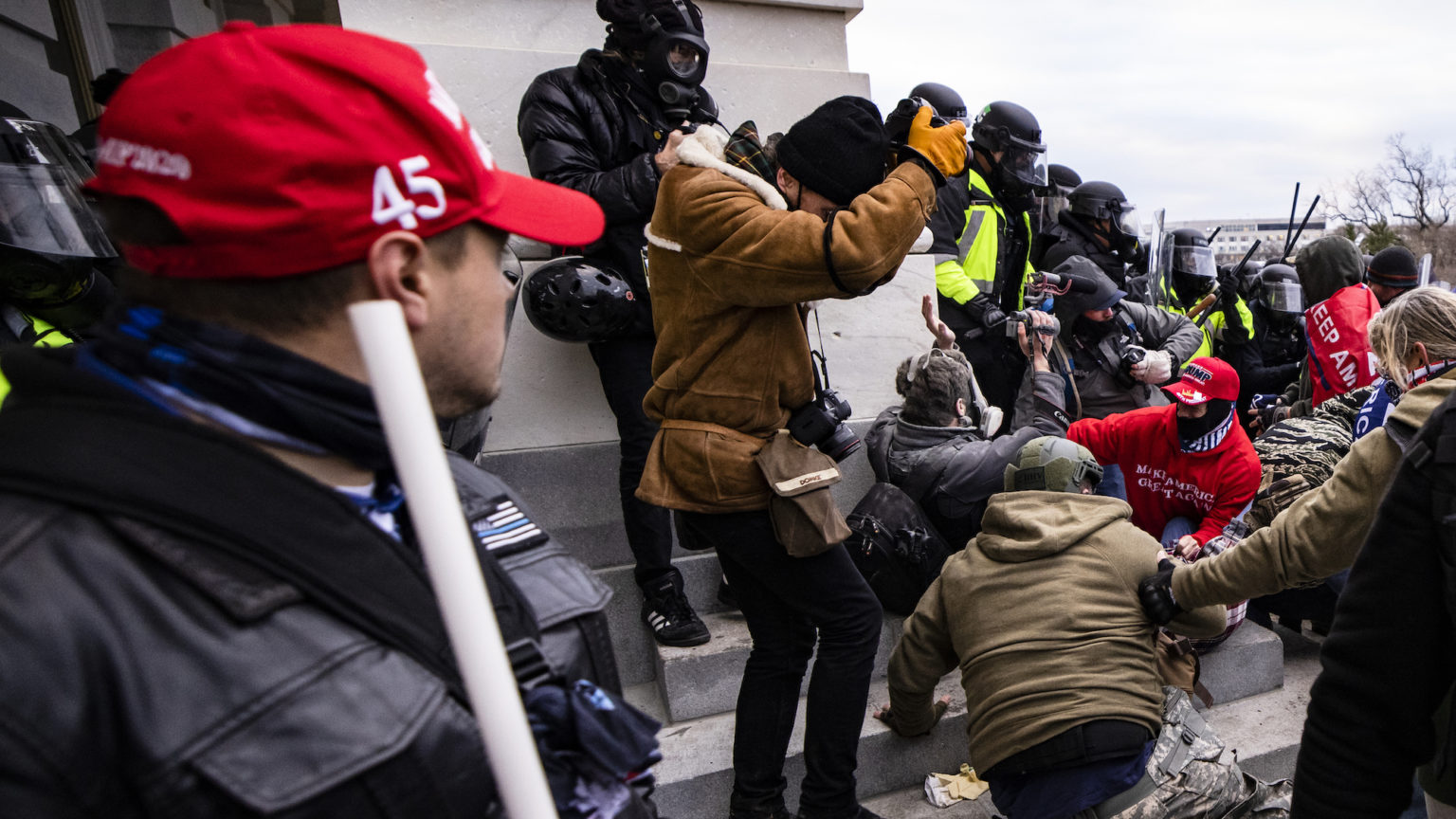 The American hard left recently arrived at the conclusion that violent rioting is bad. We should welcome them to this consensus.
Last week, an ugly riot took place in the US Capitol building – and 'ugly riot' is the correct term for the events of 6 January. Let there be no dissent on this point from the right. Following a fiery speech by the outgoing president, who passionately (if falsely) claimed that the 2020 election was stolen from him, a chanting crowd of thousands marched on the Capitol, and at least a few hundred gained entrance to the sacred space.
Rioters banged on the stout-oak doors sheltering congresspeople and senators who had to be evacuated. They broke into the private office of House speaker Nancy Pelosi and stole a number of items – famously including an official lectern. Allegedly, someone rubbed human faeces on a wall. More seriously, several people died. Some fatalities were the result of surprisingly mundane medical emergencies. But one woman was shot dead by a police officer, and a Capitol officer died after he was apparently struck in the head with an object.
Mainstream mass media coverage of the riot was – appropriately – entirely critical. CNN's website ran a headline saying that 'Wednesday's Capitol Hill riot was even more violent than it appeared'. USA Today asked its readers to fill out a form to help identify the Capitol rioters.
All of this would be unsurprising, if not for the context. For almost a year, the US has witnessed probably the most sustained series of violent, large-scale urban riots since the time of Martin Luther King. But our major media outlets have had a… complex relationship with these events.
The 'Riot Summer' was triggered originally by the brutal death of George Floyd, a black Minnesota man in police custody. The street violence that ensued killed at least 19 people – though it could be as many as 35 people. The riots also caused between $1 billion and $2 billion in property damage and injury costs.
Many incidents from the Riot Summer were just as shocking as the Capitol debacle. In Minneapolis, immediately following the death of Mr Floyd, rioters burned huge chunks of a largely minority business district, and burned down an active police station – even as cops were initially inside. In Seattle, even more remarkably, a group of Black Bloc fighters and black activists led by the SoundCloud rapper Raz Simone took over a busy urban neighborhood – coincidentally also called 'Capitol Hill' – and converted it into the anarchist city-state of CHAZ (the Capitol Hill Autonomous Zone). Within CHAZ, American business owners were extorted regularly for protection money. Worse, six young black men were shot, two fatally.
Not far down the West Coast highways, in Portland, Oregon, a federal court house was attacked by Antifa rioters and their allies for more than 100 consecutive days, including with M-80 fireworks used as mortar shells.
In my hometown of Chicago, the legendary 'Magnificent Mile' was looted after the false claim that racist police had killed an innocent black boy. The city was forced to literally raise all bridges leading downtown, Batman Begins-style, to quell the violence. In the end, 400 officers were dispatched to the scene, 13 of whom were injured, and more than 100 people were arrested. The 'victim' who triggered the whole battle, as it turns out, was a 20-year old career criminal who shot first at police – and is actually still alive.
While these incidents stand out because of their sheer scale, other tragedies at least as horrifying were common throughout the summer of 2020. In St Louis, Missouri, a decorated 77-year-old police captain, David Dorn, was murdered on Facebook Live as he attempted to defend a friend's business from looters. In Atlanta, an eight-year old girl – little Secoriea Turner – was gunned down by rioters protesting the death of a man who had attempted to shoot a police officer with his own taser.
Clashes between rival protesters also turned fatal at times. Portland Antifa fighter Michael Rienoehl was filmed shooting a right-wing Patriot Prayer activist dead, following massive city-wide brawls between the two groups. Rienoehl was himself killed just days later by police. In Kenosha, Wisconsin, a gun fight broke out between armed rioters, who had burned 36 buildings, and right-wing vigilantes. And so on.
We can debate which examples of mob rule are worse. Although I am right-leaning, I would still rank the Capitol riot above any of the events just mentioned. But there was no such discussion about the violence of the summer of 2020. It is no exaggeration to say that much of the mainstream media openly endorsed the BLM riots.
Unlike the blanket condemnation of the Capitol riot, you could read headlines such as 'rioting is a nuanced and deeply misunderstood form of protest' (the Daily Pennsylvanian) or 'In defense of destroying property' (the Nation). NPR hosted a mostly positive discussion of a book literally titled In Defense of Looting. Even the right-wing Fox News channel interviewed a BLM leader who justified the riots.
Many reasons, of varying degrees of silliness, have been given by left-leaning reporters and politicians who have attempted to justify their very different treatment of radical and reactionary rioters. It can be, and has been, argued that attacking the US Capitol is a uniquely offensive act. True indeed! But so is attempting to burn hundreds of uniformed cops alive. And like the Capitol, the Portland courthouse is also US federal property, and 100 days is much longer than the Capitol riots lasted.
You could argue that the Capitol riots were worse because they were encouraged by a powerful politician. There is some truth in this, although to a far lesser degree than is often contended – Big Orange originally encouraged his supporters to 'peacefully' confront Congress, not break in.
Trump has truly disgraced himself during his last month in the Oval Office. But it is simply a fact that elected officials openly made excuses for and even supported some of the rioters last summer, too. For instance, incoming vice-president Kamala Harris infamously encouraged her followers to donate bail money to the controversial Minnesota Freedom Fund while Antifa members and others were destroying a diverse business district in Minneapolis.
You could also argue that there is no proof of election fraud deciding the 2020 election, and protesting this is therefore a stupid and invalid reason for a public disturbance. But frankly speaking, there is just as little evidence for many of Black Lives Matter's major claims. In the mainstream media, police violence against innocent black people is talked of as a major component of an ongoing 'genocide'. And in my own experience, intelligent young black Americans often estimate the number of innocent black lives taken by law enforcement to be something between 2,000 and 3,000. But the total number of unarmed black individuals actually killed by American police during the most recent year fully on record was just 14. Most political causes, I strongly suspect, provide insufficient moral justification for the burning of a city.
Perhaps the oddest attempt to distinguish the Capitol riot from the large-scale riots of last year is the repeated claim that the MAGA goons were treated more leniently than 2020's looters and knuckleheads – because of their 'white privilege'. Multiple press outlets argued confidently that pro-Trump rioters were handled with kid gloves while leftist activists would have been 'killed' under the same circumstances. President-elect Joe Biden said BLM protesters 'would have been treated very differently'. There are several major problems with this claim.
First and most importantly, no such police slaughter of rioters took place during CHAZ, the Minneapolis riots, the '100 days' in Portland, the Chicago and Atlanta riots, or any of the other mass violent disturbances discussed in this piece. Yes, rioters scuffled with police, and there were many documented incidents of brutality. But any honest reflection on the summer of 2020 would also have to include the hundreds of pictures of everyone from burly cops to suited politicians kneeling in approving solidarity with BLM, while doing everything they could to defuse violence.
Second, multiple rioters did die during the Capitol violence. Unarmed Ashli Babbitt was fatally shot in the throat by police, while apparently attempting to reach sequestered congresspeople. Three other rioters died as well, including one who attempted to use a taser during a confrontation with officers. Capitol police officer Brian Sicknick died, too. More individuals were killed during direct conflict with police at last week's riots than during the summer of riots and protests the year before.
Nor is there much chance of the Capitol rioters being let off the hook. More than 50 have already been charged with felonies or serious misdemeanors. This includes those who were fighting the police alongside the people who have now become famous meme characters, such as 'guy with lectern', 'boots-on-desk man', and 'idiot in barbarian helmet'. Looking at these outcomes, I would seriously encourage white fathers among my friends to tell their sons that, while they may sometimes benefit from residual racism, they do not enjoy some unique privilege that will prevent them from facing a beating if they attack others, or a jail sentence if they commit a crime.
The lesson from both the events on the Capitol and the violence from last summer: rioting is bad.
Wilfred Reilly is a spiked columnist and the author of Taboo: 10 Facts You Can't Talk About, published by Regnery. Follow him on Twitter: @wil_da_beast630
Picture by: Getty.
To enquire about republishing spiked's content, a right to reply or to request a correction, please contact the managing editor, Viv Regan.