Kenosha: the culture wars turn bloody
The killing of two protesters is a tragic but inevitable consequence of the ongoing disorder.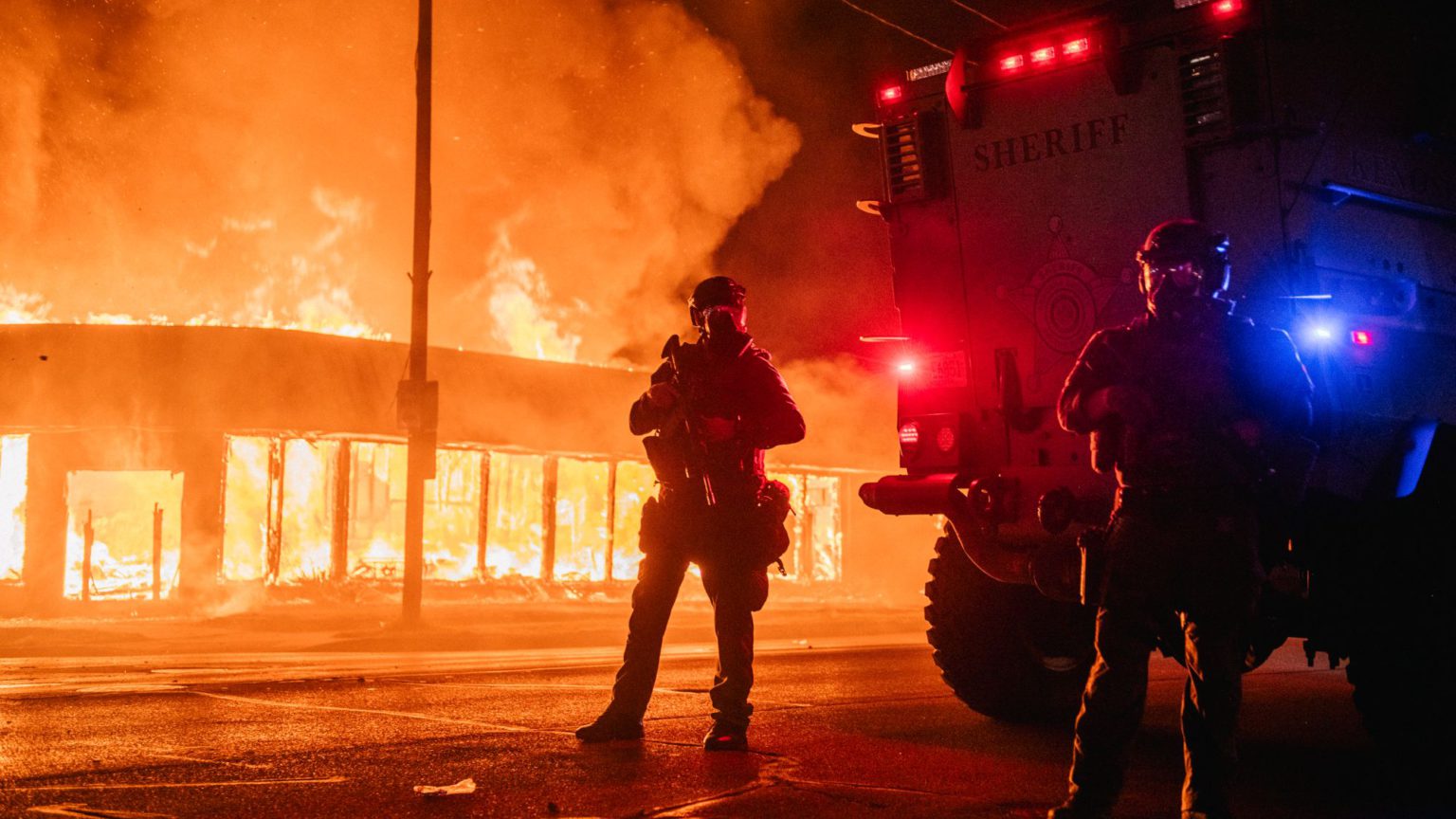 The killing of two protesters and the wounding of another in Kenosha, Wisconsin by an armed man was a tragic but unsurprising event. In the 10 days following the killing of George Floyd, at least 14 people were killed in connection to the protests. But up until now, all of those killed have been black or Hispanic.
Protests in Kenosha broke out after another awful police shooting of an unarmed black man. Last Sunday, a policeman shot 29-year-old father Jacob Blake seven times in the back as he apparently tried to get into his car. He has been fighting for his life in hospital and is undergoing emergency surgery. He is now paralysed from the waist down, with injuries to his spine, stomach, intestines and kidneys. From what can be seen in the video, the police officer was reckless at best, murderous at worst.
Peaceful and dignified protests took place on Monday, but they were followed by burning and looting. On Tuesday night, 17-year-old Kyle Rittenhouse drove 15 miles to Kenosha, responding to a call for volunteers to protect property. He came with a semi-automatic rifle and was filmed helping to erase graffiti in the town. He was also interviewed on a video livestream. In the interview, he can be seen carrying his rifle and medical pack. He said he carried the rifle because he might have to put himself in harm's way.
The incident has been captured by numerous videos. They show, amid the chaos, a man who appears to be Rittenhouse running away from another man who throws something at him. Shots can be heard before Rittenhouse opens fire. As he is pursued, he appears to shoot 36-year-old Joseph Rosenbaum in the head with a rifle. He then tries to help him before saying into a phone, 'I just killed somebody'. Later Rittenhouse is pursued by a mob down the street. They catch up with him, and he falls to the ground. From a supine position, he fatally shoots 26-year-old Anthony Huber. Rittenhouse then shoots 26-year-old Gaige Grosskreutz in the right arm. Grosskreutz appears to have been running at the killer with a pistol drawn.
These deaths are both horrifying and tragic. The two fatally shot – and Grosskreutz, who was shot in the arm – may well have suspected that Rittenhouse would harm protesters (Huber, in particular, bravely attacked Rittenhouse with a skateboard). The smears on the dead by some on the right are uncalled for.
The language used to characterise Rittenhouse reflects a deeply polarised atmosphere. Joe Biden and many other Democrats have suggested that Rittenhouse was a white supremacist. But Rittenhouse appears to be a rather nerdy young man who lionised the police. No evidence has yet emerged that he went to Kenosha with the intention to do anything other than help the shop-owners. A new video seems to show Rittenhouse aiding an injured protester. None of the evidence so far indicates any racism on his part, either. That he supported the police is the only credible claim to be made so far.
The racial polarisation forming on Twitter and in the press over the incident is particularly bizarre, given that all actors appear to be white. Yet, in most of the commentary, the sneering epithet of 'white' is only ever used to describe those who were trying to protect their own and other people's property – it is never used to describe the white victims or the many white Black Lives Matter protesters. It is almost as if those on protests temporarily give up their racial designations. This dynamic was captured best in a video of the first victim, Joseph Rosenbaum, who can be heard challenging a group of armed men and women protecting buildings by shouting: 'Shoot me, nigger!'
Many have criticised the shop owners and the armed 'militias' guarding the shops on the grounds that lives must never be sacrificed to protect property or material goods. But by this logic, no one should ever resist looting, bank owners should do nothing to stop their banks being robbed, and police should not prevent property crimes. These arguments were never made about riots and looting in the past. In the 1992 LA riots, few questioned the right of the heavily armed, largely Korean shop-owners to confront the men looting and burning their businesses.
There has also been a huge contrast between the dignified anger of Jacob Blake's family, who are demanding change, and the inchoate and sometimes childish rage expressed by certain protesters. And while the demand to 'defund the police' is regularly repeated on Black Lives Matter demonstrations, civil-rights leaders have called for police to arrest Rittenhouse and for him to be brought to justice. Officials from the NAACP, the Urban League and others seem to want more policing not less, including 'an investigation to see whether he [the 17-year-old Rittenhouse] was involved in an interstate criminal conspiracy'. Though they have also, somewhat absurdly, called for Facebook to be held 'accountable' for the killings.
At some stage, the permissive attitude of the authorities and the elites towards Black Lives Matter protests – even when they turned violent – was bound to result in bloodshed. When those in control applaud expressions of anger and ignore widespread destruction, they implicitly sanction the violence exhibited by some protesters. When those at the other end of the violence and demonstrations see how ineffectual the authorities have been in preventing the riots, they are left with a choice of standing back and watching it happen or protecting their homes and businesses themselves.
Restraint – not anger – is what characterised the civil-rights struggles of the past. Seventy years ago, protesters against Jim Crow laws did not barrack onlookers, shout at diners or harass politicians and speakers. They withstood the awful attacks by police and civilians. Martin Luther King and other civil-rights leaders dressed in their Sunday best and conducted their protests with dignity. No doubt many of today's protesters have been dignified and restrained, though they are too often drowned out by the chaotic cries of those who are less interested in change than they are in expressing rage.
The last word should belong to John DeBerry, Democratic member of the Tennessee House of Representatives, who, in one of the most powerful speeches on race of recent times, called for those with 'enough guts, enough integrity, enough citizenship and love of country' to stop talking about colour and concentrate on those rights we have in common. He castigated those who let the present-day disturbances happen as 'too frightened to protect our own stuff'. As DeBerry said: 'Peaceful protests end peacefully. Anarchy ends in chaos.'
Kevin Yuill teaches American studies at the University of Sunderland.
Picture by: Getty.
To enquire about republishing spiked's content, a right to reply or to request a correction, please contact the managing editor, Viv Regan.