The police are at war with protesters
Protesters must arm themselves against an increasingly brutal and militarised police force.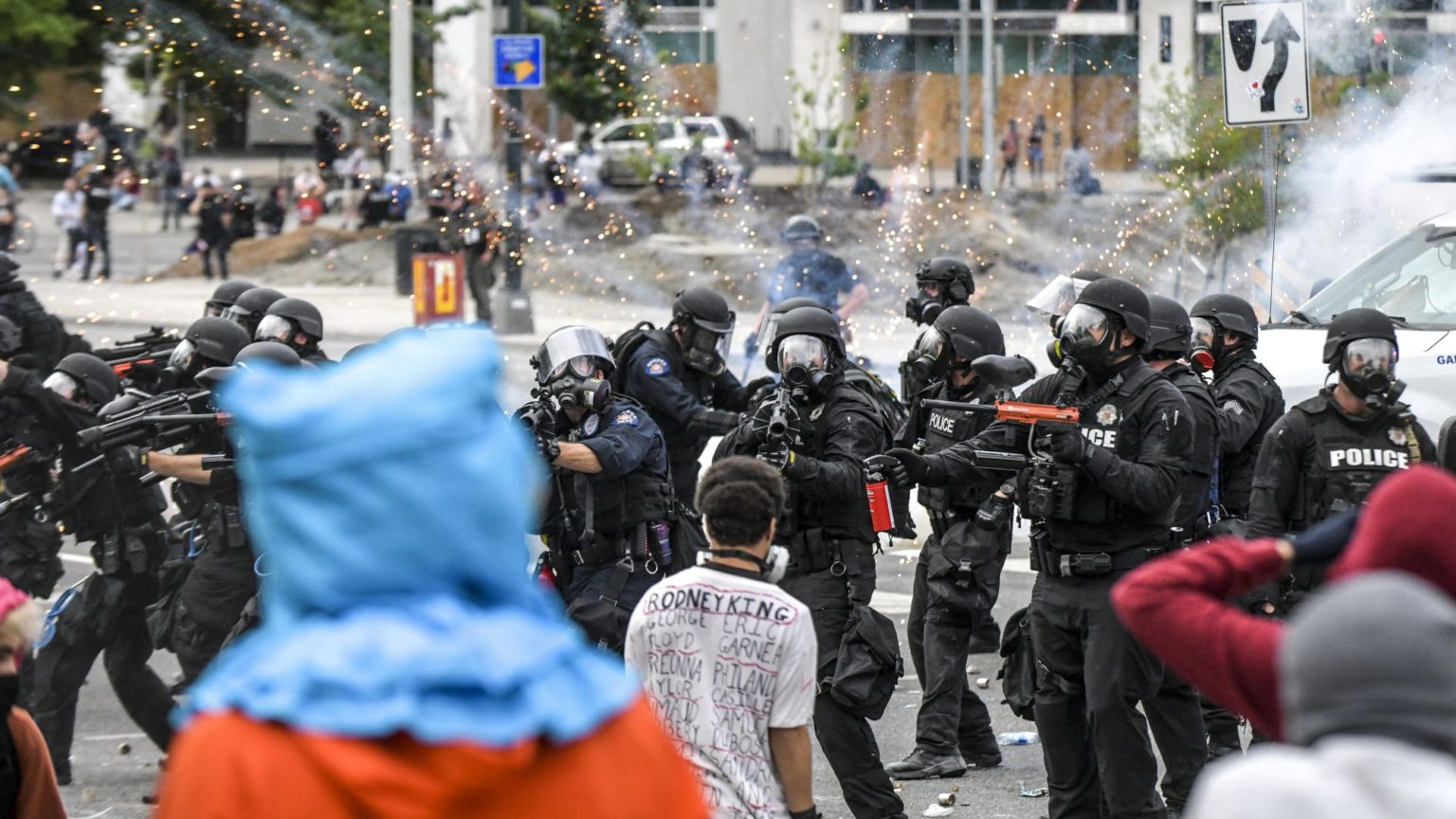 Once again, protests against police brutality have turned ugly. The extrajudicial killings of George Floyd, Breonna Taylor and Ahmaud Arbery by law enforcement have caused an astounding number of Americans to take to the streets, fighting back against police injustice. Not since the 1960s has the United States experienced such a significant mobilisation of activists to petition the government for racial justice. But police are fighting back against the demonstrations. Highly militarised police departments have been using tear gas, rubber bullets and batons against American citizens.
How did the police even become so militarised in the first place? Ever since the beginning of the 20th century, waves of crime have been met with calls for military equipment to be donated to local police forces. This accelerated wildly in 1997 when Section 1033 of the National Defense Authorization Act made it much easier for the military to transfer heavy arms to police departments.
This is troubling when you consider the psychology behind an armed police force. A 2016 study in the Southern California Interdisciplinary Law Journal found that 'militarised policing can greatly escalate situations that might otherwise end peacefully'. Psychologist Brad Bushman says this is because militarised police 'feel more powerful, more invincible, more militaristic, [and] ready to attack'. In turn, when groups of militarised, soldier-like police descend on an unguarded crowd, it is no wonder that brutality becomes more probable – frightened protestors will feel vulnerable and do what they feel they must to stay safe.
But this escalation is not inevitable. The Second Amendment can help here. When citizens are empowered to arm themselves in self-defence, officers then become much more concerned about escalation and are thus less likely to engage in brutality.
In fact, this is exactly what was experienced by the civil-rights movement. At first, overwhelmingly peaceful protestors were met with overwhelming violence. The police unleashed ferocious dogs and fire hoses on civil-rights protestors just as they are now unleashing tanks and heavily armed soldiers on to Black Lives Matter activists. By the late 1960s, activists had had enough. The Black Panthers in San Francisco decided to arm themselves, patrol their own neighbourhoods, and 'police the police'.
What was the outcome? Well, it worked. There are several documented occasions when Black Panthers openly carried their rifles, preventing police officers from attacking against people of colour. Very importantly, the gun-wielding activists didn't provoke violence during these incidents. They didn't need to. The ownership of firearms by citizens simply acted as an equaliser, preventing the police from escalating the level of violence with no possibility of resistance.
But times were different then. Could this strategy of non-violent open-carry work today? For proof that it can, look no further than the recent protests in Lansing, Michigan. Just a few months ago, in response to lockdowns that were put in place to combat the Covid-19 epidemic, dozens of protesters armed with rifles occupied the State Capitol building and expressed their grievances with the state. No violence occurred. Similarly, earlier this year, armed protests in Richmond, Virginia led to no police escalations. Some may argue that this is because the majority of those protesters were white, but more recent police attacks have demonstrated that even white protesters aren't immune to police brutality.
For Americans, the militarisation of the police is a serious issue. And that is why elected officials in both parties are now tossing around ideas on how to demilitarise. This is an essential part of the solution to police brutality. But citizens can no longer stand by and allow themselves to be attacked. If we are ever going to assert our constitutional right to bear arms, the time is now.
Yusuf Mahmood is a human-rights activist and works for a political non-profit in Washington, DC.
Picture by: Getty.
To enquire about republishing spiked's content, a right to reply or to request a correction, please contact the managing editor, Viv Regan.