Now they want to cancel the First Amendment
The claim that President Trump is guilty of 'incitement to violence' is a threat to free speech for all.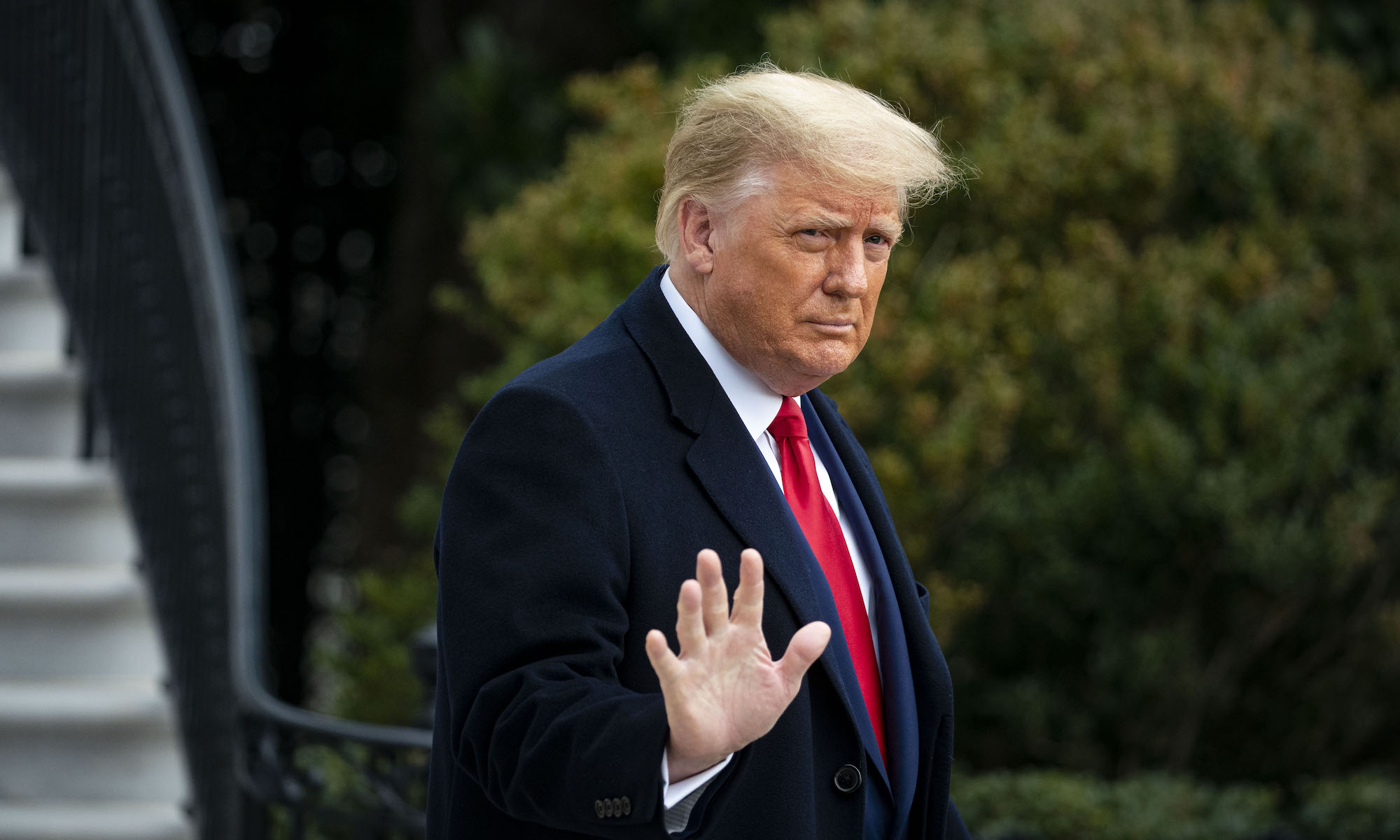 President Donald Trump has never been a friend or fan of the precious First Amendment to the American Constitution, which protects freedom of speech. But the First Amendment does not care; it still protects the right of President Trump to express his opinions, just like everybody else.
This is what makes the attempts to 'cancel' Trump in Congress and across social media, for allegedly inciting the violence at the Capitol, so dangerous. Because those who want to silence and eject an elected president for saying the 'wrong' things are really trying to rewrite the meaning of the First Amendment, which would lead to restrictions on free speech for all.
It is not a question of supporting outgoing President Trump's attempts to cling to office or endorsing anything he has said. This is about something much more important than the Donald. It is about upholding the fundamental freedom of all Americans, from the president and politicians to any fool or fanatic, to express what they think is the truth.
Adopted in 1791 as part of the Bill of Rights, the First Amendment to the American Constitution remains the global gold standard on free-speech legislation. It states clearly and concisely that 'Congress shall make no law… abridging the freedom of speech, or of the press'. One of the few exceptions recognised by the US Supreme Court is that there is no 'right' to use speech to incite violence or lawless action.
This exception has now been seized on by Trump's opponents in their attempts to justify cancelling the president. In banning him from their platforms, both Twitter and Facebook cited Trump's alleged incitement of the Capitol rioters. Facebook chief Mark Zuckerberg declared that they could not tolerate Trump's 'use of our platform to incite violent insurrection against a democratically elected government'.
Other Trump-haters inside and outside Congress have focused on the president's speech to a large crowd of supporters in Washington, shortly before the violence at the Capitol. Celebrity scientist Professor Steven Pinker tweeted that, although he is personally a 'strong free speech guy', the tech giants' 'deplatforming of Trump seems justified': 'Even First Amendment jurisprud[ence] (lenient standard) exempts inciting imminent lawless action.'
Thus has Trump been speedily tried and convicted of incitement in the mainstream and social media, with the enthusiastic support of many liberals. This development is a real danger to freedom of speech. Because make no mistake: if President Trump can be effectively convicted of incitement and silenced for what he said last week, so could anybody forcefully expressing an opinion which others find offensive.
The incitement exemption to the First Amendment is actually framed in very narrow terms. It states that speakers are protected, unless their words are intended towards 'inciting or producing imminent lawless action' and also 'likely to produce such action'. In order to fall foul of the First Amendment, then, the incitement to lawless action must be deliberate and the threat of violence both real and imminent.
This rule dates from the famous 1969 Supreme Court case of Brandenburg v Ohio, when the court overturned the conviction of a Ku Klux Klan leader who had denounced black people and Jews at a rally. To many, upholding the right of the KKK to spout racist bile may not seem like a big victory for freedom today. But in drawing a firm line between hateful words and violent deeds, and affirming that the expression of views others find repugnant is not in itself a crime, it laid a firmer foundation for free speech in America as an indivisible and universal right.
What did Trump say last week that crossed that firm line and constituted an indictable incitement to violence? Nothing that I have seen or heard. Instead, the moves to cancel the president constitute an attempt to widen the definition of incitement and neuter the First Amendment in a way that should alarm any 'strong free speech guy' anywhere on the political spectrum.
Twitter announced it was banning Trump because his tweets ran the 'risk' of 'inciting violence'. Yet as Brendan O'Neill pointed out on spiked, the two tweets it cited did nothing of the sort. In one, the outgoing president praised his supporters as 'great American patriots' who would have a 'GIANT VOICE' in America's future. In the other, Trump tweeted that he would not be attending the inauguration of incoming president Joe Biden. These tweets might qualify as typical Trump-style invitations to either cheer or ridicule him, depending on your point of view. But how could a declaration that Trump intends to stay home on inauguration day amount to incitement to violence?
What of Trump's infamous Washington speech to his supporters, delivered shortly before Friday's violence at the Capitol? It was a rambling, sometimes incoherent diatribe. Trump detailed a long list of alleged voting irregularities in key states in November's presidential election, at one stage warning the large crowd: 'I hope you don't get bored listening to it… Don't get angry with me because you're going to get bored, because it's so much.' Guilty of incitement to boredom?
Having sifted every word of Trump's speech (those so inclined can do the same here), the worst his accusers could apparently find was that President Trump had told his supporters they would have to 'fight' and that 'You have to show strength and you have to be strong'. They appear less keen to mention his next point: 'I know everyone here will soon be marching over to the Capitol building to peacefully and patriotically make your voices heard.'
You might believe much of what the president said to be objectionable nonsense. But you would have to be a seriously deranged Trumpophobe to believe that it met the definition of incitement to violence at the Capitol – never mind incitement to Zuckerberg's imaginary 'violent insurrection against a democratically-elected government'.
Speaking to Fox News, Alan Dershowitz, Harvard Law professor emeritus and high-profile attorney, sounded a rare voice of sense in the American media. Dershowitz, a Democrat voter who defended President Trump during his impeachment case, made clear that he disagreed with Trump's speech about the election being stolen. However, he insisted that the First Amendment, as defined in the Brandenburg case, gave the president the right to say it: 'It comes within core political speech, and to impeach a president for exercising his First Amendment rights would be so dangerous to the constitution.'
Indeed. Imagine the possible consequences of making it a punishable offence for anybody in politics to call on supporters to 'fight' for their cause or to 'show strength' in standing up to their opponents. It would be the end of democratic political debate as we know it.
The attempt to broaden the definition of 'incitement' casts a long shadow over the future of free speech. It could provide a licence to outlaw any opinion which is unacceptable to the liberal establishment. We should always remember that the verb 'to incite' can mean simply to urge somebody towards your desired goal. In that sense, as a famous US Supreme Court judge once put it, 'Every idea is an incitement'. And ideas should never be criminalised or cancelled.
There might seem little immediate prospect of the Supreme Court formally amending the First Amendment to impose new restrictions on free speech. But we are witnessing myriad ways in which the illiberal liberals can try to informally cancel the First Amendment in practice – whether by banning Trump and many others from social-media platforms, or by imposing restrictive speech codes across American college campuses.
Another US judge, Learned Hand, warned a 1944 wartime rally for liberty in New York's Central Park not to invest 'false hopes' in paper constitutions and courts to protect their freedoms: 'Liberty lies in the hearts of men and women; when it dies there, no constitution, no court, no law can save it.' Free speech may not have died in the hearts of millions of men and women in the US and the wider West, but it is ailing badly among many who ought to know better.
Our freedom of speech will certainly never be safe in the hands of unelected, unaccountable ban-happy tech corporations. When Zuckerberg issued his ban on President Trump, it was heartily endorsed by the failed British politician who is now Facebook's vice-president for global affairs and communications. On spiked, we have often asked those who want further to restrict free speech: 'Who gets to decide where to draw the line?' I doubt we ever envisaged a nightmare scenario where the answer would be: Sir Nick bloody Clegg.
Mick Hume is a spiked columnist. His book, Trigger Warning: Is the Fear of Being Offensive Killing Free Speech?, is published by Harper Collins. (Order this book from Amazon(USA) and Amazon(UK).)
Picture by: Getty.
To enquire about republishing spiked's content, a right to reply or to request a correction, please contact the managing editor, Viv Regan.