Margaret Thatcher was no friend of freedom
The libertarian nostalgia for her authoritarian and reactionary regime is utterly misplaced.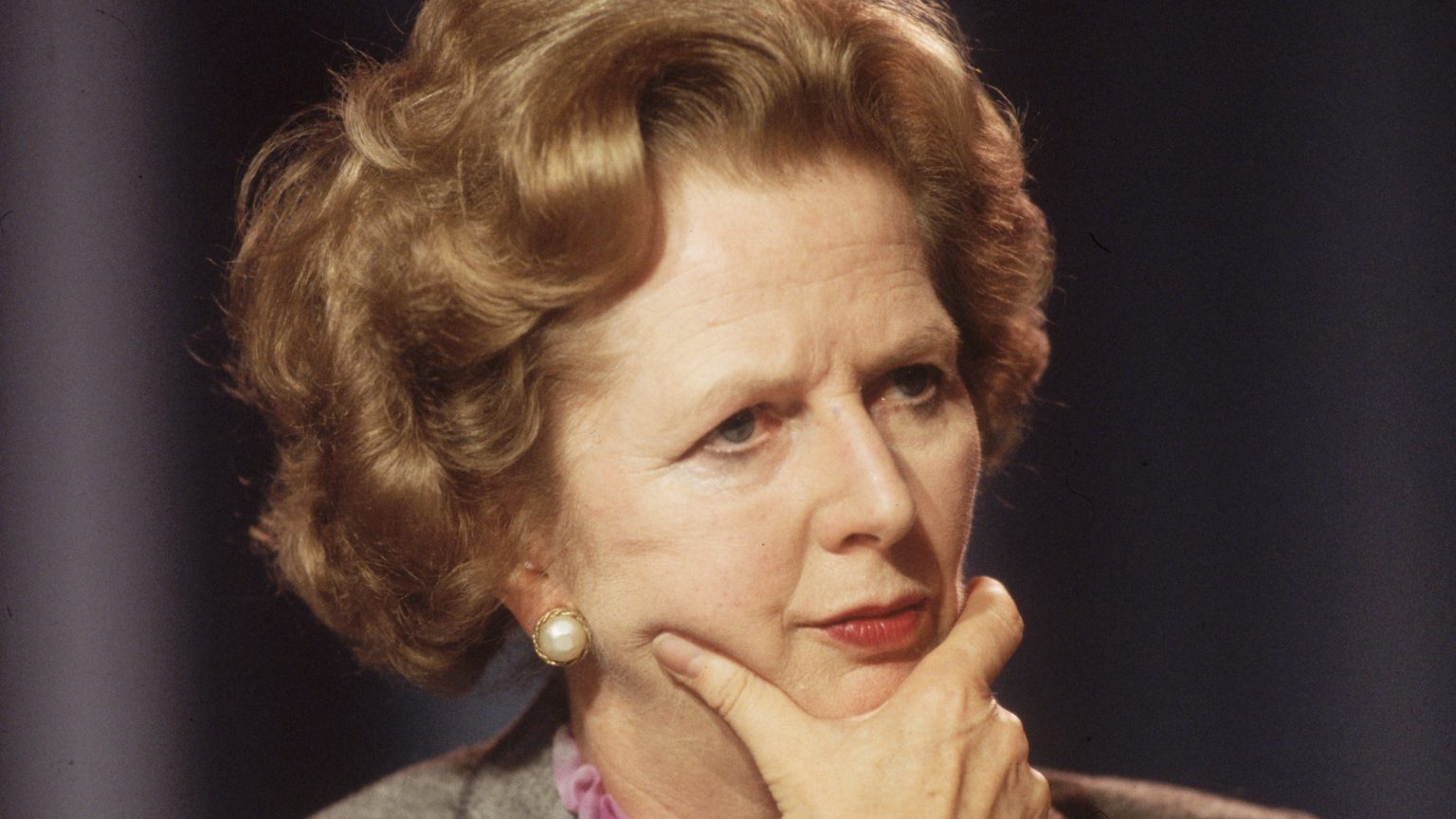 Margaret Thatcher led the Conservative Party into government in 1979 and ruled until she was overthrown by her own party in 1990. She resigned 30 years ago this week. Her portrayal in the Netflix series The Crown by Gillian Anderson is not meant to be sympathetic, but it has encouraged a few commentators to look back nostalgically at her rule. Given that her overarching ambition was to 'roll back the state', and with so many Conservatives feeling let down by the government's illiberal lockdown, it is not surprising that they are dreaming of a leader who believed in freedom. But the truth is that Mrs Thatcher was no friend of liberty.
Margaret Thatcher's philosophy was to set the country free so that it could stand on its own two feet. But her idea of freedom was freedom for business leaders, less so for the rest. Far from rolling back the state, between 1980 and 1988, 520 separate acts of parliament were made law, along with 18,893 statutory instruments – around 7,000 pages of legislation every year. Civil liberties were reined in over everything from horror films on video to schools' treatment of homosexuality, and from dangerous dogs to football fans to raves.
Her government passed a succession of anti-union laws that were drafted to make it harder for workers to organise for their own interests. They were banned from picketing outside other workplaces and stopped from calling strikes at workplace meetings. Unions were also made to allow members to 'cool off' before balloting them.
With economic policies that downsized and broke up major industries and firms like British Steel, coal and British Leyland, the limits on workplace organisation were a real attack on the working class. In the large strikes that Thatcher's government faced, the police were encouraged to ride roughshod over people's rights to make sure that strikers did not win. In the Miners' Strike of 1984 to 1985, thousands of people were arrested for no other reason than that they were protesting the loss of their jobs. Britain's security services were sent to spy on union radicals and strikers.
Before she became prime minister, Mrs Thatcher said that many people felt that 'this country might be rather swamped by people of a different culture'. A new Nationality Act of 1981 limited the rights of those citizens from the Commonwealth. Deputy leader of the Conservatives William Whitelaw said the law was 'to dispose of the lingering notion that Britain is somehow a haven for all those whose countries we used to rule'. The immigration police were encouraged to redouble their efforts and in 1980 there were 910 removals and 2,472 deportations – around twice the amount in previous years. This rate was kept up through the 1980s. Further immigration laws were passed in 1986, 1988 and 1990, the last of these barring British subjects from Hong Kong coming to Britain. The stated aim was to 'close loopholes' in immigration law, though the actual loopholes were minimal and, as critics pointed out at the time, the laws were mostly propagandistic in purpose.
In March 1986, 36 police officers raided the British Telecom offices in the City of London to interrogate cleaning staff on their legal status, with the collaboration of the BT managers. It was just one of hundreds of 'fishing raids'. People of colour were asked to show their passports at work, at hospitals and at unemployment benefit offices. People deemed 'illegal' under the nationality laws were subject to detention and deportation.
Similarly, Thatcher encouraged a bullish attitude to the perceived problem of inner-city disorder among her many authoritarian police chiefs, principally Kenneth Oxford in Liverpool, James Anderton in Manchester and Kenneth Newman in London. Their primary targets were young West Indian men. These police chiefs flooded the streets of Toxteth, Moss Side and Brixton with officers. Thatcher's Metropolitan Police chief Kenneth Newman said in 1982 that 'in the Jamaicans you have people who are constitutionally disorderly… it's simply in their make-up'.
Police harassment of black youths led to rioting in 1980, 1981 and again in 1985. Thatcher dismissed allegations of harassment, saying that the fault lay first with 'young men, whose high animal spirits' had been 'unleashed' in a 'virtual saturnalia', 'a fiesta of crime, looting and rioting in the guise of social protest'. Winston Rose (1981), Cynthia Jarrett (1985) and Clinton McCurbin (1987) died in police custody. Cherry Groce was paralysed after being shot during a police raid in 1985 and Trevor Monerville suffered severe brain injuries from a beating he got at the Stoke Newington police station in 1987.
In 1979, 1984 and 1989, Thatcher's government renewed the special powers of detention under the Prevention of Terrorism Act. Seven thousand people were detained under the act which allowed police to hold suspects without charge for 48 hours. Of those detained, only five per cent were charged with any offence and those were largely unrelated to terrorism. Four per cent were excluded from travelling to mainland Britain from Northern Ireland, under the provision allowing for internal exile. In Northern Ireland, the government imprisoned several hundred people through special 'Diplock Courts' (where there was no jury) on uncorroborated evidence from paid informers (1). At the same time, military intelligence set up an assassination squad, the Headquarters Mobile Support Unit, which killed republicans, like Gervais McKerr, Eugene Toman and Sean Burns (11 November 1982), Seamus Grew, Roddy Carroll (12 December 1982) and Michael Tighe (24 November 1982).
In 1988, Margaret Thatcher's government passed the Local Government Act with its 'Section 28' clause that outlawed the teaching of homosexuality as a 'pretended' family relation, in the face of large protests. The anti-gay law led to the persecution of many teachers and local government officers.
Her government was defensive about rival centres of power in local government. In 1985, she abolished the Greater London Council because it had elected a militant Labour opposition that was a thorn in her side. She transferred many powers from metropolitan authorities to unelected Urban Development Corporations and a burgeoning quangocracy. It was a reform that cost the country the goodwill and hard work of tens of thousands of local leaders and denigrated public service in ways that are dogging us to this day. (See Simon Jenkins, Accountable to None, 1995.) Later, her determination to limit local authorities led to the disastrous Poll Tax, which proved unworkable and brought the end of her government closer.
Thatcher's government was no friend of free speech, either. It regularly censored the press and broadcasting. From 1988, Irish republicans were banned from speaking on British television (a measure which proved unworkable when the BBC employed actor Steven Rea to speak Gerry Adams's words, making the government a laughing stock).
The government used the Official Secrets Act to try to prevent the publication of MI5 agent Peter Wright's memoirs. Police raided investigative journalist Duncan Campbell's offices and home to seize the tapes of the first episode of his TV series, Secret Society, in 1987. Sarah Tisdall, a clerk at the Foreign Office, was jailed in 1984 for alerting the press to the siting of US cruise missiles in Britain, after the Guardian newspaper was compelled to reveal its sources. The government also brought in censorship of videos and beefed up the British Board of Film Censors in 1984.
In 1989, the Earl of Caithness introduced the Football Spectators Bill in the House of Lords. He regretted that football clubs had only taken action against fans under 'continuing pressure' from the government, though he was pleased that 'rival supporters' were being 'kept apart by physical barriers'. He was describing the caging of football stands that Thatcher's government had pressed for following years of lurid and exaggerated stories of hooliganism. Just two months later, the full impact of the caging of football stands became clear when 96 Liverpool fans were crushed to death in a wire-netted pen at the Hillsborough stadium in Sheffield. In shame, the clubs' wire cages were all removed.
Libertarians who are tempted to contrast Margaret Thatcher's commitment to liberty to the current government's lockdown should know that many of the current restrictions on our liberties are actually made under the Public Health Act 1984, passed by Mrs Thatcher's government.
Those of us who lived through Margaret Thatcher's reign do not remember a time of liberty and openness, but instead a paranoid atmosphere of threat from supposed enemies without and enemies within – all of which served to justify an authoritarian and illiberal regime.
James Heartfield's latest book is The Blood-Stained Poppy, written with Kevin Rooney.
(1) Human Rights, Human Wrongs, by Conor Foley, Liberty, 1995, p108.
Picture by: Getty.
To enquire about republishing spiked's content, a right to reply or to request a correction, please contact the managing editor, Viv Regan.