The feminist fightback against Italy's lockdown
Protesters say that school closures have revived a 1950s division of the sexes.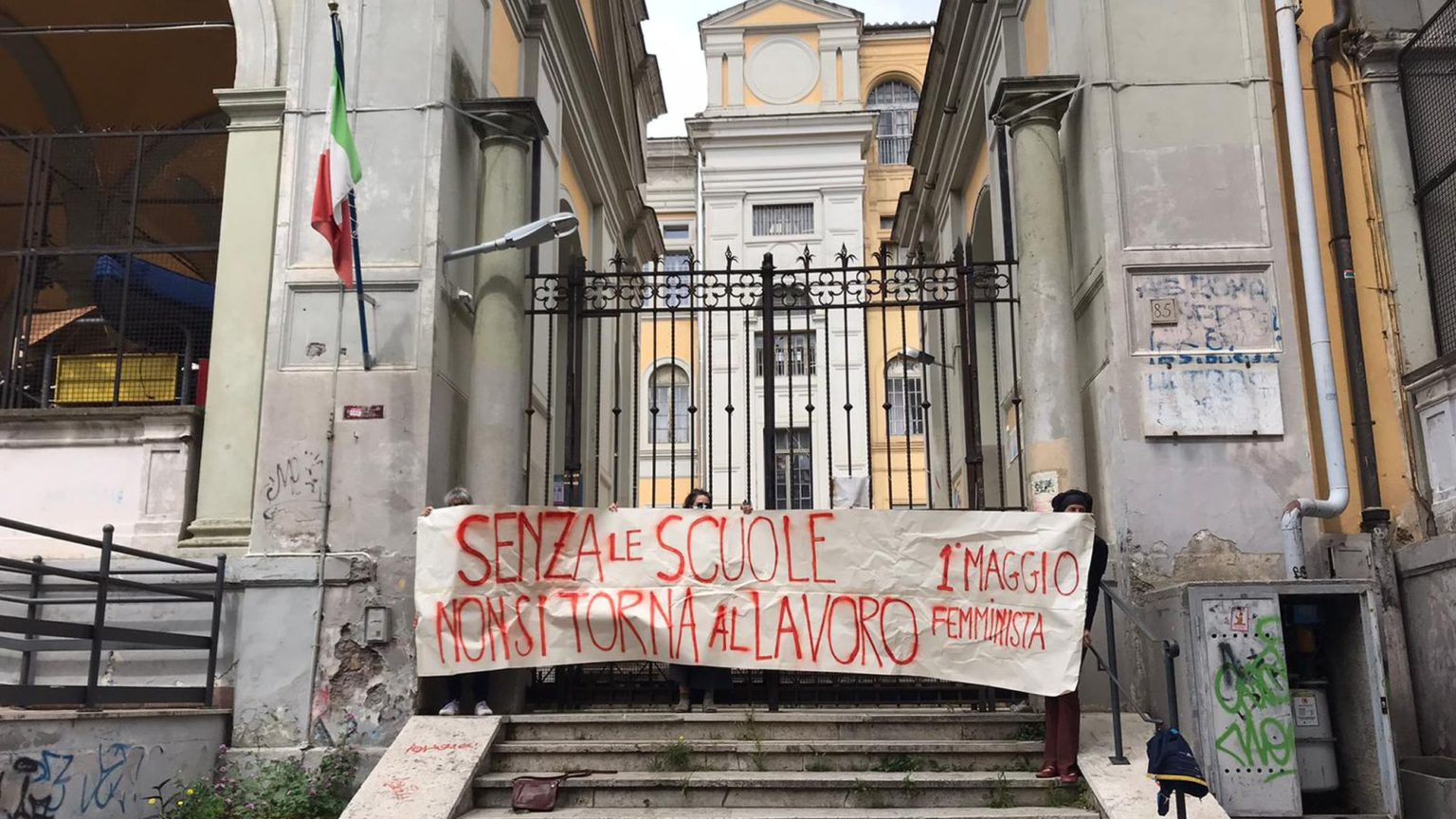 The Italian government has started to loosen the lockdown. 'Phase two' was rolled out across the country on 4 May. One blatant omission from the new measures, which is being felt across the country, was the return of schools and childcare. Indeed, for parents and children across Italy, there is no 'phase two'.
Because so little has changed for parents, the streets in towns across Italy this week look remarkably similar to how they did during lockdown. While some Italians in a limited number of professions have returned to work, there is still a notable absence of children.
During phase two, parents with children have been largely unable to take advantage of the newly granted freedom to go to parks. Children's playgrounds – a standard feature of almost all parks around the country – are still off-limits. Parents know that bringing their children to parks only to have to tell them to stay away from the one part of the park that interests them would cause conflict – something which most families are hoping to avoid at a time when they are struggling to hold it together both economically and mentally. As a result, many families remain inside. Some hope that this rule will change soon or, at the very least, that in the regions where beaches have been closed, that those beaches might soon start to be opened.
Equally problematic is the fact that parents are largely unable to return to work because schools are not expected to reopen until September. Education minister Lucia Azzolina recently announced that schools are likely to be 'part-time', with children conducting much of their learning online from home. But so far, online learning has been an unmitigated disaster. An estimated 1.6million children have no internet access at home. Many students don't have personal computers, either. With no schools to look after their children, some parents are forced to stay at home, foregoing work. It has largely been women who have given up their work lives – and many are not happy about this.
I spoke with Costanza Margiotta, associate professor in legal theory at the University of Padua, who launched the action group Priorità alla Scuola (Priority on School). Margiotta tells me how she managed to mobilise over 82,000 parents to sign an open letter to the education secretary on 18 April.
'The battle started in Florence', she tells me. The mayor was called on to offer an alternative interpretation of the prime minister's first nationwide lockdown decree of 9 March. Many parents were worried that they could be fined if they went outside for a walk with their children. 'During lockdown, this was a right only reserved for dog owners', she explained. 'We won that battle because we obtained a positive interpretation from the city administration'.
Thanks in part to another of Margiotta's letters – this time to the mayor of Florence on 25 March – single parents were eventually permitted to go shopping with their children. This was also prohibited at first, as only one family member could shop at a time. The mayor of Florence then managed to lobby the Ministry of Interior to issue new rules allowing single parents to go to the supermarket with their children.
The ongoing struggle is education. Margiotta wrote her open letter to the education minister urging her to clarify what was happening with the reopening of the schools. All of the information was coming from the media, but there was nothing from the government, she tells me: 'I drafted the letter and I invited my old friends from university in Bologna, and then others from all over Italy joined in. We created Priorità alla Scuola and circulated the letter around the country.' Margiotta tells me that 72 per cent of the signatories are women.
In Rome, feminist signatories to the Priorità alla Scuola letter organised a protest on 1 May. They demonstrated in front of five schools, unfurling banners which read: 'Without school we cannot return to work.' 'We broke the silence', says Margiotta, 'but this in itself doesn't mean we will get what we want'. Margiotta reiterates why this is so important:
'To force women to stay at home to take care of their children while also forcing them into the role as de facto educators will completely forego the child's right to education and to the socialisation that is built from interactions with their peers. It follows that if children cannot be emancipated from the family context for learning, then this would harshly punish women by putting us back to the 1950s.'
Margiotta is not alone in this fear. Hella Network, a collective of over 500 female communication professionals, has also pushed back on the Italian government's refusal to address the rights of women and children. Recently, Hella Network produced a satirical version of the Italian government's lockdown campaign. Similarly entitled #IoRestoaCasa (#IStayAtHome), the campaign challenges the threat to women's physical, economic and political autonomy posed by the post-coronavirus world. It says: 'In phase two, but also in phase three and thereafter, we will be the most penalised in the professional environment. And the most disadvantaged among us will be mothers.'
The campaign borrows visual elements from the iconography of postwar imagery of women as homemakers, smiling at the viewer. Its graphics feature slogans like '#IStayAtHome to admire my Bachelor's degree in a frame' and '#IStayAtHome with the children because I am economically expendable'. The bottom of each frame features recent employment statistics showing women's participation in the labour force.
One reason that women's needs and rights have been secondary could be that there are so few women driving the strategy. Many Italians expect the government and its experts to ignore women's issues – especially after Azzolina's declaration last week that long-distance learning had been a 'success'. Even Italian fathers are alarmed at some of the conclusions being drawn by the national government, noting the detrimental effects that the lack of education and childcare is having on their families and on society. As a partial remedy, the government is offering €600 per month in babysitting vouchers, but this would not cover the childcare needed to return to even a part-time job.
Margiotta tells me that Priorità alla Scuola is organising protests later this month throughout the country as discussions are ongoing between parents, educators and the government. Other groups are forming, too. For instance, a network of teachers and parents has emerged to produce a 'Manifesto for the rights and wishes of girls, boys and adolescents'. This advocates for the right of children to access education and outdoor spaces while demanding radically different contagion containment measures that do not punish children and women disproportionately.
It is now a week into 'phase two' of the lockdown and I have yet to meet a single parent who is not outraged by the fact that their lives and those of their children have been treated as an afterthought to reopening the country. Talks have begun about restarting sports training so that the Italian Football Federation's Serie A can finish its 2019 / 2020 season. Factories and even restaurants are starting to reopen. But at the same time, many Italians are concerned that families have been left behind.
Julian Vigo is a writer and academic.
To enquire about republishing spiked's content, a right to reply or to request a correction, please contact the managing editor, Viv Regan.