Biden's candidacy is gaslighting America
The man is mentally crumbling before our eyes. The Democrats cannot be serious.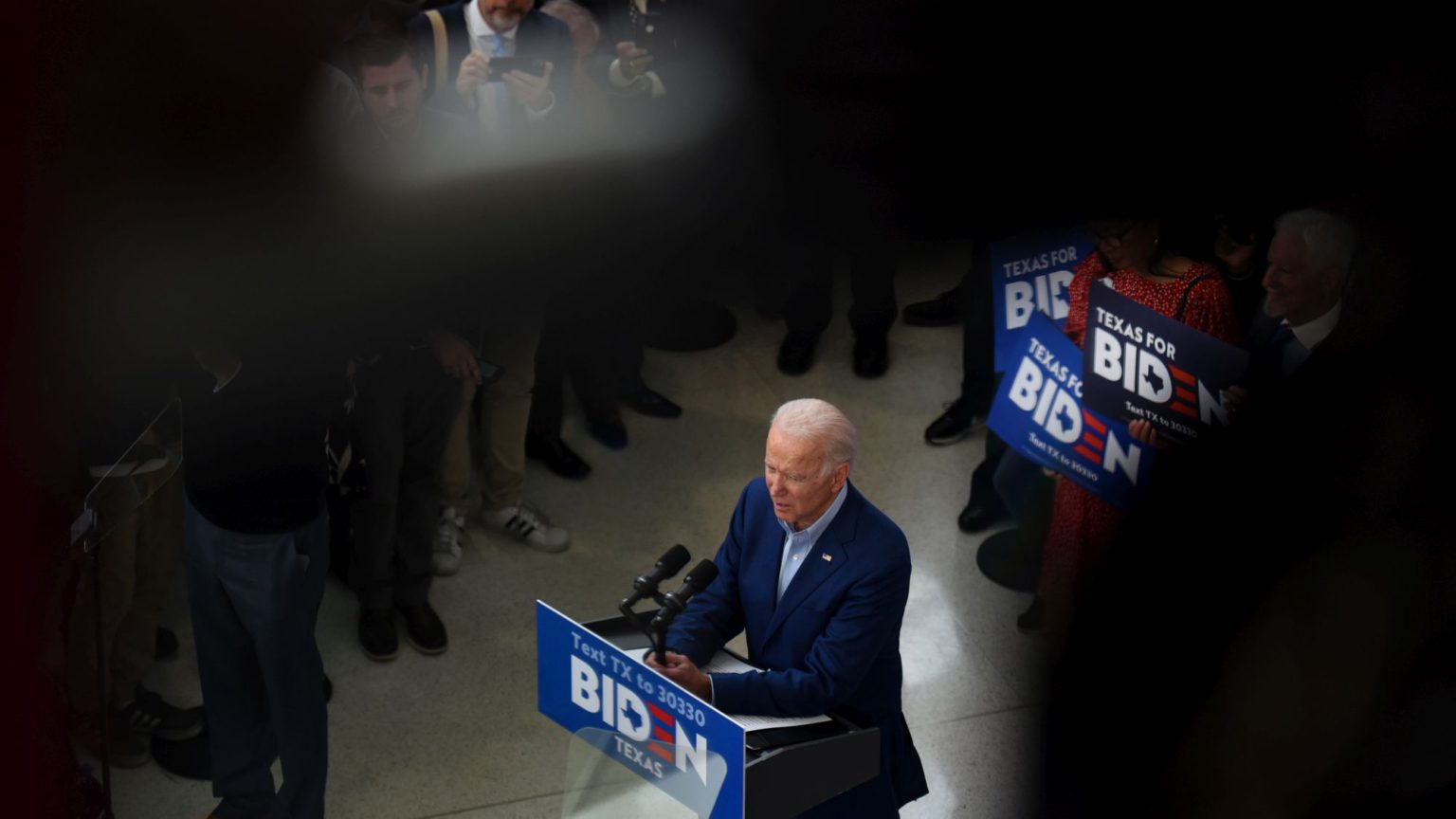 It is saying something that, were Joe Biden indeed guilty of Tara Reade's shocking accusation of sexual assault, I would personally have trouble being convinced that he should go to prison.
Simply because this is a 77-year-old man that has frequently seemed to be in serious cognitive decline.
During his campaign outings so far, Biden has forgotten what office he is running for, Barack Obama's name, and the Declaration of Independence (unless he was suggesting replacing the latter with 'You know the thing'). He is the candidate who introduced his wife as his sister, opined that 'poor kids are just as bright as white kids', and called a woman a 'lying, dog-faced pony soldier' – an insult that, as far as I'm concerned, no one has yet been able to satisfactorily source, let alone explain.
During the primary debates, it was excruciating and alarming every time it was Biden's turn to speak.
His minute-long platitude-clusters often lost themselves around the halfway mark, wandering off into cul-de-sacs of nonsense and anachronism. 'Make sure you have the record player on at night', he advised America's parents, 'make sure the kids hear words!'. Not for nothing did his debate catchphrase become the rousing 'anyway… my time's up… sorry'.
While wanting to resist diagnosing from afar, the spectacle will have been familiar for anyone who has witnessed a relative or friend, particularly of that age, experience cognitive issues – watching them struggle to 'pass' as mentally present, visibly unsure exactly what they're even trying to achieve, or why.
What has been less familiar is watching someone in this sad predicament being groomed for the Iron Throne by a political establishment and complicit mass media.
Certainly, Biden had nothing to do with the #Joementum that eventually carried him over the line against Sanders. His former boss (his name escapes me) did the heavy lifting on his VP's behalf, calling around other various Democratic also-rans to convince them to drop out and back Biden.
Meanwhile, the media sought to explain it all away with the fond phrase 'gaffe-prone' – at other times optimistically pinning it all on a supposed 'stutter'.
Biden's post-nomination quarantined appearances have been few and far between. The interviews are like flesh and blood deep fakes. 'We've never allowed any crisis from the Civil War through to the pandemic of 17, all the way round, 16….', he reassured ABC viewers in April.
Even his simple streamed speeches are awful: the former VP's hand jerks upwards if the teleprompter text stalls, his eyes fill with fear and confusion between sentences, and the words fall eerily flat from his lips. More recently, his sister-wife, Jill Biden (a woman with the air of a wildly unethical carer), was put on teleprompter duty instead, her husband standing silently beside her, his perfect smile like a gaudy palace still intact after an earthquake, surrounded by rubble.
Biden's handlers must have considered getting Mrs Biden to do the 'I did not sexually assault that woman' gig everyone was waiting for last week. (Hell, they must be at least considering the possibility of somehow getting her to do the Trump debates.) On Friday, though, Biden 2020 bit the bullet, with the former VP appearing apparently live via video link on Morning Joe.
It didn't seem fair. For the 2020 Biden, it's difficult enough remembering phrases like 'Super Tuesday', let alone being expected to square the circle between his 2018 comments regarding the Brett Kavanaugh allegations – 'for a woman to come forward in the glaring lights of focus, nationally, you've got to start off with the presumption that at least the essence of what she's talking about is real' – with the proposition that Tara Reade is… definitely lying.
Overall, though, Biden cleaved to the script, and did more or less his smoothest impersonation of himself yet. It was just a shame that the person he was pretending to still be was being accused of sexual assault. 'I don't remember…', he said, in his most sincere sounding moment.
No doubt Republican partisans would be capable of twisting themselves into equivalently extraordinary pretzels of cognitive dissonance. But so far, Biden 2020 is a new low in 21st-century political gaslighting. You know the thing.
Tomek McGrath is a writer based in London.
Picture by: Getty.
To enquire about republishing spiked's content, a right to reply or to request a correction, please contact the managing editor, Viv Regan.