The 10 maddest Remainer moments
Brexit Derangement Syndrome has given us no shortage of laughs since 2016.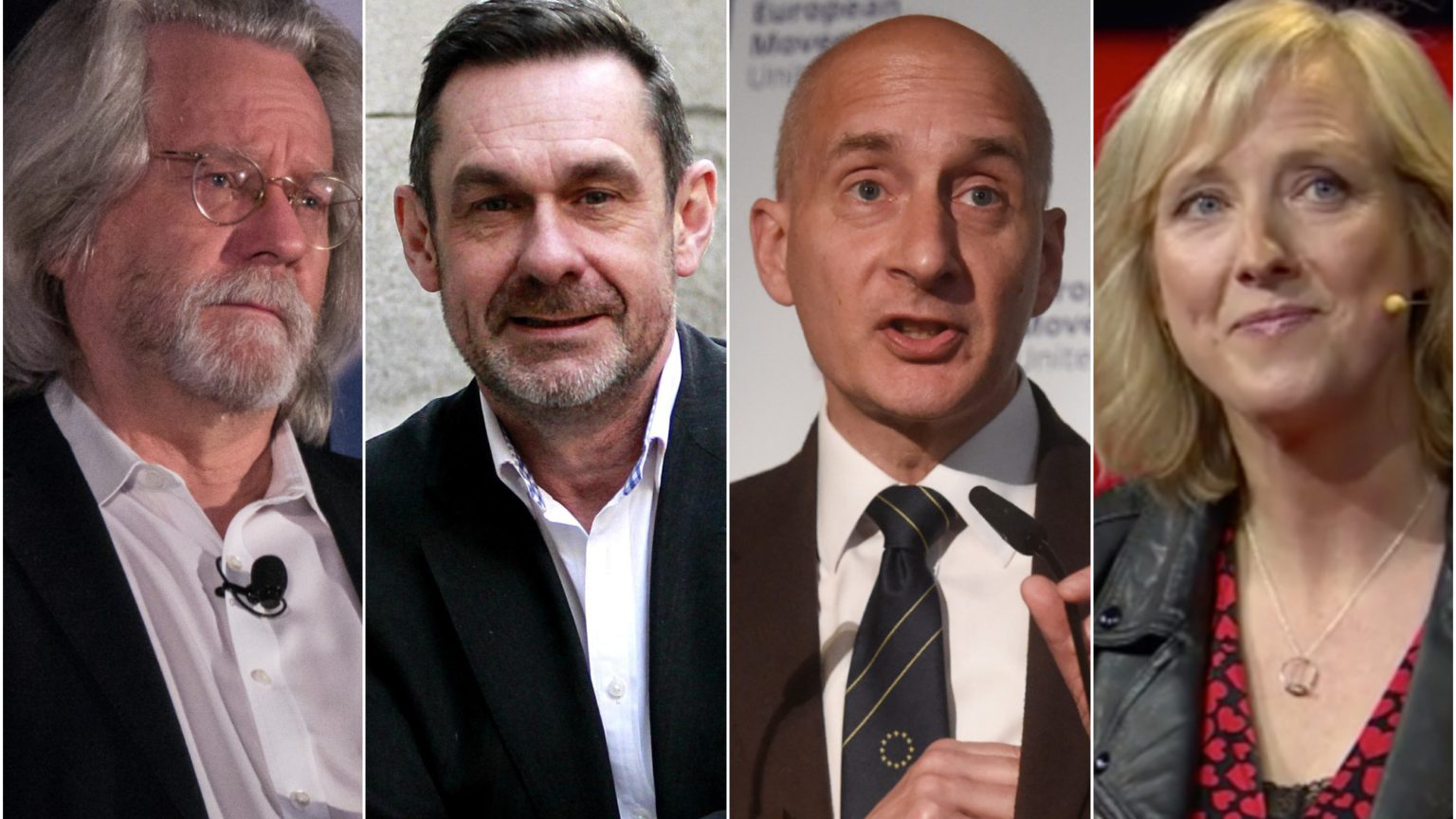 Britain leaves the EU today, bringing a partial end to the biggest collective meltdown in living memory. What happens next is unknown, but maybe the real Brexit was the friends we made along the way. Here are 10 of the best moments.
James O'Brien becomes a milkshake truther
Hard though it is to remember, there was a time when James O'Brien was a rising star of political interviewing. Somewhat left of centre and with a razor-sharp interviewing technique, he earned himself several slots in the Newsnight chair when regular presenters were on holiday.
Since Brexit, he has settled into a comfortable niche of outwitting taxi drivers on his LBC phone-in and soaking up those sweet, sweet retweets. Professionally, if not emotionally, Brexit, Johnson and Trump have been a boon for him.
O'Brien could be accused of being a partisan, self-satisfied mid-wit who publicly humiliates low-information normies to boost his own ego. But nobody questioned his sanity until 20 May 2019, when his fellow LBC presenter Nigel Farage became the latest victim of 'milkshaking'.
The assailant was a Sky employee and a Labour-supporting Remainer who was later ordered to pay £350 towards Farage's dry-cleaning bills. In retrospect, it seems an open and shut case, and that's how it seemed to everyone at the time – except to the author of How to be Right. With unverified rumours that the Brexit Party was awash with Russian cash, O'Brien smelt a false flag and saw a patsy. He tweeted:
If I was worried about a former Prime Minister expressing fears about my new 'party' laundering dirty foreign money, I would probably pay someone to lob a milkshake at me & hope that the relatively trivial story distracted attention from the profoundly serious one.

— James O'Brien (@mrjamesob) May 20, 2019
It got 2,400 retweets and 9,000 likes.
Philip Hammond goes tonto
Philip Hammond was never going to win any prizes for charisma. Level-headed and prudent, his dullness became a strength as chancellor of the exchequer when he began navigating the economy through the choppy waters of post-referendum Britain.
A safe pair of hands, Hammond never seemed like the kind of chap to get carried away by fanciful notions. But in the end, even Spreadsheet Phil could not escape Brexit Derangement Syndrome. Languishing on the back benches in September 2019, Hammond claimed that Boris Johnson was intent on leaving the EU without a deal because 'he is backed by speculators who have bet billions on a hard Brexit'.
This bonkers theory first surfaced on the Byline Times website and was spread by Carole Cadwalladr (see below). According to this dubious source, Brexit was an example of 'disaster capitalism' and the economy was going to be deliberately driven off a cliff so evil billionaires could make a fortune from shorting the pound. It was such a preposterous idea that even the Europhile Financial Times debunked it.
Three weeks after Hammond put his weight behind the theory, the EU announced that a new deal had been struck. Boris went on to win a decisive majority, Hammond stood down as an MP, and the pound reached a 31-month high.
AC Grayling's gunboat diplomacy
I've never read any of AC Grayling's books, but if you had mentioned his name to me before June 2016 I would have pictured a dry, dusty academic going through the archives of the Bodleian Library. Mention him today and most people will think of a bar-room ranter who has trashed his reputation or, if you are an ultra-Remainer, a brave crusader against the deep state.
Although eager to stress that he is 'not one for conspiracy theories', Professor Grayling has endorsed many of the notions of Carole Cadwalladr (see below) while developing some interesting theories of his own, including the belief that the referendum was 'gerrymandered' because children were not allowed to vote and that Jeremy Corbyn is a 'Tory-supporting lickspittle'.
The great man outdid himself on 13 February 2018 when the government announced that it would be sending a warship through the disputed South China Sea. Ever mindful of black ops, Grayling suggested that the move 'smacks of an effort to distract from home news' and predicted that shots would be fired. Why? Because a 'sunk frigate would eclipse EU talks nicely'. Wake up, sheeple!
David Lammy, spy catcher
Controversial Labour MP David Lammy has never been afraid to say what he thinks. Lesser men might sleep on an idea or ask for evidence, but David tells it like however he thinks it might be at any given moment.
And so, when it was reported that Downing Street adviser Dominic Cummings had lived in Russia for three years in the mid-1990s, the Right Honourable Member for Tottenham reached the only obvious conclusion.
Is Dominic Cummings a Russian Spy? Hidden in plain sight. https://t.co/DgocZ1odwU

— David Lammy (@DavidLammy) November 3, 2019
Paul Mason launches the Brexit Bulletin
The broadcast media did not provide enough Marxist-Leninist analysis in the weeks following the referendum. That, at least, was the view of Newsnight's former economics editor, Paul Mason. Tired of being lied to by the MSM, the middle-aged Corbynista fought back on 1 July 2016 by producing the inaugural issue of his unfiltered, Twitter-based daily newsletter.
With a mission to tell the people what the lying, billionaire Tory-Murdoch-BBC elite didn't want them to know, the first Brexit Daily Bulletin was made up of five headlines, including 'Labour's John McDonnell outlines 5 "red lines" in Brexit negotiations' and 'Tory leadership contender Gove signals no early trigger of Article 50'. The BBC's political correspondent, Nick Eardley, pointed out that 'literally every single one of these things is on the BBC website right now'.
Subsequent editions informed readers about a '30,000+ march through London demanding Britain stays in UK' and explained that 'Theresa May leads with 89 nominations for Tory leader'. The sixth bulletin appeared on 6 July 2016 with the scoop: 'Theresa May and Andrea Leadsom to contest post of Tory leader and UK prime minister in ballot of Tory members'.
It was to be the last. Like the brightest light, the Brexit Daily Bulletin shone all too briefly. After six glorious issues, Mason pulled the plug. The public had finally been told the truth. His work was done.
Caroline Lucas has a brainwave
In the summer of 2019, parliament was in gridlock and the country was in crisis. The Withdrawal Agreement had been voted down three times and a series of indicative votes failed to find a majority for any alternative. Collective responsibility had collapsed months earlier. Squabbling and back-stabbing were endemic.
With a constitutional crisis looming, Britain's lone Green MP, Caroline Lucas, called for an 'emergency cabinet' to 'work for reconciliation'. By an uncanny coincidence, all the MPs she wanted to join the cabinet were Remainers who wanted a second referendum.
But how could she make sure there would be no in-fighting this time? That was the cleverest part: it would be an all-female cabinet. Because nothing puts a stop to bitching, arguing and silly mind games like a roomful of women.
Jolyon Maugham murders a fox
Brexit ambulance-chaser Jolyon Maugham seemed to be running a permanent crowdfunder between July 2016 and December 2019. If there was a sliver of a chance that the Brexit process could be delayed by an arcane legal technicality, Jo was on the case quicker than you could say 'pro bono'.
No one could have foreseen the way in which he fell from grace. As the headline in the Observer gravely intoned: 'Jolyon Maugham QC was a hero to many. Then he beat a fox to death.'
Maugham's madness was not so much in brutally murdering the beast with a baseball bat while wearing his wife's kimono, but in telling his 178,000 followers about it. Forgetting about the British public's inexplicable affection for vermin, he paid a heavy price. He has not tweeted since the event and may yet get one more well-publicised day in court.
Alastair Campbell's coin protest
The Brexit meltdown was a shot in the arm for a range of has-beens and nearly-weres. Who, in 2015, could have predicted that Andrew Adonis and Gavin Esler would become (almost) household names again? The way in which Alastair '45 Minutes' Campbell wormed his way back into respectable society showed that nobody was beyond redemption if they expressed enough rage about 'Brexshit'.
Campbell sealed his place in the top rank of furious Europhiles when he declared that he would not allow a commemorative 50p piece to cross his palm.
I for one shall be asking shopkeepers for 'two 20p pieces and a 10' if they offer me a 50p coin pretending that Brexit is about 'peace, prosperity and friendship with all nations' given it puts all three at risk. If they insist I will be channeling this man pic.twitter.com/9nypxaQgxT

— ALASTAIR CAMPBELL (@campbellclaret) January 26, 2020
Spotting an opportunity for one more futile act of protest before the big day arrived, high-profile Remain ultras, including Lord Adonis and Philip Pullman, joined Campbell in his loose-change revolt. Julia Hartley-Brewer offered to give them the full EU experience by exchanging their 50p for 20p and telling them how they could spend it.
Andrew Adonis remains unelected
After spending years insisting that Brexit would never happen, Lord Adonis quietly threw in the towel when he tweeted: 'I am now applying for my Cypriot passport.' This was the Remain equivalent of the ravens leaving the Tower of London.
It's difficult to pick a favourite moment from the Adonis archive, but who can forget his decision to stand as a Labour MEP after telling everyone not to vote Labour? Despite being forced to write a grovelling apology in which he improbably described himself as a socialist, the public took his advice. Fighting the European elections in the south-west as part of a banterous range of candidates that included Ann Widdecombe and Sargon of Akkad, Labour came fifth with 6.5 per cent of the vote.
Carole's Italian conspiracy
Carole Cadwalladr's journey from obscure features writer to Orwell Prize-winner has been a glorious one. She shot to prominence in the months after the referendum with the stunning scoop that Facebook allows targeted advertising. A series of articles in the Observer followed, some of which contained claims that did not have to be corrected or retracted.
In March 2019 she took a break from accusing Brexiteers of conspiring with the Russians to accuse them of conspiring with the Italians, albeit Italians who allegedly had links to Russians. When Arron Banks took his colleagues on a corporate skiing trip in northern Italy, sidekick Andy Wigmore tweeted a photo of him smoking on the slopes. He was, he trolled, at a 'Bond villain convention'.
Cadwalladr took the bait and put two and two together in her usual way. 'Today, the plan is revealed', she tweeted. 'The fascists have agreed to help Britain exit without a deal. Salvini will block an extension of Article 50. We're fucked.' Of course! What other explanation could there be?
According to political scientist Daniele Albertazzi, the claim that the Italian government was prepared to damage its own economy as a favour to Arron Banks 'can only come from people who have not just no understanding of Italian politics but no understanding of the populist radical right'. The extension was granted the following week. The 'fascists' did not attempt to veto it, nor did they veto further extensions in April and October.
Christopher Snowdon is director of lifestyle economics at the Institute of Economic Affairs. He is also the co-host of Last Orders, spiked's nanny-state podcast.
To enquire about republishing spiked's content, a right to reply or to request a correction, please contact the managing editor, Viv Regan.