Why it's still kicking off everywhere
From Chile to Iraq, we're witnessing a global populist revolt.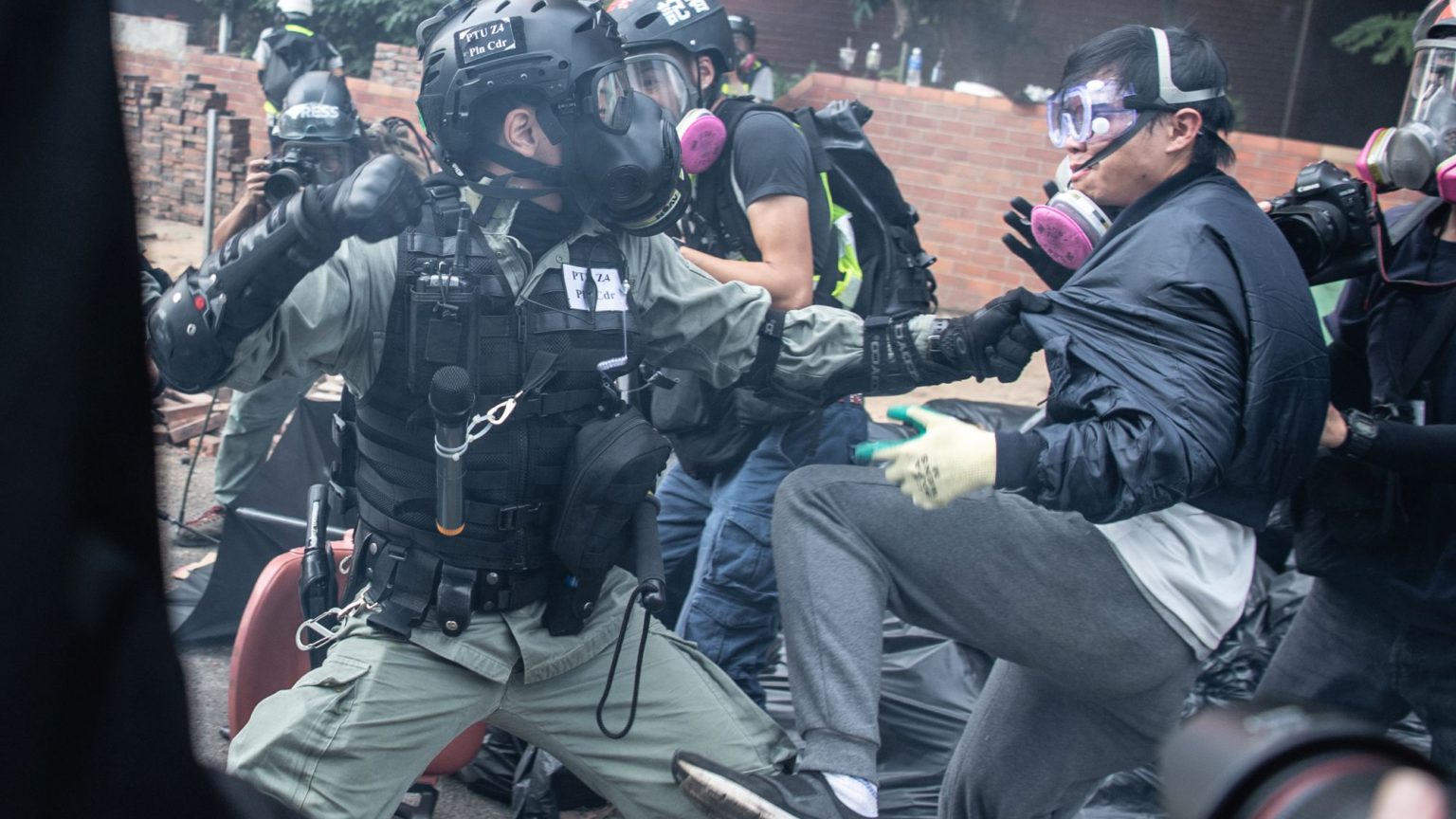 Egypt in September – thousands of people take to the streets to protest against General al-Sisi's brutal government. Iraq in October – thousands of people take to the streets to protest against a corrupt political class and its Iranian backers. Chile in October – over a million people take to the streets to protest against the self-enriching governance of politicians and big business.
In country after country this year, millions upon millions of people have started kicking off. Think of Hong Kong, where, since June, increasingly violent protests have become a fixture of daily life. Or of Bolivia, where president Evo Morales' attempts to install himself effectively as Bolivia's permanent president provoked an angry response. Or of Sudan, where a restive populace rose up and finally ended the 30-year reign of President Omar al-Bashir. Or indeed of Algeria, Iraq, Kazakhstan, Lebanon, Catalonia, Haiti, Ecuador, Iran…
It is difficult to avoid the conclusion that in 2019 we have witnessed a massive uptick in global protest. Protests have been on the rise since the beginning of this decade, in fact, with the financial crisis haunting the global political and economic order, materially and ideologically. Think back to the anti-austerity upsurge in the southern periphery of the crisis-ridden Eurozone in 2011, when the Indignados in Spain cut a brief radical dash, and protesters in Greece paved the way for the now ruined dreams of Syriza. Or think back, of course, to the Arab Spring, where, for a moment, the fall of the hollowed-out, aged despots of Egypt and Tunisia gave hope to a whole region.
Still, 2019 has proven an especially tumultuous year. More striking still is that it is not immediately apparent why. The ostensible prompts for protest have been far more disparate than they were in 2011, when old, sclerotic Middle Eastern regimes wobbled and occasionally fell. And certainly more disparate than they were in the late 1980s, when people across Eastern Europe rose up for political and economic freedoms, against the Communists' decrepit, authoritarian rule. In Lebanon, for instance, it was a tax on phone calls via services such as WhatsApp; in Egypt it was a vlogger alleging endemic political corruption; in Hong Kong it was a law allowing the extradition of criminal suspects to China. So there are irreducibly local contexts and causes for each moment in what looks like a global wave of protest and unrest.
Not that this has stopped some commentators from searching for what the protests have in common. As in 2011, many have pointed to the use of social media as an organisational tactic in contexts as diverse as Hong Kong, Catalonia and Lebanon. Likewise, as in 2011, the protests have largely been deliberately leaderless. Not only, or even mainly, because of some theory of horizontal decision-making, à la Occupy, but because it makes it difficult for a repressive state apparatus to target specific individuals.
Another notable common feature in places as distinct as Bolivia, Egypt and Algeria is the prevalence of young people among the protesters. This makes sense, given that many of the countries in which protests have taken place have predominantly young rather than aging populations. Moveover, those under 25 are often bearing the brunt of longer-term economic problems, with youth unemployment rates for Iran and Egypt hovering around 30 per cent. As the LA Times concludes, 'Current protest movements are often spearheaded by financially strapped young adults increasingly fed up with their plight, which they believe is the result of corrupt political elites'.
And of course, the No1 go-to causal explanation for it all kicking off remains: 'It's the economy, stupid.' In this vulgar Marxist re-telling, people are rebelling against neoliberal economics. They're tired of seeing a top 1% basking in whatever wealth their economies still produce, while they scrabble around for the basics of life. Or as Red Flag, an Australian socialist journal, puts it: 'For more than four decades, country after country has been ravaged by neoliberal policies designed to make the mass of workers and the poor pay for what is a growing crisis in the system.'
Admittedly, some of these factors are combined to some degree in today's global convulsions. But 'the economy' feels inadequate as an explanation for what is going on. A fuel-price hike in Iran, a WhatsApp tax in Lebanon and a metro-fare rise in Chile, all mapped on to a broad tale of rising inequality, are not sufficient as economic causes to explain the rapid escalation of these protests. Moreover, they don't explain why the protests have developed as they have – into populist revolts.
For that is what is most striking about the protests. They have all largely taken a populist form. Hence in Lebanon, the protesters have gradually pitched themselves as the Lebanese people against the entire political elite, including Hezbollah, under the slogan 'all of them means all of them'. In Egypt, the chant first heard in 2011 is being heard again: 'The people want the fall of the regime.' And, in Chile, mass protests have been taking aim at the entire political system, on the grounds, as one observer puts it, that 'there is a failure of the system of political parties in its ability to represent society'.
Paolo Gerbaudo, a political sociologist at King's College London, describes it as follows: 'These movements don't appeal to specific categories. They appeal to the entirety of the citizenry… who feel defrauded by the political class.' And that is what marks out the protests of 2019. They share a populist form, and a democratic aspiration.
If the post-2008 economic downturn does play a role in what's happening, it is certainly not confined to the extent that it has visited hardship on people. This is no direct global revolt against neoliberalism. Rather, its principal role lies in the extent to which global economic stagnation and recession have deprived so many autocratic or semi-democratic regimes, from Iran to Bolivia, of the means to authorise and legitimise their rule. In such an economically straitened context, the rule of each nation's political elite increasingly appears self-interested, and its corruption, which is hardly new, appears ever more brazen. And with each move they make to preserve their power, each constitutional fiat and repressive gesture, they appear increasingly opposed to their own people.
Generalisations about this populist revolt are always at risk of effacing the specific social and political tensions involved. It is impossible to understand what's happening in Lebanon, for instance, without understanding the rising domestic opposition to the role of Iran.
Still, from Chile to Iraq, the ambitions of the various protesters remain remarkably consonant. They want politicians to represent and serve the people. They want a form of popular sovereignty. And here's the kicker. They do so at a time when populist surges within the very Western nations that drew up the global political and economic order are rendering that order ever-more unstable. Rarely has the demand for popular sovereignty been as explosive as it is right now.
We live in interesting times.
Tim Black is a spiked columnist.
To enquire about republishing spiked's content, a right to reply or to request a correction, please contact the managing editor, Viv Regan.