Three cheers for Labour's plan for abortion reform
Decriminalising abortion is essential for women's freedom.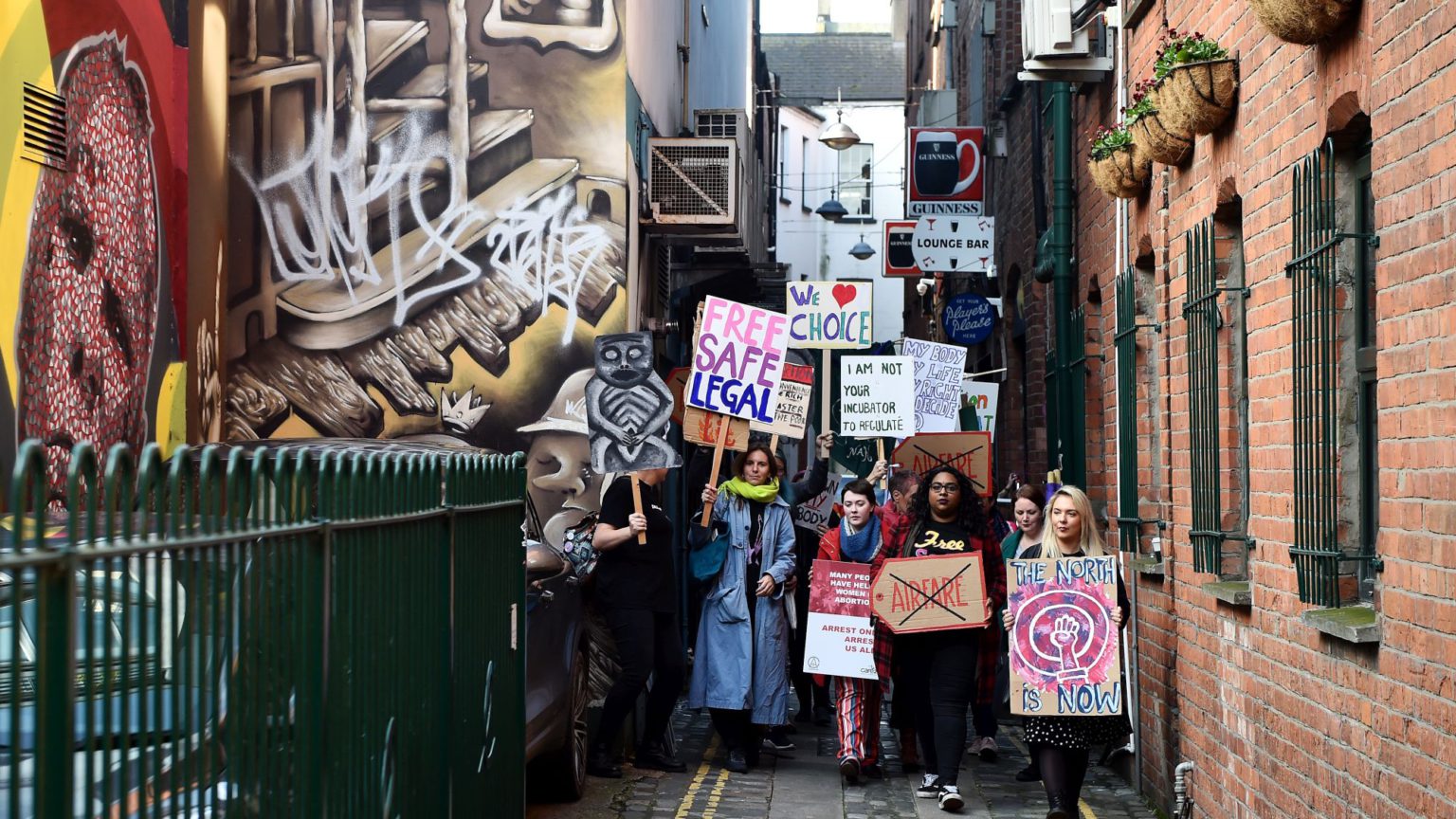 General Elections should be exciting. Political parties get to try out new policies, push their voters and attempt to gain a mandate for real change. And while it's true that the key issue of our winter election is Brexit, from spending promises to immigration, there are many other issues at stake.
The Labour Party might be terrible when it comes to Brexit, but one policy in its manifesto is truly radical. In just nine words, Labour promises to change women's lives dramatically: 'We will uphold women's reproductive rights and decriminalise abortions.'
The manifesto covers other issues relating to women – such as funding women's centres, changes to the law in relation to domestic violence and 'revenge porn', and the much-discussed promise of compensation for the so-called WASPI women. But it is this promise of decriminalising abortion that marks the party out as taking a principled stance on women's freedom.
Contrary to what many people think, abortion is not legal in the UK. The Abortion Act 1967 makes access to abortion widely available for women up to 24 weeks of pregnancy, but only under specific conditions. A close look at the law shows that it is actually designed to protect doctors from criminalisation for performing abortions in specific circumstances – not to allow women the freedom to make decisions about their pregnancies. Under the terms of the law, women must prove to 'two registered medical practitioners' that their abortion is necessary to protect their 'physical or mental health'. In practice, this means that, legally, a woman cannot merely decide that a pregnancy would be a bad decision for her – she has to convince two doctors that it would kill her or drive her mad.
Decriminalising abortion would allow it to be regulated like any other safe medical procedure. Rather than creating legal loopholes for women to access the healthcare they need, decriminalisation removes state interference with women's bodies. The choice to have an abortion would be private, independent and belong solely to women.
This policy has caused some controversy, to put it lightly. Alarmist pro-life campaigners are having a meltdown. One critic wrote in the Daily Mail that Labour was peddling an 'extremist, dogmatic policy' in saying it will decriminalise abortion.
Much of the scaremongering is centred on the fact that decriminalising abortion would remove the gestation time limit on abortion procedures. The Christian People's Alliance tweeted that Labour would allow 'the killing of unborn children up to birth'. The anti-abortion organisation Right to Life tweeted a picture of a wilted version of Labour's signature rose, next to the words 'Abortion up to birth'.
But those freaking out about this proposal do women a disservice. Statistics from the Department of Health and Social Care (DHSC) show that nine in 10 abortions are performed at 13 weeks or less. Eighty per cent of abortions are now performed under 10 weeks. That's up from 73 per cent in 2008.
As the stigma around abortion and access to contraception has been reduced, women who want to terminate their pregnancies are coming forward at earlier stages to access the help they need. No one wants to have a late-term abortion – they are invasive and traumatic. The idea that decriminalisation would mean a skyrocketing of late-term abortions shows an ignorance of the facts and what such a procedure entails.
What critics of decriminalisation are really saying when they panic about 'unrestricted' abortion is that women cannot be trusted to make moral, informed and adult decisions. Do these people really believe that there are lots of women out there who would get pregnant for the hell of it, carry around an extra 15 kilos and puke up every morning, only to jump on the doctor's table at 30 weeks and demand an abortion? This is a callous misrepresentation of women's carefully considered, private decisions. And it is a sad indication that there are still people who think women shouldn't be allowed to make decisions about their own bodies and lives.
Labour's promise on decriminalisation could be revolutionary for women's bodily autonomy. Other parties who are serious about women's freedom should take note. Women choose to have abortions for all kinds of reasons. Whatever we think of those reasons, a woman's choice should be hers alone. Until we decriminalise abortion, women will remain constrained by the state and mistrusted by society.
To enquire about republishing spiked's content, a right to reply or to request a correction, please contact the managing editor, Viv Regan.