How Trump took over our lives
Trump's critics need to tune out the noise and focus on the economy.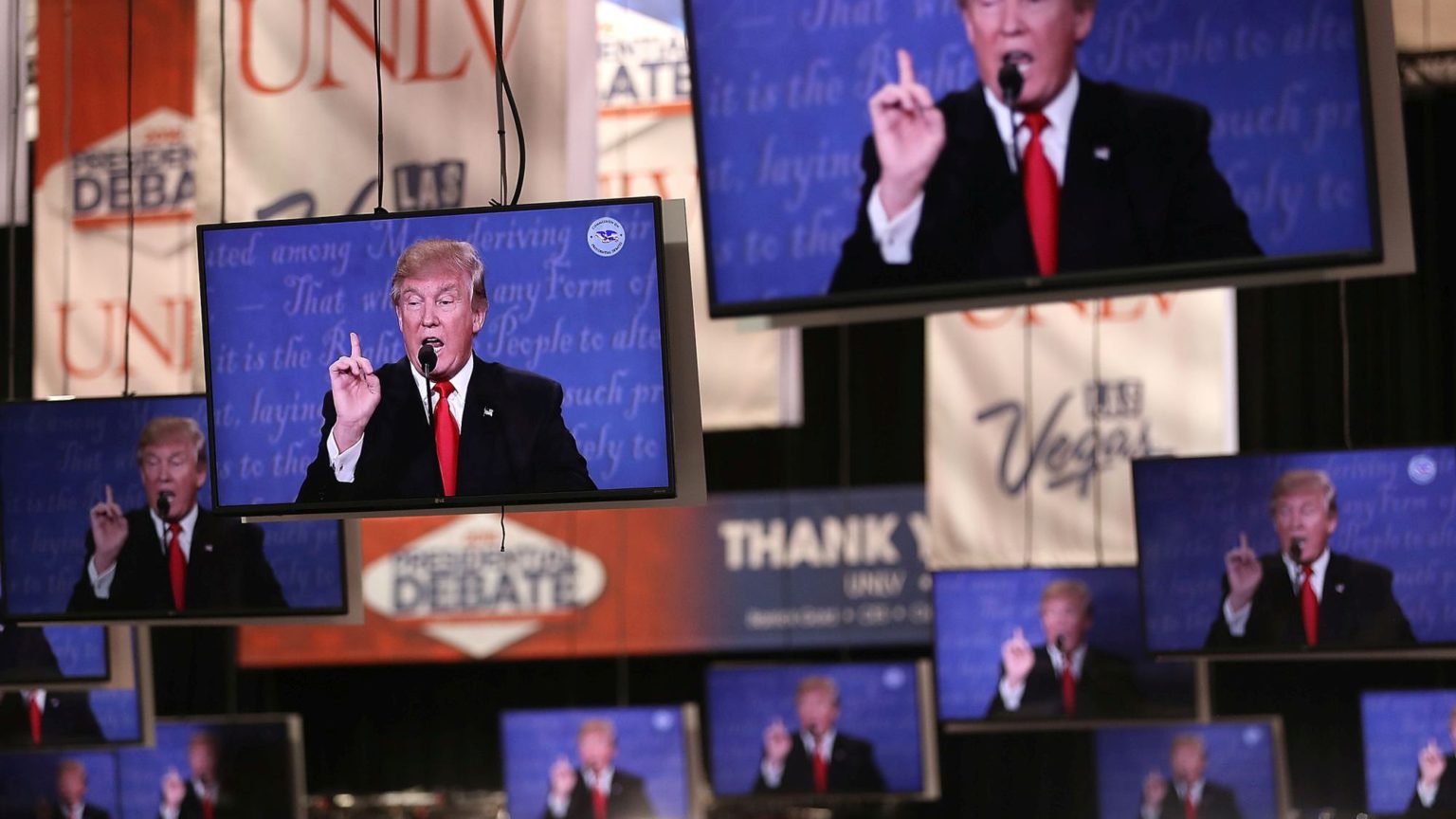 In January 2008, just as the foreshocks of the financial crisis were emerging, American television and film studios faced an acute problem of their own: all 12,000 members of the Writers Guild of America were on strike in an effort to renegotiate their royalties from new digital forms of media distribution. This meant that new writing for film and television had ceased entirely and the supply of scripts stockpiled by the studios was running low.
Faced with this, the studios cast about for an alternative source of content. This was the moment when reality TV came of age. It solved the studio's urgent need to fill the vacuum in their programming. Being largely unscripted (needing editors rather than writers), it was flexible, reliable and relatively cheap to produce.
Scores of new reality TV shows were commissioned and launched around this time, including Keeping up with the Kardashians and the celebrity edition of Donald Trump's The Apprentice. Drawing low ratings for its seventh season, The Apprentice had not initially been slated for renewal in 2008. But, thanks to the writers' strike, it was recommissioned as The Celebrity Apprentice, which ran for another eight seasons. Trump continued as host of the show until early 2015.
Ever since he launched his presidential candidacy in June of that year, and especially since he beat Hillary Clinton the following November, there has been a constant stream of tweets, stories, op-eds, panels, call-ins, montages, features, exposés, satires, documentaries and investigations about Trump. He has become the ubiquitous subject of rolling-news networks, screened 24/7 around the world in homes, airports, malls, gyms, bars and waiting rooms of all descriptions. The volume of newsprint and airtime that has been given over to Trump is immeasurable and perhaps even unprecedented. Trump has dominated the airwaves for close to 1,500 consecutive days. And, since a part of every terrestrial radio-wave transmission also bleeds out into space beyond our planet, there is also a wave of Trumpian noise being emitted from Earth at the speed of light. In late October, the news of Donald Trump's presidential campaign will reach Proxima Centauri, the nearest star to the sun, 4.37 light years away.
The longer this wave of noise vibrates, undimmed with oppositional outrage and indignation, the less tethered to the actuality of Trump's administration it is becoming. No single individual, not even a provocative president, could warrant this media obsession by his actions alone. In fact, the reason for the sheer vastness of this obsession is more closely related to the rise of reality TV than to the proportionate newsworthiness of Trump's administration.
In the decade since the writers' strike, more than 34,000 analysts, reporters, correspondents, editors and photographers have been laid off from the so-called legacy media in the US. This amounts to an almost 50 per cent reduction in the productive capacity of American newsrooms. The primary cause of this has been a dramatic shift in advertising patterns: between 2005 and 2009 advertising revenues at US newspapers fell by 44 per cent. A trend which has since continued apace. Today's journalists are expected to do more with less, but producing original journalism remains stubbornly time-consuming and costly.
Imagine for a second that you had a pause button for the Trump phenomenon. Imagine the 45th president absent from the news for just a single day. Imagine the consequent vacuum in programming and the pressure this would exert on today's depleted newsrooms. This is the real reason why there is such a disproportionate appetite for Trump within the news media: a little of him – say, one of his late-night tweets – can be made to go a very long way.
But there is more to Trump's presidency than just noise. His 2016 election is historic because, unlike his opponent and predecessors, he correctly identified and campaigned on the fundamental problem facing America (and the West more widely): the decades-long decay of productive capacity in the economy. The problems facing newsrooms and TV studios are shared across the economy. 'Make America Great Again' is shorthand for the urgent need to replace the old economic order – characterised by the pursuit of economic stability at any cost – with a new agenda for creating sustained economic dynamism.
Trump won because he called out the intellectual exhaustion at the heart of the political
establishment. No amount of handwringing over his sexism, racism or obvious nepotism and fake tan will make the MAGA signal go away. His election wrenched the initiative away from a 25-year-old bipartisan consensus on free trade and globalisation – small wonder that he is resented and feared in Washington, Brussels and Beijing. For this, Trump deserves credit. The creation of a new order necessarily involves the destruction of an older one. And Trump himself is an odd mix of old and new: a 1980s throwback projected through the 21st-century media.
But as much as economic nationalism, Trump's replacement for the free-trade consensus, can theoretically be good for America, is it really the best way to create a new era of radically increased productivity? Perhaps, as Daniel McCarthy has written, it is better understood as a first attempt to find a new framework for US economic growth in the 21st century. There are alternative, potentially better strategies for remaking productive capacity – such as those put forward by Mariana Mazzucato and spiked's Phil Mullan.
An important step towards developing a democratic, nuanced and creative alternative to Trump's economic nationalism has to start by accepting that the centrist consensus which preceded the twin quakes of Brexit and Trump has expired. History has moved on.
Instead of agonising over every Trump outrage, confronting and reversing this economic decay should be our new political lodestar. Trump's opponents will remain disoriented as long as they are waylaid in all his noise.
Tom Brooksbank is a writer.
Picture by: Getty.
To enquire about republishing spiked's content, a right to reply or to request a correction, please contact the managing editor, Viv Regan.