Hong Kong's march to freedom
Antony Dapiran on Hong Kong's awe-inspiring week of protest.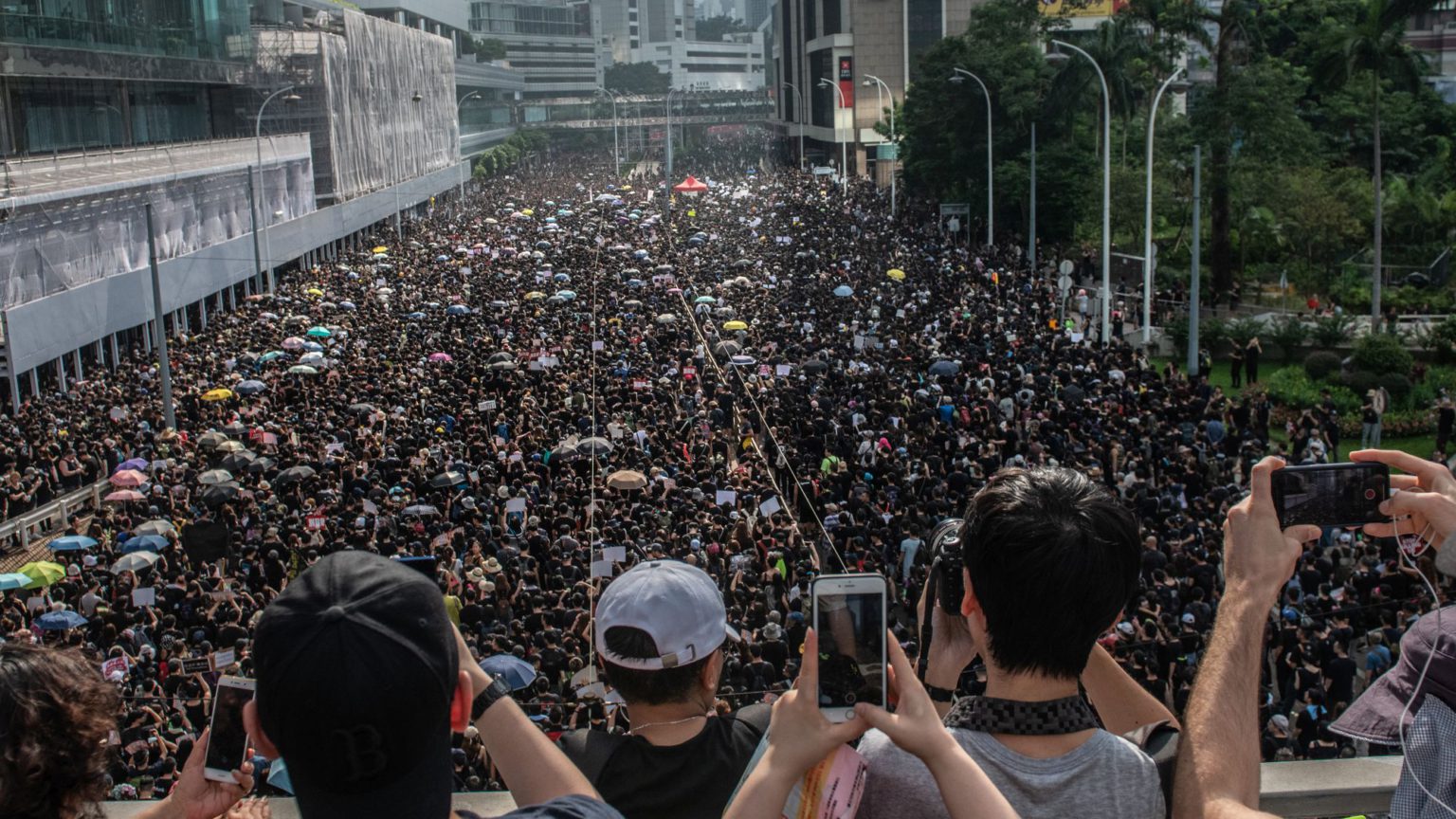 On Sunday, nearly two million demonstrators gathered in Hong Kong, according to organisers, to protest against a controversial extradition bill that would undermine Hong Kong's cherished freedoms and its autonomy in relation to mainland China. Sunday's protests came a week after a million-strong march against the bill and another major demonstration on Wednesday outside the legislative council. Thanks to the huge public pressure and outrage, the bill's passage, which only a week ago seemed inevitable, has been halted.
Antony Dapiran, author of City of Protest: A Recent History of Dissent in Hong Kong, has been at the protests all week. spiked caught up with him to discuss the latest developments, the ever-present threat of mainland China's authoritarianism, and the future of Hong Kong.
spiked: The extradition bill has been suspended. What does that mean in your view?
Antony Dapiran: The chief executive Carrie Lam said that had been put on hold with no timetable for it to be resumed. And I think that really is code for saying it's been withdrawn. For all practical purposes, I can't see it coming back again. It's important to bear in mind that elections are due here next September. Even if they did want to restart the process and reintroduce the bill, with a proper public consultation this time to avoid public outrage, there's no way they can do that in the course of the next year and have a hope of it getting through. So I think for all practical purposes we have to assume that this thing is dead.
spiked: What was the protesting like?
Dapiran: It was huge. The protests the week before last were huge – that was bigger than anyone expected. Sunday's protests could have gone either way. The chief executive made a statement on Saturday night to say things were on hold in an attempt to defuse people's anger. And there was a possibility that people would say that they had already made their point last week with a million people at the march. But the police violence on Wednesday and the arrogance of the chief executive – who initially refused to give any ground to the protests – made even more people come out.
On Sunday, trying to head out in the middle of the day, all the public transportation systems were completely rammed full of people wearing black. All the trains, all the buses, all the ferries – it was quite a sight to behold. You just step out of your front door and you're among this mass of humanity in black t-shirts, filling the streets. There's a traditional marching route that winds its way through the middle of Hong Kong island called Hennessy Road. It's six lanes wide, three each way. Normally, on a big march, it's completely full. On Sunday, not only was that road full but every other road parallel to it – five other roads – were all simultaneously full of people. And that march went on for a good eight hours non-stop. There was such a strong spirit in the crowd. People were united. There was a very strong sense of camaraderie. There was a kind of anger but also a bit of euphoria to see each other and to see the power of the people, knowing that they were going to be successful. Ultimately, it was a very moving and awe-inspiring sight.
The only other protest that compares to it in scale was when Hong Kongers marched in 1989 in support of the students in Tiananmen Square, which drew around 1.4 to 1.5million people. That was a very substantial proportion of the population at the time, expressing their views with their feet.
I make the argument in my book, City of Protest, that what all the major protests have been concerned with is Hong Kong having a distinct identity from the rest of China. People in Hong Kong value the rights and freedoms they have but that aren't enjoyed on the mainland. They like that Hong Kong is under a 'One Country, Two Systems' arrangement – a part of, but also apart from the rest of China. They want to keep it like that.
Anything that threatens that arrangement or their freedoms causes a very visceral reaction. That was the case with this proposed extradition law that was threatening to blur the lines between Hong Kong and the mainland's judicial systems. That was the case in 2003, when national-security, anti-sedition, anti-subversion laws were proposed, provoking some of the biggest protests in recent history. It was also the case in 2011 and 2012, when students were protesting against a proposed national-education curriculum – a compulsory, mainland-focused civics education for students in Hong Kong. The protesters saw this as brainwashing – an attempt to inculcate mainland culture in the Hong Kong education system. Going back to the Tiananmen Square marches, this was before Hong Kong's handover to China and there was already an anxiety about what would become of Hong Kong, its rights, freedoms and way of life.
On Sunday, among the slogans calling for various concrete political actions, like withdrawing the bill and calling for chief executive Carrie Lam to resign, the other thing they were chanting was 'Go Hong Kongers'. This was an expression of community that was really very powerful.
spiked: The protesters may have won a significant victory in relation to the extradition bill. But isn't the broader trend pointing towards further integration with China?
Dapiran: The mainland is never going to be less important to Hong Kong. It's just inevitable that mainland money and mainland influence will continue to have a growing presence here. The question is how to balance that with Hong Kongers' desire to maintain their own identity. The long-term trend is to some degree or other more integration with mainland China, but what people are arguing about is on what terms that will happen.
spiked: Even without a formal extradition treaty, is it not common practice for Beijing to kidnap anyone it wants to arrest?
Dapiran: The reality is that if there's someone here that the Chinese want, they will just take them, especially if they are PRC citizens. Obviously, they kidnapped Gui Minhai, a Swedish citizen, in Thailand, which was incredibly brazen. And in Hong Kong, which is seen as Chinese territory, if there is a Chinese citizen here that they want, I think they wouldn't hesitate to take them across the border, as they did with fugitive businessman Xiao Jianhua a year or two ago. One of the concerns about the extradition bill was that it would have given a veneer of legitimacy to an illegitimate practice.
spiked: Umbrella Movement activist Joshua Wong was released on Monday. How significant is this?
Dapiran: It's a coincidence of timing – and an unfortunate coincidence for the government. He is a key spokesperson for the younger generation of activists in Hong Kong. One notable difference between the Umbrella Movement protests and the anti-extradition protests is that the recent protesters have been careful not to have any clearly identifiable leader, as the government has been aggressively prosecuting the Umbrella Movement activists.
I don't know if we're going to see Joshua playing exactly the same role that he did in 2014, in terms of coordinating the movement, but certainly he's going to be very active. He got out of jail Monday morning, he did a press conference, where he had some very clear messages for the government. He went from there down to meet with protesters outside the legislative council. He's giving every indication that he intends to be very active in Hong Kong's political life. Having that kind of articulate, charismatic spokesperson for Hong Kong's protesters and activists is certainly going to be galvanising for them and will be of great concern for the government.
spiked: Are you optimistic about Hong Kong's future?
Dapiran: Looking at the spirit and determination that the Hong Kong community has displayed this week, how could you be anything but optimistic? In terms of how Hong Kong fares under Beijing's rule, it's an ongoing push-and-pull relationship.
There are certainly other huge problems in Hong Kong, such as social inequality, housing and healthcare. They are the kind of problems that people want the government to be focusing on, not extradition laws and the like. Part of the people's grievances that got them on to the street last week, other than the proposed law itself, was that they have a government that doesn't appear to be doing anything for its people and is ignoring the issues that they ought to be looking at.
Antony Dapiran was talking to Fraser Myers.
To enquire about republishing spiked's content, a right to reply or to request a correction, please contact the managing editor, Viv Regan.