Would it be okay to throw a milkshake at Anna Soubry?
The media cheerleaders of 'milkshaking' are denigrating political life.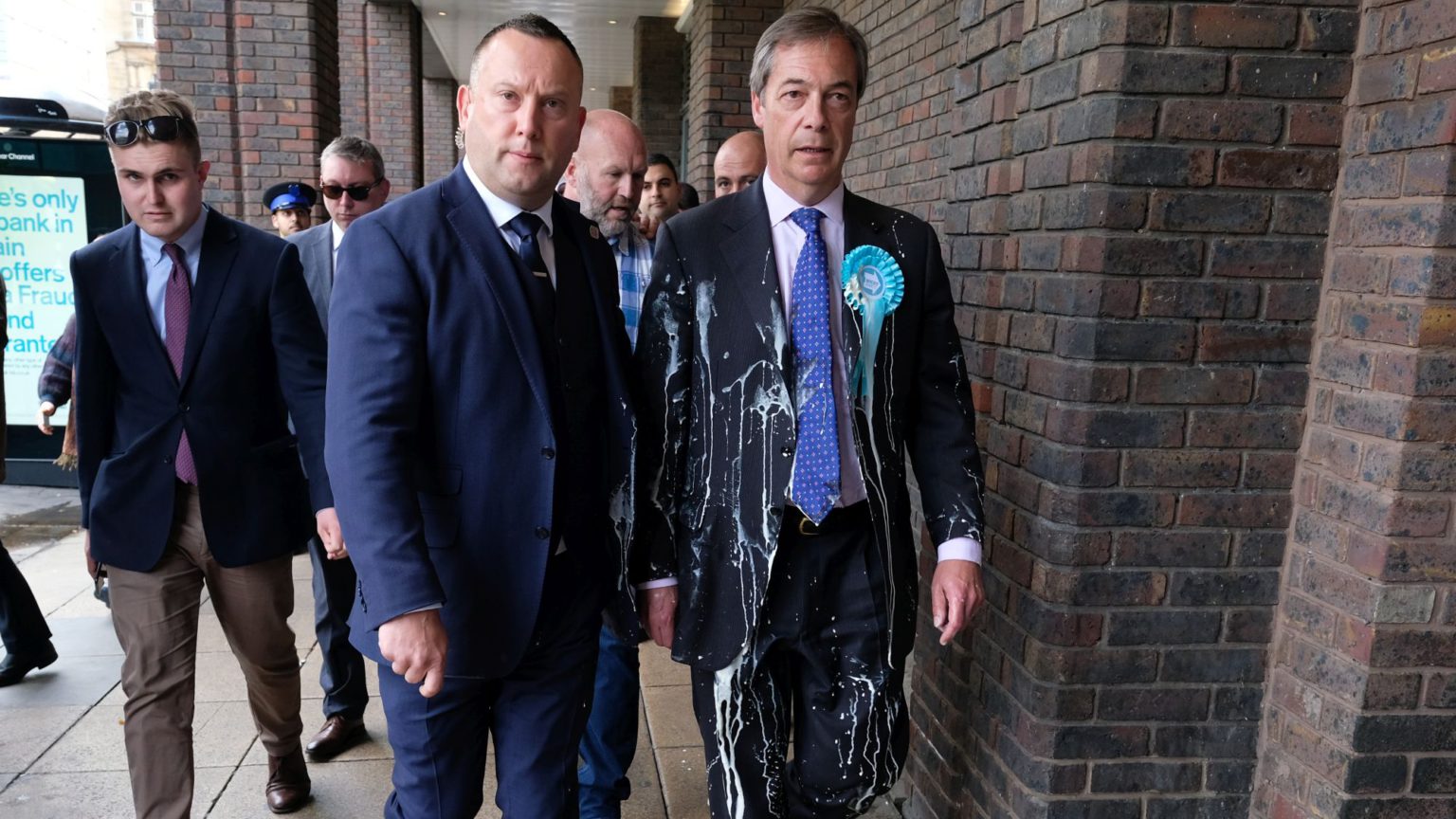 Would it be okay for someone to throw a milkshake at Anna Soubry? After all, she has devoted herself to overthrowing the largest act of democracy in UK history. She also voted for the bombing of Libya in 2011, which destabilised entire swathes of northern Africa and caused untold suffering. Does such anti-democracy and imperialism deserve a milkshake? What about Emily Thornberry? Another anti-democrat and cheerleader for the destruction in Libya. Can she be 'milkshaked'? Ed Miliband, perhaps? After all, he once stood for office on an anti-immigration platform and even produced a mug calling for restrictions on immigration. And from Tommy Robinson a couple of weeks ago to Nigel Farage today, isn't it people who are supposedly iffy about immigrants who get milkshaked?
Fear not. I am not planning on throwing a milkshake at any of those people. Because I am not a child. I also think nobody else should throw a milkshake at them. If you disagree with a politician, let them know – send them a letter, write them an email, discourage people from voting for their parties. (No need to do that in Ms Soubry's case, of course, since nobody is planning to vote for her party.) But there's a point here: who gets to decide who we are allowed to milkshake? If the throwing of milkshakes comes to be viewed as acceptable political behaviour, isn't it possible all sorts of politicians will end up with strawberry ice-cream on their faces?
If you want to grasp the extraordinary double standards in the great (and mad) milkshake debate, try to imagine what the response would be if Emily Thornberry had been milkshaked. Do you think memes would be made? Do you think Burger King would hint that milkshaking politicians is a good idea, as it did a couple of days ago in relation to the milkshaking of Robinson and UKIP's Carl Benjamin? Do you think Guardian journalists and Momentum's army of middle-class tweeters would be making jokes about it? Of course not. It would be denounced as violence against women. It would be held up as proof of the febrile, violent climate whipped up by the anti-Corbyn media. There would be a clamour for the arrest and imprisonment of the milkshake-thrower.
We know this for a fact because earlier this year a man was jailed for a month for throwing an egg at Jeremy Corbyn. That man was denounced by the people who make up today's pro-milkshaking lobby as a fascist, a danger, a scumbag who deserved to face the full force of the law. That we live in a country in which someone who eggs Corbyn can be jailed for a month, while someone who milkshakes Nigel Farage can become a meme hero, deserves an explanation. What it speaks to is a chattering class that is now so cut off, confused and panicked about its inability to connect with ordinary people that it is effectively green-lighting assaults on politicians it dislikes.
That's the best way to see these numerous milkshaking incidents – not as instinctive forms of protest, but as acts of public humiliation green-lighted by the media elite. There is a direct relationship between the cheering and meming of milkshaking incidents and the continuation of milkshaking incidents. In celebrating these milkshake-throwers, everyone from newspaper columnists to woke corporations are effectively saying: 'Carry on. Carry on assaulting these people. It's cool.'
'These people', though, are candidates standing in democratic elections. It is a bit off to effectively agitate for the physical humiliation of electoral candidates. If you denounced the egging of Corbyn as an act of neo-fascism but cheered the milkshaking of Farage as a wonderful protest, then not only are you a staggering hypocrite – you also have absolutely no right to complain if the next person to be pelted in public is someone you like. Or even you yourself.
Brendan O'Neill is editor of spiked and host of the spiked podcast, The Brendan O'Neill Show. Subscribe to the podcast here. And find Brendan on Instagram: @burntoakboy
Listen to the latest episode of The Brendan O'Neill Show below:
Picture by: Getty.
To enquire about republishing spiked's content, a right to reply or to request a correction, please contact the managing editor, Viv Regan.