Change UK is the gift that keeps on giving
The gaffe-prone ChUKas are not the real threat. But let's enjoy them while they're here.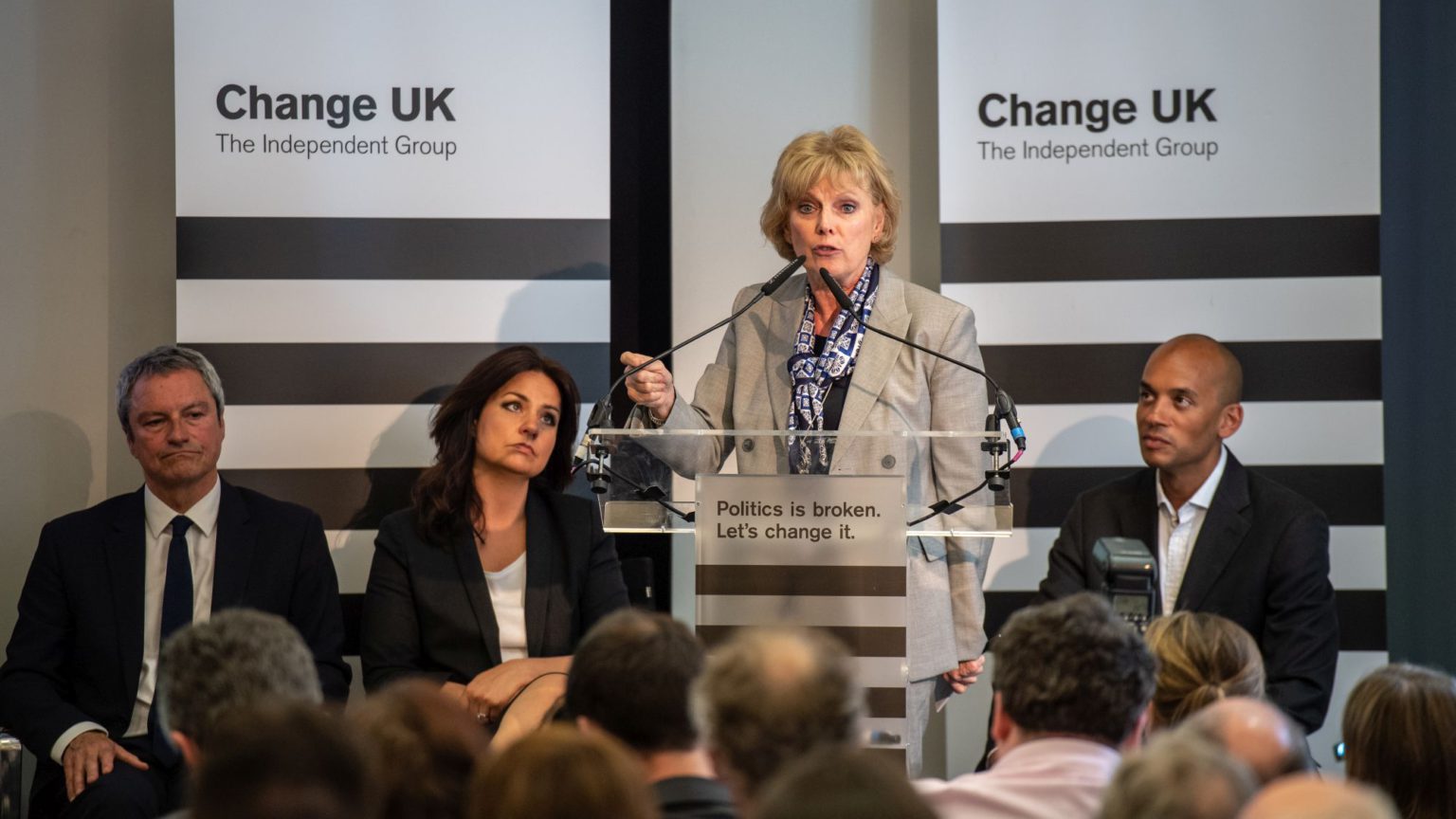 Chuka Umunna is on the front cover of GQ this month. Meanwhile, his newly formed anti-Brexit party, Change UK, the ChUKas if you will, is at around five per cent in the polls for the European Parliament election – an election that ChUKas were supposed to storm as the true party of Remain. The enthusiasm gap between media and public has, of course, been there since the party first launched a few months back. It is designed to appeal to metropolitan anti-democrats who are overrepresented in our media and politics. Most of the supporters of Change UK are probably either in it or covering it. But it's nevertheless been hilarious watching the hype collide with reality over the past few weeks.
And what a few weeks it has been for the ChUKas. First there was the battle over its name. When the parliamentary bloc first formed out of 11 disgruntled Tory and Labour MPs it went with The Independent Group, or the TIGgers, as a placeholder. Then it chose Change UK – or 'Change.org', as Change UK MP Anna Soubry mistakenly first announced it in the Commons (causing consternation at the popular e-petition website). Then they decided to combine the two, presumably to keep the fun TIGger thing. Now they're 'Change UK – the Independent Group', as if they are trying to jog people's memory: 'We're Change UK. You know, The Independent Group? No…?'
Perhaps it was a smart move. Indeed, ChUK has gone so far under ordinary people's radar that a poll a few weeks ago suggested that just 38 per cent of voters knew the party was anti-Brexit. And as the European election campaign has worn on, the public has become no more enthused. Its stage-managed 'rallies' look like regional sales conferences, only less well attended. Its primary achievement so far seems to have been to resuscitate the Liberal Democrats, the erstwhile 'Party of the 48%' that ChUK planned to plunder for candidates, supporters and donors. Last night, ChUK's lead MEP candidate in Scotland went in the opposite direction, defecting to the Lib Dems.
It would take a heart of stone not to laugh, and there has been no end of gaffes to keep us amused. Within hours of their European elections launch, two candidates had to step down over dodgy tweets. The party that poses itself against Farage-style Little Englandism was on a UKIP-in-2014 sacking streak. Ali Sadjady, a candidate in London, was found to have tweeted: 'When I hear that 70 per cent of pickpockets caught on the London Underground are Romanian it kind of makes me want Brexit.' Joseph Russo, who had been due to top the party's list in Scotland, was found to have tweeted 'black women scare me' – a phobia he puts down to 'being chased through Amsterdam by a crazy black whore'. And they say Brexit voters are the bigoted ones…
The irony of all this is that at least part of the ChUK sell is that these are Blairites and Cameroons forged in the era of slick politicking and so they understand PR and how to win. But the past few weeks have proved that they clearly understand neither. Take their logo, comprised of four parallel black bars. As Sky's Adam Boulton put it, when Anna Soubry started having a pop at the Brexit Party's logo on his show last week, 'yours looks like redacted information'. 'Let's have grown-up politics here', was Soubry's response. Then, of course, there's the ChUK battle bus, which made them look like a discount coach company. As one commentator pointed out, it was a remarkable oversight given they seem to think the last referendum was won by a certain big red bus.
The profound crapness of ChUK will come as no surprise to anyone outside SW1. There is still a reactionary Remoaner rump out there in the country, but thankfully there's not that many of them. And in any case, even they want a credible outfit to call their own. The only danger ChUK poses to Brexiteers is one of distraction. As Mick Hume writes on spiked today, Labour is edging closer and closer to backing a second referendum. And shadow foreign secretary Emily Thornberry's statement this week that No Deal should be left off a second ballot in all circumstances – just in case, I suppose, we vote for it – is as anti-democratic as anything the ChUKas have said. Meanwhile, Theresa May is giving her sellout Brexit deal one last crack next month. The most dangerous Remainers in the political class are still the ones in the two main parties.
But let's enjoy Change UK while they're here. To put it kindly, they won't be around forever.
Tom Slater is deputy editor at spiked. Follow him on Twitter: @Tom_Slater_
To enquire about republishing spiked's content, a right to reply or to request a correction, please contact the managing editor, Viv Regan.