The persecution of Israel Folau
The Aussie rugby player is being punished for his Christian beliefs.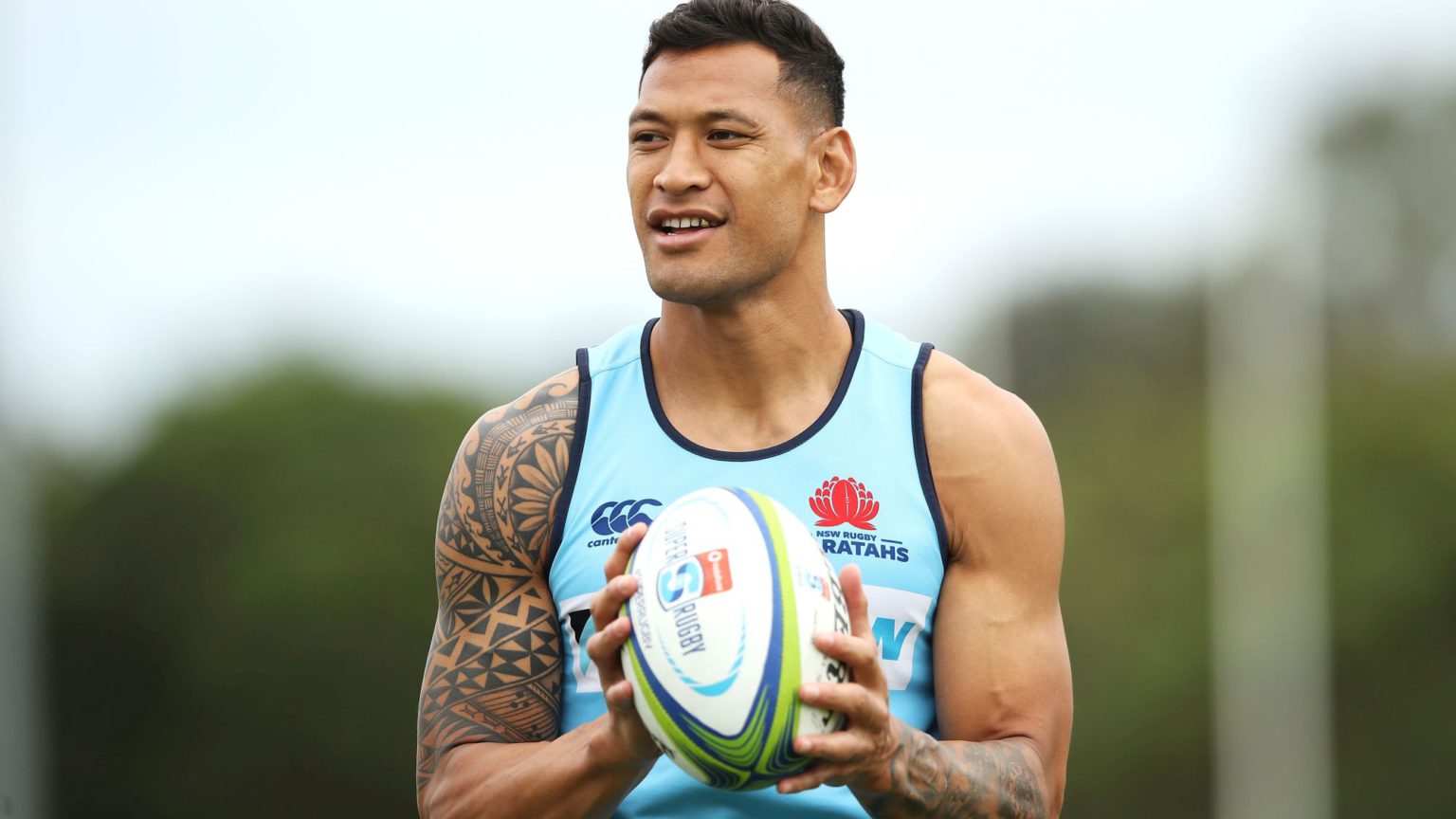 Rugby Australia (RA) looks set to remove Israel Folau from their national team over an Instagram post deemed to be anti-gay. The Wallabies star faces the axe for sharing an image warning that homosexuals – among others – face Hell unless they repent.
It's the second time the New South Wales Waratahs player has been accused of homophobia for expressing such a sentiment. Last year, in response to a question from someone on social media, he similarly suggested that God's plan for gay people was Hell.
The inevitable backlash promoted Folau to write a reasonable and heartfelt blog post explaining his stance and the Bible passage it was drawn from. As a committed Christian, he said that for him 'the Bible is the truth and sometimes the truth can be difficult to hear'. However, he added: 'Every individual in this world is different… I don't expect everyone to believe what I believe.'
By contrast, in a joint statement regarding the latest furore, RA and NSW Rugby Union said: 'Whilst Israel is entitled to his religious beliefs, the way in which he has expressed these beliefs is inconsistent with the values of the sport.'
They were also keen to stress that Folau, who recently set a Super Rugby try-scoring record, does not 'speak for the game' (as if any right-minded person would think he does) and the language he used 'cannot be tolerated'.
Ironically, they added that 'no vilification based on race, gender, religion or sexuality is acceptable' as they openly vilified one of their best players, five months out from the World Cup, based on his religious beliefs.
As an atheist (regular drunk and occasional fornicator), Folau's 'warning' doesn't offend me because I don't believe in Hell or the notion that Jesus is our saviour. The ideas are as ridiculous to me as my lack of faith probably is to Folau. But even if I was a modern-thinking Christian, I would still expect people to be tolerant enough to disagree fundamentally with an opinion while respecting my right to express it.
The simple concept of mutual respect for differing views is lost on the authorities in the rugby world, though. The Rugby Football Union (RFU) is also set to meet England's Billy Vunipola after he defended the Australian full-back. After liking Falou's post, England's 26-year-old No8 said in his own message: 'He's saying how we live our lives needs to be closer to how God intended them to be. Man was made for woman to procreate that was the goal no?'
The RFU were quick to distance themselves from this view and claim rugby is 'an inclusive sport'. But if this were true, surely they should at least tolerate their players' Christian beliefs. Vunipola's club, Saracens, have said they will also investigate the matter internally. It appears expressing an honest opinion has now thrown his career prospects into doubt, too.
Since when did governing bodies in rugby become the present-day equivalent of Orwell's Thought Police? Probably around the same time that the liberal elite and many mainstream media outlets appointed themselves judges of what is and isn't acceptable say.
It's interesting that these 'stories' of public figures expressing unfavoured opinions gain such prominence in our news cycle – like having a different view to one that is widely held is somehow new or shocking. Recently, Roger Scruton was sacked as a government housing adviser for his 'unacceptable comments' in a dubious New Statesman interview and Emmerdale actress Shila Iqbal lost her job for offensive tweets from six years ago.
Yes, we are now in territory where you can even be punished for historical breaches of the moral codes established by organisations that are (however well-meaning) over-zealous in their pursuit of 'opinion conformity'.
At what point in our evolution did we stop believing that well-constructed arguments, open debate and civilised discourse can change minds and lead to social progress? People need to realise that silencing unfashionable or outdated views is not the best way to tackle them – on the rugby field or in wider society.
Jay Birch is a freelance journalist.
Picture by: Getty.
To enquire about republishing spiked's content, a right to reply or to request a correction, please contact the managing editor, Viv Regan.