Malaysia: a victory for democracy
The defeat of Malaysia's corrupt rulers was unexpected, and welcome.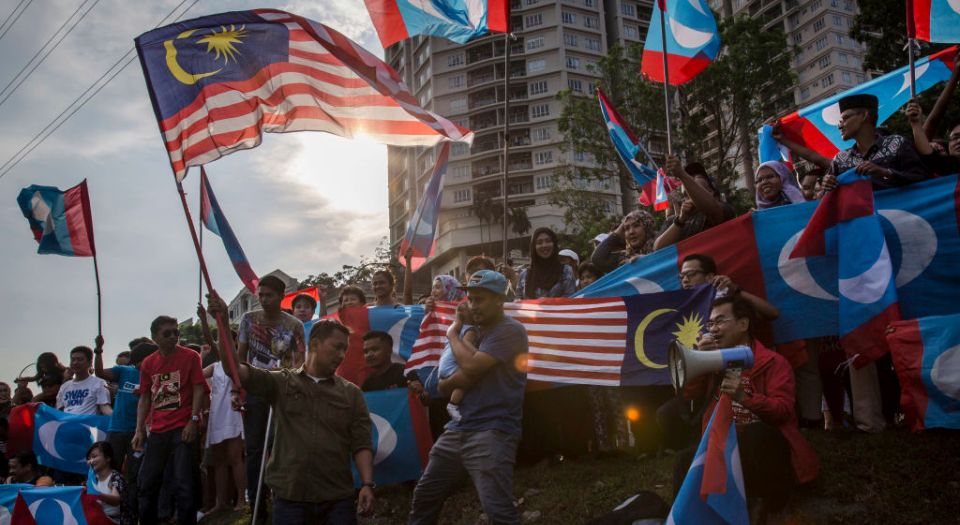 In last week's Malaysian General Election, the 14th since independence in 1957, something remarkable happened. The ruling coalition party, Barisan Nasional (BN), formerly the Alliance Party, which has ruled for all of Malaysia's 61 years of independence, was finally defeated by another coalition party, Pakatan Harapan (PH), led by the 92-year-old former premier, Mahathir Mohamad.
I was shocked. The unthinkable had happened. I had spent the days before the election talking to my brothers back in Malaysia, urging them not to be too disappointed if, as expected, PH was narrowly defeated. Like many others, I believed BN would win, albeit with a reduced majority. But my brothers were more confident. They felt the opposition had a chance. When their hopes were realised, they were ecstatic.
As were many others. A lawyer friend of mine, who lives in Kuala Lumpur, described the win as 'a new beginning'. William De Cruz, former president of pro-democracy campaign group Global Bersih, said Malaysia had shown the world how to reclaim democracy against all the odds. There was no rioting, he continued; no looting, no burning of cars, homes or shops, and no ugly manifestations of religious or racial bigotry. Elsewhere, the wife of the late Karpal Singh, a lawyer who had fought against the government for many years, posted on Facebook that she had turned 70 on 10 May, and BN's defeat was the best birthday gift she could have wished for. She added that her late husband was holding God's hand on the way to victory.
Some in the press hailed the win as equivalent to Donald Trump's election victory in the US and Brexit in the UK. It certainly was a historical win, and it came against the odds, too.
For example, in March this year, the ruling coalition redrew the electoral boundaries in its favour. It meant that 30 per cent of people who live in rural areas would now control more than half the seats in parliament. Most of rural Malaysia supports the United Malays National Organisation (UMNO), the dominant party within BN.
Furthermore, one of the main grievances against the UMNO, headed by the prime minister, Najib Raza, is that it has long operated an affirmative-action policy for the majority ethnic Malays. This gives them access to government contracts, cheap housing, certain jobs and guaranteed university admissions at the expense of the minority groupings, mainly the Chinese and Indians. And in the run-up to the election, Najib made more appeals and promises to ethnic Malays in an attempt to keep them onside. These included increasing cash benefits for ethnic rural Malays and erasing the debt of Malay farmers related to a state plantation company. He also promised to give wage rises to Malaysia's 1.6million civil servants, most of whom are Malay, and a key part of his support base.
Najib's desperation was understandable. After all, the opposition in the election was led by Mahathir Mohamad, who was UMNO premier for 22 years until 2003. This meant that he, too, could appeal to Malays. Mahathir left the UMNO to lead the fight against Najib and his government. He said he had had enough of the corruption scandals involving Najib.
Then there was the passing of the fake-news law in April. It defined fake news so broadly that the authorities could curtail any reporting that they felt threatened the powers-that-be, which was a useful tool to undermine the opposition. If found guilty of disseminating fake news, one could be looking at a custodial sentence of up to six years, or a fine the equivalent of $129,300. On top of the fake-news law, the government also could use Sedition Act, retained since the British colonial era, to silence dissenting voices.
Despite all this, PH continued to win support not just among Chinese and Indians but also, because of Mahathir, among the Malays. There were two key issues that galvanised the voters. The first was Najib's implication in a corruption scandal, in which he was accused of embezzling nearly $700million from the state's One Malaysia Development fund (1MDB). He was cleared of this allegation — by the attorney general he himself had appointed. Despite being 'cleared', few believed Najib's story that the Saudi government had given him the money.
The second issue was the cost of living for Malaysians, which has risen despite what looks like robust economic growth. Before the election, the Malaysian economy was expected to grow between 5 and 5.5 per cent this year. Ordinary Malaysians, however, have felt the brunt of the new VAT-style Goods and Sales Tax, known as the GST, introduced by Najib in 2015.
This combination of government corruption and heavy taxation galvanised voters, resulting in an 85 per cent turnout. It helped that the fundamentalist opposition Pan Islamic Malaysian Party (PAS) stood on its own. In the past it had joined forces with PH, which had always made non-Malays uncomfortable about voting for this coalition that had religious partners. Without the PAS, PH suddenly became a much more attractive proposition.
So, on 10 May, Mahathir became prime minister again. He turns 93 in July, so it was no surprise to hear that he is likely to hand over rule in a few years to Anwar Ibrahim, another former UMNO government minister and a leading figure in the opposition during Mahathir's first premiership. Anwar is currently in prison, serving a second sentence for alleged sodomy, which he claims was a politically motivated charge. Anwar could be released in June.
It remains to be seen if the change in government meets the aspirations of Malaysians wanting a freer, equal and more prosperous society. Many of today's anti-democratic laws were introduced by Mahathir. He has admitted that he has made mistakes and that there was corruption under his leadership, too. But as one of my brothers said, when I reminded him that Mahathir was from the same stable as Najib: 'We voted him in, we can always vote him out.'
That is democracy for you. And Malaysians today feel excited to have made their own democratic choice.
Para Mullan is senior project and business relationship manager at the Chartered Institute of Personnel and Development.
Picture by: Getty
To enquire about republishing spiked's content, a right to reply or to request a correction, please contact the managing editor, Viv Regan.