Taylor Swift is not an alt-right princess
And no, she doesn't need to condemn Trump.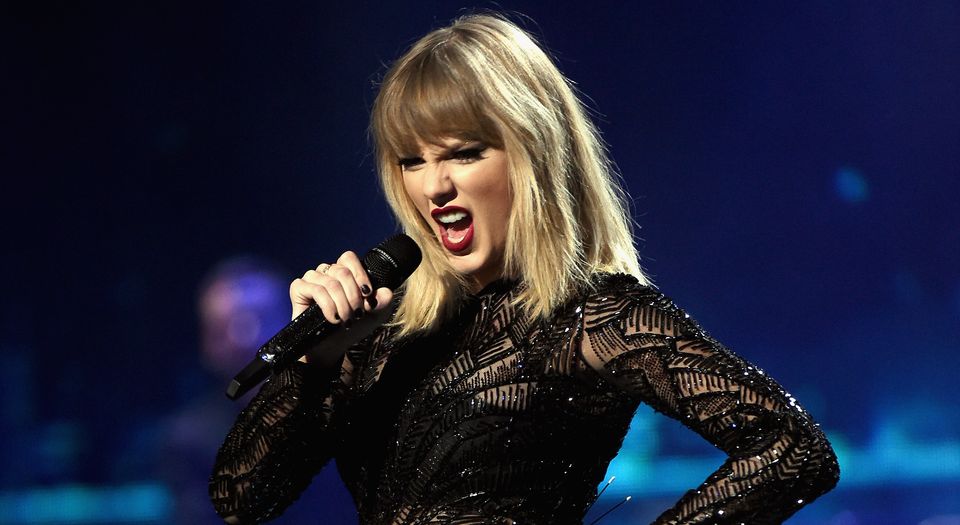 Taylor Swift sicced her lawyers on blogger Meghan Herning last month for her September PopFront article in which she alleged that Swift's new single, 'Look What You Made Me Do', contains neo-Nazi imagery and a 'defence of white privilege and white anger'.
The article began by questioning the claim made by neo-Nazi site the Daily Stormer that Swift is a neo-Nazi sleeper agent, before nevertheless moving on to compare Swift to Hitler. Swift's lawyers pointed out that, no, she isn't into the alt-right; she can't control her height, blondeness or general Aryan looks; and she denies the tenuous links conspiracists have made between her lyrics and Hitler imagery – like Herning's suggestion that in the 'Look What You Made Me Do' video, 'Taylor lords over an army of models from a podium, akin to what Hitler did in Nazi Germany'.
On 6 November, the American Civil Liberties Union (ACLU) swooped to Herning's defence, saying it will be representing the blogger, and that Swift can't sue Herning for defamation because opinions are 'not capable of being proved true or false'. Indeed, as ridiculous and incomprehensible as the article was, Swift is wrong to turn to legal action. Herning has the right to say idiotic things online. Swift and her legal team either have a shallow understanding of the First Amendment, or assume they can use money and power to intimidate bloggers.
Nevertheless, the obsession with Swift's 'hidden agenda' is bizarre, and it isn't just confined to the more crackpot sections of the internet. This week, Marie Claire demanded an explanation from Swift for her decision to remain apolitical during the 2016 presidential election. Apparently, as Swift doesn't talk politics, feuds with the Kardashian-West clan, and writes from the perspective of someone wounded and vengeful, she must be wearing a MAGA hat at night, if not a swastika on weekends.
For the past 12 years, Swift has managed to channel the the homegrown charm of Wyomissing, Pennsylvania, with a dash of the Nashville country music scene, while gallivanting around New York with Lena Dunham and Karlie Kloss types. By sidestepping politics, she's shown she doesn't have to choose between past and present, or sever old ties as she laps up fame and money. She's a pop star, and although she wields sizeable influence, she has no obligation to be political.
Essentially, the charge against her is that she hasn't participated in the 'denouncing Trump' dog and pony show. This isn't about her being apolitical, it's about her failing to endorse socially acceptable liberal policies and candidates. Worse still was Swift's refusal to celebrate Hillary Clinton. The message is not so much chime in on politics, Taylor; it's why weren't you a #nastygal in #pantsuitnation? Why won't you freak out about Trump along with the rest of us?
It would be a tactically bad move for Swift to denounce Trump. Although she's reinvented herself with her most recent album, Reputation (the stark, vaguely sexy cover of which is the polar opposite of her fairy-dust, princess-dress-clad albums like Fearless and Speak Now), she has managed not to alienate her small-town country-music followers who first propelled her from obscurity to household name.
Nashville country likes cold beer on a Friday night, pickup trucks, and supporting our troops – a far cry from Clinton's America. Of course, singers like the nose-ring-wearing, weed-smoking Kacey Musgraves have made a name for themselves there. Country godmother Loretta Lynn sang a song of praise to the birth-control pill back in 1975, and she's still kicking. But let's not forget what happened to the Dixie Chicks after singer Natalie Maines criticised George W Bush on the eve of the Iraq War. And today, a few thousand Twitter death or rape threats are only minutes away if a star does something the internet dislikes. Swift doesn't want to provoke the ire of the digital stampede, or a pestilent swarm of Breitbart aficionados – and who could blame her?
Early in her career, Swift got a fair amount of criticism from feminist bloggers, who considered her music to be one long piece of 'virgins, good; sluts, bad' subtext, clad in a white dress. Swift herself seems a little domestic, or she did before her half-assed bad-girl reinvention. She likes baking and hosting girls' nights at her house. She writes love songs for boys who she probably just nodded to in an elevator. But she also grew up in front of the entire planet, and in the past few years, she's grown to embrace her own pink-tinged brand of pop feminism: not abrasive or forceful enough to feel like it's making an impact, but at least some form of empowerment.
No matter how toxic politics becomes, it's okay for artists to attempt to keep something sacred. Art can reflect headlines, or be fuelled by them, but it can still stay in a different realm, exempt from the mudslinging contests that make us all weary, miserable enemies. For us peevishly to demand otherwise shows that we want politics to permeate – and taint – every aspect of our lives.
It's sensible for Swift to let us know she's not an alt-right princess, so we can continue to support her in good faith, knowing that she's not secretly advocating for the master race and using her music videos to convert us all subliminally. But we shouldn't act like her political beliefs are crucial to our judgement of her art, and we shouldn't force artists to sound off on issues they don't know much about or declare allegiance to the 'right' political candidate every four years.
By staying apolitical, Swift is making a shrewd business decision, and protecting herself from critics who are determined to find messages in her music that she never put there in the first place.
Lucy Steigerwald is an editor at Young Voices. Follow her on Twitter: @LucyStag
To enquire about republishing spiked's content, a right to reply or to request a correction, please contact the managing editor, Viv Regan.