No, China isn't going back to Maoism
Xi isn't the nostalgic Communist Western reporters claim he is.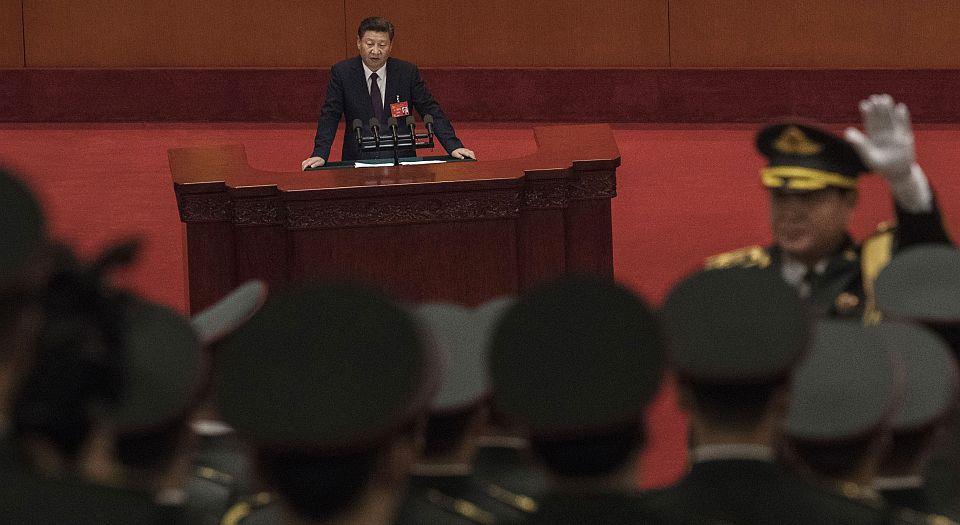 North Korea's bellicose pronouncements have been noticeably absent from the headlines in recent weeks. This may be something to do with fact that China's quinquennial party conference is taking place. It is widely believed that a tacit edict has gone out to Kim Jong-un to say that there should be no distractions from the smooth running of China's party machine – or else. China is, after all, pushing itself forward on to the world stage and it doesn't want any distractions. Unlike the British Tory Party conference, China's single-party leadership conference has no coughs, no hiccups.
This is the Chinese Communist Party's 19th party congress, marking the mid-point of President Xi's term in office, a forum that sets national policy goals and elects its top leadership. Over the course of a three-and-a-half-hour speech at the Great Hall of the People at Tiananmen Square in Beijing on 18 October, President Xi laid out plans for the country and for his personal legacy. The speech – snappily titled 'Secure a decisive victory in building a moderately prosperous society in all respects and strive for the great success of socialism with Chinese characteristics for a new era' – sought further to consolidate the central role of China in world affairs, and the central role of the party in attaining that goal.
The twin track of the Chinese government has long been to celebrate two great centenaries; benchmarks first put forward by ex-president Jiang Zemin at the 15th Party Congress in 1997 and repeated ad nauseum as part of Xi's China Dream narrative. Effectively, by 2021, the 100th anniversary of the founding of the Communist Party of China, and one year before Xi is scheduled to stand aside, China intends to be 'a moderately well-off' society (assumed to mean a doubling of China's per capita income relative to 2010). By the 100th anniversary of the founding of the People's Republic of China (1949–2049), Xi promises that China will be a 'strong, democratic, civilised, harmonious, and modern socialist country'.
There were many fascinating aspects of the conference speech this year (see below), but more than usual the Western media preferred to focus on the dangers of the emerging might of the Chinese nation. Press rumblings claim that President Xi is in the process of renewing the cult of Mao. While Western commentators find it hard to relate to Xi's statement that China 'will never pause in pursuit of progress', they prefer to indulge in a comfortable – but misplaced – left-right framework. It seems that nothing pleases the Western media more than Manichean simplicity.
The Guardian identified 'Xi Jinping's Leninist quest for a dynasty'. The Huffington Post suggested he is a 'Mao-like strongman'. The Washington Post noted that he is 'reviving Stalin's communist ideology'. The South China Morning Post claims that party sycophants are using honorifics that are reminiscent of the 'four greats': the four most fawning labels used when speaking of Chairman Mao in the 1960s – that is, 'great lingxiu, great commander-in-chief, great helmsman and great teacher'.
Of course, Xi has consolidated power during his tenure and that is not a good thing, especially for the Chinese people. It is true that the Standing Committee's 'core' member will be President Xi Jinping, and his new appointees don't appear to be shoe-ins when he stands down. Also true is that Xi is currently commander-in-chief of the People's Liberation Army, general secretary of the Communist Party of China, president of the People's Republic of China, and chairman of the Central National Security Commission, as well as having about 10 other high-falutin' titles. There are rumours that Xi will try to extend his terms of office beyond the span of two Five-Year Plans, ending in 2022.
To cut it short, there is nothing positive about China's Communist Party's leadership structure, power plays, organisation, or its anti-democratic essence. When Xi Jinping says the Party must 'rid ourselves of any virus that erodes the party's health', we cannot possibly be relaxed about it. But China-watcher Richard McGregor prefers to suggest that Xi is more reminiscent of Deng Xiaoping than Mao. He points out that we should not see China through the prism of a latent communist revival, because it simply isn't happening. What is going on is far more interesting. China is building up moral and practical authority that by default gives Xi unprecedented power to implement his vision. Tensions are inevitable, but firstly we need to understand the real, and not the imagined, dynamics.
Below, I examine three key statements from Xi that aren't exactly new to this conference, but which should be borne in mind as China enters a new phase of development and political engagement:
1) Building a strong military
China's so-called 'independent foreign policy of peace' derives from the Five Principles of Peaceful Coexistence first enunciated by prime minister Zhou Enlai in the early 1950s. These principles are: mutual respect for sovereignty and territorial integrity, mutual non-aggression, non-interference in each other's internal affairs, equality and mutual benefit, and peaceful coexistence.
However, last month, on the anniversary of the founding of the People's Liberation Army, China opened its first foreign military base in Djibouti in the Indian Ocean. Incredibly, playing the West at its own game, the Chinese military conducted a mental-health survey of 172 officers and sailors cruising the Gulf of Aden with no opportunity to go ashore and found that 52 suffered from mild depression disorder. The Djibouti base has been partially excused based on military wellbeing.
There are military aspirations too, of course. At the same time that President Xi told government leaders and PLA members that the Chinese people 'treasure peace and absolutely do not engage in invasion and expansion', the multimillion-dollar movie Wolf Warrior was wowing audiences with its Rambo-esque legitimisation of an anti-American military and naval war in Africa… for humanitarian reasons, of course.
2) Taiwan
Xi wants his legacy to be of the 'great renewal of the Chinese nation'. And so, on the vexed issue of Hong Kong and Taiwan, Xi played good cop/bad cop respectively.
Taiwan got the brunt of Xi's consolidation of authority. In the light of Taiwan president Tsai Ing-wen's ill-advised phone call with Donald Trump, President Xi stated that he (China) will 'never allow any person, any organisation, any political party, at any time, in any form, to separate any piece of Chinese territory from China'. It was a thinly veiled rebuke to America as much as it was directed towards the Taiwanese government, and came just a week after the Chinese Embassy in Washington threatened 'severe consequences' to America if it went ahead with easing visa travel restriction between Taiwan and the US.
3) Hong Kong
Hong Kong, on the other hand, was treated with a lighter touch. This year marks the 20th anniversary of Hong Kong's return to China under the remarkable 'one country, two systems' policy. The two systems, Western-facing Hong Kong capitalism versus Chinese socialism, seem less divergent than they did two decades ago given that China has fully embraced 'the market with Chinese characteristics'. The new Hong Kong-Zhuhai-Macau Bridge is one way that China is hoping to improve economic growth and calm Hong Kong's recent pro-democracy protests. However, make no mistake, while holding out a developmental olive branch, President Xi clearly stated the unshakeable fact that the Communist Party in Beijing is the only legitimate authority that will 'guarantee Hong Kong's autonomy'.
Austin Williams is honorary research fellow at XJTLU university in Suzhou, China and senior lecturer at Kingston School of Art, London. His latest book, China's Urban Revolution, was published on 19 October. Follow him on Twitter: @Future_Cities
To enquire about republishing spiked's content, a right to reply or to request a correction, please contact the managing editor, Viv Regan.