The Juggalos' fight for freedom
Forget the alt-lite provocateurs, these clowns are the real deal.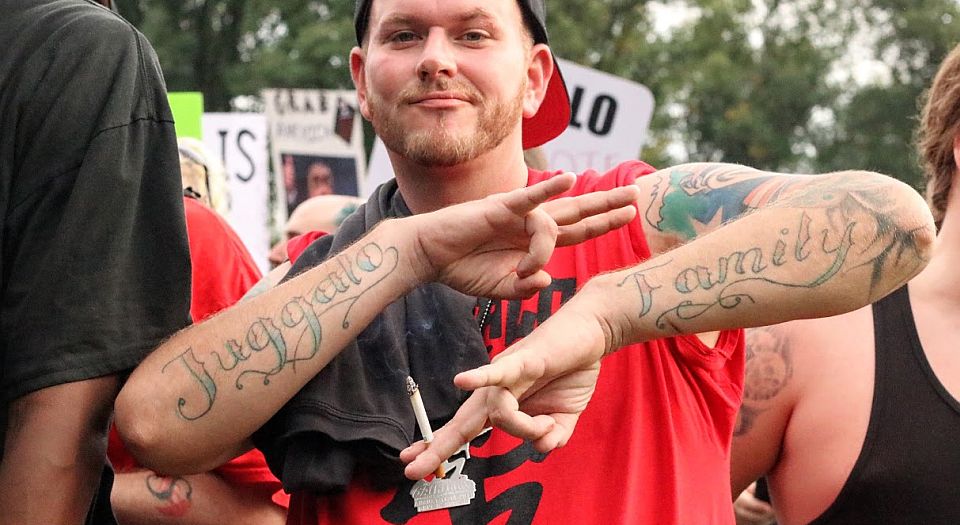 The right's young straw men and women – those whining, rioting college students – do exist. But current self-proclaimed champions of free speech and expression are just as much of an embarrassment.
Just look at Milo Yiannopoulos, and his now-cancelled Free Speech Week at Berkeley, which became 'the most expensive photo-op ever'. These people care more about attention than principle.
So what's a true advocate for the marketplace of ideas to do? Where are the principled protesters? Whoop, whoop. Look to the Juggalos.
The Juggalos are the devoted fans of the Insane Clown Posse, a hip-hop duo founded in Detroit in 1989. Violent J and Shaggy 2 Dope were childhood friends who loved wrestling and hip-hop. They decided to change their half-assed crew name from the Inner City Posse, and gave birth to a movement.
They did themselves up as clowns in black-and-white grease paint, and made rap songs about everything from rednecks to the 1966 University of Texas shooting to their love of all the 'Miracles' in the world, including 'fucking magnets'.
The latter song brought the ICP their greatest mainstream attention in the early 2010s, and a lot of mockery. But Violent J and Shaggy 2 Dope took it all in stride. So did their followers, who have developed their own distinct subculture.
They call themselves the Juggalos after an early ICP song. They chug Faygo, a cheap soda the ICP sprays the crowd with at each show. And they convene each year at the debauched Gathering of the Juggalos.
The ICP have their own merchandising empire and record label. But after a brief flirtation with the mainstream in the Nineties, the family had long been under the radar. At least until 2011, when the FBI classified the Juggalos as a gang.
The ICP thought it was a hoot at first. But it soon got serious. Juggalos have been fired from their jobs for liking the ICP on Facebook. Others lost custody of their kids, couldn't join the army or were harassed by the police. An ICP 'Hatchetman' decal on your car can be enough for the police to search it. And Juggalos who commit crimes can be slapped with years of extra time.
In 2014, in spite of the help of the American Civil Liberties Union (ACLU), the ICP lost their lawsuit against the FBI. They're not done, however. Another lawsuit has proceeded to oral arguments, which start next month. And this month, they staged the first Juggalos March on Washington, with some 3,000 people descending on the mall.
The Juggalos March on Washington
For most fans on the march, it started the same way, in high school. A friend gave them a tape or a CD, and that was it. Suddenly, 10 or 15 or 20 years passed, and the band still mattered enough for them to make the trip to DC. The placards on display were both earnest and clever: 'Dragnets, how do they work?'; 'American taxpayer Juggalo'; and countless declarations that the sign-holder is a teacher, a veteran, everything except a gang member. 

Every protest has its hangers-on, and kooks, and people trying to divert the flow of the message. But the Juggalos, who have diverse personal politics, managed to stay on target more than any group I've seen. Considering their reputation, they put on a family-friendly, albeit profane, event. It was heartening to behold. As the sun went down, and the ICP played 'Fuck the World' in front of the Lincoln Memorial, a loopy kind of patriotism was in the air.
The Insane Clown Posse performing in front of the Lincoln Memorial
The Juggalos are a (mostly) white, very Midwest subculture. Like their heroes, the ICP, they are about family, spirituality, and music – as well as casual swearing, horror motifs, and a certain amount of wildness. They're not happy about the classism in America, but they channel it in a positive direction.
Boots Malone, 32, and his wife Wendy, 29, travelled to DC from Ohio. Boots wore a classic clown nose and held a hastily written sign noting that the Nazis banned swing music. They are two of the nicest human beings you could ever wish to meet.
Boots says he was once 'hillbilly, white trash… I was brought up to be scared of black people, I didn't like rap music'. But after discovering the ICP, 'I stopped being racist, and I stopped being scared of people who weren't white, and I attribute that wholly to the Juggalo movement'. 'There's a lot of love in our culture', adds Wendy.
There's also a belief in freedom of expression, and a fear that it's in peril. 'Nobody's culture should be outlawed or illegal', says Boots. 'This could be about the Backstreet Boys', says Wendy, 'and I might not be here, but I would still be fighting for their rights. I might not agree with what you're saying, but I'll fight to the death for your right to say it. I don't know what happened to that. I don't think there's enough of that going around anymore'.
Lucy Steigerwald is an editor at Young Voices. Follow her on Twitter: @LucyStag
Pictures by: Lucy Steigerwald
To enquire about republishing spiked's content, a right to reply or to request a correction, please contact the managing editor, Viv Regan.