After Grenfell: emoting is not enough
There's something nasty in the demand that May cry on cue.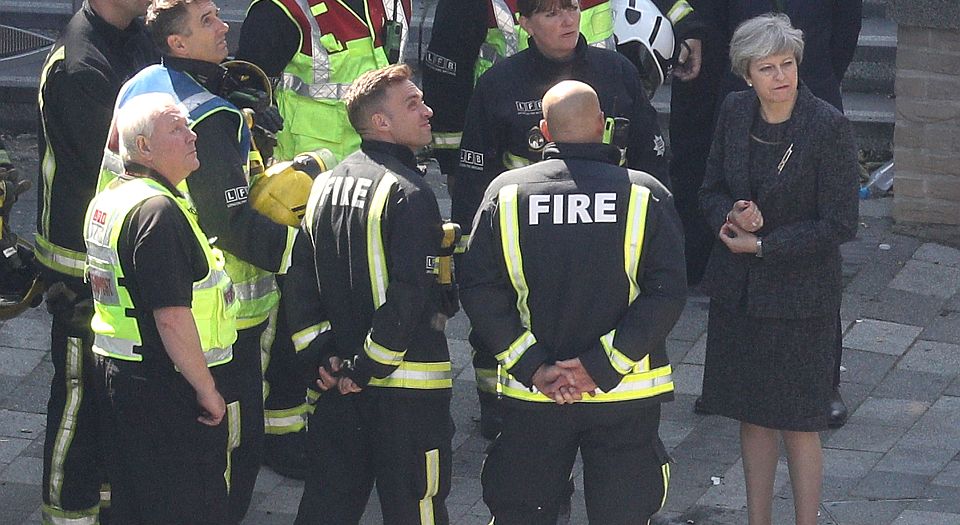 It was impossible to be unmoved while watching, on a loop, flames reaching up the sides of Grenfell Tower and into homes where only moments before families had stood silhouetted at windows, desperately signalling for help. Stories of final phone calls to loved ones, babies being thrown out of windows, disabled relatives left behind to die, children separated from parents and now missing, presumed dead, were painful to hear. 
Yet the public script dictating the response to the Grenfell fire afforded little respect to the lives lost. We moved with alacrity from shock to blame. And in the search for blame, as Brendan O'Neill wrote on spiked last week, people looked not for explanations so much as opportunities for party-political point-scoring. There was barely time for sadness, still less a pause for solemnity, at the sheer scale of the tragedy. Instead, we witnessed the General Election being replayed over charred bodies. 
In the search for a scapegoat, blame moved from the wickedness of the Tory Party in general to Theresa May in particular. In the aftermath of the fire, May visited Grenfell and spoke with rescue workers. But in those first few hours she did not meet with the relatives of those missing. Unlike Corbyn, she was not photographed hugging people at the scene. Unlike attention-hungry, ambulance-chasing celebs, May refused to cry on demand. The queen, on the other hand, presumably having learnt from the public outcry at the palace's response to the death of Princess Diana 20 years ago, has been lauded as the 'Queen of Hearts' for turning out to meet survivors. 
Post-election, the gloves are off. The campaign-trail criticism of May as robotic has been rehabilitated and May stands accused of lacking 'human empathy'. Bitchy references to 'mechanistic May' and the 'Maybot' have become ubiquitous. Following her appearance on Newsnight, we were told that 'her robot-like responses have been slammed on social media'. Guardian commentator Polly Toynbee said May was 'dead to emotion or empathy'. It's as if May's tears alone will symbolise her humbling and only her downfall will meet the desire for retribution. 
But who is to say what May did or did not feel? She has been reported to be 'devastated'. But her private devastation is not, it seems, enough: what's being demanded from May is the rejection of any separation between her private feelings and public response. In the eyes of commentators and critics, her feelings simply don't exist unless they are publicly performed. What's more, this demand for emotion has been placed above a demand for practical action. 
May has now met with survivors and relatives at Downing Street, in hospital and at a local church, and issued statements announcing a public inquiry and money to help the victims. But none of this satiates those desperate for a witch to burn. This has been labelled Theresa May's Hurricane Katrina moment, a reference to former US president George W Bush being filmed flying over the 2005 devastation rather than being on the ground talking to those affected. Later, this was identified as the beginning of the end of Bush's presidency.
There are many good reasons to criticise May. She made a shambolic election campaign all about her, and her ill-thought-through policy announcements distracted discussion from Brexit. There are also many good reasons for having a political debate about the causes of the Grenfell fire. We need to talk about why people have been forced to live in cramped and hazardous conditions. But the demand that May emote in public actually avoids these issues. It trivialises May's faults and, far worse, skates over what actually caused the Grenfell disaster.
The call for May to engage in public displays of emotion is a demand for a leader who prefers performance to action, who places style over substance. In this way, the oh-so-funny critics of the Maybot insult us, the public, by seeking to shield us from difficult questions by fobbing us off with hugs and tissues.
With the knives now out for May, even when she does cry it seems it's the wrong kind of tears. According to The Sunday Times:
'Aides said May was "tearing up" over the inferno. It is the third time she has apparently cried in the space of a week, after moments of high emotion in the hours following the election debacle. A cabinet minister told a friend: "She was very teary and exhausted and I'm worried about her state of mind." Another said: "She just wants to be behind the door of No10 and not talk to anyone."'
So, tears in public are good, the sign of a strong leader. Tears in private are a sign of an incipient nervous breakdown.
What we have here is the sexist old trope of women as either emotionless bitches or overly emotional weaklings. But feminists, so quick to cry misogyny when Diane Abbott was criticised for not knowing her figures, or when people said nasty things about Stella Creasy, are not rushing to May's defence. She, we can only assume, is the not the kind of woman feminists get behind.
The government – and previous Labour administrations – certainly have questions to answer about the state of social housing. But it's worth remembering that May did not strike the match that sparked the Grenfell fire. In the aftermath, leadership is about far more than being first on the scene with the Kleenex. And a weeping prime minister would not turn back the clock and stop the fire from having occurred. 
To enquire about republishing spiked's content, a right to reply or to request a correction, please contact the managing editor, Viv Regan.