Let's stand by the Christmas strikers
The right to strike is meaningless unless people exercise it.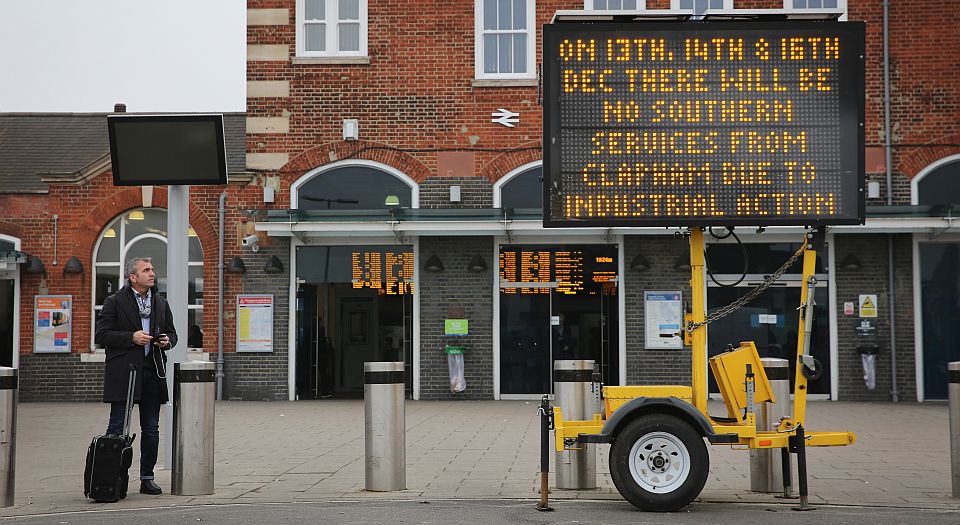 The close of 2016 has provided us with a brilliant insight into what the British Labour left thinks of workers. Last week, a bunch of warbling Labour MPs released a charity single to raise awareness about the plight of retail workers. To the tune of Band Aid's 'Do They Know it's Christmas?' (yes, they do; 500million Africans are Christians for heaven's sake), the tuneless politicians sing: 'Christmas is hard / On the national minimum wage / At Christmastime we give / But some employers take.' It gets worse. 'Keep their perrrrks / Don't be Scrooge at Christmastime', goes the chorus. That someone in Labour thought it a good idea to treat retail workers as 2016's version of starving Ethiopian kids, needing the great and good to sing and weep for them, is remarkable. It's so bad that the 'only proportionate response is to disband the Labour Party wholesale', as one hack said.
Then, around the same time, the impact of the Southern rail strikes really started to kick in. For nine months the National Union of Rail, Maritime and Transport Workers (RMT) has been in a dispute with Southern's bosses over the changing role of conductors on trains. A series of short, sharp strikes has been called, causing travel delays. Labour's response? Has it cheered these workers for making a point about how 'we give and employers take'? Has it welcomed their standing up to Scroogey bosses? Not really. It has issued half-arsed statements about Southern needing to get its act together and the strikes being 'disastrous'. It's brilliantly illuminating, telling a pretty big story about the left today: it likes workers when they're sad-eyed Caffè Nero staff in need of a caring pat on the head; it doesn't like them when they take action for themselves by exerting the greatest power workers have: the withdrawal of their labour.
Alongside the Southern dispute there will also be strike activity in the Post Office and at airports over Christmas, and Labour's response has basically been to pull an awkward face. 'Diane Abbott defends series of strikes planned in run-up to Christmas', said one newspaper headline. No she doesn't. 'People do have a legal right to strike', she said — very generous — but 'of course these strikes are going to be very disastrous [if] they go ahead'. Not just disastrous — very disastrous. Her boss Jeremy Corbyn has taken the brave step of 'refusing to condemn the strikes', as the Daily Mail put it, which is another way of saying he hasn't said much in support of them. A statement from his office said 'Southern's miserable service' shouldn't be blamed on unions but on 'the incompetence of management'. Forward to the barricades! Perhaps this will be etched on his gravestone.
Other Labour MPs have condemned the strikes, happily. MP Meg Hillier made right-leaning newspapers smile when she said trade unions need a 'wake-up call' and must think about 'the impact' of their actions. Actually, Hillier's comments weren't that different to Abbott's. 'It is absolutely right that people should have the right to strike', she said, but it's 'very unfortunate' that they choose to do so in a disruptive way — an echo of Abbott's 'right to legal strike… but it's very disastrous' comment. This defence of the right to strike alongside handwringing over the disruptive nature of strikes has always struck me as odd. Strikes are meant to be disruptive, that's the point. Strikes are an assertion by working-class people of a power they too often lack in the political sphere; they're a reminder that workers matter, an awful lot, and should not be messed about. To hold a polite strike that didn't dent the everyday functioning of society would be pointless. In fact it wouldn't be a strike.
It is precisely the ability of ordinary people to bring parts of society to a standstill that unnerves Labour, and of course the Conservatives. Tory transport minister Chris Grayling even hinted at introducing new strike-busting laws (though he was swiftly reined in by Downing Street, giving the lie to the radical-left fantasy that Theresa May is the new Maggie and we're back to the 1980s era of Tories tussling to the death with unions). Where Labour pays lip service to the right to strike but wishes it wasn't exercised in such a 'disastrous' way, Grayling openly suggests undermining this right. Neither side treats the right to strike seriously, as a means for working people to make demands and secure a better standard of living and working from bosses who aren't just moralistic Scrooges, as they appear in Labour's Disneyfied dream of mean managers vs pathetic workers, but are often pretty ruthless reducers of wages and enforcers of untenable working conditions.
The fact is, the strikes due to take place this month have much merit. The 3,500 Post Office workers due to walk out for five days are agitating against job cuts and a change to their pension schemes that could see their retirement benefits reduced by 30 per cent. Those are things to get angry about. The British Airways cabin staff are planning a walkout over their dire pay. Many are on a basic salary of £12,000, meaning they have to moonlight in other jobs. That's a measly wage, and the two per cent pay rise offered by BA is an insult, so why shouldn't they strike? Southern rail workers are striking to protect the jobs of conductors; and cleaners on Great Western Railway are striking because they don't get sick pay and the contract nature of their work means they can be treated terribly. They're right to strike.
No, none of this means Britain is heading back to the era when industrial disputes were a central feature of political life. Strikes are at an historic low. The number of days lost to strikes fell from 12million in the early 1970s to 3.6million at the end of the 1980s to 788,000 in 2014. Nor does it mean unions have suddenly developed backbone. Too many union leaders involved in these new strikes are justifying them on the basis of health-and-safety at work or in nebulous, Guardian-friendly language like 'fairness', sounding more Polly Toynbee than Jim Larkin. They should be talking in more concrete terms about the right to work, to have a handsome wage, to enjoy the certainty and comfort of time off, and so on. And the watchword from all the unions is of course 'mediate': unions like nothing better than for a strike to fade out following a couple of compromises from the bosses (and usually more compromises from the workforce).
And yet the strikes are worth supporting. They shoot down the myth of Britain becoming a right-wing hole post-Brexit. They show that solidarity still exists, despite the best efforts of the left's new identity politics to make us obsess over our differences. And they confirm that working people don't need teary-eyed Labour tossers to cry on their behalf. They can look after themselves, thanks. It is really this assertion of the self, of the collective, powerful, self-respecting self, that is freaking everyone out. Good. It ought to.
Brendan O'Neill is editor of spiked.
Picture by: Getty.
To enquire about republishing spiked's content, a right to reply or to request a correction, please contact the managing editor, Viv Regan.