Economic sloth: stop blaming it on Brexit
We need to boost productivity, with or without the EU.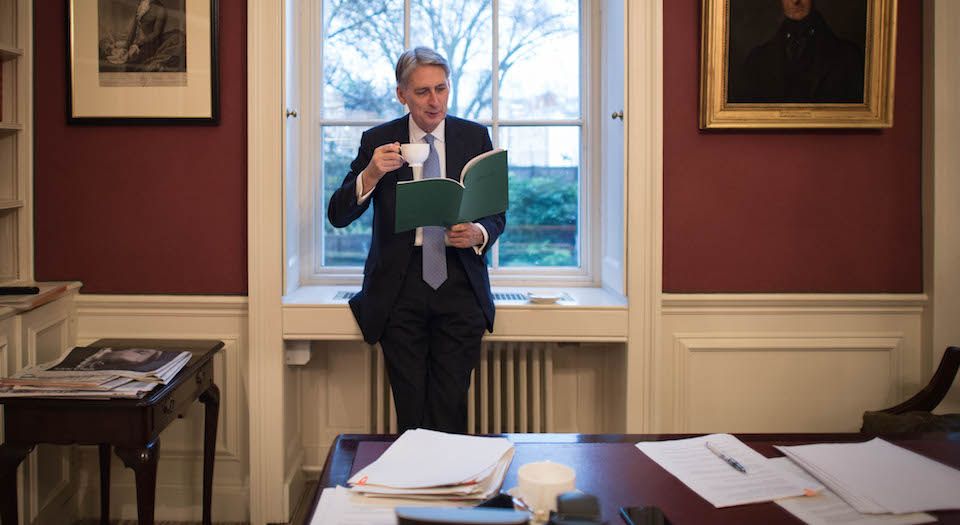 When Philip Hammond replaced George Osborne as UK chancellor of the exchequer in the tumultuous weeks after the Brexit vote, there was anticipation of a new direction for economic policy. Hammond seemed to catch the mood for change, proclaiming the need for an economic 'reset'.
This was reasonably interpreted as a move to a new, thoroughgoing intervention to get the British economy moving. At last, people thought, Britain's dismal productivity performance would get the attention it has demanded for so long. Hammond said we should look to his first Autumn Statement to see his new approach to fiscal policy. This set up the statement, which was delivered yesterday, as a test of what government-led economic renewal might mean.
Unfortunately, Hammond was soon backtracking on his hints at radical measures. The phrase 'post-Brexit uncertainties' turned from being an opportunity for change to a cautious cry that favoured 'steadfastness' and managing for economic stability. Hammond was soon parroting his predecessor's complacent claims that the economy was doing well: the 'fundamentals' of the British economy were strong, he said. When the most important economic fundamental of productivity – what we produce each hour – is still bumping along at its 2007 level, and well below that of most of Britain's European and OECD partners, such a claim takes some chutzpah. As the Who almost sang: 'Meet the new chancellor, same as the old chancellor.'
This week's Autumn Statement put to rest any lingering thoughts of a fresh economic programme. Hammond's roar turned out to be a squeak. His statement contained the usual announcements of a few more billion pounds for roads, railways, housing and broadband services. This is welcome spending for the few who benefit from getting better services, or who get a decent job out of it, but they are inconsequential amounts when it comes to kickstarting national economic revival. Adding on the £2 billion annual extra pledged to research and development (R&D) by the end of this parliament, it still only amounts to extra government spending of about £5.5 billion by 2020 – less than half a per cent of annual output.
It stretches credulity to imagine this will boost productivity back towards its historic trend rate of more than two per cent a year. Repackaging spending in these areas as a 'National Productivity Investment Fund' begs the question as to what effect these expenditures will have for business productivity. For example, building more houses and reducing road congestion will bring social benefits, if on too small a scale for what is really needed; but the consequences for national productivity are mostly indirect, and could well be negligible. Moving into a new house, even if it's closer to work, or commuting in shorter times, does not boost workplace productivity.
It is a good idea to have a focused productivity fund. But we've had more than a few such announcements from chancellors in the past, and they've done little to pull productivity out of its torpor. What would be much more effective as a productivity fund is government-financed venture capital that supports business investment in new ideas and new technologies. This would offer practical aid to innovation. Most of the ideas, and much of the spending, would not succeed, but some might do so in quite magnificent ways. This would herald a healthy reset towards greater experimentation and risk-taking.
On R&D specifically, much more is needed to finance the basic research that is the foundation for future development. As Jagjit Chadha of the National Institute of Economic and Social Research said of the extra government commitment: 'If it is new money it is welcome. But it is not a lot. R&D spending [public and private] has been well under two per cent a year for a quarter of a century. You need [a] much more substantive increase.'
Indeed, and it remains unclear if part of the £2 billion extra is only going to compensate for the loss of other government science funding which used to take a circuitous route through the Brussels budget process and come back as 'EU funding'. Whatever – if the government was serious about supporting research as a basis for long-term innovation it would immediately raise funding to one per cent of GDP, an extra £8 billion, with a medium-term target of doubling that to two per cent.
The discussion around the Autumn Statement revealed more than missed economic opportunities. It showed that the old 'Brussels alibi' for governmental evasion from taking economic responsibility is being replaced by the 'Brexit alibi'. In the past, government ministers, not least those with economic or business briefs, were wont to say 'We can't do much on this', referring to the latest expression of economic decay, as 'it would be in breach of Brussels state-aid rules'. Whether this was a real or, more often, a pretend excuse for fatalist inaction, one of the few direct economic benefits from the EU divorce, on top of the other national freedoms it brings, will be to free us from that alibi.
Unfortunately, however, the 'Brexit alibi' is replacing it as the means of evading what we need to do economically. In the lead-up to this week's statement, Hammond and his associates told us there's too much 'Brexit uncertainty' to change a lot in policy. Apparently we have to wait to see how the next one, two or many more years of Brexit negotiations work out before we can consider making much change by ourselves.
This is even more of a false excuse than the Brussels one was. It shows how 'economics' is again being used, as it was during the referendum campaign, to displace the much bigger political and democratic issues raised by the referendum result. It also distracts from recognising and addressing the pre-existing decay in the economy's capacity to create new sectors, high-productivity businesses and good, well-paying jobs. Being inside or outside the Single Market does not impact on this. Hammond's unjustified Brexit economic obsession clouds this fact. The big problem with Hammond's message is not that he is 'too gloomy', as some Brexiteers claim; it is rather that he narrows Britain's economic challenge simply to Brexit. Yet the productivity shortfall needs to be addressed urgently regardless of Brexit. This is far more important than whatever trading and other economic arrangements are eventually agreed, or not agreed, between Britain and the EU.
For example, the background to Hammond's cautious statement was the rolling back of Britain's official economic-growth forecasts. From those reduced growth forecasts followed the reduced tax revenues and the bigger projected budget deficits. Brexit featured strongly as the reason for the growth downgrades compared to those from earlier this year. The Office for Budget Responsibility's (OBR's) 'Economic and Fiscal Outlook' that accompanied the statement anticipates 'a more subdued outlook for economic growth as the UK negotiates a new relationship with the European Union'.
The reality is that previous OBR growth projections, on which Osborne had been counting to balance the books, proved unrealistic, too. Ever since its creation in 2010, the OBR has just assumed productivity would recover in the aftermath of the 2008 financial crash and return to a strong trend rate of about two per cent a year. Of course it hasn't. And it won't. Not without a bold government-backed economic shake-up and a broad investment surge in new technologies and innovations.
So each published set of OBR forecasts has had to admit these false dawns, leading to the assumed business investment and productivity recovery being pushed ever further into the future. Expectations of trend economic growth have also been slowly lowered every couple of years. The latest forecasts simply follow the same pattern: another false dawn, another pushing out of recovery.
Whereas the November 2015 'Outlook' forecast a strong recovery in business investment during 2016, in the March 2016 'Outlook' this forecast was delayed until 2017. Now it has been pushed back later to 2018. As a consequence, the forecasts for productivity growth have been downgraded again since March 2016 – from 1.4 per cent to 1.3 per cent for 2016; from 1.6 per cent to 1.4 per cent for 2017; from 1.8 per cent to 1.5 per cent for 2018; and from two per cent to 1.6 percent for 2019. So again this week the medium-term forecasts have been reduced as the OBR is forced to recognise the reality that productivity is going nowhere fast, and remains far below historic trends.
This time, though, the OBR has a new alibi. It attributes the downward productivity revisions to 'the effects of uncertainty on investment and productivity growth in the run-up to – and in the transition phase after – the UK's exit from the EU'. Given its previous pattern of downgrades in the years before the Brexit vote, such attribution is little more than poetic license. The OBR itself admits that it has simply made the judgement that Brexit would lead to lower potential output. Significantly, it also notes that it has not factored in the future policy choices that the government might make, bearing in mind its new freedoms from Brussels regulations and controls. It adds that these could be either growth-enhancing or growth-impeding. This provides a static view of what happens when current economic relationships with the EU are terminated. It does not take into account any other policy-led changes, Brexit-related or otherwise.
If the Brexit vote had never happened, and Osborne was still chancellor, Britain would have been dealing with the same circumstance of growth downgrades. Going by the OBR's past performance, growth forecasts would still have been lower for future years, and deficits would have been correspondingly higher for the rest of this parliament, and beyond. Without Brexit, and in the absence of a genuine pro-growth economic policy reset, the chancellor would still have missed the government's target of balancing its books by 2020.
The difference if Osborne had been at the despatch box delivering the statement is that he would probably have tried blaming Trump's election or some other foreign source of 'uncertainty' for the growth downgrades and for his cautious 'responsible' fiscal response. Hammond instead has the excuse of 'Brexit uncertainties'.
The future is uncertain; it always is. But one certain thing is that Britain's productivity problems won't fix themselves spontaneously. What is also certain is that the preoccupation with economic 'uncertainties' – now given the convenient handle of Brexit uncertainties – encourages paralysis. It reinforces the existing sense of helplessness in the face of genuine economic challenges. Every time a politician highlights the uncertainties facing us, it is indicative of their abdication of the task of trying to make a real difference. It signifies their fatalistic acceptance of the economic world as not being susceptible to signification redirection.
Sure, they can do a bit of tinkering round the edges, but things are pretty much set – that's the message. And Hammond's tone exemplifies this: we have our 'independent' forecasts, they are very uncertain, and all we can do is operate within their parameters. Bold intervention to change the future for the better doesn't get a look-in.
Phil Mullan's new book, Creative Destruction: How to Start an Economic Renaissance, will be published by Policy Press in 2017.
Picture by: Getty Images.
To enquire about republishing spiked's content, a right to reply or to request a correction, please contact the managing editor, Viv Regan.