The real black-on-black violence in South Africa
Foreign nationals have become collateral damage in a standoff between the ANC and the masses.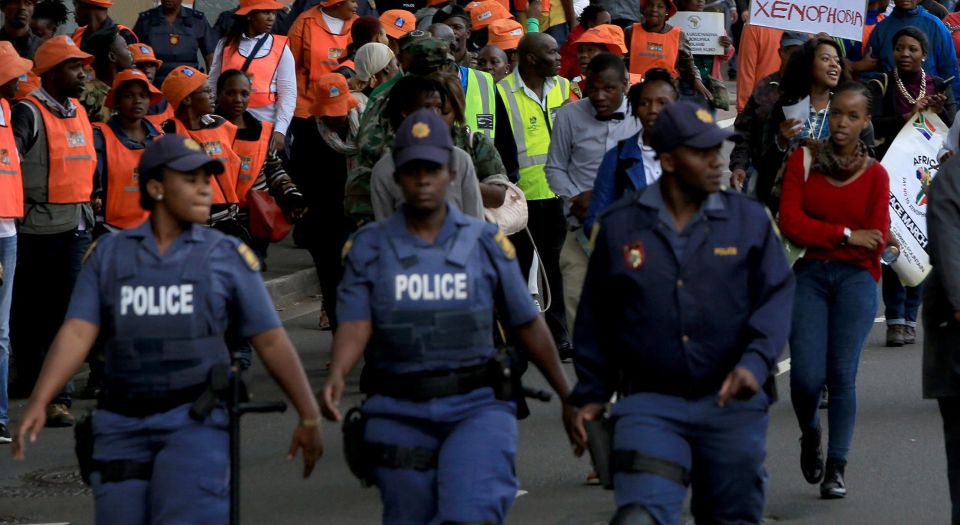 On Thursday 16 April, a peace march was organised by the South African government and various NGOs against recent attacks by local South Africans on mainly black foreign nationals. This trumped-up PR exercise was met with an opposing march by local protesters, one of whom was quoted as saying: 'Our government doesn't listen to us, and that's why we're doing this.' Police used rubber bullets and teargas to disperse counter-protesters and several arrests were made.
Attacks on foreigners erupted in Durban over the Easter period. To date, seven lives have been lost and over 1,000 foreign nationals have been driven out to makeshift camps in sports grounds near the South Africa Indian suburbs of Chatsworth and Isipingo. It is commonly thought that the violence broke out because of inflammatory remarks made by the Zulu king, Goodwill Zwelithini, three weeks ago. But, in reality, anti-foreigner sentiment has been simmering in South Africa over a much longer period.
Back in 2008, after the killing of 62 foreign nationals during a wave of violence, then president Thabo Mbeki said South Africa 'bowed its head in shame'. He promised that he would do everything in his power to prevent similar attacks in the future. However, attacks on black foreign nationals have continued over the intervening years. Three months ago, Soweto erupted into violence after a Somali shopkeeper shot dead a young South African boy who was trying to steal from his shop. The current violence appears to have been sparked by a similar incident in Durban.
Last Wednesday, a text message that circulated in Durban, Pietermaritzburg and Johannesburg warned of attacks on foreign shops. Black foreign nationals from Mozambique, Malawi, Somalia, Zimbabwe, Ethiopia and Nigeria, as well as those from Pakistan and Bangladesh, hunkered down, closed their shops and prepared to defend themselves. However, in the end, nothing happened, apart from a squabble between two taxi drivers.
In neighbouring African countries, governments and protesters have responded with anger. In Zimbabwe, there have been organised boycotts of South African businesses and artists. In Nigeria, locals have organised protests against South Africans' xenophobia. And, on Friday, the government of Mozambique organised the evacuation of some of its citizens living in South Africa.
Black-on-black violence was one of the hallmarks of the Apartheid era, and was thought then to have been provoked by the white nationalist government in order to undermine the anti-Apartheid African National Congress (ANC). But what is motivating the new wave of black-on-black violence?
The media and the NGOs accuse the locals of xenophobia, or, more recently, 'Afrophobia', as the targets are mainly foreign nationals from other African countries. They blame the 'anti-foreigner' speech by King Zwelethini and compare phrases he used, such as likening foreigners to lice, with the inflammatory broadcasts made prior to the Rwandan genocide. Supporters of the king say his remarks were taken out of context.
But despite the talk of genocide, there has been more in the way of opportunistic looting and damage to property than violent attacks. A new camp set up over the weekend by emergency charity Gift of the Givers in Johannesburg has so far only had 43 people arrive at it – all of whom said they had fled their homes because of fears about potential violence, rather than real attacks or threats.
It seems that there are a lot of vested interests in exaggerating the scale of the violence: NGOs, for instance, are automatically linking every attack to xenophobia. On Sunday, a man shot two people because they had stolen money from him, and this was instantly reported as part of the wave of black-on-black violence.
Angry locals argue that the government has allowed foreigners to invade their communities. They accuse foreigners of buying up local spaza shops (shops run out of a home) without a licence and without paying taxes, of out-pricing local traders by importing cheap goods through consortiums, and taking jobs at lower wages. Nigerians are charged with marrying local women in order to get citizenship papers, before turning to selling drugs in the community. And Somalis are broadly seen as gun-toting criminals.
A local South African woman I spoke to said her sister had tried to set up a spaza shop, but was unable to get a licence; foreign nationals, she said, just bribe the police. Another woman was angry about the recent demolition of illegal structures in Cosmo City, a new development outside Johannesburg. In order to maximise their income, some home owners in the new suburb had built extra, illegal rooms and structures. The demolitions were met with howls of protest from the locals. While foreign nationals, they say, are allowed to buy and rent out rooms in RDP houses (low-cost homes equivalent to UK council houses), local South Africans are not.
Stories like this have been circulating for some time now and there is obviously some truth to the grievances of local South Africans. Migrants and refugees, fleeing their own wartorn and poverty-stricken countries, have poured into already overcrowded settlements and are competing with the locals for scarce employment opportunities. To make matters worse, most grassroots organisations were closed down after the ANC came to power in 1994, meaning today there is no forum in which these issues can be properly debated or resolved.
The ANC has completely ignored the concerns of native South Africans. One angry protester from Germiston, a settlement visited by local government officials last week, said: 'They only come now just before the elections. When we ask them about the services we don't have, they say it's privately owned property and we don't see them.' In the wake of the violence, the government has simultaneously attempted to cover up any hint of xenophobia, while criminalising the locals' protests. As the protests against the government have escalated, and spread from city centres to suburban townships, rubber bullets and teargas are being used to disperse the crowds. President Zuma is even considering deploying the army, if the police become overwhelmed. To date, 307 arrests have been made and the government feels confident it has put a lid on the protests.
This week, three weeks after the initial eruption of violence, President Zuma cancelled his Indonesian visit to speak to an encampment of foreign nationals taking refuge in Durban. They, as it happens, were unimpressed – many saying that the government should have done more to challenge the Zulu king's remarks. But Zuma also failed to visit the local settlements in which his own citizens lived in pitiable conditions. Perhaps Zuma feared for his personal safety: one local from the Tembisa township near Pretoria said, 'Zuma cannot show his face here. We will eat him alive without salt.'
The recent attacks on foreign nationals are concerning – even if they are exaggerated. But they are only really a reflection of the desperate conditions South Africa's masses find themselves in. After all, while foreign nationals have been waiting for a government response to their plight for the past three weeks, native South Africans have been sidelined and ignored by the ANC for most of the party's 21-year reign. With no alternative, with no viable political opposition to vote for, some have lashed out. The resulting violence is best understood as a desperate bid on the part of South Africa's ignored masses to be heard.
Sharmini Brookes is a writer based in Johannesburg.
To enquire about republishing spiked's content, a right to reply or to request a correction, please contact the managing editor, Viv Regan.