Election debates: they're all empty chairs now
The problem is not who takes part, but what they have to say.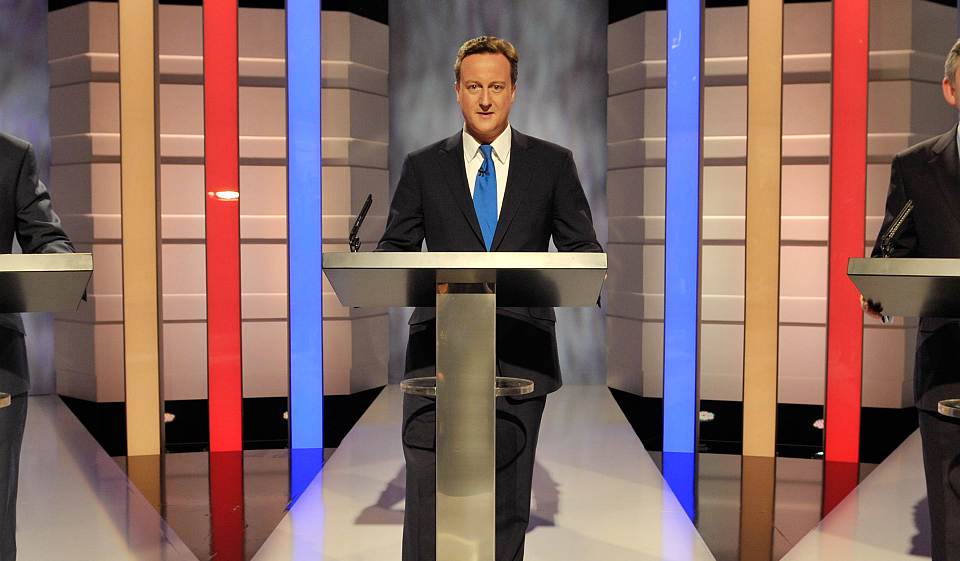 A furious ruckus has broken out over the televised debates to be staged before the UK General Election in May. Conservative prime minister David Cameron has been called a chicken for insisting that he will only take part in one debate that includes seven party leaders. In return, Tory peer and former BBC chairman Lord Grade has accused the broadcasters of getting too big for their boots and risking political bias, by threatening to replace Cameron with an empty chair in other debates. All of this sound and fury makes it seem like an even more important TV issue than the scandal of Jeremy Clarkson and the cheese'n'crackers.
There is a far bigger problem, however, with television's planned pre-election circus. No matter how many party leaders they can squeeze on to the platform, or who they 'empty chair', these events will not deserve the title 'political debates'. That implies a clash of competing principles and visions in a direct battle of ideas; the word debate has its origins in the Latin battere: to fight, beat or batter. No such clash is possible among the main party leaders, who do not have a distinctive political principle between them sufficient to batter a small piece of cod.
The issue is not who is on the platform, but what they have to say. In that sense, the broadcasters might as well leave three, four or seven empty chairs for all of the difference it will make to the quality of our national political debate.
The brouhaha about these televised beauty contests is itself a symptom of the emptiness of British politics today. The focus on the party leaders' pre-packaged catchphrases, personality traits, presentational tricks and facial tics is a substitute for any meaningful debate about the future of society. It is politics as reality TV show, with the voting public shut out of the discussion, left at home to tweet about Ed Miliband's tie or at best to shout at the telly, Gogglebox-style.
What issues do you recall being thrashed out in the 'historic' televised leaders' debates before the last General Election in 2010? The essence of those exchanges was captured by Cameron and then-Labour leader Gordon Brown repeatedly saying 'I agree with Nick [Clegg]'. The rest of it was a stream of interchangeable soundbites. Had somebody cut up the scripts and swapped the phrases around, few would have been able to tell which leader said what.
Five years later, the Tory-Lib Dem Coalition government has continued the approach of its New Labour predecessor and the major parties have all slid even closer together in the muddy swamp that they call the 'middle ground'. The homogeneity of the political class will be even more smothering of any meaningful debate this time around. We could hazard a fair guess now at what PR puffery Cameron, Miliband and Clegg will come out with. The only reasons for tuning in appear to be to see if UKIP's Nigel Farage can make good on his promise to upset the consensus applecart on controversial issues, or if Green Party leader Natalie Bennett might suffer another 'brain freeze' (no doubt caused by CO2 emissions) and forget her own party's policies. (Those who assume this to be a democratic exercise in inclusiveness might note that even the planned multi-party debate would exclude Northern Ireland's biggest party, the Democratic Unionists, whose views on issues such as abortion and gay marriage the elites deem a bit too 'colourful' to be broadcast into our living rooms.)
Defenders of the televised debates look to the US presidential elections for their role model. They claim that, ever since the first famous debates between John F Kennedy and Richard Nixon were aired during the 1960 campaign, they have become symbols of American democracy in action. Leave aside for now the fact that after those 1960 exchanges there were no more televised debates until the 1976 presidential election; some long-forgotten criticism levelled at the candidates' debates soon after the 'historic' 1960 broadcasts might seem relevant today.
In his classic 1961 study, The Image, Daniel Boorstin not only defined modern celebrity – the quality of being well-known for well-knownness, or famous for being famous. He also coined the phrase 'pseudo-event' to describe the new breed of non-spontaneous political happenings which are staged only so that they can be reported in the media. The Kennedy-Nixon debates were a prime example. His views on them are worth recalling:
'These four campaign programmes, pompously and self-righteously advertised by the broadcasting networks, were remarkably successful in reducing great national issues to trivial dimensions. In origin the Great Debates were confusedly collaborative between politicians and news makers. Public interest centred around the pseudo-event itself: the lighting, make-up, ground rules, whether notes would be allowed, etc. Far more interest was shown in the performance than in what was said.
'The pseudo-events spawned in turn by the Great Debates were numberless. People who had seen the shows read about them the more avidly, and listened eagerly for interpretations by news commentators. Representatives of both parties made "statements" on the probable effects of the debates. Numerous interviews and discussion programmes were broadcast exploring their meaning. Opinion polls kept us informed on the nuances of our own and other people's reactions.
'The drama of the situation was mostly specious, or at least had an extremely ambiguous relevance to the main (but forgotten) issue: which participant was better qualified for the presidency. Of course, a man's ability, while standing under klieg lights, without notes, to answer in two-and-a-half minutes a question kept secret until that moment, had only the most dubious relevance – if any at all – to his real qualifications to make deliberate presidential decisions on longstanding public questions after being instructed by a corps of advisers. The great presidents in our history (with the possible exception of FDR) would have done miserably; but our most notorious demagogues would have shone.'
Ignoring for a moment the slightly elitist undertones of Boorstin's critique, his points about the specious and trivialising qualities of the televised leader debates strike home more than 60 years later. If that was true of a clash between two such political giants as JFK and Tricky Dicky, how much more must it be of a non-debate between all the political pygmies of mainstream UK politics today?
The rows over how to stage multiple-candidate debates have fed into the public cynicism about politics and the election, with wags suggesting the organisers should embrace game/quiz show formats such as Celebrity Squares or Fifteen-to-One. Perhaps a better model for what politics has become is the satirical panel show Have I Got News For You? – an exercise in ridiculing politicians, in which the ridiculous politicians themselves now scramble to appear. It was HIGNFY?, after all, which made famous the 'empty chair' tactic by replacing absent Labour MP Roy Hattersley with a tub of lard. If there is widespread cynicism about politics today, it spreads from the top of the political/media class downwards.
There are, of course, plenty of issues worth having a proper public debate about in the run-up to the elections, behind those boring standards about which party leaders will be swapping inane soundbites on TV. Instead of another pointless round of empty promises about how much each party will spend on the NHS, why not debate the creeping advance of 'public health' policies into more and more areas of people's personal lives? Rather than competing to see which candidate can denounce a few rich tax-avoiders in the shrillest terms, how about a debate around the big issues of where Britain's economic growth and prosperity is supposed to come from in the twenty-first century?
Instead of another fruitless exercise in I'm-tougher-on-immigration-than-you-are, might we have a proper discussion about what our society stands for and believes in today? And on the eight-hundredth anniversary of Magna Carta, could we put the erosion of liberties in the West at the top of the agenda? Starting with the most precious liberty of all, free speech? Don't hold your breath.
Speaking of free speech, in his blast at the broadcasters Tory Lord Grade pointed out that there was no 'divine right' to hold televised election debates. Mr Cameron was 'entitled' to decline to take part, and others were 'free to comment on the choice he makes'. Quite so. It would be good, however, if we could all exercise our freedom of speech over something more than the prospect of empty chairs and empty words.
Mick Hume is spiked's editor-at-large. His book, There is No Such Thing as a Free Press… And We Need One More Than Ever, is published by Societas. (Order this book from Amazon(UK).) Visit his website here.
Picture by: Getty Images.
To enquire about republishing spiked's content, a right to reply or to request a correction, please contact the managing editor, Viv Regan.