Ariel Sharon and the death of the Israeli dream
Sharon's shift from 'hawk' to negotiator told a bigger story about Israel.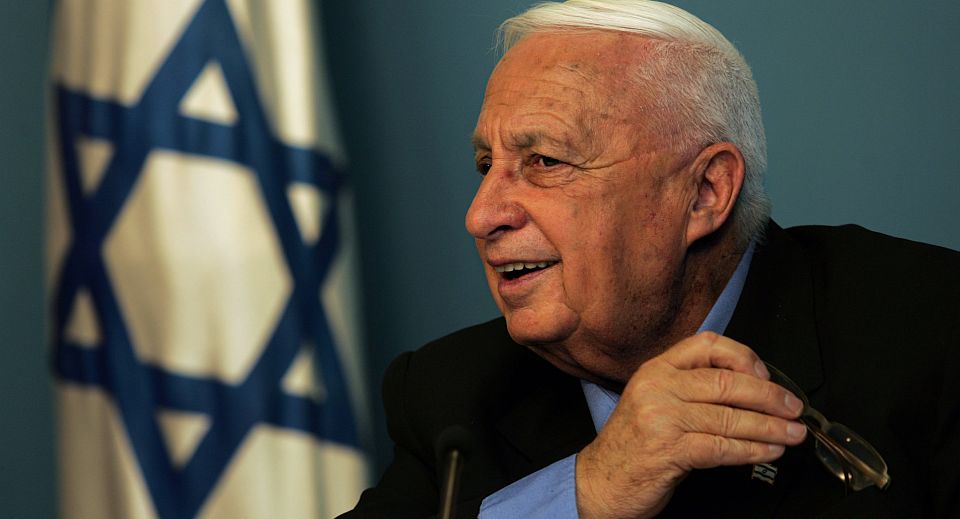 Despite the bitter differences between the admirers and critics of Ariel Sharon, the former Israeli prime minister who died on Saturday, most share one outlook in common. They claim to have divined a continuity in his career despite his apparent shift from ultra-nationalist hawk to architect of Israel's unilateral disengagement from Gaza.
It is understandable that both sides should fall for this temptation, since it provides the easiest way to make sense of Sharon's contradictions. Either he was a pragmatic Zionist who would do whatever was necessary to protect the embattled Jewish state. Or alternatively he was a ruthless butcher of the Palestinians whose latter-day talk of peace was merely a cynical cover for greater repression.
Both sides fail to grasp the fundamental shift that has taken place in Israeli society since the 1970s. Until that decade, the vast majority of Israelis were united behind the project of building a Jewish state within Eretz Yisrael (the historic Land of Israel that includes the present-day West Bank). This goal was generally seen as a necessary response to the scourge of anti-Semitism rather than being viewed as a religious mission. Indeed, most of the original founders of Israel considered themselves socialists. The earlier settlements, including those in the West Bank and Gaza, were founded under the auspices of early leftist Israeli governments.
Since the 1970s, however, support for this classical conception of Zionism has steadily eroded. Many Israelis have become unsure about what their country stands for. The pioneering ardour has gone, and controlling land occupied by large numbers of Palestinians is seen as problematic at least. The one important exception to this disaffection is the mainstream religious community, the backbone of the settler movement, which retains its own particular conception of Zionism.
Sharon in many ways personified the shifts within Israel itself. Indeed, in some respects he was behind the times since he was an ardent supporter of settlement for longer than many in the Israeli elite. He only retreated from the goal of settlement expansion in his final years in office.
In party political terms, he was for many years a supporter of the leftist Mapai (the Hebrew acronym for the Workers Party of the Land of Israel) that dominated Israeli politics from the foundation of the state in 1948 to the 1970s. Sharon himself flirted with several parties after leaving his long military career in 1973. However, after the Likud, an alignment of conservative and hawkish parties, won the 1977 election, he took the role of agriculture minister. After using his portfolio to promote settlement activity, he was promoted to defence minister following Likud's second election victory in 1981.
However, Sharon's tenure as defence minister ended in ignominy in 1983, when he was forced to resign. An official Israeli commission had found him indirectly responsible for the massacre of hundreds of Palestinians in the Beirut refugee camps of Sabra and Shatila. Both camps had come under Israeli military control following Israel's invasion of Lebanon in the summer of 1982. Israeli forces let in the Phalangist militia, an Israeli ally and bitter enemy of the Palestinians, shortly after the assassination of that Lebanese group's leader. The bloody result was all too predictable.
Sharon subsequently served in many lesser ministerial roles, which he often used to promote more settlements, until he finally became prime minister in 2001. Given his close connections to the settlement movement, it is unsurprising that many assumed he would take a hardline stance towards the Western-brokered peace process. In the event, he was willing to talk to Palestinian leaders and later went on to enact Israel's unilateral disengagement from Gaza in August 2005. The Israeli army forcibly evacuated thousands of Israeli settlers from the area in a move that angered many of Sharon's former supporters.
The withdrawal caused such a ruckus within Likud that Sharon decided to set up a new party, Kadima, in November 2005. In Hebrew, Kadima means 'forward', but in a way it was an ironic signal of Israel's lack of direction. Even much of the hawkish Israeli right had given up on the old dream of settling the whole of the Land of Israel. Not only had the Israeli right disengaged from the Gaza strip but it also showed itself willing to make at least some concessions in the West Bank. Shortly afterwards, in January 2006, Sharon suffered a stroke from which he never recovered. But he played a critical role in bequeathing the impasse with which Israel and the Palestinians in their different ways still contend.
The peculiar situation that still exists today is that Israel no longer knows what it stands for while the Palestinians have failed to win their freedom. Israelis generally keep their distance from Palestinian population centres and try to go about their lives as if their neighbours did not exist. Meanwhile, West Bank Palestinians have their freedom of movement severely curtailed by agreements brokered in the West. Gaza is surrounded by Israeli forces on three sides and a generally hostile Egyptian border on the other.
Western intervention has played a central role in creating this stalemate. In the name of 'peace' it has created a set-up where Israelis and Palestinians generally live separate lives. It is hard to see any end in sight as long as the West continues to interfere in this part of the world.
Before ending it is worth noting that the British left has a particularly sordid history of gross double standards in relation to Ariel Sharon. That is because the Israeli invasion of Lebanon that started in June 1982 overlapped with the end of the Falklands War between Britain and Argentina.
That summer, the left was particularly keen to demonstrate against Israeli aggression but markedly reluctant to take sides against Britain's warmongering. Although Britain sent a huge naval armada thousands of miles to crush a much weaker country, there was little principled domestic opposition to these actions. To the extent that there was any criticism, it was generally along the lines that Britain should use alternative means, such as economic sanctions, to crush the Argentine enemy.
From such a cynical perspective, the brutal massacres at Sabra and Shatila were a godsend. The British left could display its radical credentials by slating Israel's complicity in the killings shortly after having supported Britain's own war effort.
Today the British left no longer really exists in anything but name. However, double standards in relation to Israel are more prevalent than ever among self-proclaimed radicals.
Daniel Ben-Ami is a writer based in London. Visit his website here. An expanded version of Ferraris for All, his book defending economic prosperity, is available in paperback (Buy this book from Amazon (UK))
Picture by: EMILIO MORENATTI/AP/Press Association Images
To enquire about republishing spiked's content, a right to reply or to request a correction, please contact the managing editor, Viv Regan.