Big, bad America, slayed by a communique
Why's no one talking about the fact-lite, frenzied shutting of US embassies?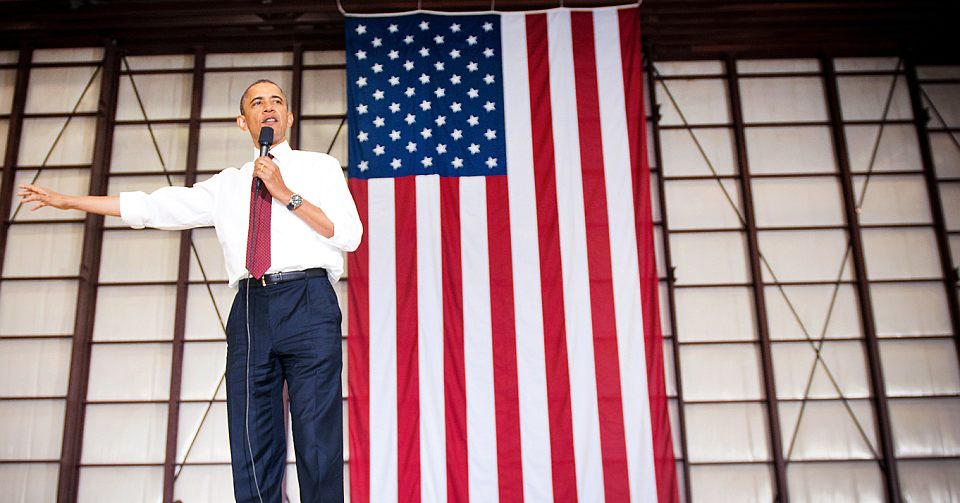 In a major address three months ago, US president Barack Obama said of the war on terror: 'This war, like other wars, must end. That is what history advises. That is what our democracy demands.'
Well, so much for all that. Over the past week, Obama introduced extraordinary security measures across the globe, issued a worldwide travel alert, and closed nearly two dozen of America's diplomatic missions – all out of fear of a possible al-Qaeda attack. In the process, he turned a group of bin Laden-admiring misfits into a major military threat, and re-ignited the West's panicky and confused war on a tactic; namely, terror.
Apparently, the US had intercepted a communication from the head of al-Qaeda to the leader of its affiliate in Yemen indicating some sort of plot. Britain and other Western governments joined the US in closing their embassies and consulates in the Middle East and north Africa.
Yet by the weekend, nearly all Western embassies and consulates had re-opened again.
The decision to evacuate pre-emptively, on such a massive scale, is truly astonishing. And yet it has hardly registered in political discussion in America and elsewhere. Obama's shutdown order even had rare bipartisan support in Congress.
Indeed, conservatives positively welcomed the terror alert. Peter King, the New York Republican who chairs the House subcommittee on terrorism and intelligence, said 'the government would have been totally negligent if it did not take the actions taken'.
Many conservatives have been calling for the Obama administration to be more responsive to what they see as a resurgent al-Qaeda. In their eyes, Obama and the Democrats have bragged too much about killing bin Laden, and have declared victory too soon.
Obama's announcement did seem to contradict his earlier statements that al-Qaeda has been 'decimated' and is 'on the run'. As Gregory Johnson, a Yemen expert at Princeton, put it, if the administration is correct, 'then why is al-Qaeda growing in Yemen and why is the group still capable of forcing the US to shut down embassies in more than a dozen countries?'.
Most immediately, the White House's response could have been influenced by the siege of the American consulate in Benghazi, in Libya, on 11 September last year, which led to the death of ambassador Christopher Stevens and three others. Republicans have criticised the administration for being unprepared for the Benghazi attack, and for stalling a thorough investigation. If there had been an attack, there would no doubt have been an outcry about an ongoing failure to heed warnings and take al-Qaeda seriously.
But Obama's move cannot be fully explained by such party-political wrangling. The fact is that both parties are still operating under the view that any terrorist attack – even one that is not that deadly, relatively speaking – is a major defeat for the US. Yet it is of course impossible to prevent attacks entirely. Hence the result is anxiety, which the Obama team has decided to put out there in full public display over the past week.
And so, rather than appear determined to defeat al-Qaeda, the American response comes across as weak and fear-ridden. What last week's episode revealed is that al-Qaeda can paralyse the US without even attempting to blow something up. All it takes is a conference call (which is certainly much easier to organise than an actual attack).
Under Obama, the US has continued the precautionary approach to terrorists begun by George W Bush. This 'better safe than sorry' approach is said to have few, if any, downsides. But there are costs. A basic one is America's standing in the world. Commentator Jeffery Goldberg draws out the logic: 'We have already muddied any message of fearlessness by turning our embassies into bunkers. Now, we are admitting these bunkers aren't safe. What next? Virtual embassies on Facebook? Ambassadors who never leave Washington?'
Another negative is a panicked public. Let's not forget that this story is not just about embassies; it's also about travel warnings. But just what are Americans supposed to do about an unspecific warning such as this:
'Terrorists may elect to use a variety of means and weapons and target both official and private interests. US citizens are reminded of the potential for terrorists to attack public transportation systems and other tourist infrastructure. Terrorists have targeted and attacked subway and rail systems, as well as aviation and maritime services. US citizens should take every precaution to be aware of their surroundings and to adopt appropriate safety measures to protect themselves when travelling.'
In other words: a terrorist attack could occur anywhere in the world. You are in danger, and you should be very, very afraid.
In a sense, a precautionary response from the administration is completely consistent with recent decisions made by other US public officials. In response to recent hurricanes, for instance, political leaders, including New Jersey governor Chris Christie and New York City mayor Michael Bloomberg, ordered shut-ins and evacuations. And witness the military-occupation lockdown in Boston after the marathon bombings last April. If the US is so afraid of a kid in a baseball hat, then yes, al-Qaeda might well appear to be a really daunting military force.
Terrorism is a reality, but it does no good to exaggerate its impact. The message should be about resilience in the face of terrorism, not retreat, evacuation and cowering. By responding as it did, the Obama administration scored an own goal, and it let the terrorists win.
Sean Collins is a writer based in New York. Visit his blog, The American Situation.
Picture by Sgt Roland Hale [Public domain], via Wikimedia Commons.
To enquire about republishing spiked's content, a right to reply or to request a correction, please contact the managing editor, Viv Regan.