A dark day for British democracy
The Supreme Court's trouncing of the Rwanda policy is an act of judicial tyranny.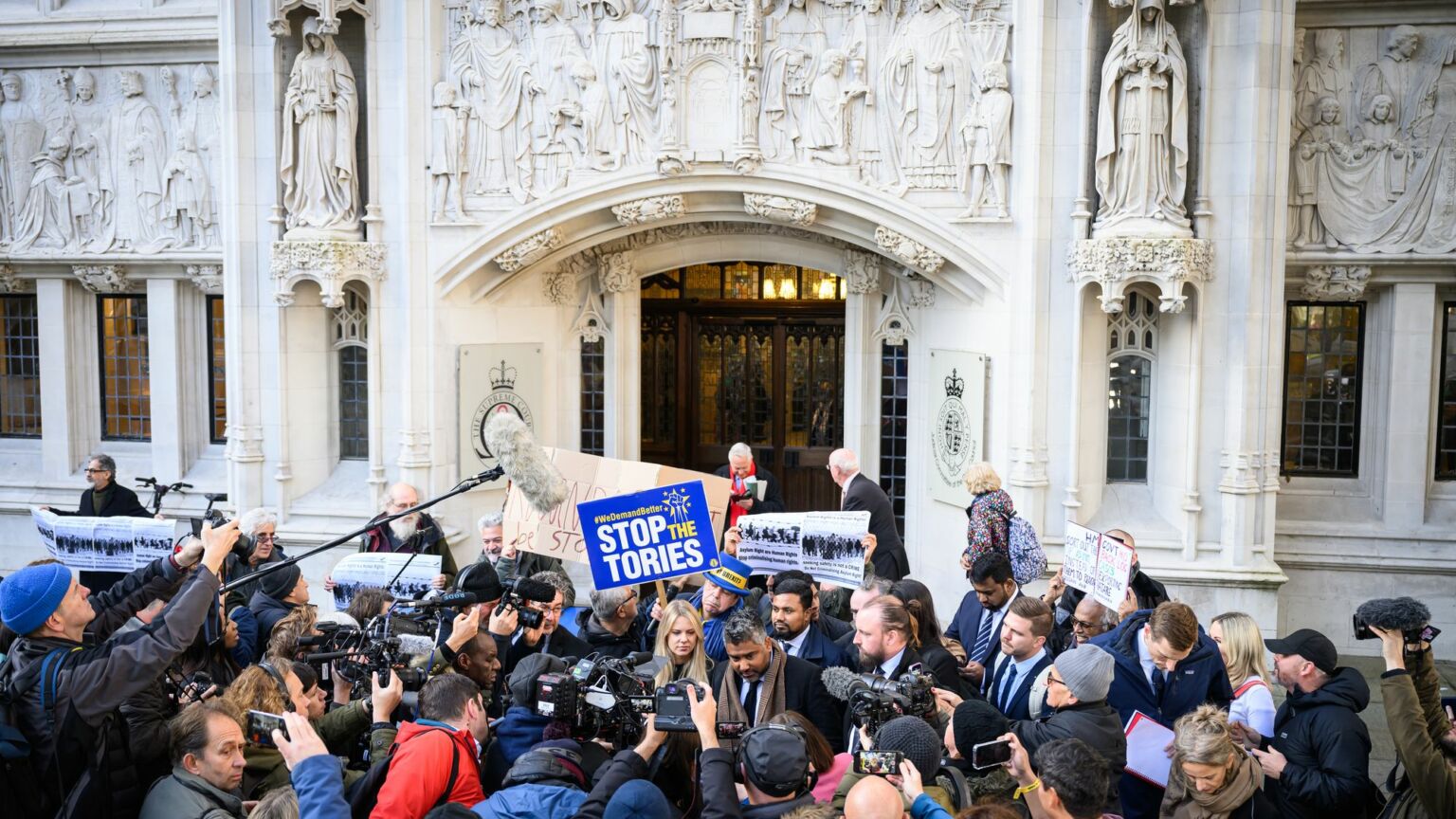 This is a dark day for British democracy. Five people you've probably never heard of, and definitely never voted for, have ruled in their infinite wisdom that the UK government is forbidden from enacting the Rwanda policy to deal with illegal immigration. So the desires of ministers voted into power by us do not matter. The beliefs of the public, growing numbers of whom back the Rwanda policy, do not matter. The hard-fought-for principle that policy should be decided by the elected, not by princes, priests or posh men and women in wigs, does not matter. All that matters, it seems, is the feeling and opinion of a few judges. That overrides everything. This is an act of judicial tyranny.
The UK Supreme Court announced this morning that it has upheld, unanimously, the Court of Appeal's earlier decision that the Rwanda policy would lead to a risk of refugees being sent back to their country of origin where they might face persecution. It is thus 'unlawful'. Under the Rwanda plan, arrivals in the UK identified as asylum seekers would have been packed off to Rwanda for 'processing'. They would then be settled in Rwanda or in a third country. The aim was to do something about rising levels of illegal migration, in particular the 'small boats' crisis around Britain's south-east coastline. Yet despite being backed by all our prime ministers of the past four years – Boris Johnson, Liz Truss and Rishi Sunak – Rwanda has now been sunk by unelected judges.
It is hard to overstate what a kick in the teeth of democracy the Supreme Court has delivered. The Rwanda plan was first announced in 2022 by then PM Boris Johnson, a man elected into power by 14million people. It was the responsibility of Priti Patel, the home secretary of the Johnson government. It has generally enjoyed more support than scepticism among the public. Just yesterday a YouGov poll found that 48 per cent of Brits back Rwanda, with 28 per cent strongly supporting it and 20 per cent 'tending to' support it. (Twenty-four per cent are strongly opposed to it, and 11 per cent tend to oppose it.) And yet in the face of this, in a gigantic snub to politicians put into power by us, judges have said 'nope' to Rwanda. They are stopping the government from doing what the public wants it to do.
This is not democracy. It is its opposite: epistocracy, the rule of 'experts'. It doesn't matter what you, as an individual, think of Rwanda. I have always been unconvinced by it. There must be fairer, not to mention cheaper, ways to weigh up the claims of asylum seekers in the UK, while also putting a stop to the highly dangerous boat crossings in the English Channel, which make wicked people-smugglers rich while putting at risk the lives of migrants. But this isn't about me. Unlike those five judges, I don't believe the political universe should revolve around my beliefs. This is about whether Britain is a democracy or not. And right now, given a handful of judges can strike down a popular policy, I'm not sure it is.
There are so many problems here that we need to address. One is the Supreme Court itself, which has become a meddlesome institution, a new layer of political decision-making that is scandalously beyond the reach of voters. Witness also its pandering to the Remainer elites in 2019 when it ruled that the government's proroguing of parliament was unlawful. There is also the European Court of Human Rights, which last year outrageously intervened at the 11th hour into the first planned deportation flight to Rwanda and said it should not go ahead. This further emboldened the legal elites and the activist class: they massively cranked up the judicial activism to try to destroy a policy they dislike. Their spectacularly undemocratic manoeuvring, their arrogant use of the law to thwart the political desires of the plebs, has now paid off in the Supreme Court's erosion not only of the Rwanda policy but also of democratic principle itself.
It is surely now time to rethink the Supreme Court, to tame it. Do we even need it? We already have a High Court. We absolutely must withdraw from the European Court of Human Rights. It is nothing short of outrageous that a foreign-based court can compel elected officials in Britain to roll back popular policy and actions. This is the soft colonialism of human-rights law. It runs counter to both the spirit and letter of democracy. As Rory Lieshman put it in his book, Against Judicial Activism, the rise of human-rights law represents a profoundly significant 'redistribution of political power', passing much political authority from those we elect to those we do not. The 1688 Bill of Rights decreed that democratic policymaking 'ought not to be impeached or questioned in any court or place out of parliament'. Yet now it is. Frequently. Our history of democratic struggle is being trounced before our eyes.
It is not surprising that the left is cheering the Supreme Court's assault on government-made policy. These people's distrust of the 'gammon', of the tabloid-reading throng, has long meant they prefer the cool deliberations of aloof bureaucrats to the voice of the people. It is shocking, though. To nod along as political power is redistributed from us to them, from the elected to the unelected, is a folly of historic proportions.
Who rules this country? We have an unelected PM. An unelected new foreign secretary, David Cameron, who cannot even be held to account by MPs given he's in the Lords. We have the media classes constantly demanding the ousting of 'rogue' ministers like Suella Braverman. And we have judges saying yay or nay, like modern-day Caesars, to public policy. It feels like democracy is slipping away. It cannot continue.
Brendan O'Neill is spiked's chief political writer and host of the spiked podcast, The Brendan O'Neill Show. Subscribe to the podcast here. His new book – A Heretic's Manifesto: Essays on the Unsayable – is available to order on Amazon UK and Amazon US now. And find Brendan on Instagram: @burntoakboy
To enquire about republishing spiked's content, a right to reply or to request a correction, please contact the managing editor, Viv Regan.