Introducing… Brendan O'Neill's new book!
A Heretic's Manifesto will be released on 5 June. Pre-order it now.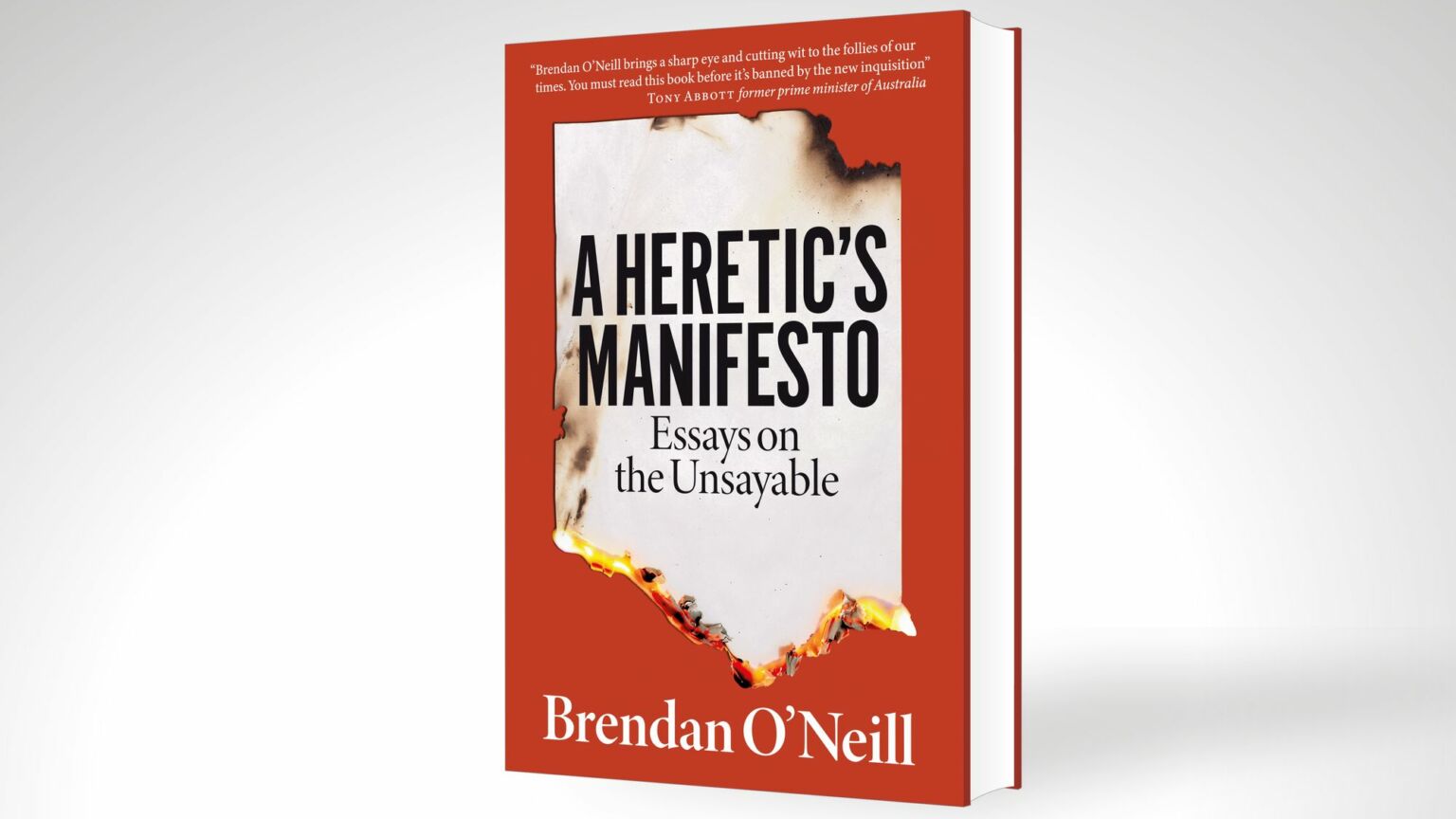 Can a woman have a penis? Is the West forever stained by racism? Are we all going to die from climate change? Somehow, these have become the great, pressing questions of our age – and anyone who doesn't answer them 'correctly' is damned as a racist, climate-denying transphobe. Our elites have become convinced of some very strange and destructive ideas, meanwhile the space for ordinary people to dissent is shrinking.
We desperately need more heretics. That is the rallying cry of Brendan O'Neill's brilliant new spiked book, A Heretic's Manifesto, which we are delighted to announce will be published on 5 June. Across these original essays, tackling everything from identity politics to Covid authoritarianism, Brendan remakes the case for heresy – while committing a few heresies of his own along the way.
It's this summer's anti-woke must-read. But don't take our word for it. 'You must buy this book before it's banned by the new inquisition', says Tony Abbott, former PM of Australia. 'Brendan O'Neill is the reincarnation of Christopher Hitchens', says Nick Gillespie, editor-at-large of Reason. According to the great Andrew Doyle, A Heretic's Manifesto is a 'timely and powerful defence of Enlightenment values'. You really don't want to miss this.
So, what are you waiting for? The book is available for pre-order now on both Amazon UK and Amazon US. Also, if you'd like to get a signed copy of the book, and support our good work here at spiked while you're at it, we currently have a special donation offer. Anyone who donates £50 or more to spiked will get a free, signed copy of A Heretic's Manifesto, while stocks last. You can donate here. (Overseas donors may be asked to pay for postage.)
Thank you all for your support. And if you are a spiked supporter, don't miss our exclusive online launch event for the book, where Andrew Doyle will be interviewing Brendan, on Monday 5 June at 7pm. You can claim your free ticket now by logging on to the spiked supporters hub. (If you're not already a supporter, you can sign up now for just £5 per month and claim your ticket.)
See you there. And we hope you enjoy the book!
For press copies and media inquiries, contact Viv Regan.
To enquire about republishing spiked's content, a right to reply or to request a correction, please contact the managing editor, Viv Regan.