Free speech is our best weapon against Jew hatred
We must confront anti-Semitism with more speech, not censorship.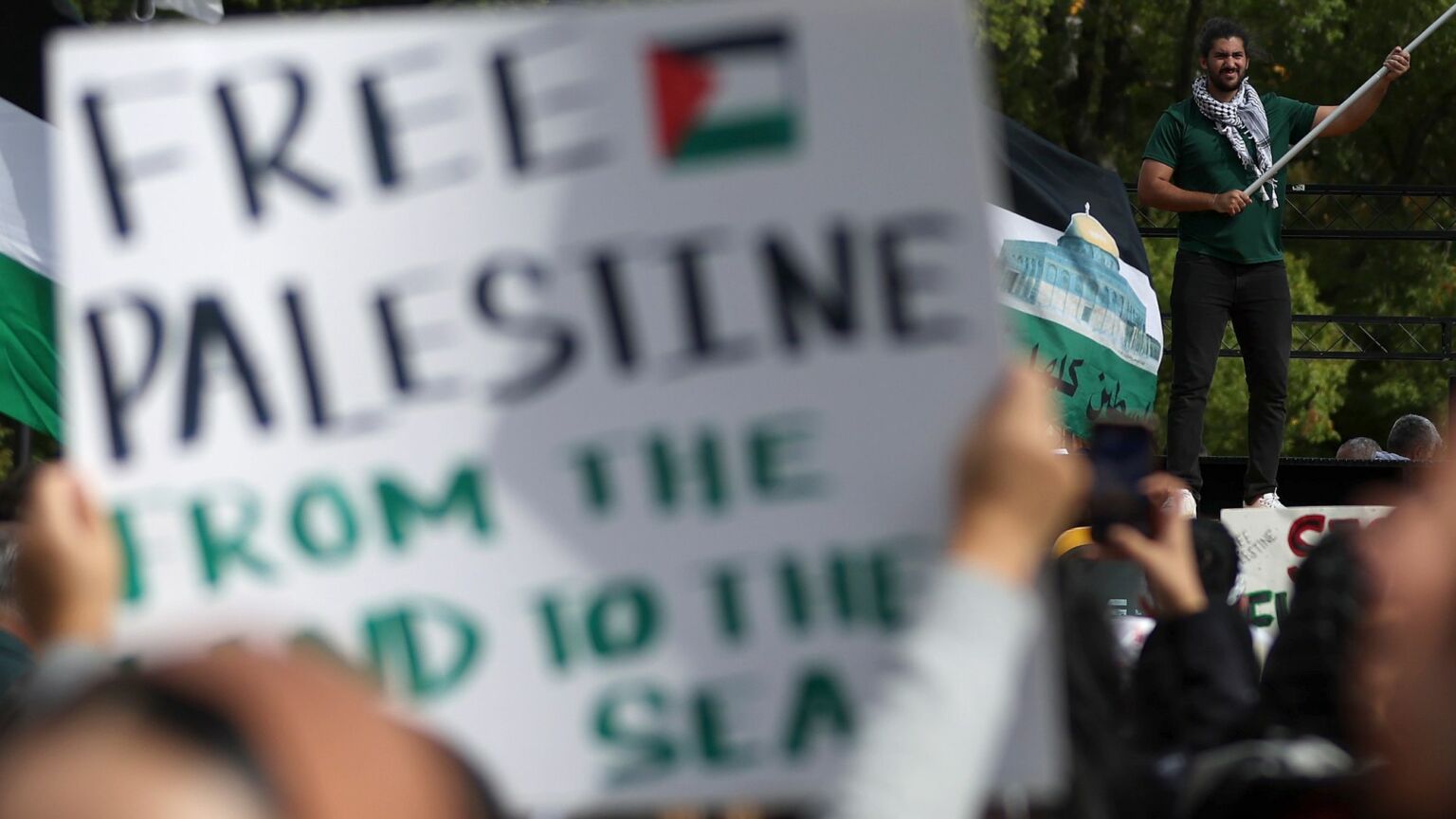 After years of fighting various phantom forms of racism, often so hard to discern you'd need a six-week microaggression course to clock them, the West is once again confronted with the real deal. Since Hamas launched its pogrom in Israel on 7 October, butchering 1,400 innocent civilians, Jew hatred has poured out on to the streets of Western cities – day after day, night after night, weekend after weekend. Synagogues have been attacked. Jewish schools have been vandalised. Jews have been assaulted. Young, well-dressed Brits have recently been filmed ripping down posters of the children kidnapped by Hamas, so affronted are they by the very existence of Jewish victims. Not since Oswald Mosley's Blackshirts has anti-Semitism been such an unabashed presence on Britain's streets.
I dare say we're not ready for this. All those diversity workshops have left our elites woefully unprepared to face this threat – not least because Jew hatred has, if anything, been fuelled by the woke politics of our age, as it despicably treats Jews as 'privileged', 'hyper-white' and thus incapable of experiencing racism. What's more, even those who are genuinely concerned, and desperate to do something to defend British Jews against this menace, are gripped by a commonly held but deeply misplaced notion. Namely, that the way to defeat racism is through censorship. That we are just a few banned protests away from banishing anti-Semitism to the margins once again. This is a profound moral and strategic error, which we really must not make.
With another 'pro-Palestine' protest descending on London this weekend, sure to be another potent mix of Islamists, Hamas apologists and morally bereft left-wingers, there are calls for a crackdown. Following the sickening scenes of Hizb ut-Tahrir supporters chanting for 'jihad' at a smaller rally in London last Saturday, the Metropolitan Police have been criticised for a supposedly soft touch. Suella Braverman pulled Met chief Mark Rowley in for one of her performative dressing-downs. In turn, Rowley has called for new hate-crime laws to crack down on 'hateful extremism'. Meanwhile, with good reason, ordinary people are wondering why the British constabulary will turn up at your door mob-handed if you retweet a spicy meme, but are apparently unwilling to do anything about known extremists calling for holy war. The double standards are obscene – yet more proof that the speech codes of our identitarian age melt away when confronted with the world's oldest hatred.
But we cannot allow freedom of speech to become a casualty in the fight against anti-Semitism. We already have a plethora of restrictions on speech and protest, on everything from 'hate speech' to disruptive demonstrations to 'grossly offensive' messages. Misgendering someone on social media. Protesting against the monarchy. Telling a police officer she resembles your lesbian grandmother. Brits have been handcuffed for all of these supposed 'crimes' and more in recent years. And the cops' warped priorities only underline why we cannot hand the authorities the power to decide what is and isn't permissible to say. They often come to rather eccentric conclusions. Beyond direct incitement to violence, thuggish protest or harassment – which are not speech crimes at all, but rather crimes that involve speech – even the most hateful and extreme speech must be permitted. If for no other reason than it safeguards our own freedom. We defend free speech for all, or for none at all.
Now, that doesn't mean we should just accept the bigotry and extremism that has emerged in our midst. Far from it. Freedom of speech is our best weapon to combat Islamism and Jew hatred. It means we know who these people are – and what they think. Indeed, censorship cannot defeat hateful ideologies, it just pushes them out of sight and out of earshot – into closed rooms, encrypted forums and coded statements. In turn, it deprives us of the opportunity to oppose and discredit these hate-mongers through our own argument and action, through words and counter-demos. Censorship also makes martyrs out of these scumbags. This is why successive UK governments have been warned off banning Hizb ut-Tahrir, because of concerns it would boost the group's recruitment while pushing it underground. You can arrest a man, but you cannot arrest an idea.
As we mourn the most deadly anti-Semitic atrocity since the Holocaust, I fear we are about to repeat another grave historical mistake. Perversely, the rise of the Nazis has been turned into a cautionary tale about the excesses of freedom of speech and the necessity of censorship. Not only does this ignore the Nazis' own brutal suppression of speech, it also ignores the fact that Weimar Germany had what we would now call hate-speech laws. As Greg Lukianoff, president of the Foundation for Individual Rights and Expression, explains, many leading Nazis, including Joseph Goebbels and Julius Streicher, were thrown into prison for anti-Semitic speech. In turn, they used this to present themselves as silenced truth-tellers. Posters were produced of Hitler with tape over his mouth. This notion that hate-speech laws would have stopped the Nazis, even though hate-speech laws failed to stop the Nazis, and arguably actually helped the Nazis, has been dubbed the 'Weimar Fallacy' by legal scholar Eric Heinze, such is its stubborn persistence in our political discourse.
Here's the thing. If we are serious about defeating Jew hatred, censoring Jew haters is the worst thing we could do. Doing so not only corrodes free speech for all, creating more laws and precedents that could one day be wielded against us, all while making heroes out of hate-mongers, it also relieves us of the responsibility of defeating this extremism ourselves. Even though this is the only way it can truly be defeated. Rather than call for more clampdowns, we need to roll up our sleeves and show through our own words and actions – in person, in print, online and on the streets – what solidarity really looks like.
Tom Slater is editor of spiked. Follow him on Twitter: @Tom_Slater_
To enquire about republishing spiked's content, a right to reply or to request a correction, please contact the managing editor, Viv Regan.