We need to fight for our right to protest
The arrests of those republican demonstrators should alarm anyone who believes in freedom.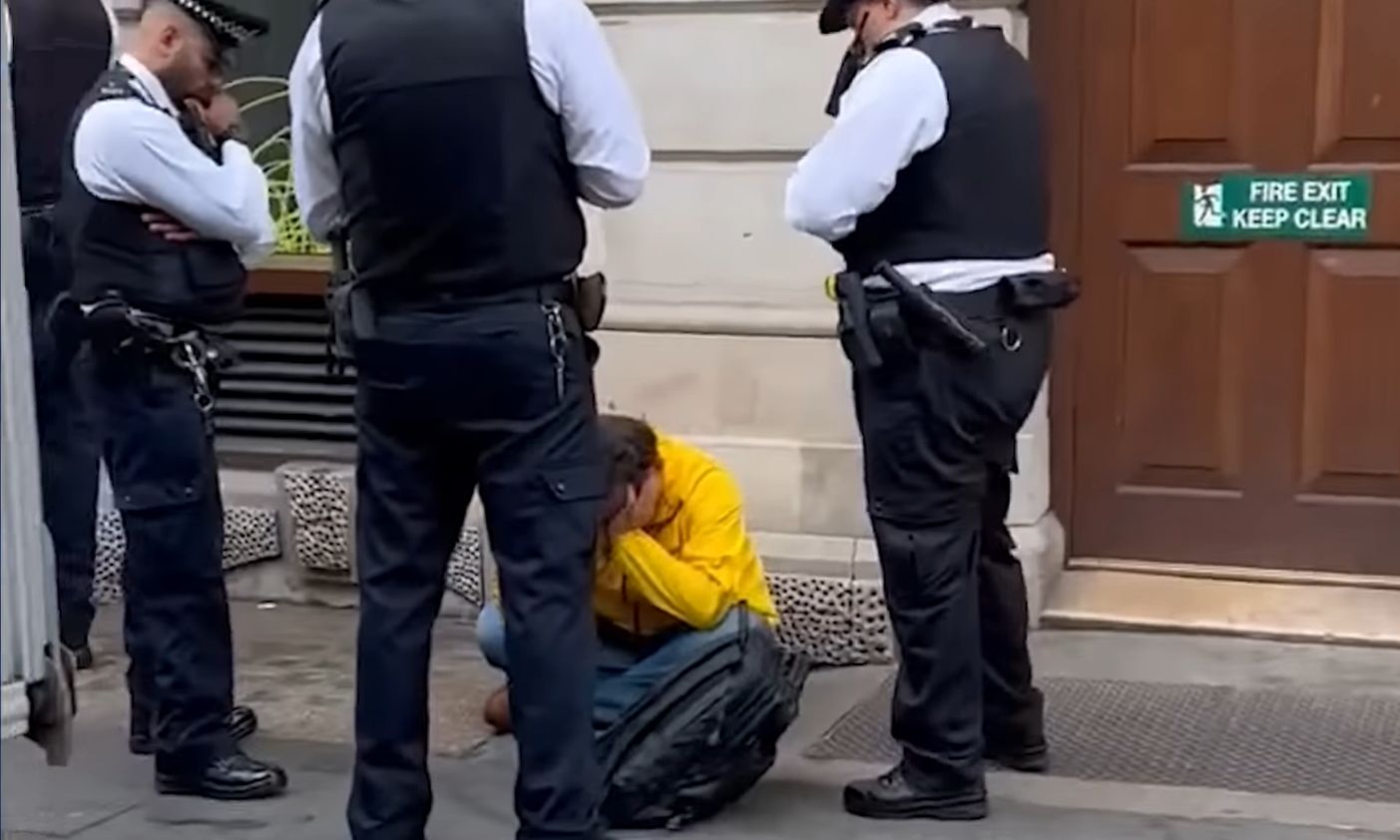 What century is this? The arrest this morning of Graham Smith, CEO of campaign group Republic, and five other activists, who were all about to go on an anti-monarchy demo during the coronation of King Charles, should alarm anyone who believes in freedom and the right to dissent. Smith and Co were handcuffed and had their #NotMyKing placards confiscated before their protest could even get underway, all to spare the blushes of our new monarch. I wonder if they've been sent to the Tower for good measure.
The details remain sketchy. Police have suggested that the protesters were in possession of 'locking-on devices' used by protesters to chain themselves to things to the end of causing mass disruption. The use of these by activists has just recently been criminalised by the UK government as part of its crackdown on protest. But Republic disputes the police's allegations, with one organiser telling BBC News that these alleged 'devices' were just the straps used to package up the placards.
Time will tell. But I struggle to believe Smith and Co did anything to warrant this kind of outrageous police interference. Republic is a moderate campaign group which said it was there to protest peacefully. A group of them planned to stand in view of the royal procession wearing yellow t-shirts, waving #NotMyKing placards and chanting slogans. This is not a Just Stop Oil-style disruptive stunt we're talking about. Coincidentally, 13 members of Just Stop Oil have also been arrested in London today. (And for what it's worth, JSO also claims to have been protesting peacefully.)
Most alarmingly, the Republic activists were arrested before their demonstration even got underway, having apparently committed the protesting equivalent of Philip K Dick's 'precrime'. According to the Independent, they were collared for 'suspicion of conspiracy to cause public nuisance'. This is despite the fact that Smith claimed on Friday that he had been in touch with police about the protest for months and was confident it would go smoothly.
For their part, the police went into the coronation spoiling for a fight, brandishing the new powers given to them by the government and warning they'd have an 'extremely low threshold' for any disruption. Unless some very good explanations are forthcoming, today's antics in London – the kind that would have warmed the hearts of Charles's more autocratic ancestors – will only fuel fears that the cops now possess a blank cheque to crack down on protest however they see fit.
Of course, the police have never needed much encouragement and have long held sweeping powers to deal with protest. Around the time of the queen's death, there were a string of outrageous cases of republicans being arrested for holding up anti-monarchist placards or heckling proclamations ceremonies for the new king, all under existing public-order law. Clearly, we need to fight for our right to protest all over again.
While I'm a proud republican, I hold no candle for Republic itself, which I tend to think embodies all that has gone wrong with the anti-monarchy movement. I wrote an article criticising that lot this morning, arguing that the #NotMyKing protest smacked of a group more keen to signal moral superiority than actually win hearts and minds. But today's events are enough to make me want to head down to Buckingham Palace decked head-to-toe in yellow.
Whether or not you are a monarchist or a republican is irrelevant. This is about the freedom to protest, the freedom to dissent. Unfortunately, we live in an age where too many only ever defend the rights of people who agree with them, and are always conspicuous by their absence when someone whose beliefs they dislike is cancelled or has their collar felt.
If we're honest, the worst offenders on this score are those centrist dads and woke leftists currently tweeting their horror at the outrageous arrests on London's streets today. The brass neck is almost impressive, given the precise same people have spent the past few years calling Britain's free-speech crisis a myth. They have turned a blind eye as literally thousands of 'offensive' social-media users have been arrested by police.
I can only hope today serves as a wake-up call to these illiberal liberals and identitarians – a reminder that you defend freedom for all or for none at all. But I won't hold my breath.
Tom Slater is editor of spiked. Follow him on Twitter: @Tom_Slater_
Picture by: YouTube / Guardian News.
To enquire about republishing spiked's content, a right to reply or to request a correction, please contact the managing editor, Viv Regan.