When did memes become a police matter?
We need to put our dimwitted, would-be Stasi back in its box.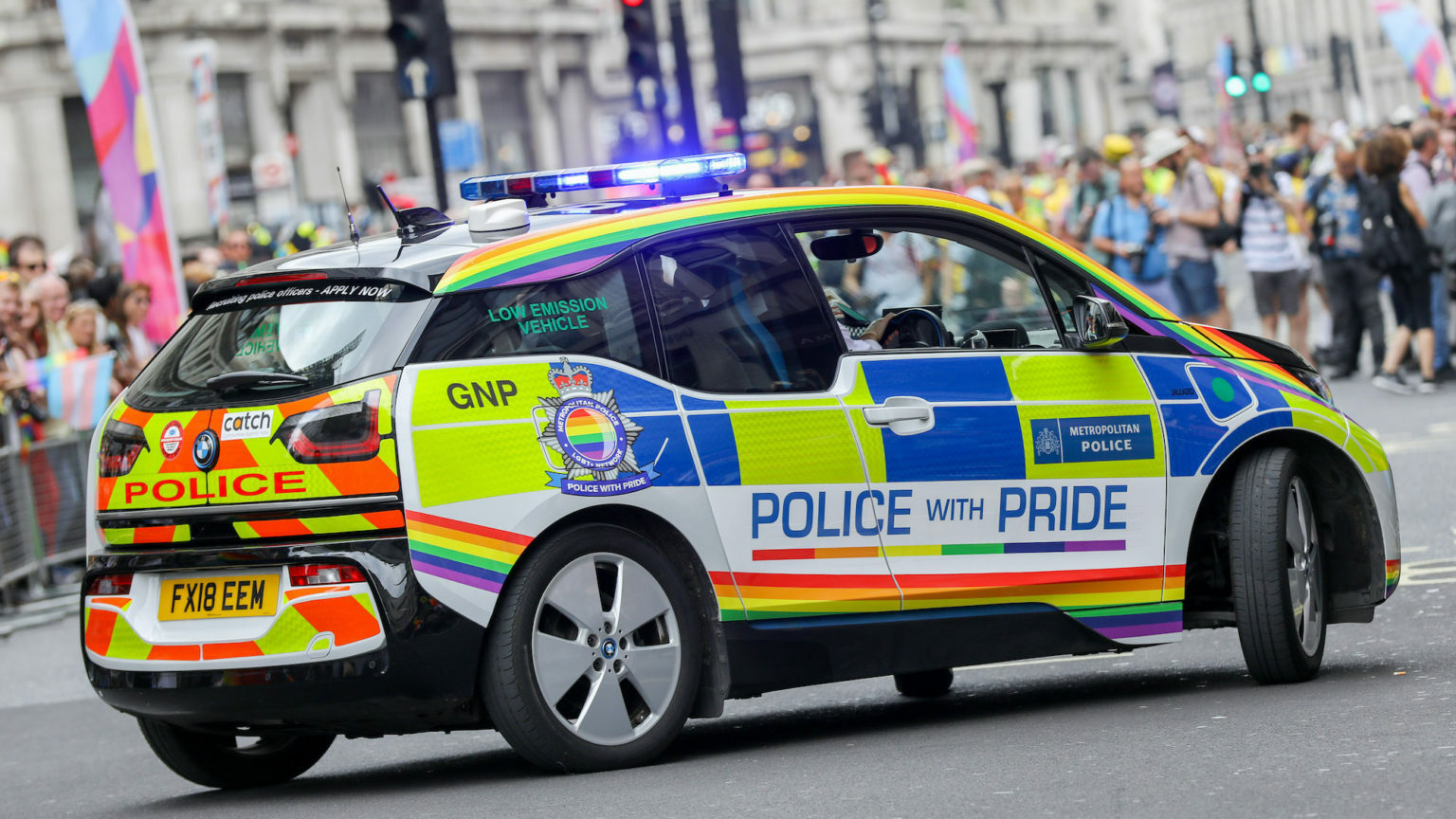 Much of Twitter was aghast at the weekend to see a man arrested live on camera, cuffed and treated with evident hostility and impatience, for having shared a meme on social media.
In scenes reminiscent of Brass Eye, army veteran Darren Brady was told by Hampshire Police that his actions had caused 'anxiety' – and furthermore that, as this was his third strike, action now needed to be taken, ideally in the form of re-education. No one else seemed to be able to hear the deafening warning klaxon that began to sound in my ears at the uttering of these words.
According to former police officer and founder of Fair Cop, Harry Miller, who has himself form as a Poster of Distressing Content, the police had, on the two previous occasions, 'intervened pursuant to a joke about Tom Daley's knitting, and the reposting of a Hitler-in-a-bunker meme'.
Shocking. Is nothing sacred? Well, funny you should ask. Because the crime on this occasion was something very close to sacrilege, it seems.
The meme in question consisted of four truncated 'Progress Pride' flags. These are the ones in which the now rather quaint if not downright antiquated rainbow original is subjected to an aggressively intrusive V-formation of 'black and brown to represent people of colour, and pink, light blue and white to represent trans, gender non-binary, intersex and those across the gender spectrum'. The flags were arranged in a square. The effect is that the recently added invasive delta of the trans identities creates a rather striking Windmill of Hate in the middle. To the trans movement, this must have seemed like something very close to blasphemy.
Indeed, it was first sent viral by the actorvist [sic] Laurence Fox, to highlight the fact that the Pride flag is now considered more sacred than the Union jack, and its defamation more likely to result in censure.
That this arrest rather proved his point – and that some distinctly authoritarian, state-mandated coercion lurks behind the cheerful candy-store colours of that flag – seemed lost on the officers present. It was not lost on a public who are pretty sure this is not what they voted Conservative for, let alone long ago fought a war.
For non-believers like me, it is hard to imagine a context in which this meme would warrant the attention of the police. But in a week when figures were released admitting that police have essentially zero chance of solving tiresome meat-space crimes, such as stolen bicycles, burglary or rape, it is frankly enraging to see them squandering resources on break-time soap bubbles like this.
The hidden hand of the College of Policing is a given in such cases. Not even 10 years old, the college is already notorious for dripping poison into the ears of the force, such as the recently overruled advice that police record all 'non-crime hate incidents' (ie, incidents that are 'perceived to be motivated by hostility but are not criminal offences').
I would frankly like to see this Orwellian grotesque go the same way as the Tavistock clinic, and for much the same reasons – unconscionable mutilations of an otherwise reasonably healthy body.
But it is only one easily identifiable part of the problem, and we must not fall into the trap of scapegoating it and assuming the issue is thus resolved. The police are in a parlous state.
Among our greatest defences against creeping authoritarianism has long been ridicule. Scorn. Abrasive, corrosive laughter, whether from the salon or the end of the pier. From high wit and low. It was there when PG Wodehouse dressed Roderick Spode in his leather shorts to ridicule Oswald Mosely, and it was there in one of the few Jim Davidson characterisations that could still be repeated on TV, the bobby with the enthusiasm for apprehending villains of colour.
When police start regarding ridicule as an arrestable offence, we get into very dangerous waters indeed. And the problem as so often is rooted not in their strength, but in their painful awareness of their own weakness.
We all have memories, don't we? No doubt rose-tinted, but still of some lightly bruising encounter with a police officer, in our youth? He is tall, in our memory, smartly uniformed, and most importantly relaxed. He knew the law, such as it pertained to soliciting, drunken disorder and toe rags on the street trying to flog 'gold-plated' jewellery out of bread-crate on a bin, got up to look like stolen goods rather than just cracker-toy disposable crap. He did not wear a rainbow badge. He had pride in doing his actual job.
And when we needed a stern word and the threat of a clip round the ear to steer us back on to the path of righteousness – and out of some updated scrumping racket, the adults-only games arcade or the slippery slope that starts with helping yourself to the pick'n'mix at Woolies and ends with a sawn-off shotgun and a terrified sub-postmistress showing a bit more gumption that you'd bargained for – there he was.
He worked his patch like a wooden spoon works a pan full of scrambled egg, keeping things moving. No need for aggro and re-education. Presence and authority. Job done.
And he would have had a fairly straightforward if unprintable view about the concept of a 'non-crime hate incident', and about him directing his limited time and resources towards resolving it.
No doubt he was flawed in many ways. His off-duty sense of humour wouldn't have been for everyone. But at least he did not look like a hurriedly manufactured action figure released in time for Christmas to cash in on some unexpected breakthrough kids' film about a chubby chipmunk that becomes a community support officer. A toy, bristling with removable accessories that you can clip on and off his belt and that make a variety of exciting noises. Lockable handcuffs! Pingable taser! Pull his cord – 'I'm calling human resources!'.
Watching the footage from Hampshire, I found myself leaning again on the tacit reassurance that the police's inclinations towards Stasi-hood are in this country tempered by such endemic incompetence and dull-wittedness that It Could Never Happen Here. As if actual police states didn't also start out with officers saying 'obviously' every third word – the reliable tell that there is nothing obvious or indeed coherent about the law they believe themselves to be enforcing.
So. We need to start re-asserting our own sacred values, and making sure the police grasp the majority view on what they are, and are not, there to do.
Jonathan Haidt identified the sacred as a human universal in his book The Righteous Mind: 'We circle around sacred values and then share post hoc arguments about why we are so right and they are so wrong. We think the other side is blind to truth, reason, science and common sense, but in fact, everyone goes blind when talking about their sacred objects.'
For me, and I hope much of the UK, there is nothing more sacred than free speech – including, defiantly, the right to blaspheme. John Stuart Mill emphasised it as a duty to speak your mind, to make that the norm. To create a space, to embrace eccentricity, to raise high the roof beam, to encourage the others. We need to rediscover all that.
I'll leave the last word with Harry Miller, whose pinned tweet says it all. And if that last line strikes you as unnecessarily provocative, you need to read the first bit again:
'Free speech includes not only the inoffensive but the irritating, the contentious, the eccentric, the heretical, the unwelcome and the provocative… Freedom only to speak inoffensively is not worth having.
'Transwomen are men.'
Simon Evans is a spiked columnist and stand-up comedian. He is currently on tour with his show, Work of the Devil. You can buy tickets here.
To enquire about republishing spiked's content, a right to reply or to request a correction, please contact the managing editor, Viv Regan.