The real reason they hate GB News
What Laurence Fox said was odious. But so is the middle-class mob's venomous crusade against GB News.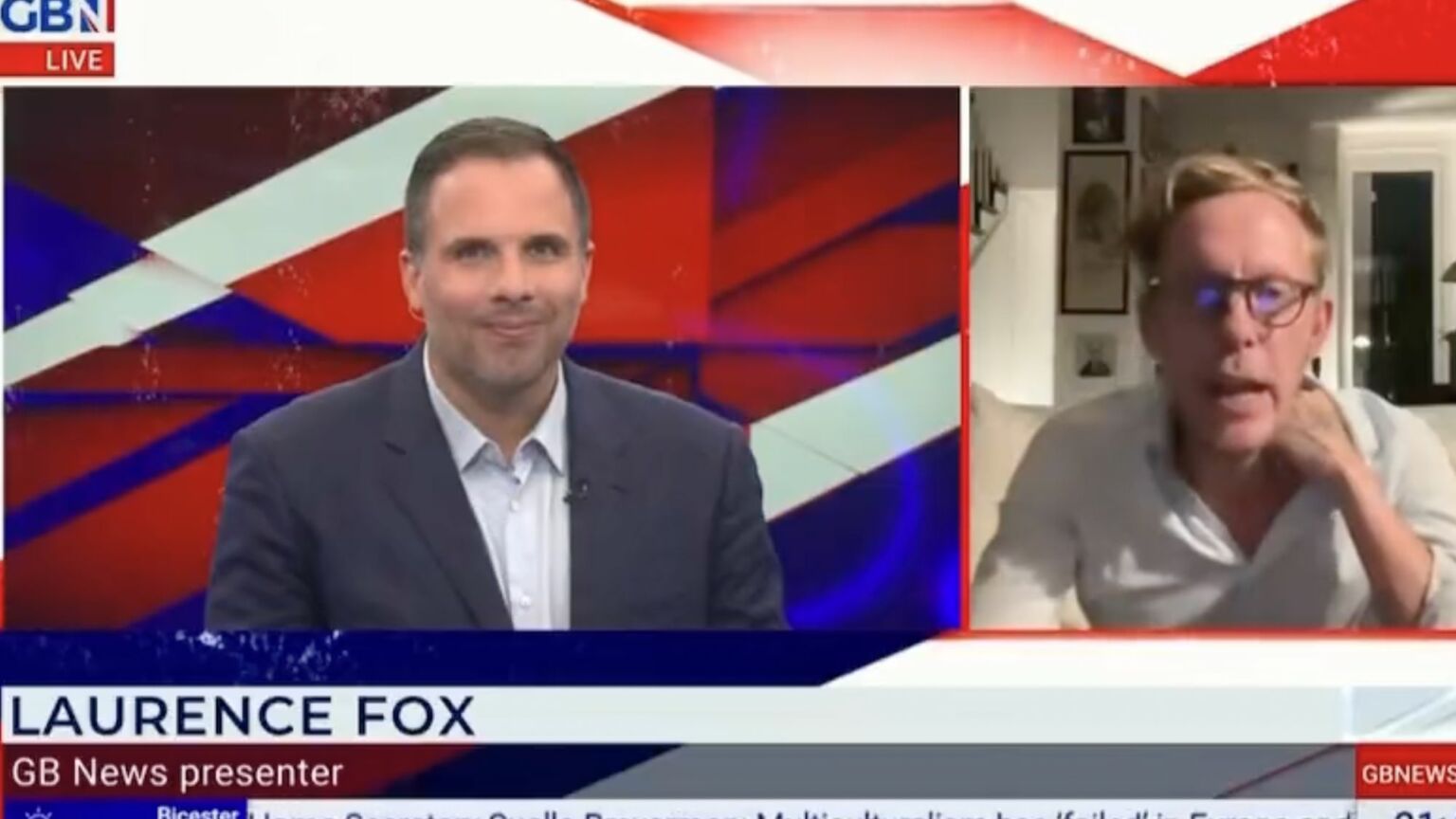 Sometimes a bad thing happens and you just know, right away, that the frothing outrage over the bad thing is going to be even worse. Worse for liberty, worse for society, worse for us all in the long-run. So it is with the latest Laurence Fox scandal.
What Fox said about the political journalist Ava Evans on GB News last night – that no man in his right mind would shag her – was odious. It was juvenile and sexist. Every decent bloke above the age of 17 knows you don't speak about women in that way.
And yet, the fuming reaction to Fox's comments, the middle-class mob that has formed with unholy speed to demand that GB News be officially sanctioned, is more objectionable in my view. It is an objectively greater menace to public life than the chauvinistic blather of a man on the telly. This hopping-mad army of aspiring censors scares me far more than Fox.
This is not a defence of Fox. You'll have to go somewhere else for that. It was nauseating to see him describe Ms Evans, a journalist at Politics Joe, as a 'little woman' and to ask, 'Who'd want to shag that?'. 'Show me a single self-respecting man that would like to climb into bed with that woman ever, ever', he said.
It's the kind of thing you'd expect to hear from a table of pissed teens in a pub. GB News swiftly issued an apology. Dan Wootton, on whose show Fox said those words, also apologised. This morning GB News announced that it has suspended Fox from the channel and will be formally apologising to Ms Evans. Far from being the biliously hateful channel of the bourgeois left's fever dreams, actually GB News is taking this incident very seriously.
It won't stop the pile-on, though. And that's because the pile-on isn't really about Laurence Fox. Or Ava Evans. Or sexism. It's about the virtual left's burning hate for GB News. Their prim horror that there exists a news channel that thinks differently to them. Their staggeringly entitled belief that they should never have to see 'unwoke' commentary on TV. The Fox scandal is a Trojan horse for the longstanding urge of middle-class authoritarians to take GB News down.
Consider their frenzied condemnation of GB News as a cesspit of misogyny. Who are they kidding? For the woke left to call other people sexist is an act of industrial-strength chutzpah.
These are the people who fight for the right of men to strip off in women's changing rooms. Who think rapists should be in women's jails. Who turned a blind eye, or even nodded along, when Róisín Murphy was ferociously set upon by misogynists in gowns for the crime of criticising puberty blockers. Who said nowt when Kellie-Jay Keen was assaulted by a feral sexist mob in New Zealand. Who kept schtum when ex-con turned trans activist 'Sarah Jane' Baker told a crowd in London that if they see a TERF they should 'punch them in the fucking face'. Who are fine with the hounding and censure of women like Maya Forstater, Kathleen Stock, Julie Bindel and far too many others to mention, all for the wrongthink of believing sex is real.
Yes, Fox's comments were loathsome – but so is the hypocrisy of these privileged virtue-signallers who spend their days siding with bepenised people against women and then think they can get on their high horse over a sexist jibe on a news channel. Get real, fellas.
The idea that GB News is an 'institutionally misogynist' channel is preposterous. In truth, GB News has become an essential counterweight to the actually institutionalised misogyny of the 'pro-trans' new elites and their allies in the graduate left. It is GB News that gives a platform to women who've been silenced by the sexist woke media, whether that be author Milli Hill, Helen Joyce of Sex Matters, or lesbian-rights icon Bev Jackson. Andrew Doyle's show in particular is a haven of respect and free speech for women in a heartless media landscape that too often shuts women down if they dare to veer from the establishment narrative on sex and gender.
Even worse than their hypocrisy, though, is their draconianism, their lust for GB News to be shamed and reprimanded and maybe even ended entirely. The virtual clamour for everyone to make a complaint to Ofcom is a chilling reminder of how officious the so-called left has become. We're a long way from Trotsky's insistence that any leftist who seeks to empower the state 'with special means to control public opinion in general, and the press in particular, is a traitor'.
Traitors are everywhere today. 'It is beyond belief that this is allowed to be broadcast', said Owen Jones of Fox's comments. Allowed. Who, in Jones' mind, should have the power to 'allow', and thus presumably to disallow, the making of certain comments? The machinery of the bourgeois state, of course, in this case the government-approved media regulator, Ofcom. 'Do your fucking job, Ofcom', demand other commentators. This is snitching masquerading as activism. What's worse than state authoritarianism? The perma-outraged citizens whose demands for the exercise of state authoritarianism help to imbue it with great moral authority and power.
Of course, Ofcom is listening. Spying an opportunity to demonstrate its mettle, to throw its censorious weight around, it has officially announced that it will rule on the Fox affair 'as quickly as possible'. What a sordid sight: the regulatory regime licking its lips at the prospect of reprimanding Britain's upstart broadcaster, while the intolerant professional managerial elites whoop and cheer.
And those sections of the TV-viewing public that quite like GB News for being positive about Brexit, keen on free speech and sceptical of woke? Screw 'em. Who cares about those lowlifes? Why should gammon, the low-information little people, have a broadcaster that speaks to their concerns? Let them be instructed by the BBC instead.
The new elite has had the knives out for GB News since the start. The posh reactionaries of Stop Funding Hate and Led By Donkeys have noisily agitated for big businesses to stop advertising on the channel, clearly hoping to marshal the unaccountable power of capitalist moralism to the end of shutting down an ideologically errant broadcaster. Ofcom has previously found GB News guilty of breaching impartiality rules. Now the mob wants Ofcom to go further this time.
Anyone who thinks the latest round of spitting fury with GB News is about defending the honour of Ava Evans clearly hasn't been paying attention. No, this is a crusade against difference of opinion motored by censoriousness, classism, hypocrisy and arrogance. Take the riff-raff off the air – that's what they want.
Brendan O'Neill is spiked's chief political writer and host of the spiked podcast, The Brendan O'Neill Show. Subscribe to the podcast here. His new book – A Heretic's Manifesto: Essays on the Unsayable – is available to order on Amazon UK and Amazon US now. And find Brendan on Instagram: @burntoakboy
To enquire about republishing spiked's content, a right to reply or to request a correction, please contact the managing editor, Viv Regan.