'Punch a TERF': the violent misogyny of the trans movement
Woke identitarians have become apologists for violence against women.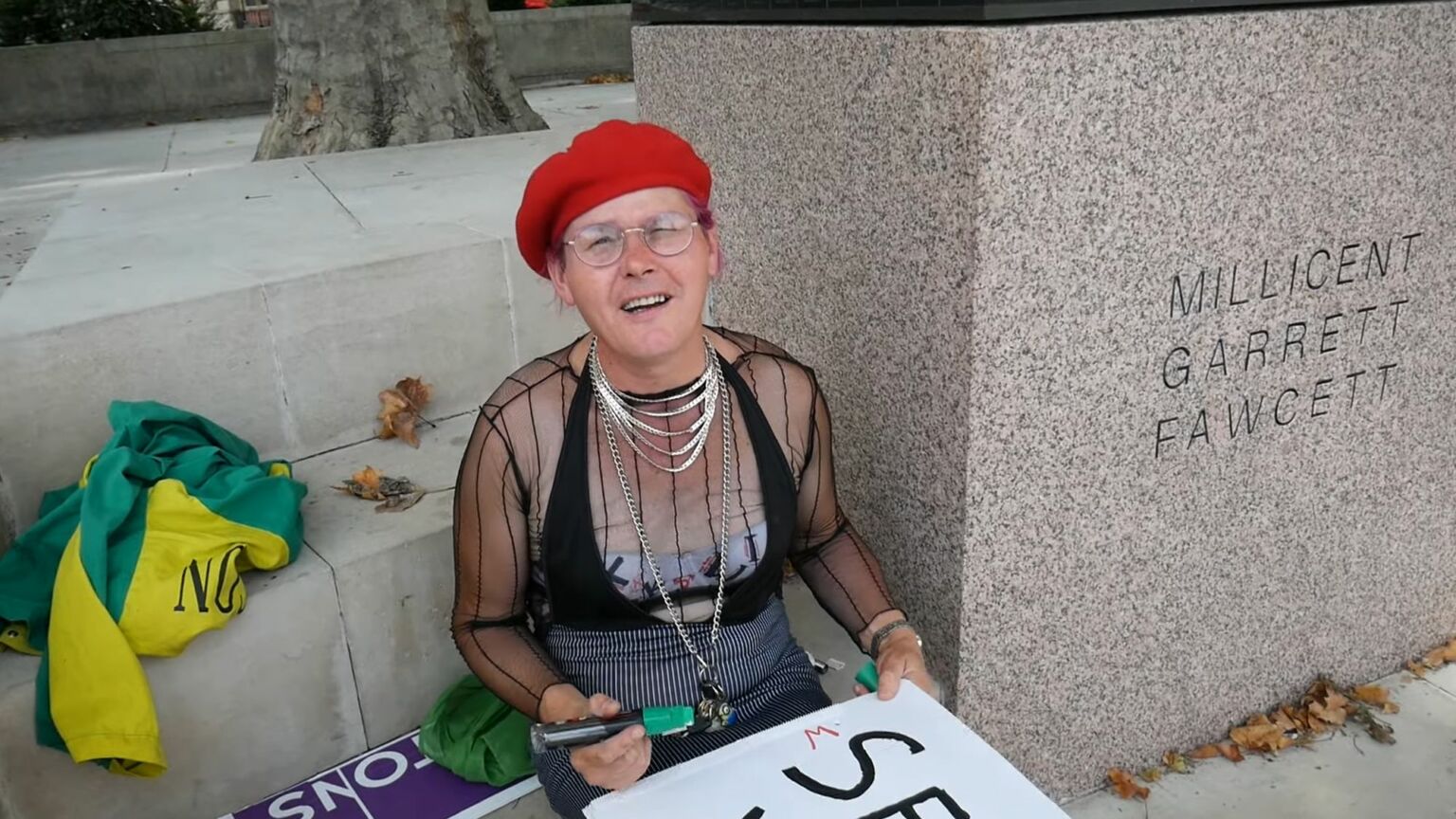 Just when you thought the gender ideologues couldn't sink any lower, they have gone and outdone themselves. Shocking events in London over the weekend have exposed just how demented, and how morally lost, the trans movement and its outriders have become.
At the 'London Trans+ Pride' march on Saturday, Sarah Jane Baker – a violent male ex-con who identifies as a transwoman – took to the stage and advocated for punching so-called trans-exclusionary radical feminists (TERFs), a slur for gender-critical women, in the face:
'I was going to come here and be really fluffy, be really nice and be really lovely and queer and gay and laugh', he told the crowd from the platform. 'But if you see a TERF, punch them in the fucking face.'
Here was a man – who served 30 years in prison for kidnapping and attempted murder – suggesting that women who disagree with him, who want to advocate for their rights, who don't want violent males like him in their changing rooms, should be assaulted. And the crowd responded not with stunned silence, or a collective intake of breath, but with whoops and cheers.
To hear such violent misogyny openly advocated for on the streets of London in 2023 is sickening enough. But what came next was almost worse. The organisers of London Trans+ Pride and a gaggle of Labour figures offered, at best, mealy mouthed condemnations of Baker. At worst, they basically made excuses for him.
London mayor Sadiq Khan has decided not to comment on this shameful incident directly. Meanwhile, the best his press team could muster was this weaselly little statement: 'The mayor is a proud LGBTQI+ ally and has been clear in his support for the trans community. He is also clear that violence is never acceptable.'
More chilling was the response from the organisers of London Trans+ Pride. They basically said Baker's outburst was kind of understandable (after the usual throat-clearing about condemning violence, of course). 'Sarah and many others in our community hold a lot of rage and anger and they have the right to express that anger through their words', its spokesman said.
Then Labour MP Clive Lewis piled in, with the most spectacular bit of whataboutery. 'Advocating violence against others is wrong and this is no exception', he tweeted. 'But as you'll be aware, violent language and actions are not unique to one side on this issue.'
This would be a despicable point to make even if it were true. But as anyone who has been following the gender wars will know, the violence and threats and unvarnished hatred are not coming from the gender-critical side. They are coming almost exclusively from trans activists, who are apparently infuriated by these uppity women's very existence.
Remember British gender-critical activist Posie Parker's trip Down Under in March? It culminated with a peaceful women's rally she organised in Auckland being violently broken up by a mob of men. Parker was assaulted. An older woman was punched in the eye.
Or how about Riley Gaines, the American swimmer who was assaulted at San Francisco State University in April when she tried to speak out against males' inclusion in women's sports? Or Maria MacLachlan, the 60-year-old woman punched in the face by a twentysomething male trans activist, while she was waiting to attend a gender-critical event in Hyde Park in London in 2017?
Then there are the thinly veiled – and not so thinly veiled – threats and jeers that greet gender-critical women when they dare to speak or gather in public. At a recent 'Let Women Speak' rally in Hyde Park, trans activists surrounded the group and began singing: 'The only good Nazi is a dead one, so just go kill yourself.' Gender-critical academic Jo Phoenix was No Platformed at the University of Essex in 2019, following protests from students. In the run-up to the event, a flyer was circulated that read 'SHUT THE FUCK UP, TERF' next to a picture of a gun.
If Clive or Sadiq or the Trans+ Pride crew could point me in the direction of any counter examples, of prominent gender-critical women calling for transgender activists to be physically assaulted, or getting stuck in themselves, or refusing to condemn those who do, I'd be keen to see them. But we all know they don't exist. For all the allegations of transphobia hurled at gender-critical campaigners over the years, they are not the extremists and haters in this debate – and they never have been.
And yet not only are these women ludicrously smeared as a threat to trans life, purely for defending their hard-won, sex-based rights, they are also treated outrageously by the law. Gender-critical women have been investigated, arrested and dragged through the courts for such grave indiscretions as distributing stickers that say 'Women don't have penises' or 'misgendering' someone during a Twitter spat.
By contrast, at time of writing, no police investigation into Sarah Jane Baker has been opened – despite the far more extreme nature of his comments and his extensive criminal record. Baker spent 30 years in prison, originally for kidnapping and torturing a relative, later for trying to kill a fellow inmate. (Baker transitioned in prison and claims to have removed his own testicles with a razor blade.)
Putting to one side the thorny issue of incitement in this case, and the thin line between venting one's rage and directly inciting violence, there is simply no comparison to be drawn between the so-called TERFs and the trans activists. One side is robustly defending their rights against a tide of bigotry and routine harassment by the police. The other are the trans activists – who not only have genuine extremism among their ranks, but also get a free pass for it from Labourites, universities and even the police.
Violent woman-hating has made a comeback in politically correct form. Men are being cheered on at rallies for calling for women's rights activists to be punched in the face. Meanwhile, politicians and activists, who on any other day might fancy themselves as valiant warriors against 'the patriarchy', are either staring at their shoe laces or making excuses for them.
I never thought I'd see the day where self-identified left-wingers became apologists for violence against women. But then nothing surprises me anymore. Gender ideology has rotted their brains – and their conscience. We must confront this woke misogyny.
Tom Slater is editor of spiked. Follow him on Twitter: @Tom_Slater_
To enquire about republishing spiked's content, a right to reply or to request a correction, please contact the managing editor, Viv Regan.