Enough with these phoney free-speech warriors
The outrageous treatment of those republican protesters has prompted an orgy of hypocrisy on the left.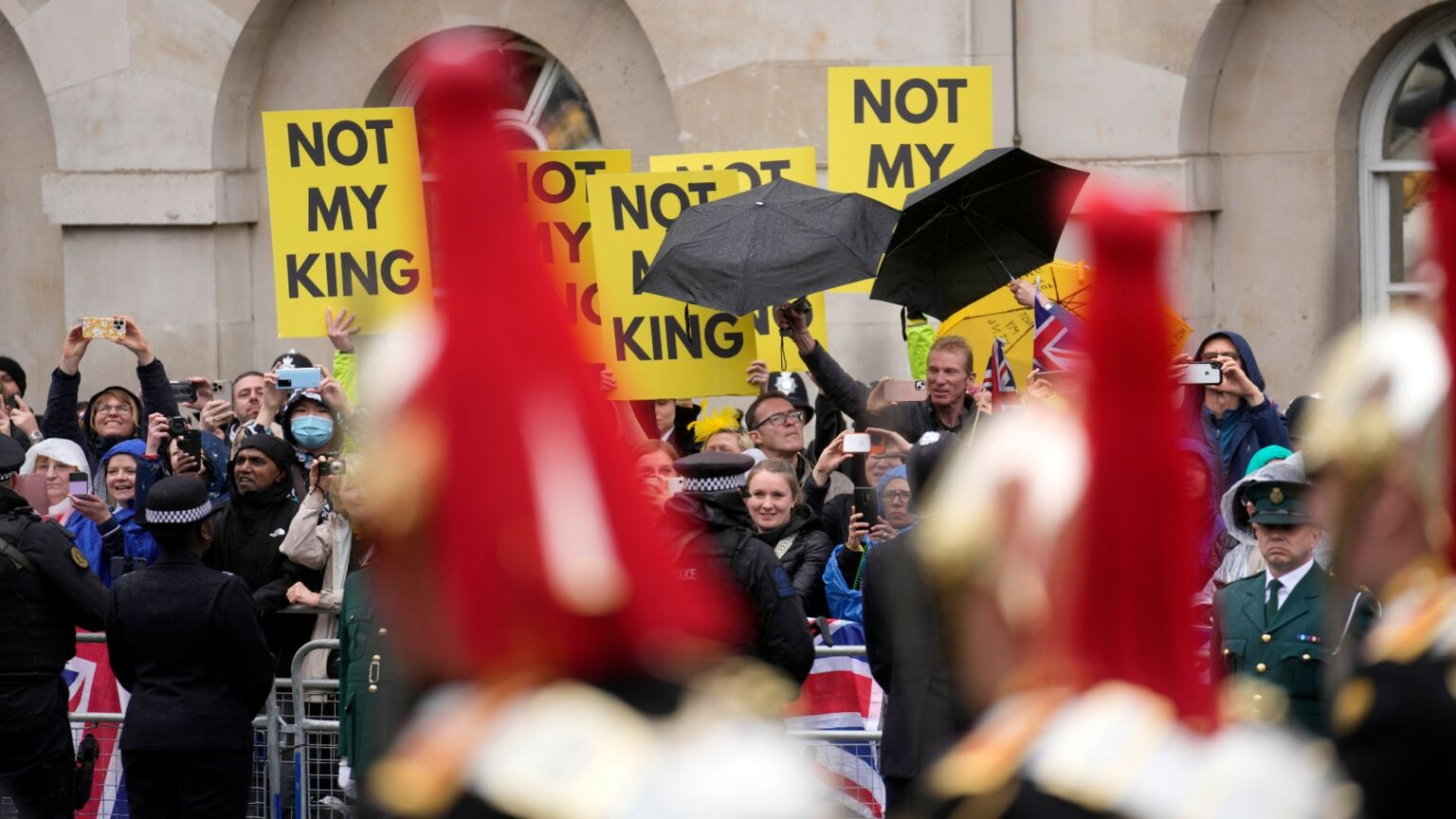 'Where is the free-speech brigade?!' This has been the bizarre cry of the Twitterati following the arrests at the weekend of six anti-monarchy protesters in London ahead of the coronation. All of a sudden, the kinds of people who usually dismiss Britain's free-speech crisis as a right-wing myth, a fabrication of culture warriors, are now fretting over the fall of our most precious liberty.
They are right to condemn the arrests, of course. Graham Smith, head of the Republic campaign group, and five other protesters were handcuffed and had their placards confiscated on Saturday morning, before their demonstration could even begin. At the time of the arrest, the Metropolitan Police suggested that the protesters were in possession of 'lock on' devices and were planning to chain themselves somewhere in order to disrupt the coronation. The Met have now apologised, after a police review found no proof the protesters intended to disrupt the festivities in this way. In other words, a legitimate and legal demonstration was prevented from happening on the flimsiest of pretexts. This was an authoritarian act that should worry anyone who believes in free speech.
The trouble is, many of those who are now complaining the loudest about the arrest don't really believe in free speech at all. LBC's James O'Brien, who has a habit of placing the words 'free speech' in scare quotes, is now trying to channel his inner John Stuart Mill, lamenting that Smith has been 'robbed of something incredibly valuable and precious'. Environmentalist George Monbiot, who regularly fulminates against 'free-speech obsessives' and has denounced 'free-speech absolutism' as 'lethal', claims he is worried about the police being sent in 'to uphold authoritarian values'.
Others have tried to 'call out' those of us who genuinely believe in free speech. Guardian columnist Owen Jones tweeted, sarcastically: 'I can't wait for the "free speech" brigade to be up in arms [over Smith's arrest].' Centrist-dad Remainer Otto English has similarly claimed that 'the absolute silence of the usual free-speech mob is deafening at this point'. This is all despite the fact that the 'usual free-speech mob' – including spiked, the Free Speech Union and broadcaster Julia Hartley-Brewer – responded almost immediately to condemn the arrests.
Those of us in the so-called free-speech brigade are not the hypocrites here. The hypocrites are those like O'Brien, Jones and English who are all apparently outraged about Republic's right to protest being curtailed, but have been completely silent in recent years when other people have been arrested for exercising their right to dissent on the streets or online.
The Republic protesters were arrested thanks to the Tories' new Public Order Act, which includes numerous new restrictions on 'disruptive' protests. Protests have also been curtailed in recent years by the draconian Policing Act, passed by the government last year, which among other measures clamped down on 'noisy' protests.
Our johnny-come-lately freedom-fighters are particularly incensed by these pieces of legislation, some holding the laws up as proof of nascent Tory 'fascism'. But as authoritarian as these laws are – and spiked has opposed them from the off – they didn't appear out of nowhere. Britain's public-order legislation has long curtailed the right to protest. What's more, this most recent clampdown on protest came after the Covid restrictions of 2020 and 2021, which criminalised demonstrations for months on end, and which sparked precious little opposition from the metropolitan great and good.
In November 2020, police arrested over 150 anti-lockdown protesters at one demo alone. Protesters faced extraordinary punishments, too. In August 2020, anti-vax agitator Piers Corbyn (older brother to Jeremy) was held by police for 10 hours and was fined £10,000 for organising a rally of more than 30 people.
Liberals and left-wingers not only failed to stand up to these restrictions, they also cheered them on. 'Never thought I'd be relieved to be placed under house arrest along with millions of people under a police state by a right-wing Tory government', tweeted Owen Jones, just after the first lockdown was imposed in March 2020.
Clearly, many of those now defending Graham Smith and Republic's right to protest have no interest in defending the right to protest across the board. When people they disagreed with were being arrested for protesting, they were nowhere to be seen.
This hypocrisy goes beyond the right to protest, too. Although the woke left and illiberal liberals have long declared the free-speech crisis to be a myth, the truth is that thousands of people are arrested in Britain every single year over what they say on social media. A 2017 investigation by The Times suggested that nine people per day in England and Wales were being arrested at the time for offensive online speech.
In many of these cases, people have been criminalised merely for expressing a dissenting opinion. Take that of Marion Millar in Scotland in 2021. She was charged with a hate crime and could have faced six months in prison for her gender-critical tweets. One of the tweets she was charged for was a photo of a ribbon in the Suffragette colours, which trans activists ludicrously claimed was a noose. Her case was eventually dropped, after several hellish months, just before it reached court. Tales like Millar's are more common than you'd think, and yet they are ignored by the very people who now claim to be standing up for freedom of speech.
So yes, following those arrests at the coronation we have witnessed an orgy of hypocrisy. But the hypocrites have been the woke leftists and illiberal liberals, who are now pretending to care about free speech while denouncing those who actually believe in it.
To enquire about republishing spiked's content, a right to reply or to request a correction, please contact the managing editor, Viv Regan.