The shameful treatment of Marion Millar
The police pursuit of this gender-critical feminist shows how fragile free speech is in Britain.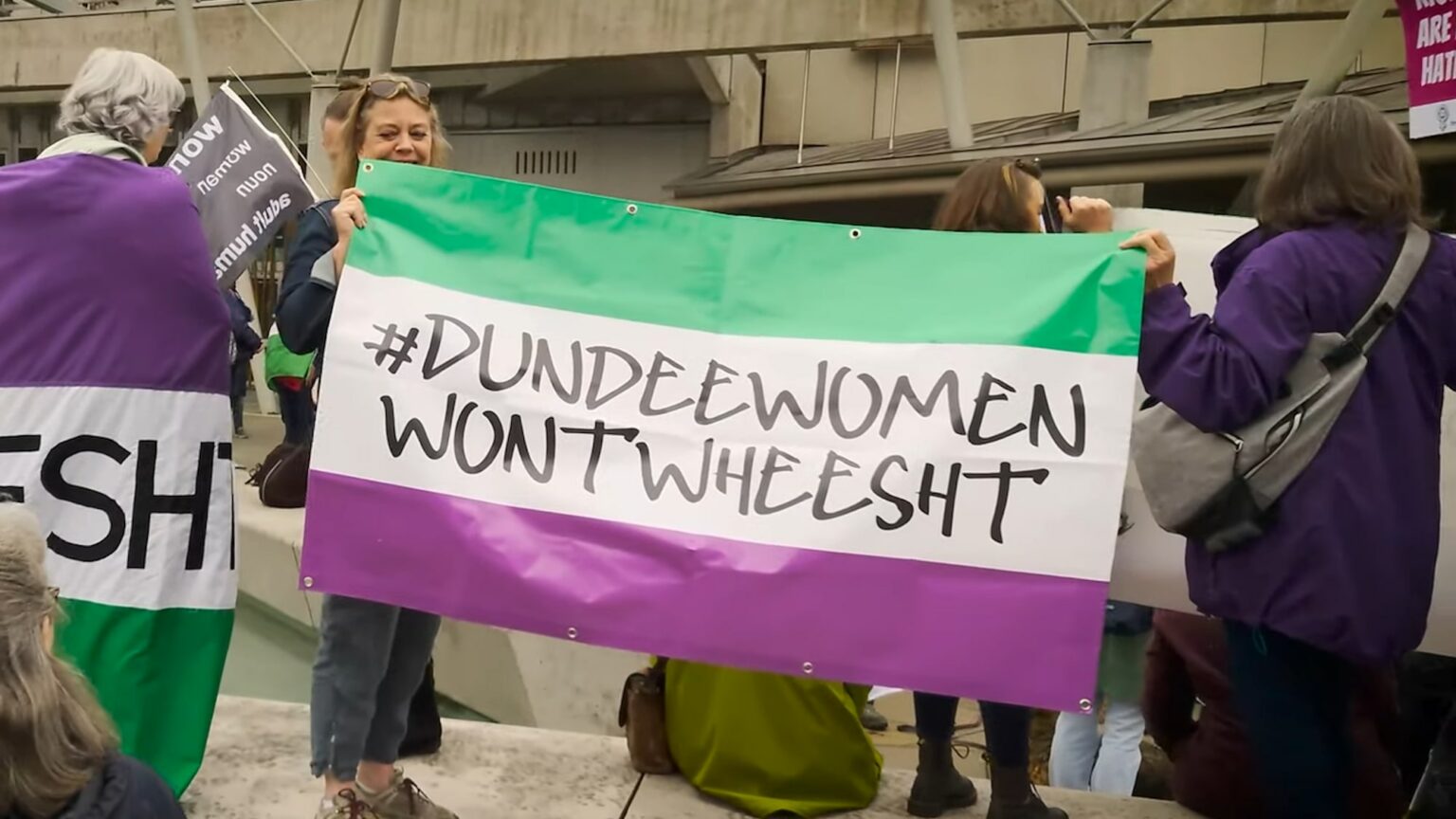 Finally, Marion Millar can begin to relax. Over the course of several stressful months, the 55-year-old feminist, accountant and mother of six has been accused of committing a hate crime, been questioned by police, had charges brought against her, and had to crowdfund legal fees and attend court, all while facing the possibility of a six-month prison sentence. Millar's life has been made a nightmare – and for nothing more than posting her views on Twitter.
Now the ordeal is as good as over. Scotland's Crown Office has discontinued all legal proceedings against Millar ahead of a court hearing that had been scheduled for Monday. A review of the case with the alleged victims still needs to be undertaken, but prosecution is now far less likely.
It would be entirely understandable if Millar just wants to put this horrendous experience behind her. But the rest of us need to ask how it was that she ever came to be questioned by police, let alone threatened with imprisonment, in the first place.
Millar has been a longstanding and vocal supporter of sex-based rights for women. She is opposed to gender self-identification – the bizarre notion that bodies and biology count for nothing and that people can become men or women just by declaring that is how they feel. When Millar shared her gender-critical and feminist beliefs on Twitter, a tiny bunch of transgender activists were angered and reported her to the police, accusing her of posting homophobic and transphobic material online.
One of Millar's tweets that roused particular ire showed a photograph of a bow of ribbons tied around a tree. The ribbons were green, white and purple – colours widely known to be associated with the Suffragettes. This prompted complaints to the police that the ribbons represented a noose. And incredibly the police took the complaints seriously and treated the tweet as a hate crime.
For this and other tweets Millar was charged with directing threatening or abusive behaviour at three people, including a police officer, between October 2019 and June 2020. The charges also alleged that she wrote personal and false information relating to a female police constable on social media and that her conduct was 'aggravated by prejudice relating to sexual orientation and transgender identity'.
We need to cut through this hysterical language. Talk of 'threatening or abusive behaviour' is out of all proportion to anything Millar tweeted. Words are not violence. And as is often the case with many recorded hate crimes and so-called non-crime hate incidents, we find that one of the alleged 'victims' is a police officer. The state is literally paying police officers to take offence and then pursue those who have offended them. It is vital that we have the freedom to criticise bad laws and stupid ideas – even when doing so upsets the very same people paid to enforce those laws.
It is good that the Crown Office has decided to discontinue its prosecution of Millar. But having faced several months of investigation and the ordeal of having to prepare for court cases, Millar has already endured a harsh punishment. Discontinuing the case now denies Millar her day in court and her chance to be fully exonerated. Her prosecutors have left the threat of potential future action dangling over her. By doing so they are sending a warning to uppity women everywhere: shut up or else you'll be next.
One positive to come from Millar's case is that she has attracted widespread support and brought global attention to the threat that gender self-identification poses to women's rights. Women from around the world have posted messages of solidarity with Millar online, and a large crowd gathered outside the Glasgow court when her preliminary bail hearing was held to stand alongside her in person. Many of them were wearing t-shirts emblazoned with the slogan popularised by Millar – 'women won't wheesht' ('women won't shut up').
Rather than celebrating the fact that Millar will no longer be appearing in court on Monday, we need to push back against the illiberal and censorious hate-crime laws that gave the prosecutors grounds to pursue a case against her in the first place. Unfortunately, with the government currently weighing up yet more legislation to regulate 'online harms', it seems that activists with a political axe to grind will soon be further emboldened to report and silence anyone expressing views they find offensive.
No one should have to suffer the ordeal Millar has been through simply for stating their views – however forthright their language or blunt their expression. The risk here is that, even without a prosecution, Millar's experience acts as a warning that it is best to keep quiet and not say what we really think. We must reject this, and make clear once and for all that women won't wheesht.
Joanna Williams is a spiked columnist and the director of Cieo.
Picture by: YouTube.
To enquire about republishing spiked's content, a right to reply or to request a correction, please contact the managing editor, Viv Regan.