Yes, we should 'kill the bill'
But the Policing Bill is hardly the only threat to our freedoms.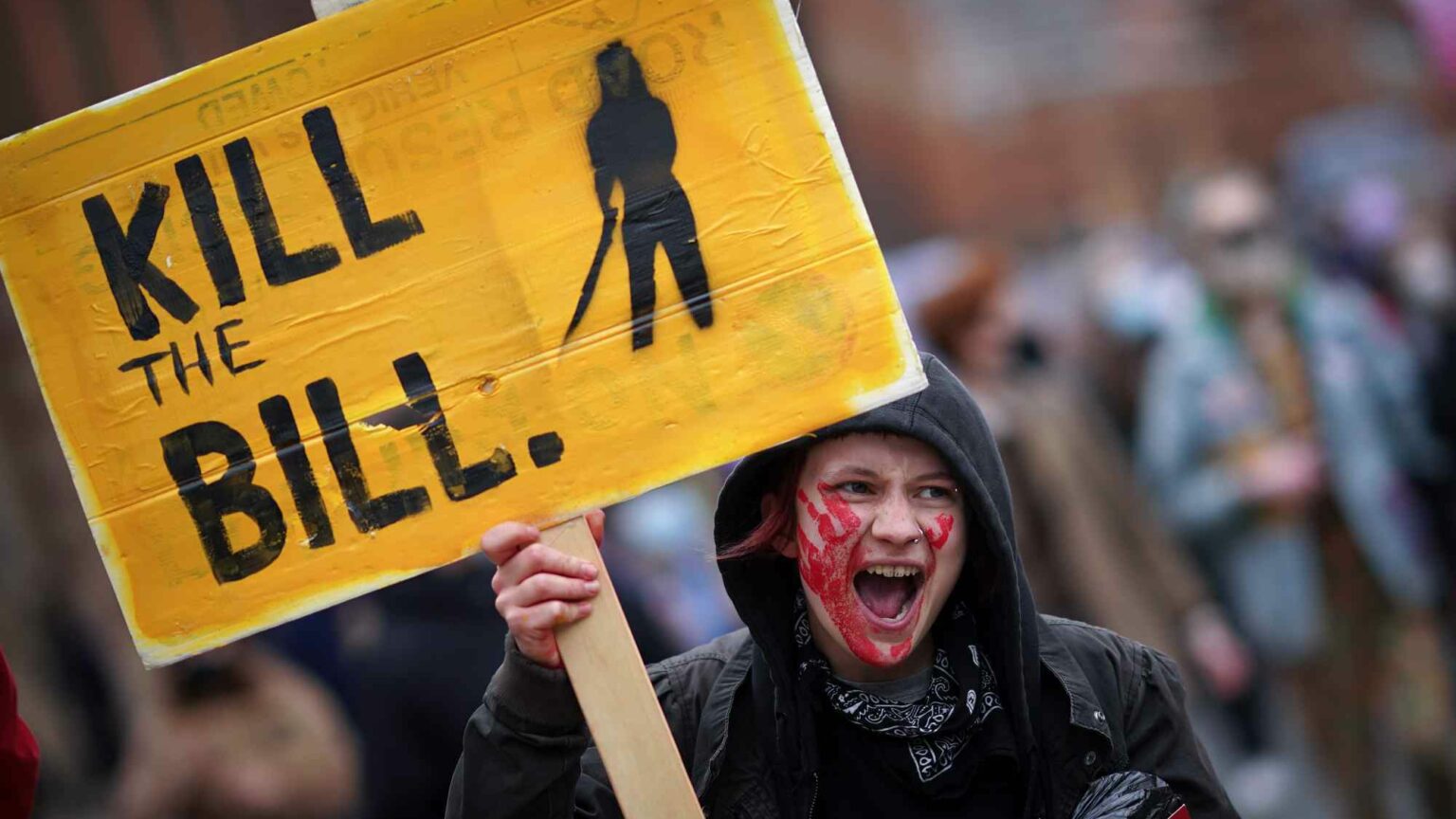 The government has suffered a series of defeats in the House of Lords over its Police, Crime, Sentencing and Courts Bill. Peers rejected plans to give the police in England and Wales new powers to stop protests that are deemed too noisy and disruptive. Other proposals defeated in the Lords included plans to make it illegal for protesters to lock themselves to things, and new police powers to stop and search people to prevent them from taking part in illegal protests.
The Lords' opposition to the bill came on the back of widespread protests, which took place across the UK over the weekend.
The Policing Bill has prompted criticism ever since it was drawn up last year. It has been described by campaigners as a serious clampdown on civil liberties. It would allow the police to impose severe controls on protests, and make it easier to prosecute protesters by criminalising those who cause 'serious annoyance' in a particular locality.
So let's be in no doubt here – this is a draconian piece of legislation. It would represent a serious assault on our freedom to protest. But something about the backlash against the bill feels very hollow.
First, those cheering on the Lords for defeating parts of the bill should be careful what they wish for. The House of Lords is no friend of freedom. Indeed, it is better that a bad law is passed by a democratically elected legislature than it is to have one rejected by an unelected, anti-democratic body like the Lords.
Second, it is important to note that the right to protest is not absolute. Blocking a motorway because you want houses to be insulated, as eco-activists Insulate Britain did last year, or preventing access to an abortion clinic, as countless pro-lifers have done, should not be tolerated. The police should have the power to clear protesters where they are stopping people from accessing vital services. The idea that ending these kinds of protests is 'draconian' will strike most people as bonkers.
And third, there is something a little unprincipled and opportunistic about the opposition to this particular bill. Where were these supposed champions of liberty during the most significant attack on our civil liberties in peacetime? Where were they when anti-lockdown protestors were being arrested and prosecuted during the pandemic?
Too many of the bill's opponents treat it as if it has come out of nowhere. It is talked of as a uniquely appalling assault on civil liberties brought about by an evil Tory government. So one Labour hack claimed that the bill would help transform Britain into a 'police state'. And one protester said that the bill would turn the UK into a state like Russia.
This doesn't ring true. A succession of Public Order Acts, which were introduced by both Labour and Tory governments, have already provided the police with extensive powers to curb protest. And individuals can already be subject to criminal sanction for breaching community protection notices (CPNs) and public space protection orders (PSPOs), which are used by councils and other agencies to ban certain activities. Indeed, these orders can be imposed by local authorities on individuals deemed to be 'having a detrimental effect on the quality of life of those in the locality' – in other words, by causing serious annoyance.
Opponents of the Policing Bill seem to think our civil liberties are only now under threat from a single piece of legislation. But that is simply not the case. Public Order Acts, CPNs and PSPOs, not to mention three decades of anti-social behaviour laws, have already accustomed us to the idea that the police and other state bodies should have ever greater involvement in and control over our lives. This bill is therefore merely one more stage in the steady, decades-long expansion of state power over civil society.
We should certainly kill the bill. Such an authoritarian piece of legislation has no place in a democratic society. But after close to two years of state-imposed restrictions on our lives, and after years of draconian public-order legislation, reclaiming our freedoms has to be about more than 'killing' a single bill.
Luke Gittos is a spiked columnist and author. His latest book, Human Rights – Illusory Freedom: Why We Should Repeal the Human Rights Act, is published by Zero Books. Order it here.
To enquire about republishing spiked's content, a right to reply or to request a correction, please contact the managing editor, Viv Regan.