The staggering ignorance of the know-it-all Remainers
Marina Purkiss's car-crash GB News interview reveals the hollowness of the #FBPE worldview.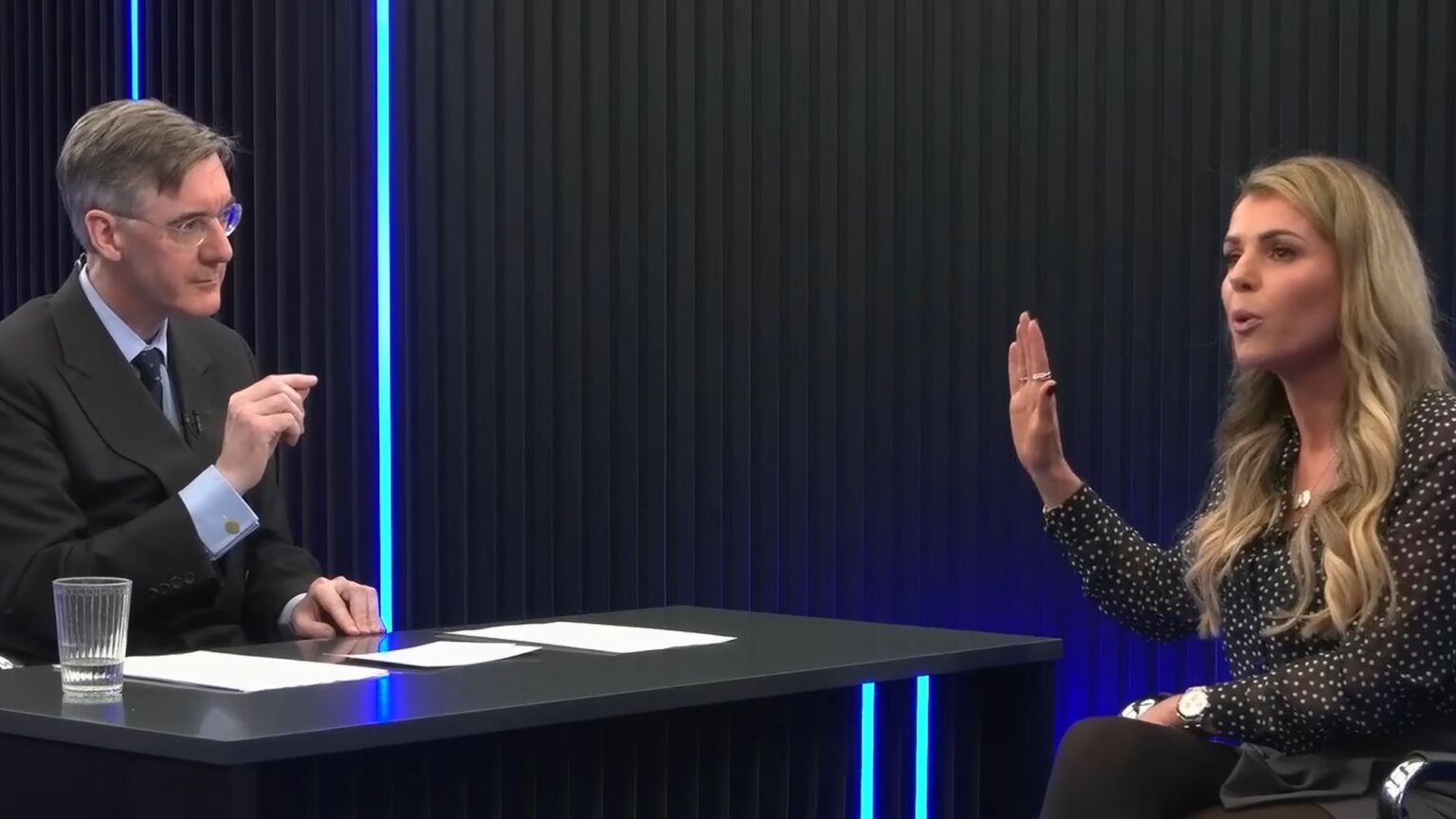 It takes a special kind of pomposity to make Jacob Rees-Mogg look down-to-earth, but Remainer commentator Marina Purkiss managed to do just that last night, during a car-crash interview with Rees-Mogg on his GB News show.
I'm now ten minutes late for work
pic.twitter.com/v0vjDyFS98

— Jeremy Vine (@theJeremyVine) April 26, 2023
For those unfamiliar with Purkiss, she has become something of an #FBPE influencer in recent years, racking up hundreds of thousands of followers. She appears regularly on daytime-TV panel shows and is a host on Byline TV (the audio-visual spin-off of the conspiratorial Byline Times). She is the kind of person who thinks she is 'holding the government to account' by sharing hysterical threads on Twitter.
In her interview with Rees-Mogg, which has since gone viral, Purkiss sounded off about everything from the culture war to Brexit to the cost-of-living crisis. She clearly thinks she's figured it all out. Everything bad, she proclaimed, is the fault of the Tories and / or Brexit. The world could easily be a better place, she seems to think, if only the government stopped 'distracting us' with the culture war and stopped telling us so many lies. To call this a sixth-formerish understanding of politics would be ungenerous towards the nation's sixth-formers.
Predictably, she has no time for freedom of speech or for debate. Each time Rees-Mogg suggested that the right to speak and be heard might be important, and not some culture-war distraction, she responded with a flat 'No'. 'Freedom of speech… won't put food on the table', she insisted. 'You tell me how freedom of speech is going to make people's lives better in this country, after it's been decimated by things like your Brexit', she proclaimed indignantly. She is apparently unaware of the polls showing the huge numbers of ordinary people who are fearful of the creep of censorship.
On the culture war, Purkiss wants to have her cake and eat it. The likes of Roald Dahl shouldn't be rewritten, she conceded last night. But she also seems to think we shouldn't speak out about these acts of censorship when they happen. Why? Because doing so would help the Tories in their nefarious campaign to distract us from all the 'real' issues.
In one astonishing moment, she raised the recent renaming of Black Boy Lane in Haringey, north London. Believing she had found a winning line, she insisted that 'If you had a street named White Trash you might want to rename it'. Why Purkiss considers 'black boy' to be a slur on a par with 'white trash' was never made clear.
Whenever Rees-Mogg tried to catch his breath, she accused him of lying. He is a 'con man', who 'uses [his] platform to lie to people', she said. 'Do you believe your lies?', she asked him, incredulously. 'What you lot are doing in government is disgusting. You lie and you lie, and you've got no contrition for what you've done to people.' For Purkiss, politics is simple. It's a contest between good people who tell the truth, and bad people who tell lies. 'I just realised I was a decent person', she said of her own political awakening.
Although Purkiss no doubt sees herself as a valiant truth-teller, a slayer of Brexiteer lies, she is herself prone to spreading misinformation. Some of her claims in the interview were downright outlandish – such as her factoid that the UK has the 'highest energy costs on the planet'. Anyone following the energy crisis will know that Germany's prices are far higher than Britain's (and have been for some time). Then she accused Rees-Mogg of cherry-picking inflation data to downplay the costs of Brexit. But as Rees-Mogg correctly pointed out, UK inflation is currently no worse than in the EU. Purkiss apparently confuses the silliest and most easily debunked Remoaner talking points for cast-iron facts.
Strangest of all is that Purkiss seems to be proud of her performance last night. Certainly, the #FBPE set has been cheering her to the rafters since the interview. LBC's James O'Brien seems to think she dismantled Rees-Mogg with 'consummate ease'. Remain campaign group Best for Britain has lauded her 'complete, joyous destruction' of the Tory MP. Clearly, in the minds of the midwitted Remainers, Purkiss's shrill, uninformed pronouncements are what passes for sensible political critique.
As for the rest of us, this car-crash interview revealed the staggering ignorance, and arrogance, of know-it-all Remainers. It's time we all stopped taking these people so seriously.
Fraser Myers is deputy editor at spiked and host of the spiked podcast. Follow him on Twitter: @FraserMyers
Picture by: YouTube / GB News.
To enquire about republishing spiked's content, a right to reply or to request a correction, please contact the managing editor, Viv Regan.