Ralph Yarl and the poison of identity politics
This awful shooting is being used to peddle divisive racial myths.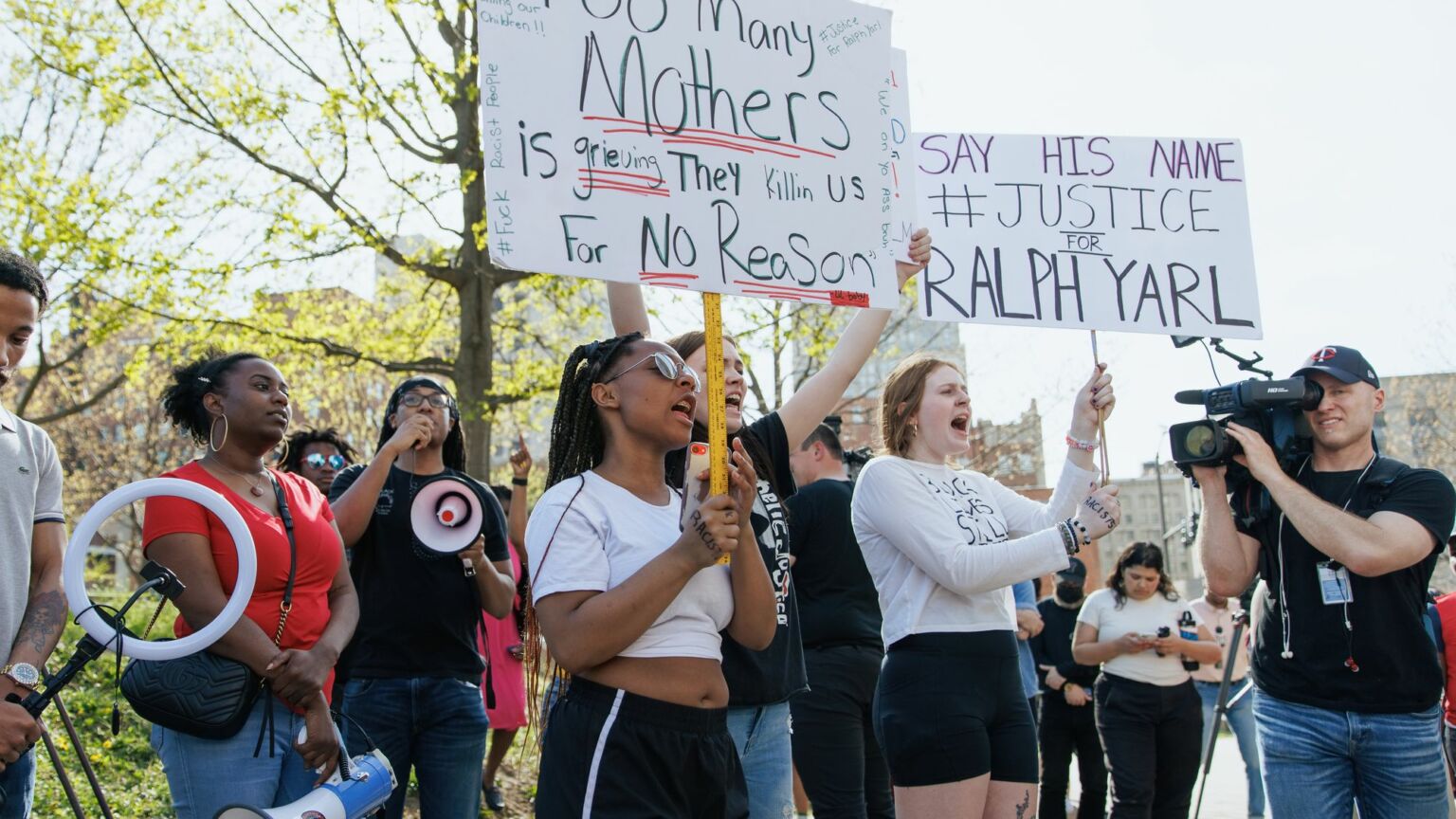 It's a miracle he's still alive. Sixteen-year-old Ralph Yarl, a schoolboy from Kansas City, Missouri, was shot in the head and arm last Thursday night. He had gone to the wrong address, pulling up outside a house on Northeast 115th Street, instead of Northeast 115th Terrace, which is just a block away. Yarl knocked on the door, expecting his two younger siblings to come running out (he'd been asked by his mother to collect them early from a sleepover). Instead, he was shot at twice by 84-year-old Andrew Lester from the other side of the threshold. Lester claims he feared for his life – and that Yarl was pulling at the door handle (a claim Yarl denies). Incredibly, mercifully, Yarl is not only still with us, but is also expected to make a close-to-full recovery. Lester, meanwhile, has been charged with first-degree assault and armed criminal action. If convicted, he will likely spend the rest of his life in prison.
But with the remarkable, welcome news of Yarl's survival came the dreadfully predictable, politicised response to the attack. In the days following it, before the full facts had even begun to be established, the shooting was reflexively labelled a racist crime. 'This boy was shot because he was existing while black', said Kansas City mayor Quinton Lucas. 'Ralph Yarl was shot because he was armed with nothing other than his black skin', said Lee Merritt, an attorney for the Yarl family. When asked on CBS to specify the 'racial components' in the case, Merritt responded, glibly: 'There's some obvious racial elements, there's a white shooter, it's a black boy. The white shooter perceives the black boy as a threat, and we hear that a lot, right?' Famed Black Lives Matter attorney Benjamin Crump, who is also representing the Yarls, said 'we can only imagine [what would happen] if the roles were reversed'. The Atlantic published a bewildering piece, likening the threat of white violence against black Americans today to the darkest days of segregation, even coyly suggesting things may have been safer back then: 'At least in Jim Crow-era sundown towns', wrote Imani Perry, referring to the white towns that would demand blacks leave at sundown or else, 'there were ostensibly safe hours to be black on the street'. President Joe Biden has invited Yarl and his family to the White House, when he's feeling better.
Scan a news story or scroll Twitter and you'd be forgiven for thinking this was an open and shut case of racist violence – that a hateful old white man had shot a black boy either because he felt he could or because his obvious biases predisposed him to pull the trigger. The reality, at this point in the investigation at least, is a lot murkier. No one is questioning Yarl's innocence in all this – by all accounts, he was in the wrong place at the wrong time. Nor is anyone seriously suggesting that Lester responded in a rational or defensible manner. But while race has dominated the discussion of the charges, it doesn't feature in the charges themselves. Clay County prosecuting attorney Zachary Thompson has said there is a 'racial component' to the case, but as Associated Press reports 'there is not a racial element to the legal charges that were filed'. Thompson, when pushed, said he was merely 'echoing the words from law enforcement' when he spoke of the racial dynamics at play. As it stands, the only person who has alleged that Lester harbours racist views is his estranged nephew, Klint Ludwig. Ludwig told CNN this week that Lester is 'just a stock, American Christian male' complete with 'racist tendencies and beliefs', but struggled to provide any particular example. Other relatives have disputed this characterisation of him. Meanwhile, Lester's neighbours have painted a picture of an isolated elderly man, living alone since his wife was taken into a nursing home, with a yard full of 'no trespassing' signs.
In time, proof of Lester's alleged prejudice may well emerge. We should wait for all the facts before rushing to judgement. The point here is that too few journalists or politicians even waited for the dust to settle before they set about turning Yarl into the next BLM figurehead. Of course, this isn't the first time that The Narrative has run so far ahead of the facts where violence and race in America are concerned. There have now been a string of police shootings, for instance, which were reflexively labelled acts of racist police brutality, before more evidence emerged suggesting otherwise. Almost all of them involved the Yarls' lawyer, Benjamin Crump – who alongside being a prominent civil-rights attorney has published a bestselling book arguing that a 'legalised genocide' against black Americans is underway. He represented Jacob Blake, who was shot in Kenosha, Wisconsin in 2020 as he reached for a knife. It was later reported that police were 'attempting to arrest him for violating a restraining order stemming from an alleged sexual assault' (Blake had reportedly showed up at the house of his alleged victim, who called 911). Crump also represented Tekle Sundberg, a troubled young man shot and killed by police last year after an hours-long standoff in Minneapolis. Sundberg had fired his gun into his neighbour's apartment, occupied by a young mother and her two black children. The case of Tyre Nichols, the young black man who succumbed to his injuries earlier this year after being beaten to a pulp by police officers, was also taken on by Crump. Crump insists racial bias was also at play in Nichols' death, even though the cops who battered him also happened to be black.
Just as it is wrong and irrational to assume that every violent or fatal encounter between police and black Americans is racist, the same is true for violent or fatal encounters between ordinary black and white citizens. To always assume racism is not only irrational and unjust, undercutting our ability to work out what happened in any particular case and assess any prejudices that may or may not have been at play. It is also bound to spread needless fear, suspicion and division between groups. To suggest that 16-year-old black boys are essentially playing Russian roulette whenever they knock on an old white man's door, as has been suggested in the wake of Yarl's shooting, is lurid and untrue. The vast majority of violent crime in America is intraracial – that is, it takes place within racial groups, whether that's white-on-white or black-on-black. If the goal here is a post-racial society, then lying to black Americans about the threat they face from alleged hordes of racist whites is a curious way to go about achieving it. You can only conclude that division is the aim of these activists.
What's more, this tendency risks ushering in a kind of perverse hierarchy of tragedies – whereby attacks with a white perpetrator and black victim are given elevated status, even where no clear-cut racist motive exists, while others are treated as mere statistics, as horrible, inexplicable acts of violence. 'If Ralph was white, he would be playing with his siblings right now', tweeted America's preeminent racial identitarian, Ibram X Kendi, last week as Yarl was recovering in hospital. Versions of this point have been repeated ad nauseam across the woke Twittersphere, even though an obvious counter-example is staring everyone in the face. On 15 April, two days after Yarl was shot and two days before Kendi posted that tweet, white teenager Kaylin Gillis was shot and killed in Hebron, New York. Gillis and her friends had also ended up at the wrong house and were shot at as they drove away, according to her boyfriend.
There has been a spate of similarly senseless acts of violence across America in recent weeks. Such as the two cheerleaders who were shot in a Texas carpark after one of them accidentally tried to get into the wrong car. And the six-year-old girl in Florida who was shot at and wounded after some other children went into the alleged gunman's yard to retrieve a basketball. And the grotesque mass shooting at a 16th birthday party in Dadeville, Alabama last week, where four young people were killed and 32 were injured. (You can't help but feel that the response to that particularly horrific mass shooting has been somewhat muted, given the fact that both the victims and alleged perpetrators were black.) As it stands, none of these victims or their families has been invited to the White House, presumably because they don't furnish any neat racial narrative.
Most importantly, those racialising violent crime in this way – casting almost any violent encounter between a white perpetrator and black victim as yet more proof of white supremacy – need to realise that this is a game others can play in the opposite direction. Old-fashioned racists, for instance. In recent years, various far-right social-media personalities have taken to posting clips of black people in violent altercations with white people, often shorn of any complicating context, such as mental-health issues or the white person in question attacking them first. Playing into these racists' hands is particularly ill-judged, given that the slim proportion of inter-racial violent crime that does take place in the United States is predominantly black-on-white. A clip is currently doing the rounds on social media, showing a group of black teenagers apparently rounding on and beating up a young white woman. (She was beaten and robbed alongside her boyfriend amid violent chaos that broke out in downtown Chicago last Saturday night.) There is no evidence to suggest that this incident was anything other than mindless thuggery. The woman's boyfriend also happens to be black. But that hasn't stopped the white-victimhood-obsessed underbelly of Twitter branding it a hate crime. Sound familiar?
America is fast becoming a cautionary tale about how identity politics poisons everything, eating away at social solidarity, reason and justice. Now even violent crime is just fodder for a woke culture war, as divisive myths about racial violence have been elevated to the status of holy writ. America desperately needs to pull back from this. But right now it feels like it will take another miracle to bring its elites to their senses.
Tom Slater is editor of spiked. Follow him on Twitter: @Tom_Slater_
To enquire about republishing spiked's content, a right to reply or to request a correction, please contact the managing editor, Viv Regan.