Tyre Nichols: the bigotry of the 'anti-racists'
Those blaming his death on white supremacy seem to think black cops are just mindless thugs.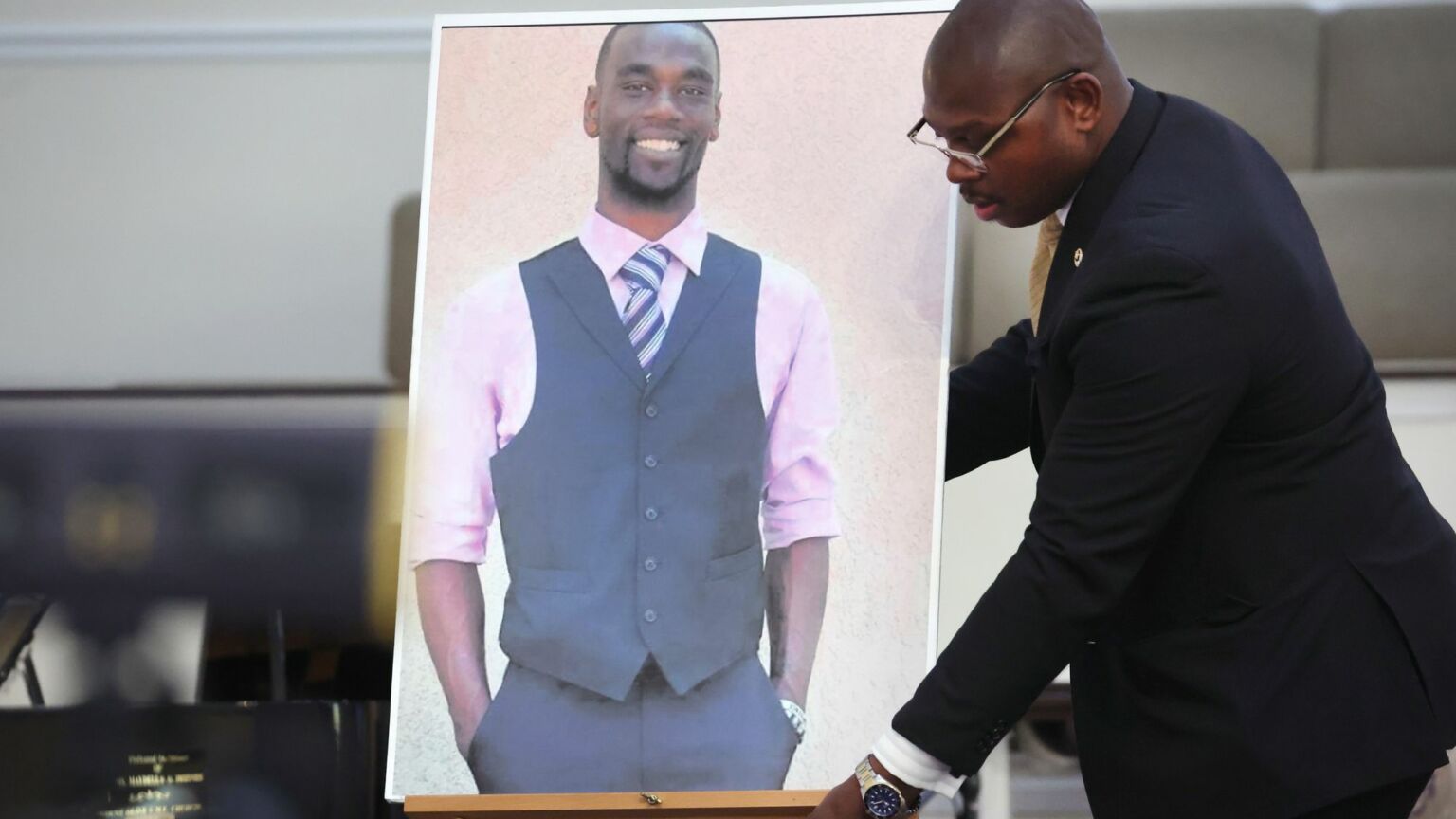 Tyre Nichols is being laid to rest today. In Memphis, the family of 29-year-old Nichols will be joined by civil-rights luminaries and US vice-president Kamala Harris to mourn his loss at his funeral. His death earlier this month shocked the world. On 7 January, he had what turned out to be a deadly run-in with five police officers. He was pulled over, supposedly for reckless driving. He was then dragged out of his car and roughed up. In the police bodycam footage of the encounter, released in recent days, Nichols can be heard shouting out, confused by the aggression of the officers. 'I didn't do anything', he says. 'You guys are really doing a lot right now.' He managed to run away, but was apprehended a few minutes later. He was then beaten to a pulp – with fists, boots and batons. Nichols succumbed to his injuries a few days later. The officers who did this to him have since been fired and charged with second-degree murder, aggravated kidnapping and other offences.
There are so many questions that hang over this awful killing. It is difficult to grasp why a traffic stop involving five officers and one unarmed, skinny man apparently required so much violence and aggression. Some have suggested these men were never fit to serve in the first place. Reportedly, at least two of the five Memphis cops joined the force after it relaxed its hiring requirements, in a desperate bid for more applicants. One officer, Demetrius Haley, had previously been sued by a man who accused Haley of beating him up while he was in prison (Haley was a prison guard at the time). The special unit the men belonged to, named SCORPION, tasked with policing the most 'volatile' parts of the city, has been disbanded following Nichols' death, reflecting fears about how deep the rot runs.
How did this happen? What can be done to weed out cops like this? What practices in policing or structures in society might be contributing to these rare but horrifying cases? Where is this sadistic violence perpetrated by a small number of cops stemming from? These are the points any sane debate would turn on. But, of course, all of those questions have already been eclipsed by The Conversation. The one that we are told must be had in the wake of every act of American police brutality. The one about racism and white supremacy and their supposedly never-ending hold over the US and the rest of the Western world.
This is all profoundly misguided. When it comes to reckoning with police brutality in modern America, which for all its flaws is not the Jim Crow south, talk of 'white supremacy' obscures rather than illuminates. The notion that young black men are being hunted down by racist police is an apocalyptic myth. A landmark 2016 study by a Harvard economist found that, when all variables are controlled for, black Americans are no more likely to be shot by police than white Americans. Roland Fryer, the man behind the study, called this 'the most surprising result of my career'. Footage of white cops killing black citizens understandably stirs awful historical memories, but police brutality in today's America is not a strictly racial phenomenon. Scour the internet and you'll find stories of poor and working-class men of all pigmentations meeting awful ends at the hands of overzealous, poorly trained or unhinged officers.
That we are being asked to perform the same dance in the wake of Nichols' killing is particularly grotesque. All of the officers he was beaten up by are black. The Memphis police chief is also black. As is 58 per cent of Memphis' police force. But this hasn't stopped endless speculation about 'systemic racism' in its ranks. The mental gymnastics have been spectacular. 'When it comes to police violence, race does matter – but possibly not the way you think', writes CNN's Van Jones. 'At the end of the day, it is the race of the victim who is brutalised – not the race of the violent cop – that is most relevant in determining whether racial bias is a factor in police violence.' He says it's 'hard to imagine' white cops killing white people in similar circumstances, blithely ignoring that many of the high-profile stories of police brutality against black people in recent years have turned out to have white counterparts – cases in which the police's behaviour was eerily similar, but the victim was white.
When confronted by people perplexed by the claim that black cops killing black people is an expression of white supremacy, these commentators simply say we're not thinking hard enough. 'Not only is this a simplistic and illogical argument', says one commentator in the Independent, chiding those who would dare to bring up the Memphis cops' skin colour, 'but it's one meant to distract us from our fight'. 'I'm about to educate some people right now', said Britain's Shola Mos-Shogbamimu on Sky News the other day, before rattling off something utterly nonsensical. 'There will be people watching right now going, "first of all, because they're black police officers it means it's not racist". No, it means that you've not educated yourself on how, systemically, white supremacy works.'
Statements like this seem to gesture to some higher wisdom. Just because you can't see the racism in any given situation doesn't mean it isn't there, we're told. Words like 'systemic' and 'structural' make the analysis sound sophisticated, almost scientific. In truth, it relies on a mix of mind-reading and blind faith. In the case of Tyre Nichols' alleged killers, it means assuming that these black men bear the mark of 'internalised racism'. That they are the simpleminded foot soldiers of racist whites. 'It is shockingly easy', writes that Independent columnist, 'to train people to hate their own, to detain their own unlawfully, to abuse them, and end their lives'.
'Shockingly easy.' Just think about that for a minute. So desperate are these commentators to burnish their narrative of widespread racism, they are rehabilitating some profoundly dodgy tropes. Such as that black people – black cops, in this instance – are unintelligent, visceral and therefore easily manipulated by white supremacists. That they lack agency and responsibility for their actions. In this bleak, identitarian vision, black people are reduced either to the pitiable victims of white supremacy or its idiotic henchmen. Meanwhile, the far simpler explanation here – that the Nichols case has nothing to do with race or racism – isn't entertained even for a moment.
This ghoulish tendency to exploit every slain black man to make a political point, to strike poses against white supremacy, even when his death had nothing to do with racism, is repugnant. But it keeps on happening. Take the case of Tekle Sundberg – a young man of African descent shot by police last summer following an hours-long standoff. Seemingly in the midst of a severe mental-health crisis, Sundberg began firing into his neighbour's apartment, narrowly missing a woman and her two young children. Activists tried (and failed) to turn him into the next saint of Black Lives Matter, even though his stray bullets could very easily have killed the two black children next door.
Police violence in modern America is not a racial issue. Indeed, the worst thing that has happened to this debate in recent years is that it has become so intensely racialised. Doing so has obscured the roots of the problem, corroded social solidarity, and made the prospect of change all the less likely. These activists aren't even interested in change. All they care about is perpetuating their narrative, even when the case at hand doesn't fit it in the slightest. This ghoulish 'anti-racism' has become the biggest obstacle to carving out the truly post-racial society we need.
Tom Slater is editor of spiked. Follow him on Twitter: @Tom_Slater_
To enquire about republishing spiked's content, a right to reply or to request a correction, please contact the managing editor, Viv Regan.