Buffalo and the myth of America's race war
Talk of rampant white supremacy is divisive nonsense.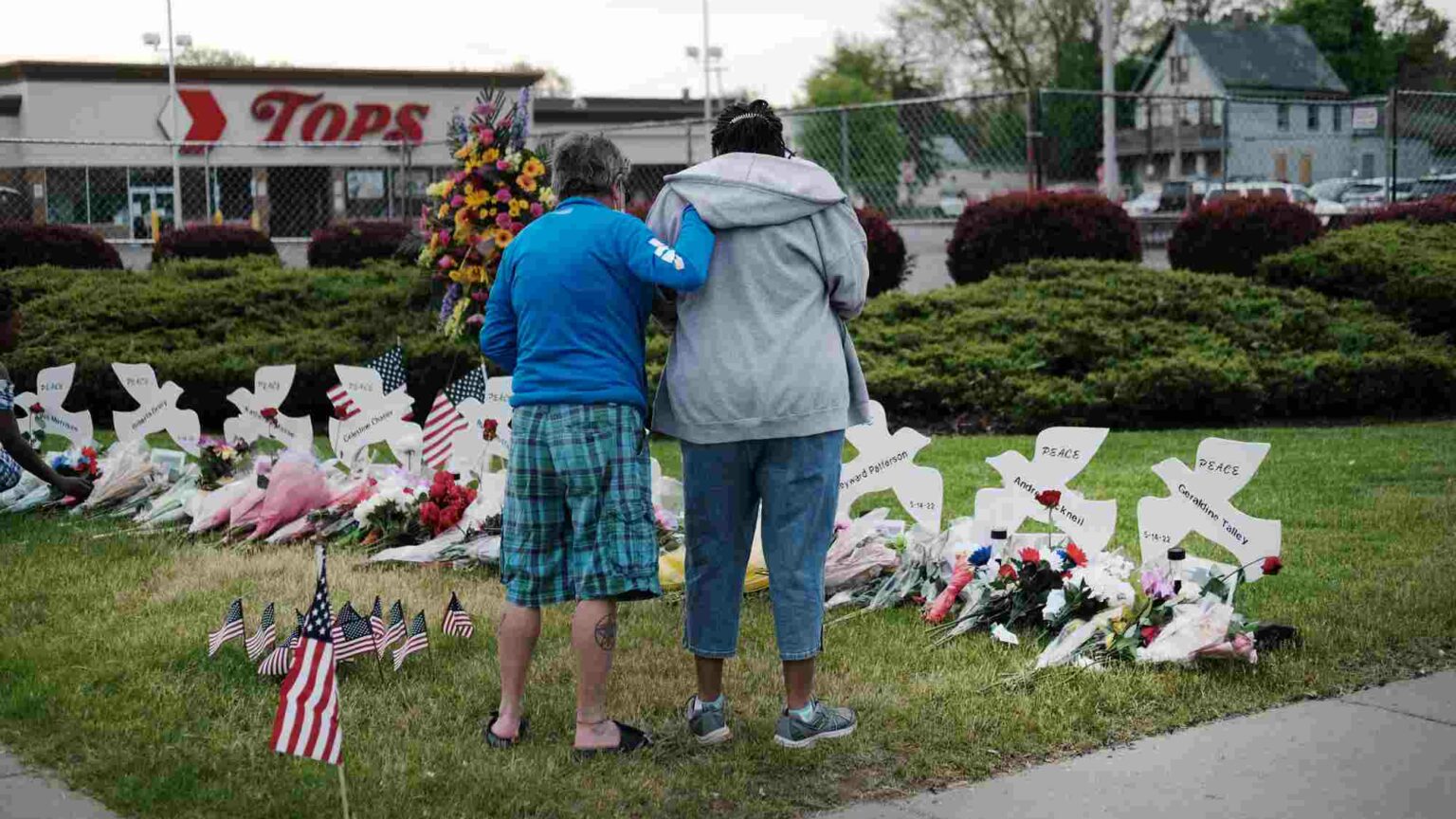 This week 19 children and two teachers were killed by a lone gunman at a primary school in Uvalde, Texas. The motive is not yet known.
Two weeks before this, as we all know by now, on 14 May 2022 a lunatic armed with a semi-automatic rifle entered a Tops Friendly Market store in Buffalo, New York, opened fire and killed 10 people while wounding three more. That the gunman is guilty is not in dispute: he livestreamed the attack on the gamer-heavy social-media site, Twitch. That he was a vile racist is not in question: he warned about the 'replacement' of whites in a badly written 180-page manifesto and intentionally targeted one of the few Buffalo chain stores located in a heavily black neighbourhood. Even the eventual outcome of the shooter's trial is not in much doubt – the shooter should, and will, be killed by the state or locked away for years.
But, in his remarks following the Buffalo shooting, US president Joe Biden ventured well beyond these points of consensus and talked about the shooter in relation to 'white supremacy'. Biden described white supremacy as a very significant problem in modern America – 'a poison… fester[ing] and grow[ing] before our eyes' – and went on to criticise right-wing media personalities for allegedly amplifying versions of the racist Great Replacement theory.
These broad claims are nothing new. As I have noted before, a recent best-selling book argues that minority Americans supposedly face a literal attempted genocide at the hands of bigots. Biden himself has described white supremacy as 'the most lethal threat to the US'. Nor was Biden alone in expressing such sentiments specifically after 14 May. Indeed, a widely circulated article in Rolling Stone magazine was provocatively headlined, 'The Buffalo shooter isn't a lone wolf – he's a mainstream Republican'.
However, while understandably popular with the political left, the narrative that America today is crawling with white supremacists who pose a threat greater than that posed by al-Qaeda is not supported by the facts. As the annual Bureau of Justice Statistics reports, all inter-race violent crime involving whites and blacks typically makes up only about three per cent of serious 'index' crime – that is, crime against a person or property. Furthermore, this smallish category of criminal offending is not exactly dominated by whites.
In 2018, there were 59,778 white-on-black violent crimes, compared with 547,948 black-on-white violent crimes, out of roughly 20million total crimes. This category of crime, broken down along racial lines, is just over 90 per cent black-on-white. Those figures are not entirely typical, but the black-white ratio has been at least 75:25 in every postwar year I have ever examined.
Unexpectedly, similar patterns exist within the sub-category of 'hate' crimes. While a significant number of the hate-crime incidents serious enough to be reported to a police department and then the FBI (1,930 in 2019) do target blacks – again, crime is bad, and scumbags of all races should be arrested – it is also the case that blacks are dramatically overrepresented as hate-crime offenders. Out of 6,153 hate-crime offences in 2019, 1,385 (23 per cent) involved a black lead offender while 3,564 (58 per cent) involved a white offender. This is striking, given blacks make up just 12 per cent of the US population while whites, here including Caucasian Hispanics, make up 75 per cent.
African Americans represented a substantial percentage of the 666 hate attackers of whites in 2019, and both whites and blacks behaved badly toward Hispanics (527 total attacks), Jews (953) and gays of all races (746). Numbers of this kind, while obviously unfortunate, undercut the prevalent narrative of a nation riven by near race-war levels of ethnic conflict. All hate crimes combined – 7,314 – made up only an infinitesimal chunk of the full annual caseload of millions of crimes.
Actual research into mass shootings again uncovers patterns of rare, racially diverse violence. While the archetypal pop-culture image of a mass shooter is almost certainly a mentally troubled white, conservative young man in a black-stretch trench, an empirical database put together by Mother Jones reveals that the demographics of the crazed mass-murderer 'population' roughly match those of the US overall. Out of the just under 65 cases recorded between 1982 and 2012, which involved a lone gunman or pair of gunmen attacking strangers and killing at least four people, 44 (almost exactly 70 per cent) of them involved a white male perpetrator. This rate appears to have declined to about 60 per cent in the 65 cases added to the database between 2013 and 2022.
Evaluating the complex American criminal picture from a non-partisan perspective, informed by data resources like those above, it is not hard to call to mind a rather large number of non-white extremist killers and shooters. On 12 April 2022, a black social-media personality, with a long history of racist and anti-Semitic posting, attacked a New York City subway train with an arsenal of weapons that included smoke munitions, while wearing a gas mask and shooting 10 people. Almost exactly one year earlier, US Capitol police officer Billy Evans was killed in a brutal vehicle-ramming attack by 'a devout Nation of Islam follower'.
Perhaps most notably, on 21 November 2022, Darrell E Brooks – better known as the black-activist rapper MathBoi Fly – killed six people and injured a remarkable 62 others by driving his large red SUV down the main route for the annual Waukesha Christmas parade. Brooks' victims included an eight-year-old child. His attack took place just two days after the final verdict in the politically and racially contested Kyle Rittenhouse shooting case. Major media outlets responded by blaming Brooks' car, with CNN famously tweeting that 'five people were killed after a red SUV sped into Waukesha's Christmas parade'.
Obviously, black criminals and murderers like Brooks are no worse, and no better, than white criminals and murderers. But, to some extent, that's the point: people notice when the 'trusted experts' blame red cars for one horrific murder and an entire race for a different one more suited to the 'white supremacy is rife' narrative. It is difficult to think of a trend more likely to drive citizens toward harmful fringe sources than the flat refusal of mainstream-media outlets to talk frankly about key topics, like policing, racism, interracial crime and migration. Indeed, while nothing excuses the Buffalo killer's evil behaviour, it is at least worth noting that he wrote the name of a Waukesha massacre victim on his rifle, and littered his 'manifesto' with questions about why he was being lied to.
Media outlets need to stop discussing race, crime and society in such a biased and selective manner. They need to start presenting the facts honestly and fairly. As usual, my Evil Right-Wing Hot Take is actually rather banal. Murder is bad. The police should enforce the law equally against all serious criminals, and journalists should aim to provide objective coverage. Is that really too much to ask?
Wilfred Reilly is a spiked columnist and the author of Taboo: 10 Facts You Can't Talk About, published by Regnery. Follow him on Twitter: @wil_da_beast630
To enquire about republishing spiked's content, a right to reply or to request a correction, please contact the managing editor, Viv Regan.