What the woke West has learned from Iran
Woke ayatollahs and Iranian ayatollahs are united in their disdain for freedom and women.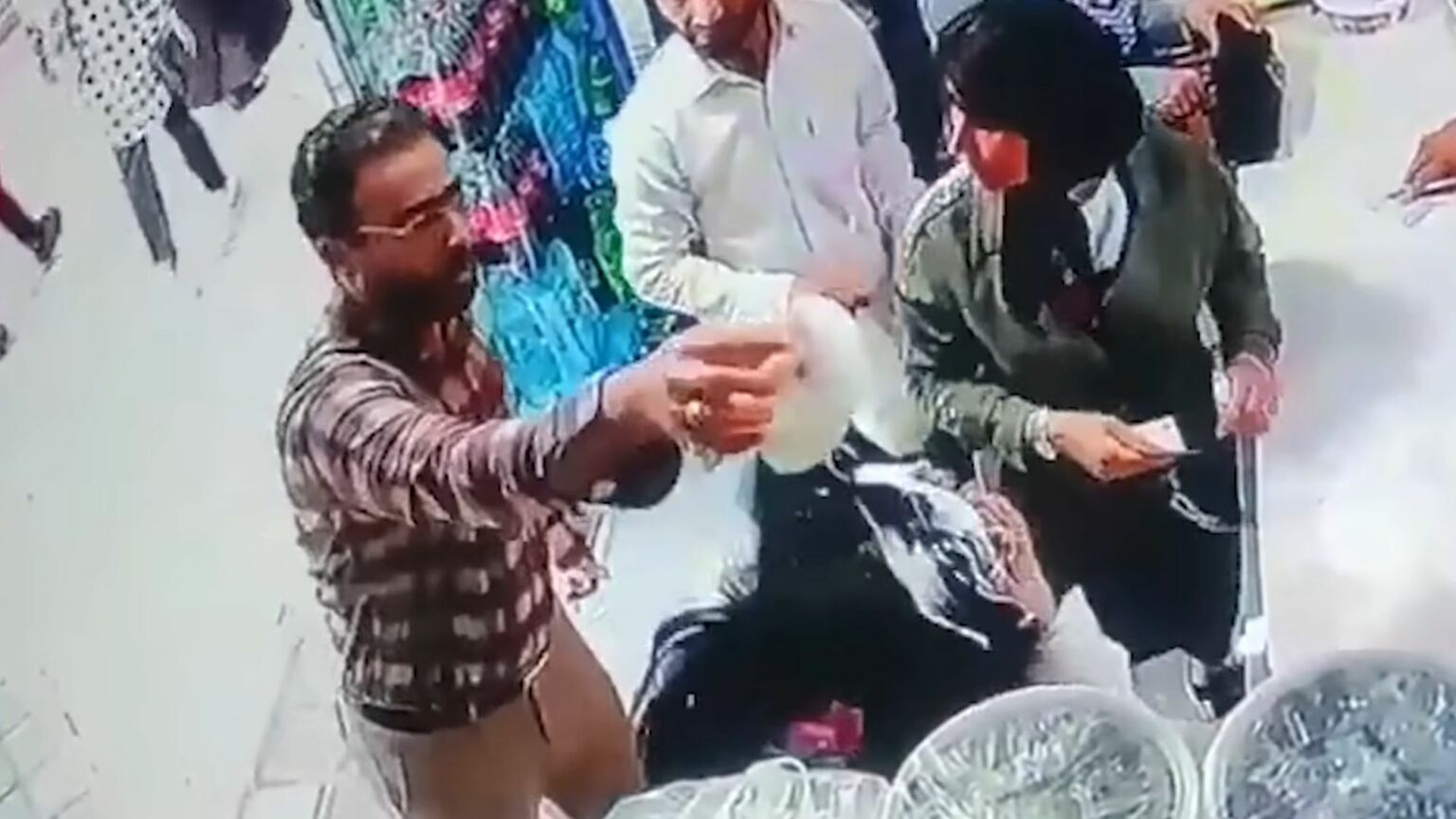 So now we know the difference between the woke West and theocratic Iran. Between our own cultural elites that are in the grip of the religion of 'social justice' and Iran's religious elites that believe they're doing Allah's bidding. It's a difference in liquids. Over here, women who step out of line are doused in tomato soup; over there, they're doused in yoghurt. Here, their hair is turned orange as they are ritualistically humiliated with soup by fuming sexist mobs. There, their hair is turned white as they are punished with yoghurt by angry men for the crime of being unveiled in public.
My first thought upon seeing that misogynistic oaf in Iran pour yoghurt on the heads of two women for daring to go hijab-less in the streets was: 'I wonder if he was inspired by the chauvinist attack on Posie Parker in Auckland?' CCTV footage of a man's horrible assault on the mother and daughter in the north-eastern city of Shandiz has gone viral. The women are in a shop, waiting to pay. A man comes in and accosts them. He screams in their faces, no doubt upbraiding them for the sin of showing their hair in public. Then he grabs a carton of yoghurt and violently dumps it on their heads. It is a grim act of religious intolerance, an outburst of supremacist loathing for female liberty.
It felt familiar, too. For didn't we see something similar in a country that considers itself part of the West – New Zealand – just a couple of weeks ago? At a gender-critical #LetWomenSpeak event in Auckland, Kellie-Jay Keen (Posie Parker) was likewise shamed with liquid, purged with fluids, by a born male horrified by her desire to exercise her liberty. Keen was deluged with a litre of soup as a mob of trans activists laughed. Where the two women in Iran were persecuted for displaying their hair, Keen was tormented for displaying her beliefs. Iran's misogynists want women veiled; the West's want them gagged.
The look of the men might differ – Iran's yoghurt-thrower was conservatively dressed, Auckland's soup-thrower was in a dress. The religion might differ, too – the misogynist in Iran was motivated by the Islamist ideology where the misogynists in New Zealand were fuelled by the trans ideology. But a strikingly similar zeal and bigotry unites these two acts of public witch-shaming. In both instances, either by yoghurt or soup, women were violently reprimanded for deviating from an ideology invented by men for the benefit of men: the unveiled women for refusing to be modest, as per the rules of Islam; Parker for refusing to check her white cishet female privilege, as per the rules of the gender cult.
There's one striking difference between the Shandiz and Auckland witch-shamings, though. In the former, men took action against the misogynist. The shop owner and another citizen angrily rebuked the yoghurt-thrower. In the latter there was far less male solidarity with the women under attack. In fact, mobs of men howled in glee at the sight of the souped witch. And they've been cackling ever since, for example by tweeting images of tins of tomato soup. I wonder if religious zealots in Iran are likewise sharing images of tubs of yoghurt as an underhand warning to any bitch who's getting ideas above her station? That there was more male support for the women in Shandiz than there was for the women in Auckland is a searing indictment of the moral disarray of the woke West.
It will be interesting to see if right-on Westerners say anything about Shandiz. It has been covered everywhere, from CNN to the BBC. What can they say? That where their dousing of disobedient women is righteous, the Shandiz dousing was wrong? Presumably they'll say nothing. That would be in keeping with their broader attitude towards the uprising for freedom that has gripped Iran since the death in custody of Mahsa Amini, the 22-year-old Kurdish woman arrested for not wearing her hijab 'properly', in September last year. The lack of sustained Western solidarity for the young Iranians fighting against theocratic tyranny has been alarming.
Sure, there have been outbursts of social-media concern. Celebs and activists have expressed fleeting alarm. But it has largely slipped from the Western consciousness. Who knows that hundreds of citizens were killed by security forces during the street battles against Iran's misogynistic authoritarianism? And that many of the killings were in Iranian Kurdistan? And that there has been a spree of executions of protesters? And that it's all ongoing? The urban battles might have died down, but the regime is as ruthless as ever in its enforcement of mandatory hijab. Indeed, that assault-by-yoghurt followed a cry by a theocratic official that 'revolutionary youths and clerics' should deal with any 'norm breakers' they encounter – that is, unveiled women. The regime continues to incite violence, to whip up anti-women mobs.
And yet the West's 'social justice' set has largely looked the other way. There were no blacked-out squares on Instagram for Mahsa Amini. No knee-taking by sportsmen. No high-minded corporation issued tear-stained denouncements of Islamist supremacy, as they did of white supremacy following the police killing of George Floyd in Minneapolis. One murder by cops in the US moved them more than hundreds of murders by cops in Iran.
How do we explain this dearth of agitation with Iran? Those two sexist drenchings, in Shandiz and Auckland, give us a clue. It's because, disturbingly, the woke West increasingly resembles theocratic Iran. No, women in the West do not face anything like the tyrannies endured by Iranian women. But in both vibe and belief, our cultural elites mimic Iran's religious elites. Both are agitated by women who think and speak freely, Iran's ayatollahs viewing them as a menace to the Islamic order, our woke ayatollahs viewing them as usurpers of the new gender order. Both bristle at any demeaning of Islam, though where Iran calls it 'blasphemy', the woke call it 'Islamophobia'. Witness the suspension of a schoolkid in Yorkshire for scuffing a page in the Koran or the hounding into hiding of that Batley Grammar schoolteacher for showing his pupils an image of Muhammad – acts of intolerance Iran would be proud of. And both believe it's wrong to oppose the hijab. Iran says it's a sin punishable by arrest to be anti-hijab; right-on Westerners brand criticism of the veil 'hijabophobia', yet another expression of 'racist' hatred for Islam, apparently.
It's hard to escape the sense that in both Iran and the West right now, men in dresses are persecuting women. Islamists in the thobe harass unveiled women. Trans activists in women's clothing punish women who talk about sex and gender. Nothing better captures the moral corrosion of Western society than the fact that radical activists here now spend more time defending the right of men to define themselves as women than they do standing up for women in Iran whose liberty is being violently crushed by men. In Iran, young people fight for the right of women to be treated as human beings; in the West they fight for the right of men to be treated as women. Religious hysteria is addling minds everywhere.
Brendan O'Neill is spiked's chief political writer and host of the spiked podcast, The Brendan O'Neill Show. Subscribe to the podcast here. And find Brendan on Instagram: @burntoakboy
Picture by: YouTube / The Telegraph.
To enquire about republishing spiked's content, a right to reply or to request a correction, please contact the managing editor, Viv Regan.